The best waterfront bars in Sydney
From the golden sands of Bondi to our glorious harbour, here are some of the best spots for a tipple by the big blue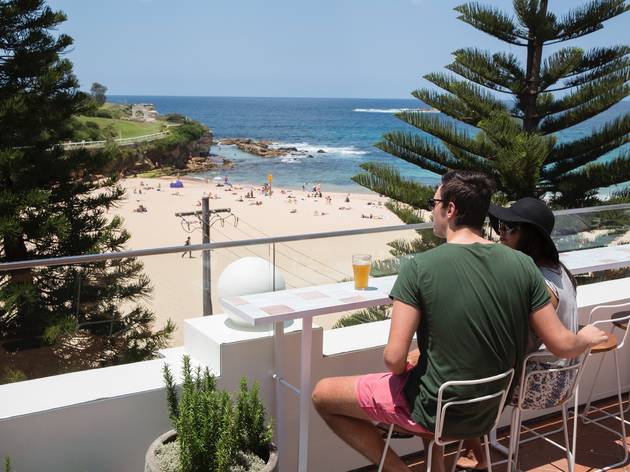 We are a city blessed with a truly ludicrous amount of waterfront real estate. Between the harbour, the coastline and the rivers that snake back through Sydney we have ample spots to sit a while and watch the waves. But when those places also have a bar for cold drinks and seaside snacks, you know you've hit the jackpot. These are our favourite places for drinks with a water view.
For more outdoor drinking, we've rounded up the best rooftop bars in Sydney, and the best beer gardens.
RECOMMENDED: The 50 best bars in Sydney.
The best Sydney bars by the water
There was a time when hotel bars set the standard for high class drinking – the Savoy Hotel in London's 1930's cocktail book remains one of today's bartending bibles – but these days they can often be overlooked when you're planning a night on the tiles, which is a mistake. When it comes to luxe boozing, Sydney's upmarket hotels know how to do it right.
Right down on the golden sands of Coogee is the shiny new Coogee Pavilion, set inside the old Palace Hotel. The place is beyond huge, with a pub, restaurant, café, oyster bar and pizza parlour and a large kids' play area downstairs.
Do you have a crisp white shirt, a designer dog/child and great hair? Excellent. Bring the lot and you'll fit right in on a Sunday. The new look Newport (they've dropped the arms from the name) is absolutely rammed with a parade of the beautiful people downing a crisp, dry French rosé and stalking a mythical empty table beneath the striped umbrellas and giant cacti now dotted around the venue.
The Island is Australia's first floating, open-air beach bar. It is fully licensed and boasts day beds, VIP cabanas and beach chairs. Access is by water taxi only and you'll need to book ahead for their weekend beach club parties.
If there were a Sydney pub beauty pageant, the Watsons Bay Boutique Hotel would definitely be through to the final. The hotel sits right against the water's edge so there's nothing between you and panoramic views of the harbour and city skyline except a row of neat dinghies and the odd potted palm.
There are certain things that never change at Icebergs: the view, the crisp polenta chips with sour cream and those dangling cane egg chairs you sink into and can never get out of. And that is exactly why we keep coming back to this eastern outcrop.
Most of Bondi's best venues are divided from the golden sand by Campbell Parade. But the Bucket List is smack on the promenade so that there is nothing to get between your bucket of Coronas and the fresh ocean spray.
Boasting exceptional views across Sydney Harbour, this laid-back space sees Foster's tinnies clinking against glasses of Perrier Grand Brüt and features Newtown's hipster brewery Young Henrys on tap. Prime real estate is on the deck where you get million-dollar views for a fraction of the price.
It's not hard to see why the Manly Wharf Hotel is obscenely popular. There's just something about drinking with harbour views that makes everything seem a little brighter. This expansive hotel is set right down on the ferry wharf and takes full advantage of its location.
This famous harbourside bar has had a garden-party overhaul with an emphasis on natural fibres and the result is very Montauk-chic. It might not be your regular haunt, but if you've got visitors who want to see Sydney at her best, a striped deckchair out in the side courtyard is the place to plant them.
Beer by the beach? You betcha. Placed right on Manly Wharf, this Bavarian Bier Café is a great place for a sneaky beverage if you're waiting for your ferry, or simply just a great place to settle in for an afternoon session. The main focus here may be swinging steins, but you can't beat a giant pretzel. Twice the size of Germany and studded with fat salt crystals, they're the perfect combination of salty-sweet to go with your drink.
Hickson's Food and Wine has picked up where Firefly left off, providing excellent wine and high-end bar snacks down in Sydney's waterfront theatre precinct. By the glass options will cost you at least a tenner and bottles start at $48.
This beautiful, old bowling club is set right on top of the cliffs at Clovelly, affording players some of the best views in the city. Drop in for an afternoon game, or maybe just a sneaky schooner of something cold and local.
This is a club many locals don't even know exists but which every Sydneysider should visit. The food is good and the view over the water is even better. Life is truly at its most idyllic after a ferry ride from the Quay (or a stroll around the coast) ends with a cold drink and a Rowers Tasting Plate.
Get in the water
Sydney's been blessed with a lot of swimming spots. In fact, the beauty and variety of our dipping options is so great, some would argue it's the best thing about the city. Certainly, there's enough by way of pools and beaches that it's possible to find a watery spot to suit any taste. Scared of waves? There's somewhere flat for you. Hate sand? No problem. Can't make it to the beach? An after work dip is still totally do-able.