How to get the most out of Sydney's Mardi Gras
The Gay and Lesbian Mardi Gras Parade is one of the most exciting nights of the year, but you need to go in with a plan
The Mardi Gras Parade is almost upon us, the sparkliest jewel in the tiara that is the Sydney Gay and Lesbian Mardi Gras season. This globally recognised mass celebration of queer culture and LGBTQIA identies is one of Sydney's biggest nights out, and is even televised around the world.
However, despite the all-consuming joy and awe, a night of swarming crowds and sold-out parties can easily turn into a logistical nightmare if you aren't armed with a plan. We've put our heads together and recalled some of our most tragic Mardi Gras mishaps to help you have the best "Gay Christmas" ever.
Arrive early if you're planning on attending the parade
Hundreds of thousands spectators flock along Oxford and Flinders Streets every year to watch the colourful procession of some 200 floats shimmy their way down the parade route. Get in quick to get a decent vantage point.
Be warned any claustrophobics: the crowds are jam-packed
Prepare to be packed in like sardines towards the middle of the parade route, and move closer to the start around Hyde Park and or the end stretch of Flinders Street if you feel you need more breathing room.

Mardi Gras parade watching is an endurance sport
You may be standing for long periods of time, so wear comfy shoes, bring snacks, stay hydrated, and have a raincoat or umbrella handy in case it rains on your parade. The vertically challenged may wish to stand on a milk crate.
Photograph: Jeffrey Feng
If you'd like a little more comfort, enjoy some screen time
There are plenty of pubs around Oxford Street and beyond screening the parade live, so you can get a flavour of the party atmosphere minus the scrum. SBS will be broadcasting the event live for the first time, find out how and where to watch it here.
Getting around isn't always easy, so plan ahead
Transport disruption is rife on parade night, particularly in the Oxford Street area. Major roads along and surrounding the parade route from Hyde Park to Moore Park will be closed from 5pm and some closures will be in place from as early as 3pm.
Leave the car at home – don't even think about driving, darling
Hold on to your boa, babe, and give yourself ample travel time on all forms of public transport. Check the Mardi Gras website and Transport Info for travel tips and updates. The parade kicks off about 7.30pm and the last colourful marchers twirl towards the finish line around 11pm.
Leave plenty of time to get from A to B
If you're planning to shimmy your way to an after-party (or just keen to get back home and kick up your feet), your best bet is to boogie on away before the parade officially ends and things get extra swarmy.
Figure out the most convenient pick-up location near to you
If you're ordering a ride to a destination in a different part of the city, be prepared to go for a bit of a walk to a more convenient pick-up spot away from the road closures and crowds (and you bet surge rates are almost guaranteed).
Photograph: Jeffrey Feng
Prepare for a price hike
If you're partying on at one of the venues around Oxford Street, be aware that any old bar is likely to slap a few more dollars onto their usual entry fee.
Seek out good times further afield
If you'd rather avoid braving the parade crowds but you'd still like to get amongst the celebrations, Newtown's pubs usually get in on the rainbow action and over at the Imperial Hotel Erskineville there'll be three levels of partying.
Be smart and stay safe
When it comes to a massive night of counter-culture revelry and celebration like this, it would be naive to believe there won't be some 'disco biccies' doing the rounds. However you choose to celebrate Mardi Gras, exercise some caution and make sure you're in a safe environment with allies at hand.
Look out for those around you
Drug-related deaths are real and you should exercise utmost care for yourself and those around you. Don't be afraid to seek medical assistance if you have to and be honest, medics are there to help you – not to dob on you. NSW Health also recently issued a warning after a potentially deadly batch of fentanyl was sold as cocaine, which is nothing to snort at.
Know your rights
Expect an increased presence of police and security personnel on the streets. While this is to ensure everyone's safety, it is not unheard of for people to receive unwanted attention from the boys in blue or over-zealous bouncers. Know your rights, look out for more vulenrable people, and speak up if you feel the need.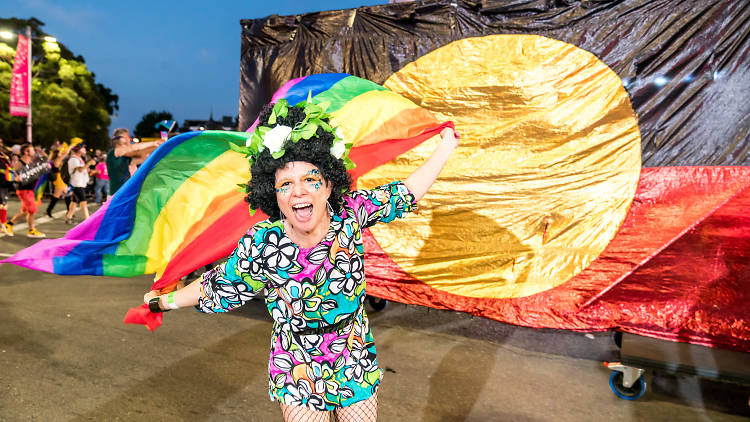 Photograph: Jeffrey Feng
Kick-on like a queen
Doing the recovery right is also essential to a fabulous Mardi Gras. There's be plenty of kick-on parties around town (check they're not ticketed or sold out before you toddle on down). You can also heed our advice for where to sober up in Sydney, the best Bloody Marys in town and the best yum cha in Sydney for a replenishing feast.
And finally, don't forget 'What Matters'
With the parade now one great big, sparkly, televised party (with a lot of corporate and political interests riding its sequined coattails) – it can be easy to forget that it all began in 1978, with a moment of defiant protest. This year's theme – "What Matters" – gets back to those activist roots, tasking everyone to consider the less shiny yet vitally important things beyond the Mardi Gras spectacle, from respecting the pioneers that came before us, to affirming all the diverse identities under the rainbow. Marriage equality was finally passed in Australia in 2017 largely due to a community effort to show up for what is right. We can carry that energy forward. Beyond Mardi Gras, we can fight for the rights of transgender people, create space for people of colour and marginalised identities in queer spaces, and acknowledge dismissed identities such as asexuals (yep, the 'A' in LBGTQIA is not for ally, as important as they are).
Know your herstory, read up on how Sydney's drag scene defined Mardi Gras.
Mardi Gras is thirsty work...
From the throbbing dancefloors to the historical drag palace – we've got you covered for where to go for a great gay time.
Best selling Time Out Offers