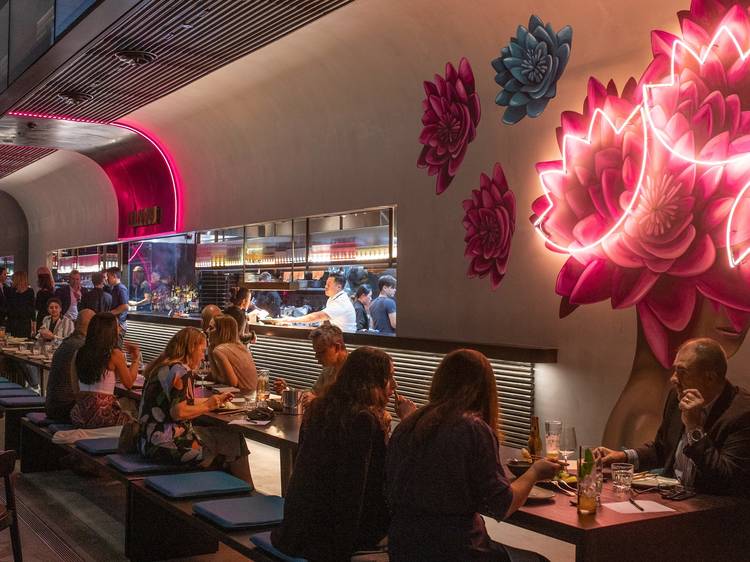 Photograph: Supplied/Lilymu
High, low and around the globe – Parramatta's food scene does it all. Temasek (71 George St) is both a local institution and a pilgrimage spot for lovers of Singaporean-Malay cuisine, and the no-frills dining room is always jammed with tables diving into with some of the city's best expressions of Hainanese chicken rice, laksa and rendang. At almost 30 years old, it's matched in longevity only by Pho Pasteur (137 Church St), a beloved old school Vietnamese joint still slinging non-stop bowls of pho every day of the week.
The Holy Basil (5/330 Church St) outpost here is just as wildly popular as the Canley Heights original, dishing up fresh and zingy Lao and Thai cuisine to a raucously packed out dining room nightly. However, we've got just as much love for the decidedly more lowkey Eatdustry Thai Café (2A Charles St), where former Chat Thai chef Goff Thani is cooking addictive regional specialties you don't expect to see outside of Thaitown, from creamy khao soi and fragrant boat noodle soup to brow-moppingly hot jungle curry .
If you're looking to feast, Sahra by the River's (2/76 Phillip St) eye-popping Lebanese spreads prove quantity is no impediment to quality. You'll be satiated by the time mezze's over but push on you must, and make sure to order the eggplant fatteh – it's an all-time great vegetarian dish.
While the old favourites thrive, players from the east have also been making their moves out west. Maurice Terzini's cool-casual Italian restaurant CicciaBella has recently landed (153 Macquarie St), while former Mr Wong head chef Brendan Fong and the team behind Nour have opened modern pan-Asian diner Lilymu (153 Macquarie St). On the more laidback end, BL Burgers (3/188 Church St), fried chicken-and-sneaker purveyors Butter (3/140 Marsden St) and beloved gelato shops Messina (283 Church St, Parramatta) and Rivareno (4/12 Darcy St) have also found happy homes out west.

And finally, in other essential information – the best pork rolls are at Xcel Roll (52 Macquarie St).