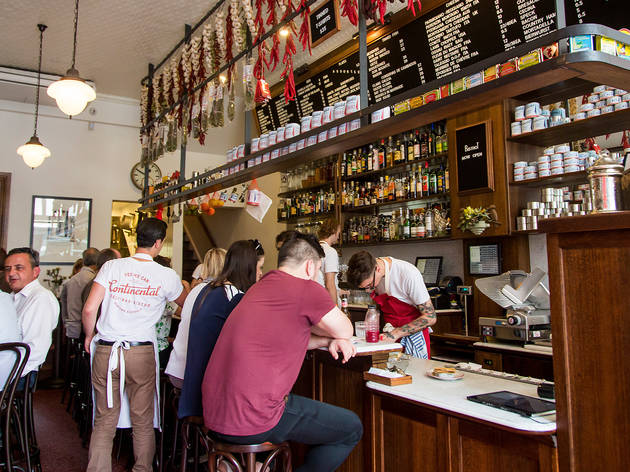 Rediscover the Inner West with this dawn-to-dark itinerary
Keep the area's doors open and streets pumping while treating yourself to all the delicious treats, vintage bric-a-brac and community culture it has to offer
As we slowly emerge from lockdown it's important to remember the local legends who have been most affected by the unprecedented loss of business. All of our daily routines have been messed up and so have the routines of our favourite beer gardens, craft stores, small bars and quirky retailers. The neighbourhoods within the Inner West – Glebe, Newtown, Camperdown and Erskineville – are ready to be rediscovered and woven back into your day-to-day activities (safely).
We've teamed up with the City of Sydney legends to bring you a fantastic new routine you can re-adopt to chuck some much-needed coin at our city's businesses while giving yourself some delightful treats along the way. From your morning coffee to after-hours party time – here are the Inner West haunts you should pop back on your daily radar.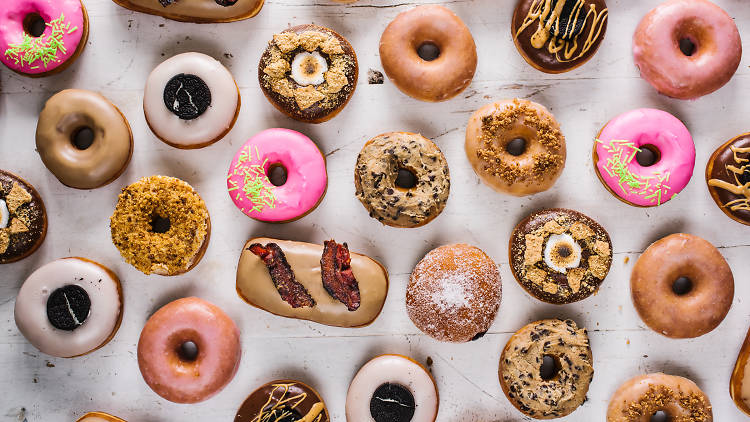 Breakfast and coffee
'Grungy' is a word often used to describe the Inner West, but its breakfast offerings sure are clean, bright and bursting with flavour, and there is fine coffee in abundance. Head to the narrow enclave of Wedge Espresso on Glebe Point Road for an all-day menu of golden caffeinated brews and dukkah-encrusted poached eggs. For sweet iced rings from heaven get to Camperdown's Grumpy Donuts to pick up takeaway, made-from-scratch doughnuts in bombastic flavours like juicy peach cobbler or maple bacon and caramel. Get a nifty takeaway breakfast from Erskineville pun-masters Fleetwood Macchiato, who have converted their café into a service window they're calling 'Fleetwood Snackiato'. Pick up one of their smashed egg rolls with housemade pickles and smoked chilli and add a bit of morcilla if you're feeling very 'seize the day'. For a classic, eclectic Glebe experience find a corner in the socially distanced tables of the Sappho Bookstore Café and munch on a BLT with an unbeatably zingy housemade relish or find nourishment from their extensive vegan menu.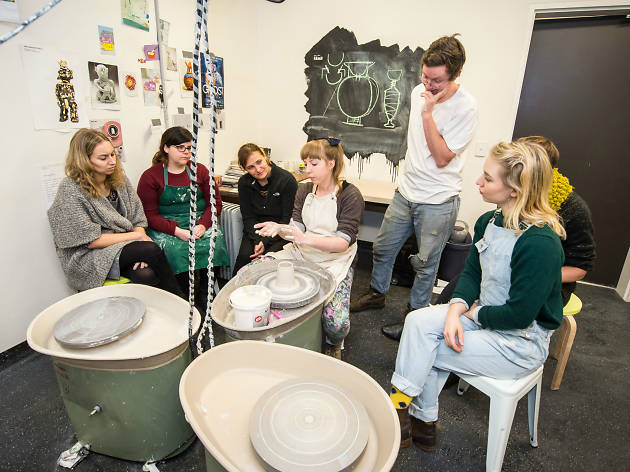 Activity and exercise
Get busy in the Inner South and show some love to the fitness centres, workshops, urban gardens and art collectives it's known for. Not-for-profit Glebe studio Kil.n.it has put a pause on their workshops but are still offering services like firing (perfect for if you've been getting your hands dirty with some at-home pottering) and if you're in the market for a new soap dish, they're holding a fundraiser with works from some of Sydney's best ceramic artists. Over in Erskineville, PACT – a theatre and art space for emerging and experimental work – keep your eyes peeled for exciting new performances, installations, activations and more from the newly minted resident artists, curators and collectives later this year. Put all that extra reading to good use and join one of Better Read than Dead's fabulous book clubs, currently operating for free and over Zoom. The beloved bookseller is faciliating deep-dives into topics ranging from flawed female characters to climate change; be sure to spend up big on your required reading in the Newtown store first. Get your post-iso heart rate up and book in a sesh with Fityeah in Broadway – the team has been keeping people motivated with online personal training and are beginning to open their books for boot camps soon.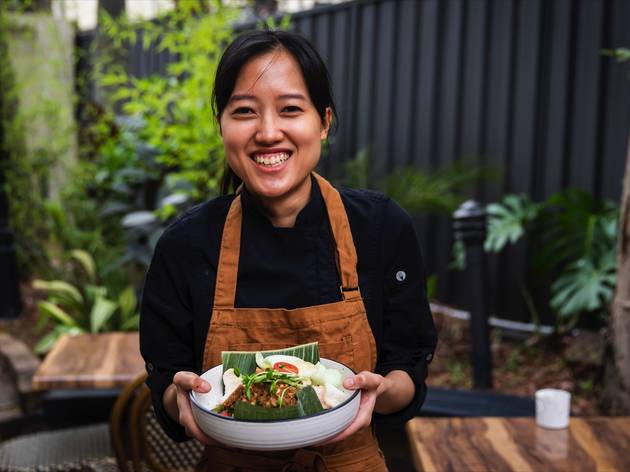 Lunch break
Got the midday munchies? Support an Inner West eatery while you satisfy your ferocious hunger. For a quick fix of charcoal chook (who doesn't need one of those) get a takeaway box of the good stuff from Newtown's El Jannah Express outpost. They have some choice to-go meal deals, so you could be enjoying a lunch of chicken-salt bejewelled chippies, fluorescent pickles, creamy toum and juicy chook in a sunny patch of a Newtown park before you know it. Glebe Point Road is home to Indonesian eatery and bar Salt and Palm who have a huge menu to select from, but we reckon the gado gado is the next best thing to a Bali holiday (and they offer discounts to Glebe locals). You've tried the watermelon cake from Newtown's Black Star Pastry by now no doubt, but make a point to try their savoury offerings (think loaded sangas and tomato-topped croissants) come lunchtime. Of course you can always change your mind and have watermelon cake for lunch if you want, we're not here to judge. If quick, smoky skewers and creatively stuffed bao are more your lunch speed then order takeaway or nab a limited spot at Erskineville's Japanese izakaya and bar Kuki Tanuki.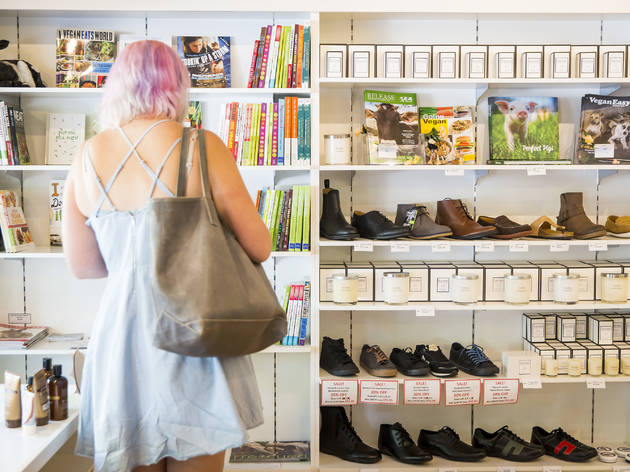 Shopping in the arvo
By now you're surely sick of "adding to cart" on your computer and in need of some on-the-ground retail therapy. Check out the Inner West's famously eclectic shopping options as they begin to reopen. If you like your products plant-based and want to make your purchases as ethical as possible then the Cruelty Free Shop in Glebe is for you. You can satisfy all your vegan leather and low-impact treat needs online or visit their responsibly open store on Glebe Point Road. If you like your cheese made of cow milk you can't beat the selections at the Deli in Erskineville. It doesn't stop there – here is where you'll find Kangaroo Island free-range eggs, buttermilk ricotta, Spanish cold cuts from La Boqueria and Urban Beehive raw Sydney honey, all the posh and good stuff that will make your pantry the belle of the ball. Octopus Design in Newtown is a gift-giver's paradise; the store has been plying King Street with quirky homewares, games, design books and scented paraphernalia for yonks, so give them a whirl next time you're in a present-giving pickle. Fill your home with fresh blooms from the Flower Room in Newtown, the store itself looks like a psychedelic field and they're offering contactless delivery of their artful arrangements all over Sydney.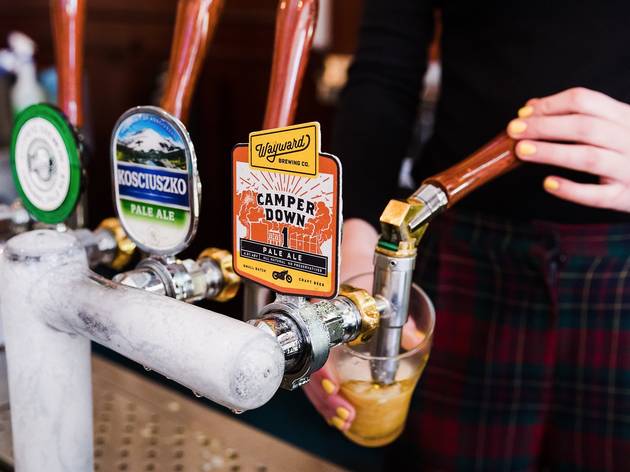 Clock-off drinks
Once 5pm hits, quench your hard-earned thirst at one the Inner West's reopening and minimally operating bars, pubs and breweries. If you have an itch that only a cocktail can scratch then peek into the red-hued Different Drummer in Glebe and see if there's space for you to bend an elbow, if not grab one of their housemade creations, like a bottled gin Old Fashioned, to go. Remember pubs? Book a table for a feed at the Lady Hampshire in Camperdown or mindfully try your luck in the bar – that first sip of a hand-pulled draught beer will make it all worth your while. Enjoy more frothy schooners at Erskineville's old-as-the-hills pub Rose of Australia, they've been keeping the area fed and watered for decades and have started warming up their taps for regular service. An incomparable party bar with a sophisticated edge, the Midnight Special in Newtown has your knock-off pretty set with a delivery and takeaway cocktail service that comes with a QR code for an accompanying playlist. Enjoy your Night Rider bottled cocktail with a side of tunes from their special isolation Spotify playlists – a testament to their ongoing commitment to curating the perfect after-dark mood.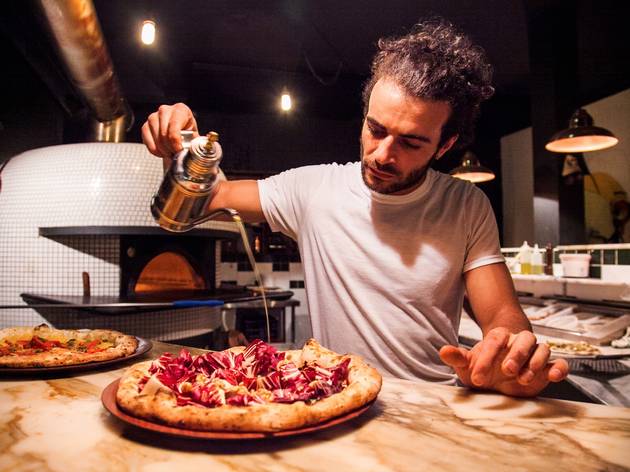 Dinner and dancing
Whether you're after a fancy dining experience or want some cheap eats with a side of dance floor, the Inner West is the place to be. Glebe's spot for contemporary Lebanese fare, Thievery has been doing a roaring takeaway and delivery trade thanks to a collab with Sydney fried chicken joint Butter. Expect HSPs with a twist, burgers, paprika-laden hommus and surprising pizza flavours, all housed on their co-signed ordering site. Newtown's place for plant-based slices Gigi Pizzeria is also offering the post-iso trifecta – dine-in, takeaway and delivery. Get your mitts on a funghi e radicchio, one of the most sought-after pizzas in our city's vegan communities and for good reason, it contains crunchy radicchio, Swiss brown mushrooms, garlic, roasted walnuts and some zingy crumbles of dairy-free blue cheese and parmesan all mingling on a perfectly blistered base. For elevated tinned fishies, Mediterranean-inspired mains and memorable charcuterie find a perch at Continental Deli Bar and Bistro, they're taking reservations again while still flinging Mar-tinnies, pastas and cheese plates to-go. And of course, dinner and dancing exists as a category almost solely to mention the Imperial in Erskineville. They're reopening for dinner bookings (try the coconut ceviche) and, importantly, drag 'n' dine is being re-introduced, one stiletto at a time.
Keep a lookout for more City of Sydney initiatives and Covid-19 recovery information by signing up to their newsletter here.