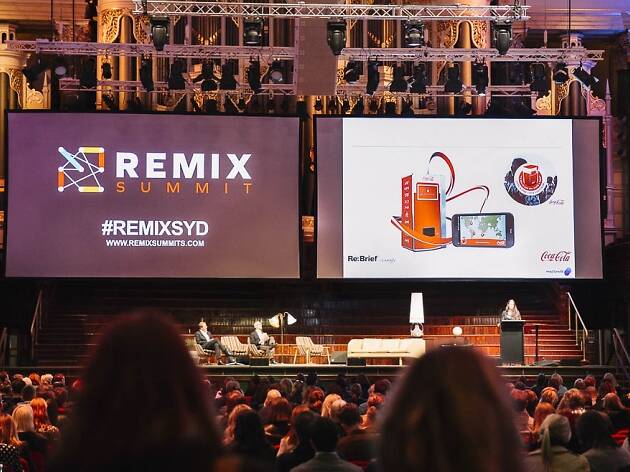 1/2
Photograph: Supplied
2/2
Photograph: Supplied
[Sponsored] Join industry leaders championing culture, technology and entrepreneurship for two days of innovative talks and networking
Our favourite parts of any city, both physical and experiential, are born from the minds of creatives. In this global summit for creative industries you can analyse the brightest minds in the colourful corners of technology, economics, business, art and more across two days of talks, debates, panels and workshops. By bringing in experts from diverse fields, Remix Sydney hopes to enhance collaboration and innovative problem-solving.
Some of the rising entrepreneurs and big players you'll hear from include Vince Kadlubek, the co-founder and CEO of Meow Wolf, which is the US artist collective behind the ground-breaking installation work that made the top four of Time Out's best things to do in the world for 2018. You may not recognise Robert Hammond, but if you've visited New York in the last decade, you'll know about the derelict Manhattan railway turned contemporary architecture icon, the High Line. Hammond is the cofounder of this marvelously utilised public space for gardens, art and performance.
Seek more insights from Stefanie DiGianvincenzo, who is co-founder and global curator on Rare at Google, which is a new platform for supporting diversity in the creative industries. Aaron Hung will share his experiences as the senior director of partnerships for Asia Pacific TripAdvisor. Then, hear MONA's director of marketing and communications, Robbie Brammall, talk about advocating for the big creative players, and listen as the CEO of MAAS, Lisa Havilah, tells the tale of running numerous multi-million dollar artistic projects.
There are more than 75 big thinkers on the bill, talking about revitalising city culture, advancing cultural institutions and letting artists lead social change. Find them across three stages: one focusing on the future of creative industries, one looking at creative places and storytelling, and one featuring additional insights from keynote speakers in conversation.
As in previous years, you'll find this hive of creative thinking at the UTS Great Hall, and you can snatch up combo tickets for both days or a single day of talks.