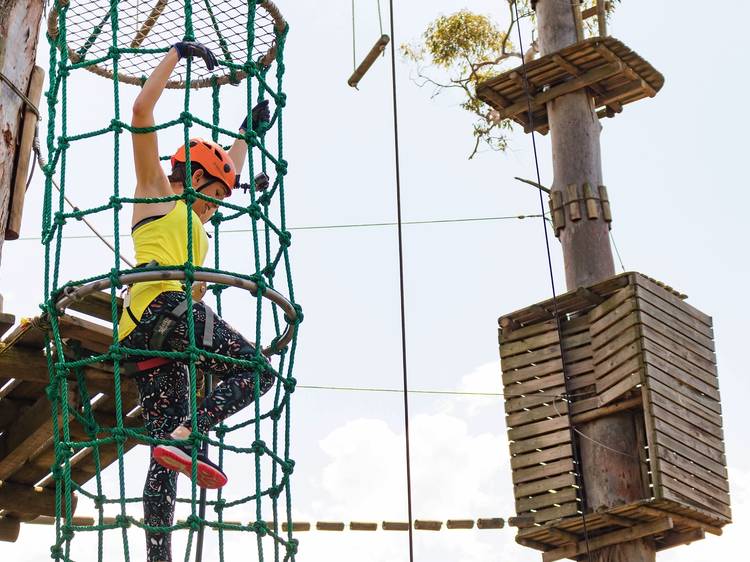 You'll feel like Tarzan in no time as you leap from one challenge to the next amongst the Sydney blue gums with views of where the Nepean and Grose River meet. Trees Adventure Grose River Park offers a fun experience for climbers at every level, at multiple heights – even adrenaline junkies will be tested when they brave the most demanding course 25 metres in the air.
At the start of your heart-pumping climb, you'll be trained by one of the guides so you can safely swing between the trees at your own pace. A test run on the small course ensures you know how to safely clip yourself onto the rope and progress to the next level. It's a good idea to hire a pair of gloves as they have some grip on them to assist you during the session. If you want to capture your fun on film, you can even hire a GoPro on-site.
With a helmet, a harness and a double carabiner system (ensuring you're always connected to the rope), it's time to test your abilities and have some fun. Don't worry if you slip up or need some encouragement: the guides are there to help.
The two-and-a-half-hour session seems to fly by with over 110 challenges, 20 flying foxes and ten long courses to choose from. One of the highlights in each course is the flying fox. It's pretty exciting as you're the one who attaches the trolley to the rope, puts the carabiners on the top, sits back and zips across at stomach-churning speeds. But the freak-out favourite challenge is the bungee-like leap. It might be tricky to take that first step off the platform before you free-fall through the air, but once you're safely on the ground again, you'll know it was all worth it for the adrenaline rush.