The best high ropes courses in Sydney
Test your balance and strength as you swing between the trees at these sky-high climbing courses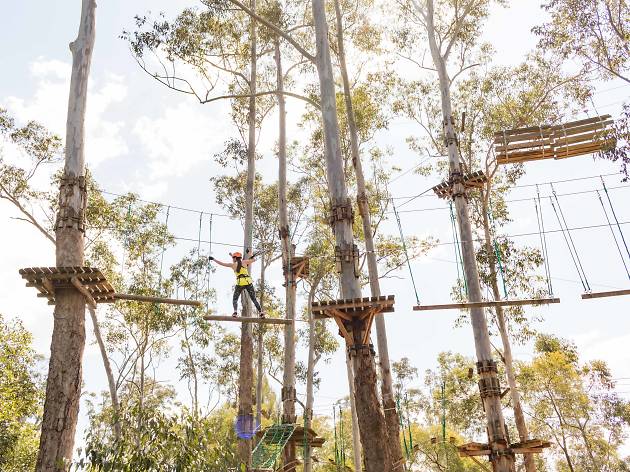 Calling all thrill-seekers and nature lovers: this one is for you. Release your inner Tarzan and leap between obstacles that test your balance, strength and any fears you might harbour about heights. Sydney has some awesome high ropes courses, and each challenge comes with a side of gobsmacking views in the great outdoors. So enjoy the sites from the city's canopies, wipe those sweaty palms and prepare to swing your way around Sydney's best high ropes.
Love a challenge? Get your adrenaline racing with some rock climbing, or spend some more time in the air at a trampoline park. Then chill out – you've earned it – at one of Sydney's best spas.
RECOMMENDED: The best walks around Sydney.
Try these high ropes courses around town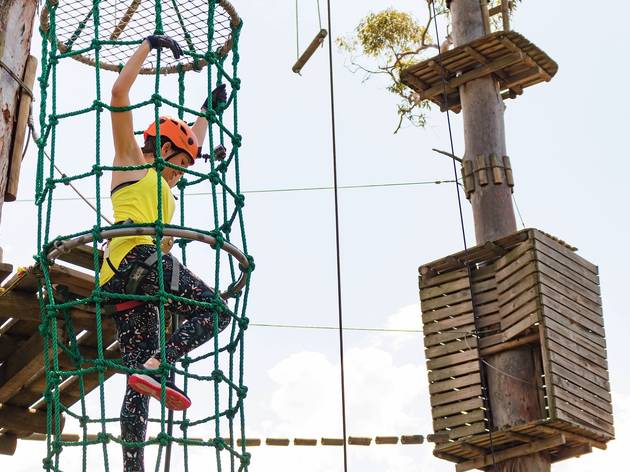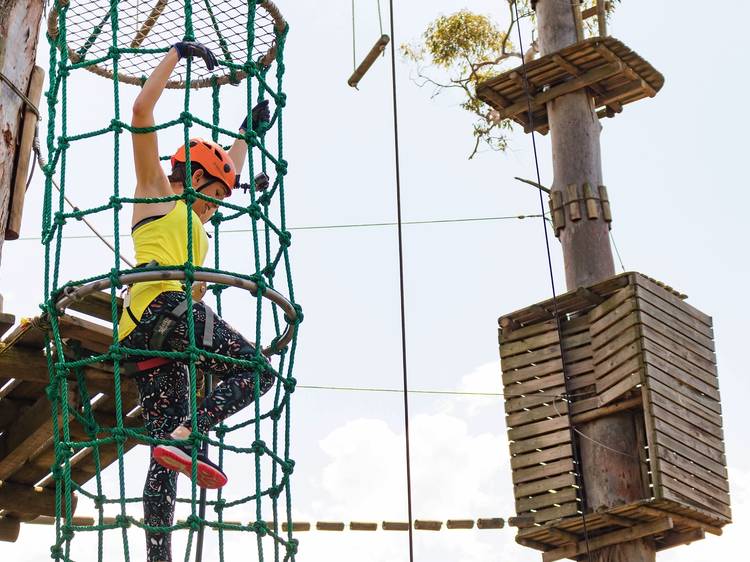 You'll feel like Tarzan in no time as you leap from one challenge to the next amongst the Sydney blue gums with views of where the Nepean and Grose River meet. Trees Adventure Grose River Park offers a fun experience for climbers at every level, at multiple heights – even adrenaline junkies will be tested when they brave the most demanding course 25 metres in the air.
At the start of your heart-pumping climb, you'll be trained by one of the guides so you can safely swing between the trees at your own pace. A test run on the small course ensures you know how to safely clip yourself onto the rope and progress to the next level. It's a good idea to hire a pair of gloves as they have some grip on them to assist you during the session. If you want to capture your fun on film, you can even hire a GoPro on-site.
With a helmet, a harness and a double carabiner system (ensuring you're always connected to the rope), it's time to test your abilities and have some fun. Don't worry if you slip up or need some encouragement: the guides are there to help.
The two-and-a-half-hour session seems to fly by with over 110 challenges, 20 flying foxes and ten long courses to choose from. One of the highlights in each course is the flying fox. It's pretty exciting as you're the one who attaches the trolley to the rope, puts the carabiners on the top, sits back and zips across at stomach-churning speeds. But the freak-out favourite challenge is the bungee-like leap. It might be tricky to take that first step off the platform before you free-fall through the air, but once you're safely on the ground again, you'll know it was all worth it for the adrenaline rush.
Wild Ropes at Taronga Zoo offers an experience unlike any other high ropes course. You'll be able to gaze out at some of the harbour's main attractions as you complete a series of challenges, all while spotting kangaroos and emus below as you make your way across a horizontal, wobbly ladder.
The friendly staff will gear you up with a harness and helmet to ensure you're safe and you'll be attached to a track that follows you around the course to keep you in the air, even if you accidently fall. If you're not the biggest fan of heights, don't worry, because the staff will guide you and give you tips along the way to help you complete each sky-high step. Between each challenge is a standing platform so you can prepare yourself for the next obstacle or catch a glimpse of the harbour views that the giraffes enjoy daily.
Each challenge will get your heart pumping, and test your balance and concentration – the beautiful view and sleepy koalas can be a bit of a distraction. Walk across moving planks, hang on ropes, jump between gaps and cross vertical cargo nets. One particularly hair-raising challenge involves sitting on a sled in the air and zipping across the course like a human Hot Wheels. You'll end the challenging course by reclining in your harness and zip-lining through the trees.
The courses go two directions – east and west – so you get to experience the harbour from different perspectives. Keep your eyes peeled for some sightseeing; the iconic Bridge and Opera House make an appearance through the trees, as well as the Sydney Tower Eye, Fort Denison and Mrs Macquarie's Chair.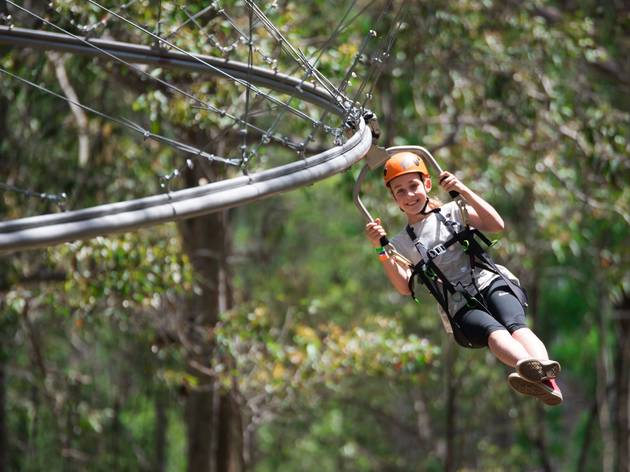 With two different types of fun to choose from at TreeTops Western Sydney, you'll find yourself soaring through the air and swinging between the trees on a huge day out in the canopy. And best of all, the park is home to the fastest zip line rollercoaster in the world.
The TreeTop Crazy Rider takes fun to the next level with a 500-metre ride full of dips, twists and 360-degree turns where you'll be flying at up to 50km an hour. You can even lean back in your harness to make yourself more streamlined to pick up extra speed as you fly around those mental loops. The sensation will make you feel as if you're going to swing out into the trees, but before you know it, you're already on the opposite side, getting ready to brave the next dip. If you do two rounds of the Treetops Crazy Rider Express, this gives you the chance to scream your way around the first time if need be, then relax a little during the second, taking in the views of the native bushland as you pass.
After the zip line rollercoaster, it's time to continue the adrenaline rush with their high ropes courses. There are many flying foxes that you attach your carabiners and rope trolley onto before gliding across to the other side, with a different perspective on the bush each time. Wooden bridges, wobbly logs, ladders, cargo nets and rope wires are just a few of the other obstacles.
If you're a little unsteady on your ascent, don't worry. There are halfway points where you can take a break and the helpful staff are trained to inspire courage. Enjoy the experience of being in the secluded bush of Western Sydney Parklands – keep an eye out for snakes – while safely testing yourself at each challenge, thanks to a system that ensures you're always securely attached.
As one of the only places in the Southern Hemisphere that allows three-year-olds to experience a treetop high ropes course, this is the perfect place to bring your little one to entertain them for the day.
Let someone else handle the cardio
Hot to trot? From scenic country trails to pony parties, we've found a list of charming places to go horse riding around New South Wales.