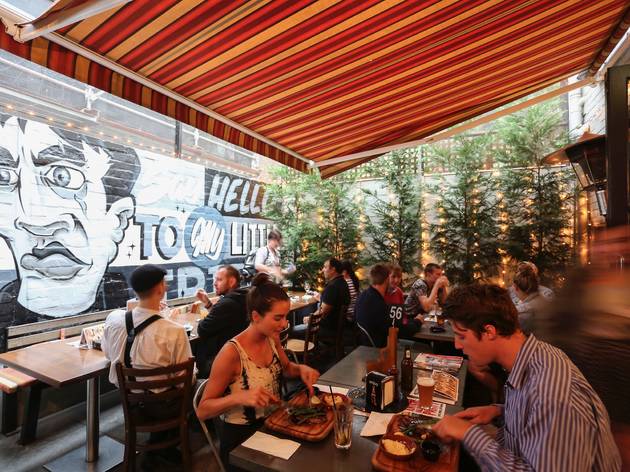 What's good in the neighbourhood: Surry Hills
The new light rail is the main artery to the heart of each neighbourhood and its offerings. Find out why this inner-city enclave has kept its cool and discover more along the light rail route
Sydney's go-to suburb for hip bars, vintage finds and world-class dining, Surry Hills is an evolving beast that's managed to keep its cool status afloat for decades. Take a trip through the classic haunts and discover new activities around the light rail stops in Surry Hills.
While you're at it, take our quiz to find out what neighbourhood best matches your personality. Or, explore the other exciting areas along the light rail route.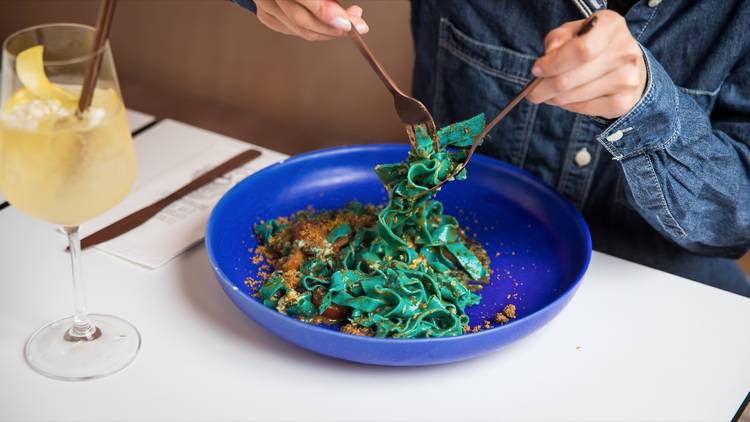 Mark and Vinny's Spaghetti and Spritz Bar. Photograph: Anna Kucera
Eat this
The eateries of Surry Hills have real staying power and are beloved by locals and visitors alike. Looking for a brunch with healthy but delectable pizazz? Head to Devon Café for the Breakfast with the Sakumas plate, a real day kickstarter with miso salmon, smoked eel croquette, furikake, radish salad, Kewpie mayo, and a 63° egg. Swim on up Devonshire for more ocean delights from Surry stalwart Mohr Fish. The pocket-sized eatery has been flinging fresh fillets since '92 and is a local go-to for takeaway fish and chips but also a cute place to have a little dine-in date – impress your paramour with their signature dory with grilled grapes (trust us, it works), almonds and potato gratin. Across the way you'll find another local classic at Jazushi, where you can enjoy a plate of kangaroo tartare while you tap your fingers to some live jazz. Cap it all off with a spritz and an extraterrestrial bowl of delightfully blue pasta from Mark and Vinny's.
Sample Coffee. Photograph: Supplied
Drink this
You're spoilt for choice when it comes to a quality cup of joe in Surry Hills, but may we suggest trying a heady brew from Sample Coffee? With an impressive roster of single origin beans and in-house espresso blends to get your capillaries popping, this cupboard-sized café packs a punch. For the playful cocktail of your dreams, try a eucalyptus-infused Blinky Bill from vaguely pirate-themed boozer Button Bar. Surry Hills is also an ecosystem of classic pubs. Add a Guinness and a people-watch at the Trinity to your bucket list. And don't leave the area without a steak and a brewer's dozen try of the Dove and Olive's craft beers.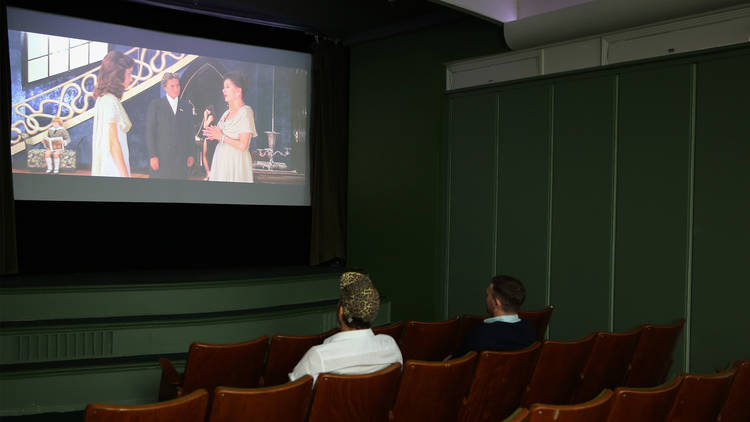 Golden Age. Photograph: Anna Kucera
See this
So much to see, so little time? If you only do one thing check out the Brett Whiteley Studio. It's been converted into a stunning gallery showing revolving collections of the late artist's work and has preserved his original 1992 sleeping quarters for a bit of sanctioned sticky beaking. Make sure you treat yourself to an indie play at Belvoir Theatre, then wander up Devonshire to marvel at the technicolour flower mural on the corner of Riley. Top off a Surry Hills visit with a cult classic film at the effortlessly cool little Golden Age Cinema.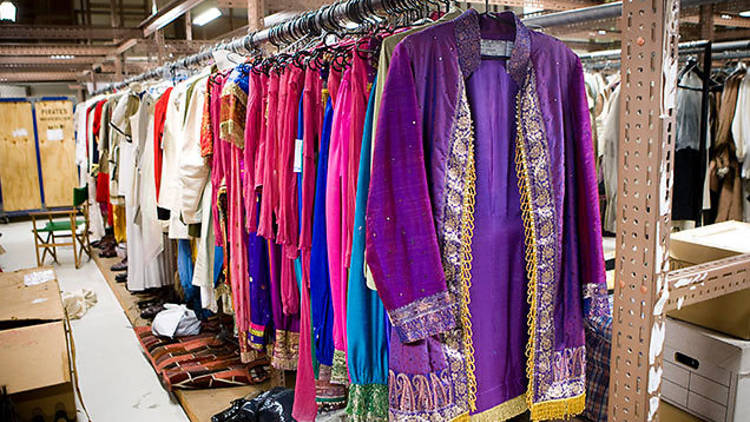 Opera Centre. Photograph: Supplied
Do this
You're unlikely to get bored just walking around this colourful neighbourhood, but if you're an avid activity-hunter then Surry Hills has plenty in store. Pick up a paintbrush and a pinot at a boozy painting class at Cork and Chroma or get your hands delightfully dirty at a ceramics workshop at the Pottery Shed. If you like to consume what you make then trying your hand at the shakers at a cocktail making workshop at Li'l Darlin is for you. If you'd prefer to admire the intricate work of others, have a gawk at the costumes and finery on a tour of the Opera Centre.
Remember to play it safe around light rail.
---
---