17 must-do things in London this summer
Summer in London is looking seriously hot and we've got a list of the events you won't want to miss
London is heating up at the moment and the capital's events scene is hitting top gear. From new art blockbusters and fresh faces in the West End, to London music festivals and a beachload of fun things to do, here's 17 events you don't want to miss this in the British capital this summer. Ice creams not included.
Sure, the Summer Exhibition is a London institution, but it's kind of the same every year, right? Erm, wrong. Coordinated by Grayson Perry, this year's 250th anniversary exhibition is designed to be the 'biggest, brightest and most colourful yet'. There will be over 1,300 works of art on display, including a 'monumental sculpture' in the courtyard. Plus, the RA is making good on its promise to become more accessible by including more modern events, like an RA Late you can attend in full fancy dress. If you're a Summer Exhibition first-timer, this is a great year to start. Nick Levine. Royal Academy of Arts. Tube: Piccadilly Circus. Tue Jun 12-Aug 19. £18.
The Old Vic is marking its 200th birthday with an adaptation of Patrick Ness's 'A Monster Calls'. It's a tale that weaves magic realist elements into the narrative of a grieving youngster, who is struggling to come to terms with his mother's terminal cancer prognosis. Sally Cookson, the director behind National Theatre smash hits 'Jane Eyre' and 'Peter Pan' heads up this blockbuster stage version, which is bound to stir up childhood memories of imaginary monsters and maybe even evoke some new ones. Kyra Hanson
3
Serpentine Pavilion 2018 Designed by Frida Escobedo, Taller de Arquitectura, Design Rendering, Interior View © Frida Escobedo, Taller de Arquitectura, Renderings by Atmósfera
There are plenty of reasons to get excited about this year's Serpentine Pavilion. Not only is Mexican architect Frida Escobedo the youngest to be put forward for the task, she's also only the second woman to take part (after the mighty Zaha Hadid). But it's the design that has us hooked – all delicate lattice walls, mirrored canopies and reflective pools enclosed in a courtyard within a courtyard. Elsewhere Escobedo has talked about wanting her pavilion to be a space of encounters – "encounters with other people, but also with yourself". So whether you're a Hyde Park shade-seeker or just find yourself in a reflective mood, you know where to go. Kyra Hanson
Things to do, Exhibitions
When artist Frida Kahlo died in 1954, her husband Diego Rivera locked her belongings in a room and said it should remain sealed until after his death. Though Rivera survived his wife by just three years, the room wasn't opened until 2004, when archivists found that it contained clothes, makeup, jewellery, letters, medicines and even Kahlo's prosthetic leg. This is the first time they've been exhibited outside her native Mexico; paired with photographs of Kahlo and some of her mesmerising self-portraits, they should offer a fascinating and intimate insight into this incredibly influential artist and feminist icon. Nick Levine
5
Dorothea Lange, 'Migrant Mother', Copyright the Dorothea Lange Collection, the Oakland Museum of California
Even if you don't recognise the name 'Dorothea Lange', you'll recognise her work: the furrowed brow of a dishevelled woman staring into the distance as two boys bury their young heads into her body, a symbol of the Great Depression. 'Migrant Mother' is just one of the emotionally charged photos going on show in the Barbican Art Gallery. And there is more than one reason to visit: the rich black and white images of British contemporary photographer Vanessa Winship will be on display in the upper galleries at the same time. Ok, it might not be the cheeriest of summer shows but it's all part of The Barbican's 'The Art of Change' season, which reflects on how art has the power to influence change. So it's not totally bleak. Kyra Hanson
Until now, Le Bab has peddled its posh kebabs to Carnaby Street shoppers but from June (exact date tbc) you'll be able to bite into its locally sourced, free range, gourmet babs at Maison Bab in Covent Garden. You'll never look at a dirty post-sesh donna in the same way again. Our tip? Book up the hidden ten-seater fine dining area and order the mezze plates, your pals will love you forever. Kyra Hanson
Curious about what creatures get up to after hours? This new Natural History Museum exhibition dishes the dirt on the secretive lives of the animals that come out at night. And no, we don't mean the foxes rummaging through your bins at an ungodly hour. Enter the shadowy world of a bat cave, lock eyes with specimens of anglerfish, vampire squid and other ethereal creatures from the deep and even come face to face with a living Mexican blind cave fish. You might arrive with a fear of the dark and its shady inhabitants but you'll leave with a new found respect for these night crawlers. Kyra Hanson
8
VIVI is a swish new dining spot that will attempt to bring diners all the way back to the 1960s. Launched by the folks behind the Sky Garden's Fenchurch restaurant, the space will channel a retro theme to reflect the era when the Centre Point Brutalist tower was first built. Expect to tuck into a nostalgia-addled menu of chicken kiev, cauliflower cheese croquettes and arctic rolls while surrounded by optical art and dog tooth-patterned furnishings. The restaurant is part of Centre Point's recent makeover which includes 82 flash apartments, but thankfully you don't need to be able to afford a flat here to eat here. Kyra Hanson. VIVI is expected to open on Jul 16.
Mark Rylance served as The Globe's artistic director between 1995 and 2005, but hasn't graced its stage in six years, so this production is a proper homecoming. He'll play scheming and unreliable Iago opposite rising star André Holland ('American Horror Story', 'Selma') as the doomed title character. Shakespeare's iconic tragedy never loses its visceral thrill and this is your chance to see it at the Bard's spiritual home, performed by world-class thesps. Kyra Hanson
If you're a girlband fan wondering how to spend your summer downtime, you can stop right now, thank you very much. This incredible-sounding Spice Girls exhibition (which previously ran in Cyprus, they were a global phenom, after all) showcases the epic collection assembled by Spice superfan Alan Smith-Allison. Expect to glimpse hundreds of Baby, Scary, Sporty, Ginger and Posh's stage costumes alongside the weird and wonderful merchandise they put their name to. Like Easy V, it doesn't come for free, but a tenner a ticket seems more than fair to us. Nick Levine. Spice Up London. Business Design Centre. Tube: Angel. July 28-Aug 20. From £10. Find out more here.
A smash at this year's Cannes Film Festival, 'BlacKkKlansman' is being touted as Spike Lee's best film in years. It's based on the remarkable true story of Ron Stallworth (played by Denzel Washington's son John David Washington), an African-American cop who managed to infiltrate the Ku Klux Klan with a little help from white colleague Flip Zimmerman (Adam Driver). Expect plenty of laughs but also some discomfiting moments where Lee draws wrenching parallels with modern-day race relations. Nick Levine
It's nearly that time of year when a usually calm corner of west London becomes a kaleidoscope of colourful outfits, soca music and towering feather plumage. Last year around two million people turned up for the spectacle, which saw the streets around Notting Hill filled with the sight of mas parades, the sound of steel bands and sound systems and the delicious scent of Caribbean grub. Europe's largest street festival is a joyful celebration of Caribbean culture everyone should experience at least once. If you haven't been yet, make 2018 the year you pop your Notting Hill Carnival cherry. Kyra Hanson
Watching a classic movie in Somerset House's historic courtyard feels pretty extravagant, but by now, it's quintessentially London. This year's two-week programme includes civil rights drama 'Selma', Hitchcock thriller 'Rebecca', queer love stories 'Carol' and 'Call Me By Your Name', cult comedy 'Being John Malkovich' and David Lynch's dazzling 'Blue Velvet'. There's also a frankly fantastic double bill of 'Labyrinth' and 'The Wizard of Oz'. Just remember your umbrella, because the famously fickle British weather might not behave itself even for Judy Garland. Nick Levine
Things to do, Pop-up locations
Hitch a ride on a tractor to this allotment-themed spot where you can find cocktails made from ingredients grown on the green site, barbecue areas for alfresco dining, and bookable potting sheds, greenhouses and long flower tables if you're hanging with a gang. You'll find the pop-up in the Geffrye Museum's Victorian gardens, which were pretty beautiful to begin with.
Find more things to do in London
Want to fly to London on us?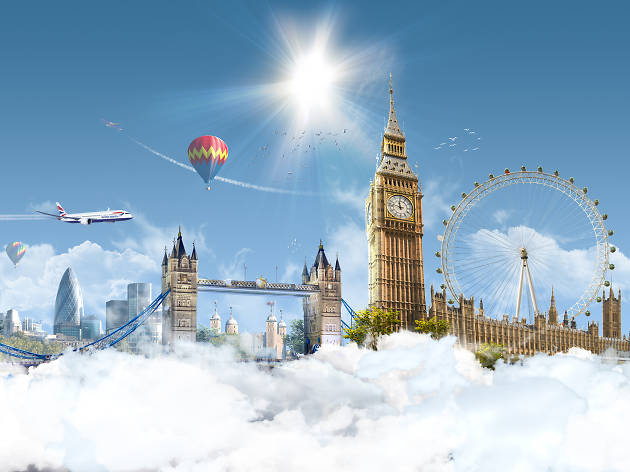 Our friends at British Airways are giving one extremely lucky Time Out subscriber the Bestival experience of a lifetime, including return Club World (Business Class) flights to London for you and two besties, plus three tickets to the four-day event (prize valued at $13,000).