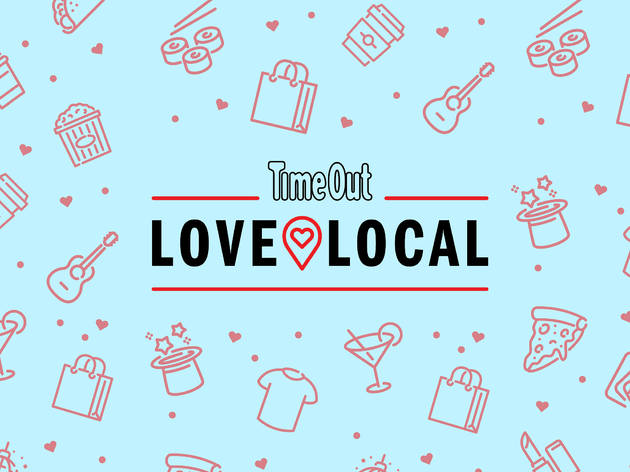 Love Local: Time Out pledges support for local food, drink and culture in NYC
We're helping the city's independent businesses, and our fellow New Yorkers, by lending our voice to two crucial campaigns.
Back in March, the world as we knew it turned upside down. And though New Yorkers are cautiously getting back out and exploring the city, things are still far from back to normal. A lot remains unclear about what the future holds, but one thing's for sure: social distancing is here to stay for quite some time. And while that may continue to be an inconvenience for most of us, it's potentially disastrous for many of the businesses, people and industries that make New York a place worth living.
Time Out editors have been seeking out the best of the city since 1968. We know that New York is nothing without its restaurants, bars, theaters, music venues, nightclubs, cinemas, art galleries—and all the other local independently run places where people come together to eat, drink, laugh, think, dance and suffer through the occasional off-key open mic night.
If we don't take action right now, countless venues will close forever. Many places, already struggling to pay their sky-high New York rents, are now dealing with months of lost revenue. On top of that, thousands of bartenders, waiters, cooks, artists, musicians, actors, filmmakers, designers and other creatives have been left unable to earn a living.
We're determined to help. That's why we've launched our Love Local campaign to support local food, drink, culture and entertainment in New York.
We started by officially lending our voice to two crucial campaigns that are fighting for local NYC culture: ROAR (Relief Opportunities for All Restaurants) and Broadway Cares / Equity Fights AIDS COVID-19 Emergency Assistance Fund. Now, as the city's small businesses continue to face an unknown future we're stepping things up. For the rest of the year (and beyond), we're devoting ourselves to highlighting and celebrating small food, drink, arts and culture spots.
You can follow us on Facebook and Instagram to hear more about our ongoing campaign. As New York adjusts to its new reality, we'll continue to support local independent venues, and the people that bring them to life.
And finally, to the New Yorkers and businesses going through a tough time right now: know that we're with you. And when you return, we'll be there on opening day.
Will Gleason
Editor
Time Out New York
---
Small business in NYC: the latest