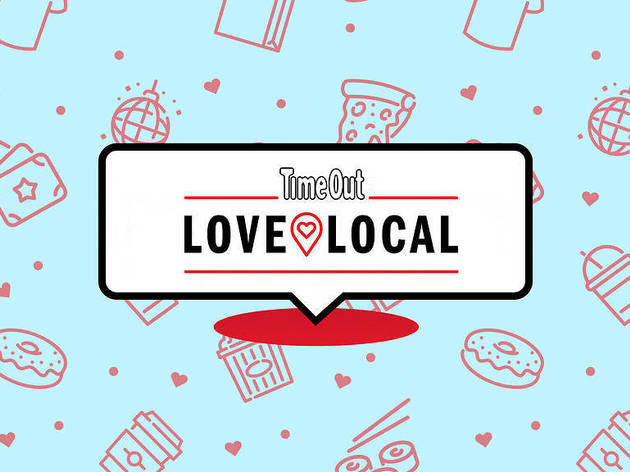 #LoveLocal: Time Out New York celebrates local shops, food and culture
In tough times, we're backing the independent businesses that represent the soul of the city—with a special focus on LGBTQ+ places for Pride
Hello, New York!
Time Out editors have been seeking out the best of the city since 1968. We know that New York is nothing without its restaurants, bars, theaters, music venues, nightclubs, cinemas, art galleries—and all the other local, independently run places where people come together to eat, drink, laugh and think.
If we don't take action right now, countless venues will close forever. Many places, already struggling to pay their sky-high New York rents, are now dealing with months of lost revenue.
We're determined to help. That's why we've launched our Love Local campaign to support local food, drink, culture and entertainment in New York. We're using this space to tell their stories and share their shoppable wares so that you can pitch in and lend a hand. This month, we're shining a special spotlight on thriving local LGBTQ+ spots around the world for Pride.
You can follow us on Facebook and Instagram to hear more about our ongoing campaign. As New York adjusts to its new reality, we'll continue to support local independent venues, and the people that bring them to life. Keep scrolling to see Time Out's Love Local campaign in action and consider supporting a New York business today.
Will Gleason
Editor
Time Out New York
---
Local LGBTQ+ around the world worth celebrating
If the last year has taught us anything, it's that nothing can replace the experience of being in a shared physical space with people you love. For the global LGBTQ+ community, that need is especially strong. Around the world, LGBTQ+ people have flocked to bars, community centers, bookstores and more in search of a sense of belonging. Now, after over a year of global lockdowns, canceled events and closed doors, many of these thriving community hubs are in need of a little extra love.
This Pride month, Time Out is celebrating the local spaces around the world that serve as beating hearts of LGBTQ+ communities. We asked Time Out editors across the globe to nominate their favorite LGBTQ+ hotspots, and the results were both varied and inspiring – from a GLBT museum in San Francisco and a picnic spot in Paris to great bars from Madrid to Hong Kong.
Not only will this list give you plenty of great ideas for fun spots to hit up on your next trip, it also rounds up specific crowdfunding pages and donation opportunities to show some support before you can make it there in person. Think of them as tip jars – you can throw a little money in before you're able to celebrate there IRL. Happy Pride, and we'll see you out there!

Share your favourite local spots with us via the #LoveLocal hashtag – and follow Time Out's Love Local campaign as we celebrate and support the independent food, drink and culture venues that make our cities great.

Small business in NYC: the latest
Love Local from Time Out New York Kids
Best selling Time Out Offers