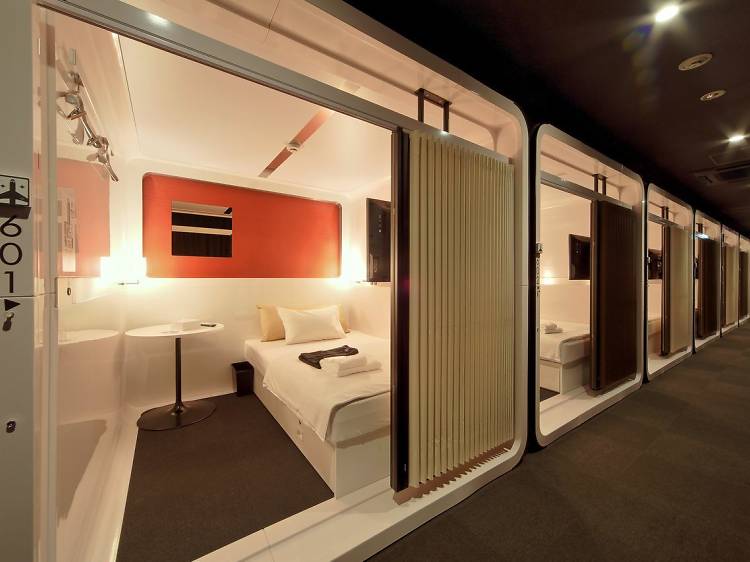 Photo: First Cabin
First things first, you need a place to stay. You'll find that most of Japan's budget-friendly options are in the east of the city. But that's no bad thing because this is where you'll come across top Tokyo destinations like Asakusa for Sensoji Temple and Ueno for its park and various museums.
Hostels, of course, offer some of the cheapest rates. One of the most attractive is Toco Tokyo Heritage Hostel in a converted 1920s townhouse in Iriya, not far from Ueno. A place in the dorm costs from ¥3,000 per person per night. The same company also runs Nui Hostel & Bar Lounge in cool Kuramae, a stone's throw from Asakusa. This stylish hostel with a popular bar has dorm room bunks from ¥2,600 per person per night.
If you're looking for something a bit more traditional, there are budget-friendly ryokan (Japanese-style inns) dotted around. A convenient option is Sawanoya Ryokan in Nezu, which caters to international visitors. A one-person room with traditional tatami mats will set you back a minimum of ¥5,940 per person per night.
Another accommodation option synonymous with Japan is the capsule hotel. While not as homely as a ryokan, these sleeping pods can be quite cheap. Expect to pay as little as ¥2,000 per night at places like Tokyo ¥1980 Hotel in Iriya, while capsule hotel chains such as First Cabin and Nine Hours have rates from around ¥3,000 per night.
Be aware that capsule hotels are often used by men and that some are male-only. There are a few exceptions, though. Nine Hours Women capsule hotels in Kanda and Shinjuku are female-only and still offer low-cost accommodation, with rates starting at ¥3,400 per night.
It's also possible to get hotel rooms with your own bed and en-suite bathroom for a price that still leaves aside plenty of money for your holiday spending. There are four Sakura Hotels in the city (Ikebukuro, Nippori, Hatagaya and Jimbocho) and a one-night stay per person can be as low as ¥6,500.