London events in December
Your guide to the best events and things to do throughout December 2016 in London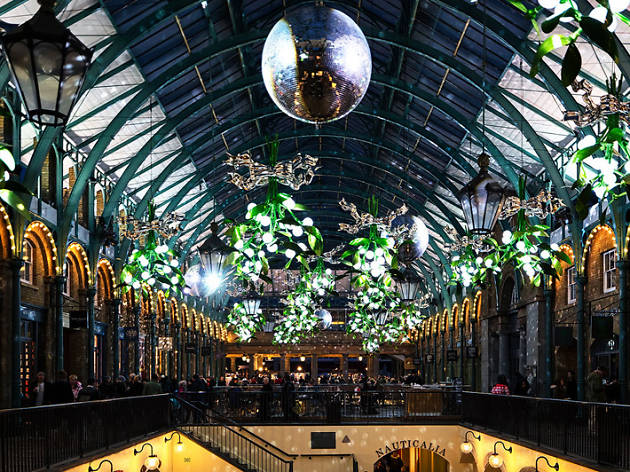 It's beginning to look a lot like Christmas in London – the trees are up, the Christmas lights are on and the seasonal songs are already driving us insane. This December, prepare yourself for some serious festive cheer and head to one of London's events full of the holiday spirit. We reckon a quick spin around London's ice rinks should do it – or, if you've had one festive sandwich too many, there's plenty of non-crimbo events to enjoy too. Check out our pick of the best things happening this December and we'll catch you under the mistletoe.
RECOMMENDED: The definitive London events calendar
Our December 2016 highlights
Art exhibitions this December
Nightlife this December
Robert Smith's seminal gloom-pop combo play one of their sporadic London gigs, which generally last upwards of two hours. They're not known for being a dynamic live act, but the quality of their material – 'Boys Don't Cry', 'The Love Cats', 'Friday I'm In Love' and loads more, all bellowed back by a fiercely adoring crowd who've nostalgically backcombed what's left of their hair – means The Cure are still well worth catching after all these years. New material is also on the cards for the first time since 2008 at these December shows.
Book now
Read more
Think bingo is boring? So do this lot, which is why they created a brilliant, bizarre, boozy and unashamedly silly alternative. Two 'Wayne's World'-styled hosts throw serious shapes to the likes of Bon Jovi and 'Eye of the Tiger' while calling the numbers. There are numerous prizes to be won, including the coveted Bogan Bingo lunch box, plenty of classic '80s pub rock and floods of stonewashed denim.
Read more
Discover the stars of tomorrow at one of our specially curated gigs. Taking place at iconic music venues around London, our Rising Stars events showcase some of the best new artists in the capital. Each show will feature five up-and-coming artists performing intimate sets especially for you. Featuring the freshest faces in blues, rock, country and folk, this is the place to find your new favourite artist. Plus, if you arrive before 8pm, you can have a drink on us at each gig! So grab this opportunity to see these amazing acts now so you can say 'I was into them before they were famous' while you still can.
Book now
Read more
Blitz-era tube-themed bar Cahoots hosts live music every Friday, with electro-swing and 'chap rap' acts performing alongside more traditional gypsy jazz and lindyhop bands.
Read more
Jazzie B and his classic soul-jazz collective bring their infectious, sun-struck funk, house and reggae riddims to the stage.
Book now
Read more
Brooklyn native Kweli helped set a new benchmark for conscious rap through his collaborations with DJ Hi-Tek (the Reflection Eternal project) and Mos Def (as the stellar Black Star). He makes a welcome – and quite rare – solo showing here, performing his familiar free-flowing rhymes and symphonic samples.
Book now
Read more
Jean Paul 'Bluey' Maunick's jazz-funk fusioneers have now clocked up a remarkable 30 years on the London scene, and also enjoy superstar status overseas. Count on an immaculate performance tonight of their super-slick jazz, funk and soul grooves, with vocals by US soul diva Maysa Leak.
Book now
Read more
The distinguished American pianist performs thee Schubert sonatas in C minor, A and B flat.
Read more
Retro-but-refreshing young singer-songwriter Bugg burst from his hometown of Nottingham to the top of the charts in 2012. His brand of indie country-folk mixes a Dylan-esque rasp with Miles Kane's brand of mordant Mod-rock, plus a dollop of Americana on his latest album 'Shangri La'.
Book now
Read more
Show more
Find out what's happening in January
Forget the gym and forget the diet, this January fill your diary full of the capital's biggest and best events.
Read more