Music & Nightlife
Your guide to the best live music, concerts and clubs in Accra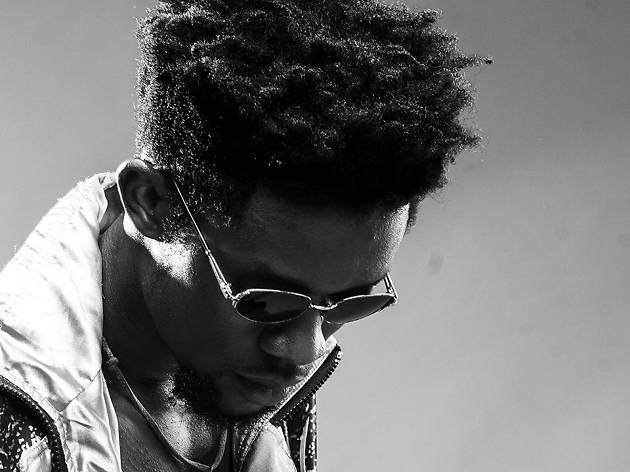 The Hot List
Read on for our guide to the week's coolest events and most interesting venues. If you manage to tick off all ten, head back to our home page for daily updates on the best restaurants, cultural events, nightlife, and whatever else Accra manages to think up before our next Hot List is published on Monday.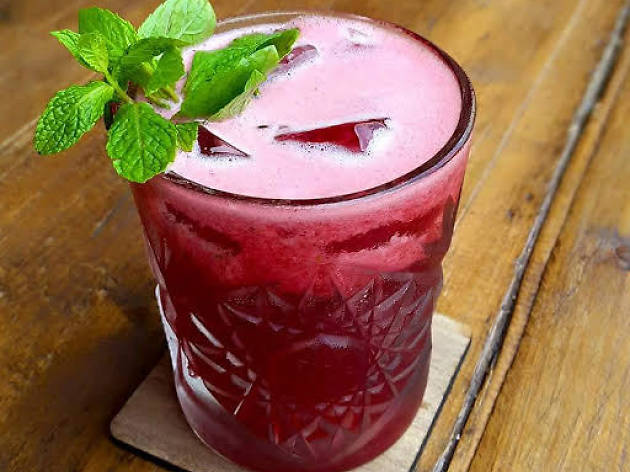 Cocktail Class
In July, 2016, in New Orleans, Tapatheo stepped onto the mat in front of the world's best mixologists and made the best cocktail of his life. It was the 14th Annual Tales of the Cocktail festival, and among teams from The Savoy in London and Smuggler's Cove in SanFrancisco was Ghana's foremost mixologist Chris Beaney, a Brit, alongside his protégé Theo from Accra's Burger & Relish. It was a big deal: Theo was the first African bartender at the event for 12 years, and the first ever Ghanaian. He was enrolled in the Cocktail ApprenticeProgramme at the New Orleans event to learn from the very best; he was one of 40 selected out of 700. "I'm looking to teach future generations of mixologists andhopefully get them to a point where I am now," Theo tells Time Out Accra. It's been some story. Five years ago Theo was working as a cleaner at The Lexington (now Champs), where Chris was the manager. Chris spotted Theo's potential, took him under his wing and trained and mentored him to an international level. The rest, as they say, is history. "I was given the opportunity to fly to Sweden to see how the hospitality industry worked in another continent. I also got the opportunity to see how vodka was produced andto make drinks using vodka. The whole experience really was the turning point in my life and had a massive impact on the hospitality industry in Ghana. I'd never owned a passport and had never flown on a plane, let alone left the country."Young underprivileged people "Young unde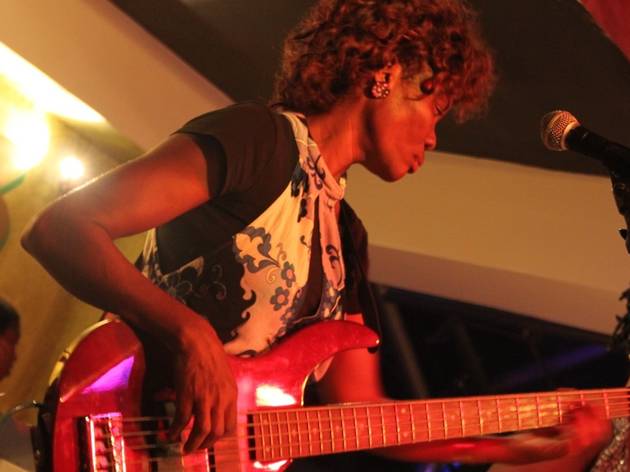 From highlife to hiplife - a guide to Ghanaian music
Step into many of the nightclubs in Ghana's cities and more often than not you'll be confronted with the throbbing beats and visceral energy of hiplife. A blend of hip hop, dancehall and reggae, hiplife has become a favourite of DJs and clubbers alike. But this wasn't always the case. Ghana's musical map was once dominated by highlife - a genre so diverse it managed to not just survive western influence, but incorporate the disparate styles imported to the country over centuries to produce an effervescent sound which reflects the vibrancy of Ghana itself. Although still popular in Ghana, it's also a genre which is being championed by music lovers far from the former Gold Coast, predominantly the boss of UK based record label, Soundway - Miles Cleret. 'Highlife is a real mirror of the 20th century in terms of music. There are a lot of different modern music forms that came out of this era, and highlife is one of them. It's a real mish-mash of everything,' said Miles, who has managed to capture a snapshot of the scene on Soundway's recent release, Ghana Special: Modern Highlife, Afro-Sounds and Ghanaian Blues 1968-81. 'The roots of highlife are a collage of music, from traditional African music to colonial marching band music, to hymn singing and church music. And as the century went on it absorbed different influences from around the world. So it's got a bit of jazz, a bit of swing, it's got a bit of blues, it's got a bit of Latin music. Then as things go on in the 1960s and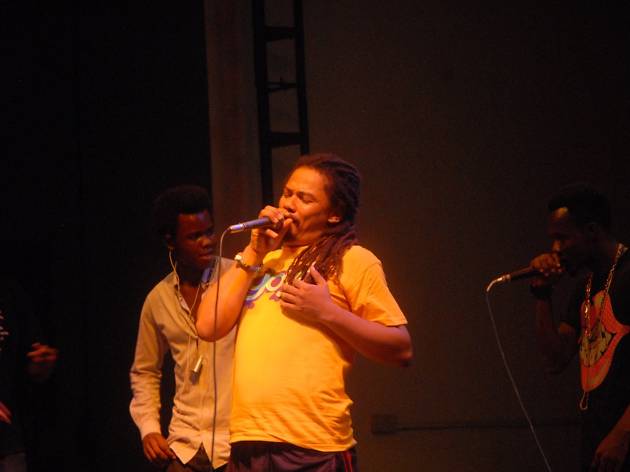 Global beats
Homegrown talent... "Each song sort of breathed itself into being," says Jahwi, the Accra musician whose debut full-length album, Ancient Soul Cries, gives as clear a picture as any of the kind of inventive underground music currently coming out of the city. Its blend of laid-back beats, Ghanaian patois, firebrand subject matter and layered instrumentation draws on a mix of different genres – from rock and reggae to afrobeat and hip-hop – and touches on everything from war to sex.  Jahwi himself, also a photographer, poet and painter, has been a well known name on the local cultural scene for years. Tellingly, he draws his song-writing influences from a whole host of sources. "My first encounters with music were hundreds of vinyl records that my father had collected over his travels. I began DJing his parties from the age of six – it was a disco and funk era, but some of the most influential forces in my music are people like Fela Kuti, Nina Simone, Sizzla Kalonji and Bob Marley. I could sing 'Redemption Song' before I could speak English."  Jahwi's paintings have been exhibited everywhere from South Africa to Australia, and given the right exposure his album has the potential to reach a similarly wide international audience. At a time when so much street-level music seems throwaway, Ancient Soul Cries has a more mature sound than most. "It sounds dark sometimes," he says, "but its main objective is healing." Ancient Soul Cries is out on Maddrenegade Music         ...and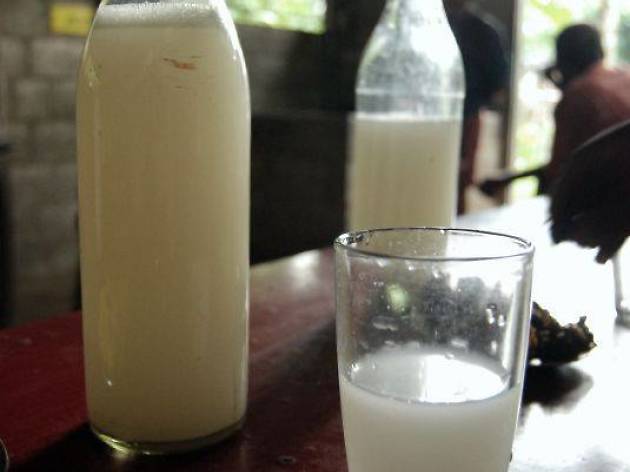 Palm Wine
Sounds, er, interesting. What is it? It is interesting. It's naturally fermenting juice tapped from chopped-down palm trees. Sounds, er, interesting and a bit yucky. Cynic. Actually, it's pretty tasty. Republic (see pleft) has even called it 'Ghanaian champagne' which – well, even we'd admit that's pushing it a little. It tastes a bit like white grapes, earthy with a sweetness that makes it pretty drinkable. Hmm. How strong is it? No idea. Just read the bottle. Given that it usually comes in 'repurposed' plastic water bottles, I don't think EU-standard labelling has reached rural Ghana. We were last served it in Republic, in a pint glass with two straws, and we'd suggest it was 'strong'. Very strong.  I'm even less convinced now. Sounds like moonshine. It is. Maybe try it in a cocktail, again in Republic. And it spawned its own music. What!??   Palm wine music was one of the key influences in Ghanaian highlife. Chilled farmers playing music.   
The best places to party in Accra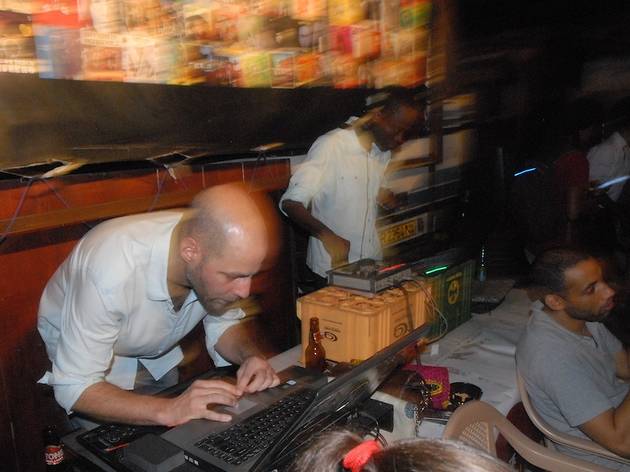 Republic Bar & Grill
We'll still keep recommending this bar as it remains one of the most happening bars in Accra right now, thanks to its relaxed, music-forward approach to the good things in life: alcohol, fried food and really great music. It's a tiny space that tumbles out onto the street when things really kick off late on a Friday or Saturday. Album covers and black-and-white photos of music stars adorn the walls as Ghana's best music blasts out (often jaw-dropping highlife music acts live on the terrace; check out the Facebook page and Twitter account for details – highlife legend Ebo Taylor has even played here). Even the cocktails use great ingredients not found anywhere else: the Republica is a caipirihna made from traditional palm wine. On a sunny day (and yes, it's always sunny), try one of their 'Wild Beers': the Beer Sap has bissap concentrate added to it. Fittingly, the food is good beer fodder too – the cassava chips are a fabulous drinking accompaniment, while the Fire Go Burn You pepper soup and Ye Ye Goat curry are superb value for something this tasty.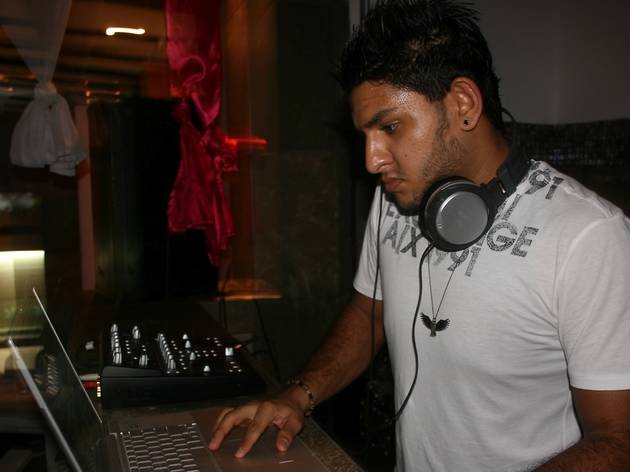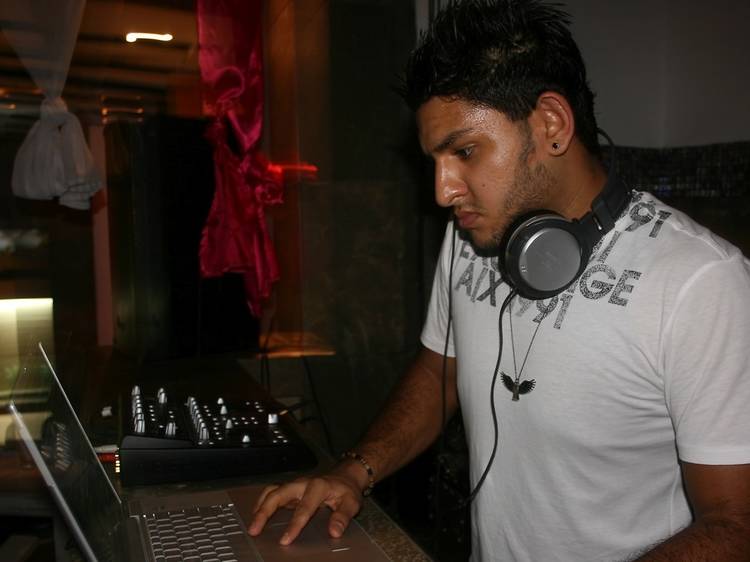 Bella Roma
Fresh and bold Mediterranean flavours reign at this friendly Italian eatery. It's recently been expanded, and diners have a choice between an indoor restaurant area, outdoor patio, or lounging on the banquettes in the bar area. Patrons devour Italian staples packed with triumphant combinations of smoky black olives, rich cheese, tender artichokes, full-bodied passatas and cured meats. Mains include tagliata with parmesan and rucola (GH¢45), but most people opt for the pizzas (GH¢28 on average), which are superb – giant bubbling disks liberally topped. For a loaded treat, the Quattro Stagioni has mushrooms and artichokes aplenty, and the piquant Diavolo is a simple pleasure of salami drizzled with chili oil. Those heroic enough to vanquish a whole pizza can revive with a espresso in stylish white cups.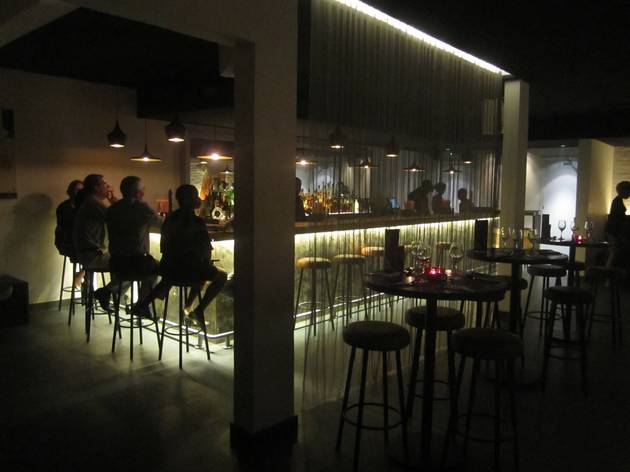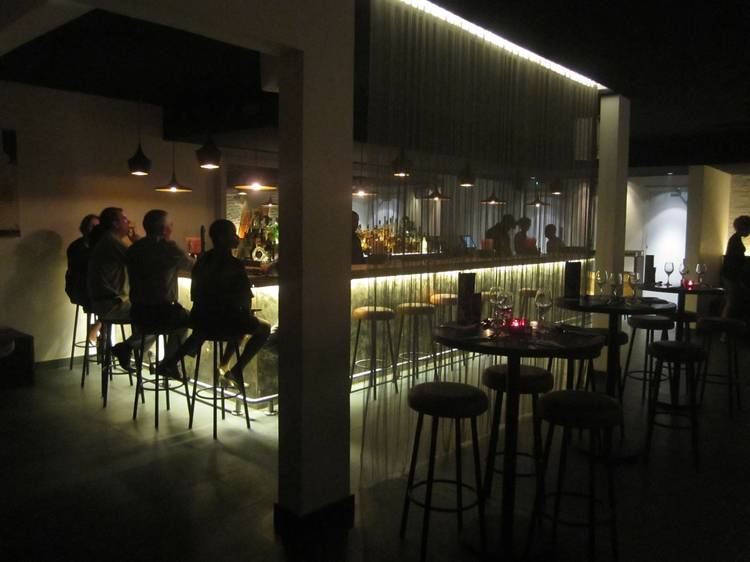 Firefly Lounge Bar
Firefly is a confident nightspot – the industrial chic of its whitewashed brickwork, dim lighting and edgy beats attracts a preened international clientele. A back-lit bar glows with premium blends, and cocktail aficionados, spirit lovers and wine drinkers alike pull up stools to confer with chatty staff sporting black shirts, braces and the odd jauntily angled hat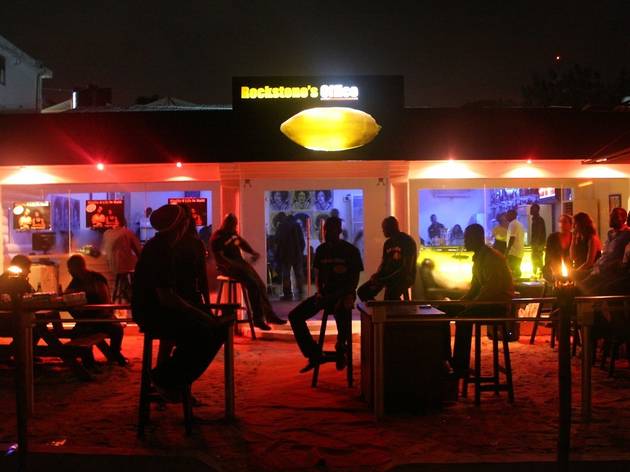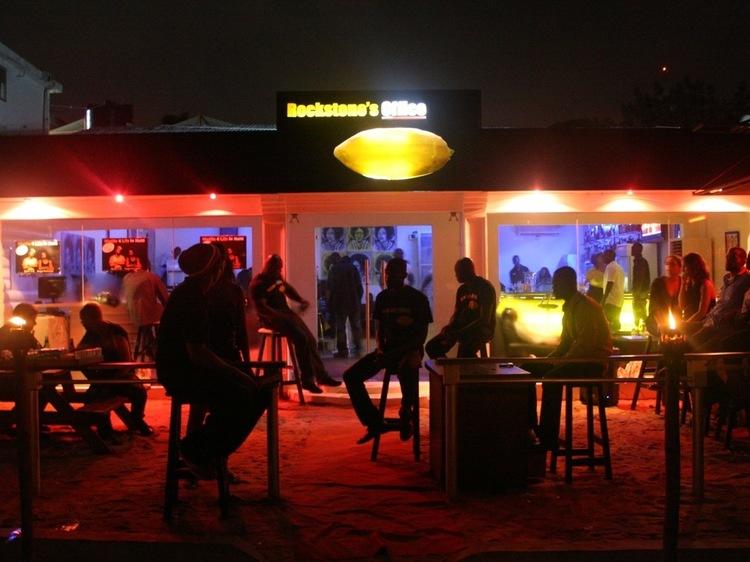 Rockstone's Office
This bar is owned by 'Godfather of Hiplife' Reggie Rockstone. Reggie has succeeded in creating a kind of hip hop casual environment, so alongside the white leather sofas and bum-grinding beautiful people there's a relaxed outside terrace and an easy-come dress code. There's often live music on Wednesdays and it occasionally hosts the Bless the Mic collective (Facebook page). But it's at weekends when things really get going, with booming hiplife carrying the crowd through to 6am. His GrandPapazz is next door – a VIP only area. But most people will end up on the terrace at some point.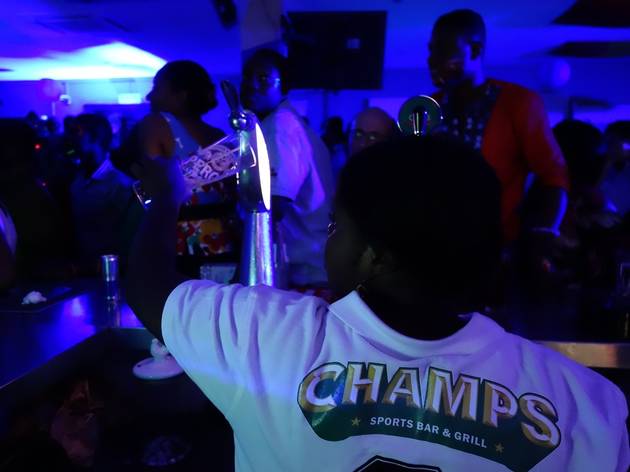 Champs Sports Bar & Grill
Champs is back! After a brief flirt with being called The Lexington, the bar has become Champs again. It now offers an international menu, wide coverage of all major sporting events on eight large screens TV and four project screens and a wide selection of regular events organised entertainment events, a quiz night every Thursday, regular live music,  Thursday Quiz Night, Accra DJs such as DJ Black, DJ KillerFingers, DJ Big L and DJ Vision and a Friday karaoke competition. The Stellar Group that runs it hopes to return the bar to the good old days of Champs.  Champs. Champs Sports Bar & Grill can also be found in Takoradi at Stellar Lodge and will soon open in Lagos on Victoria Island.There's also a Champs Sports Bar & Grill in Takoradi at Stellar Lodge and there will be a new Champs opening in Lagos this month. A full review will be uploaded in mid-May.The Accra Champs is located in the Paloma Hotel Complex on the Ring Road.  FB: Champs Sports Bar & GrillTwitter:@ChampsGHAccra
The best nightlife in Accra