Music & Nightlife
Your guide to the best live music, concerts and clubs in Accra
The Hot List
Read on for our guide to the week's coolest events and most interesting venues. If you manage to tick off all ten, head back to our home page for daily updates on the best restaurants, cultural events, nightlife, and whatever else Accra manages to think up before our next Hot List is published on Monday.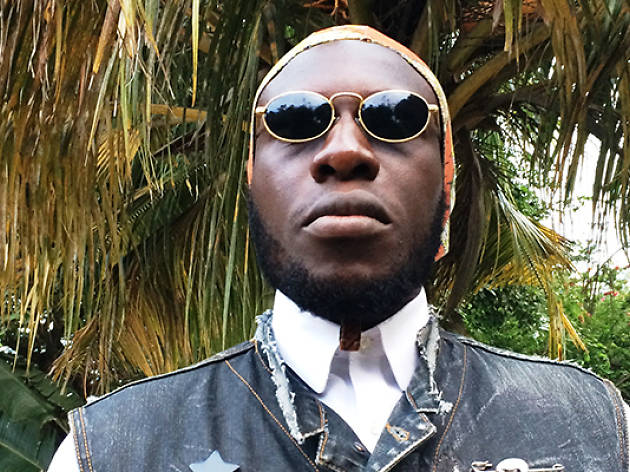 Accrartist: DJ Steloo
In his short documentary film "Finding", Accra's most fashionable DJ, DJ Steloo, revealed how he carefully selects the various elements of his distinctive and bold Afro- steampunk-hipster-esque outfits from informal markets around Accra. The film debuted at the 2016 edition of the Chale Wote Street Art Festival. Tash Morgan-Etty caught up with Steloo after the screening to find out more about the film, reactions to his style sense and what Accra means to him.  What was your motivation to move into film? The thing that kicked me into film is me telling my story in a different way. I'm known as a DJ, and here in Accra DJs are put in a box. People only know us as playing music, and nothing else. So, with me, I'm trying to challenge myself by opening up to other things, explore, experiment through other ways; find other ways of telling my story and communicating with people not just through music. Other ways I can tell my story is by relating with people I connect with through my fashion sense – the uniforms I wear, the music I play, pictures that I take and put out, etc. Those are the ways I want to tell my story.  Also, people are curious where I find my [clothes], and how I pick them, etc. So I thought, "OK, I can tell my story from this space and show that side to the people, and share. I'm sharing the side that people don't normally see.  You call what you wear a "uniform". Why do you see it as a uniform, rather than just simply your choice of wardrobe? I believe we all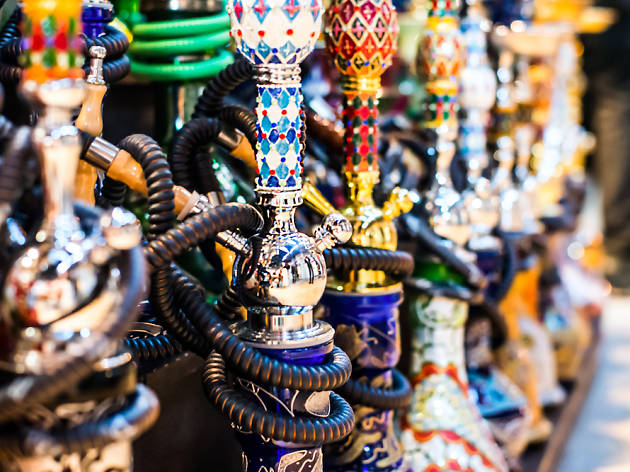 5 Places to Smoke the Shisha
It's pretty relaxing, puffing on a pipe and hearing the bubbles rumble. Smoking a shisha has been trendy in Accra for a while now and is a is a chilled way to end a hectic day.   Here is Time Out Accra's list of outdoor venues to enjoy the shisha under the starry sky.   Shisha Lounge   Munch on brick-oven pizza and watch Osu at night, while smoking a shisha.   On a side street to Oxford, near Ring Road E roundabout, this is the always a happening shisha spot.    Consisting of an elegant outdoor eating area, an indoor bar (almost always with a DJ spinning some discs), and a delightfully rustic 'tree house', this place has carved its way into Ghanaian nightlife.    Address: 14th Lane, off Oxford Street, Osu, Accra, Ghana‬‬   Hours: Open daily from 6pm to very late   Lord of the Wings (Cantonments and East Legon)   With stylish decorated terraces complete with soft cushioned sofas, these spacious bar/restaurants in both Cantonments and East Legon, have it all.  A perfect spot for shisha-smoking on outside patios, for wings, beer and football or a quick bite.    Address: Fourth Circular Road, Cantonments, Accra + East Legon   Hours: Noon-11.30pm daily   Chase    This popular Labone eatery houses a sports bar and lounge, as well as a main restaurant with a teppanyaki bar. Their pleasant outdoor patio invites customers to sit back and exhale the sweet smoke from a shisha pipe.   Food in the café area starts from 7am with breakfast, and is open until late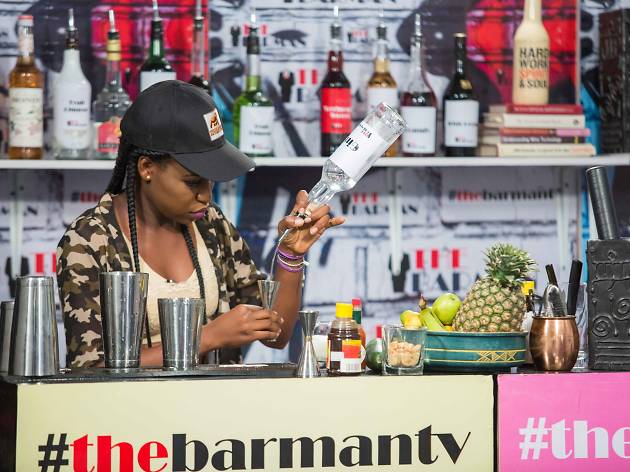 Happy Hour for Ghana
West Africa's burgeoning bartending trade is getting a big boost through a new and unique reality TV show, which showcases the region's masters of cocktail making.  The Barman TV features over 80 bartenders from Ghana, Nigeria, Sierra Leone & Liberia battling it out for the top prize of an all-expenses paid trip to the European Bartender School in London. Experienced spirit industry professional and TV Presenter, Mark Barrett is The Barman TV's host. Judges include Caesario de-Mederios, the show's creator, who is a spirits industry professional, and certified wine and spirits educator; Lara Rawa, a lawyer, bartender, and founder of Lagos Cocktail Week; and Accra-based Chris Beaney, previously the manager of Crazy Homies and Lucky 7 in London, and currently President of the Ghana Bartenders Guild, and manager of Burger and Relish Restaurant and Bar in Osu. Time Out Accra caught up with Mr. Beaney to find out what his hopes are for the show and Ghana's contestants. You've been hard at work over the past five years training and mentoring young men and women in Accra to craft cocktails with care, and setting the bar (pun intended) for all drinks staff in Ghana to aspire towards.  What would you like to see from Ghana's contestants on The Barman TV? I'm hoping that the Ghanaians will be the best among [the contestants] with their own identity, and style that stands apart. I'd like to see them show their peers from other countries how skilful they are by using the correct techni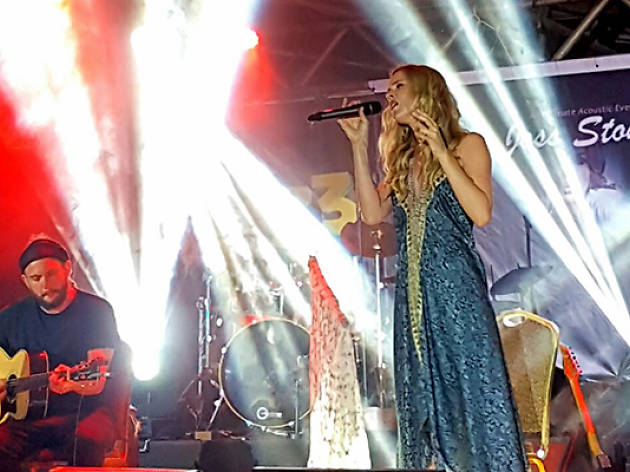 Accrartist: Joss Stone
 Grammy Award and Brit Award winning soul singer Joss Stone kicked off her "Total World Tour" in April 2014 with the aim to play a concert in every country on the planet. Having already completed gigs in Australia, South Africa, Dubai, Morocco, and a number of other nations, she graced Ghana with a one-night-only performance at +233 Jazz Bar & Grill in Accra on January 30, 2017. With the concert only having been announced a few days earlier, and numbers limited by the intimate venue, those lucky enough to get a ticket were in for a real treat.   Opening for the songstress were Ghanaian artists Wiyaala and Dela Botri, formidable performers in their own right, who had the audience tapping their toes and some even dancing wherever they could find the space to. But it was undeniably Joss Stone, with her trademark bare feet, a fluttering silk dress, and extraordinary voice, who truly had them spellbound. Her charm and candor soon broke the ice though, and several fun sing-alongs ensued. Performing both covers and originals, Stone's sultry soulful voice was a delight for all present, and her duet with Dela Botri at the end of the night was a brilliant finale.  Tash Morgan-Etty caught up with Ms. Stone after the show to find out more about her tour and her time in Accra.   What was your motivation for performing in Accra? And was this your first time in Ghana?It was my first time in Ghana. My motivation for performing was that it is part of my Total World Tour which includes eve
The best places to party in Accra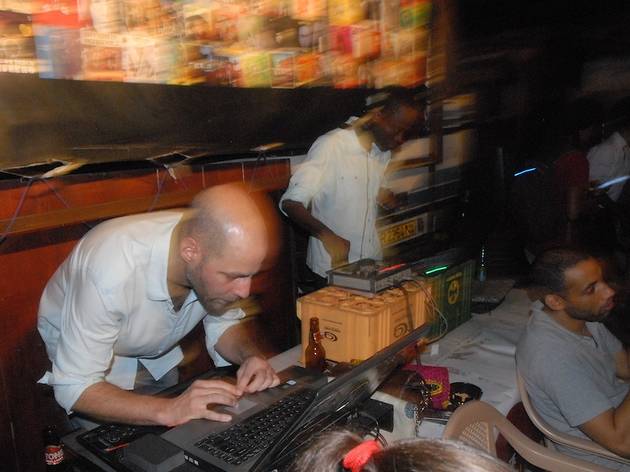 Republic Bar & Grill
We'll still keep recommending this bar as it remains one of the most happening bars in Accra right now, thanks to its relaxed, music-forward approach to the good things in life: alcohol, fried food and really great music. It's a tiny space that tumbles out onto the street when things really kick off late on a Friday or Saturday. Album covers and black-and-white photos of music stars adorn the walls as Ghana's best music blasts out (often jaw-dropping highlife music acts live on the terrace; check out the Facebook page and Twitter account for details – highlife legend Ebo Taylor has even played here). Even the cocktails use great ingredients not found anywhere else: the Republica is a caipirihna made from traditional palm wine. On a sunny day (and yes, it's always sunny), try one of their 'Wild Beers': the Beer Sap has bissap concentrate added to it. Fittingly, the food is good beer fodder too – the cassava chips are a fabulous drinking accompaniment, while the Fire Go Burn You pepper soup and Ye Ye Goat curry are superb value for something this tasty.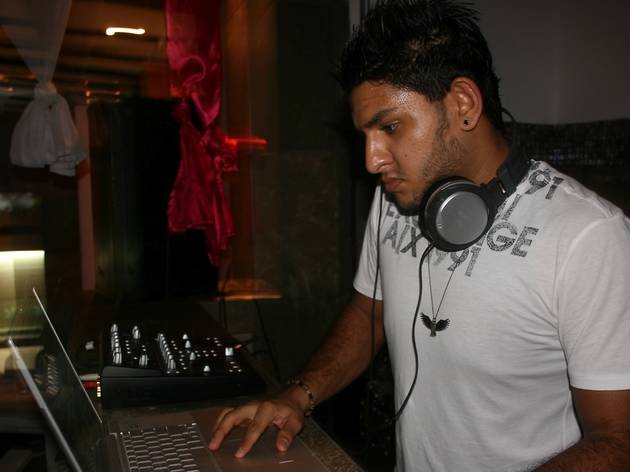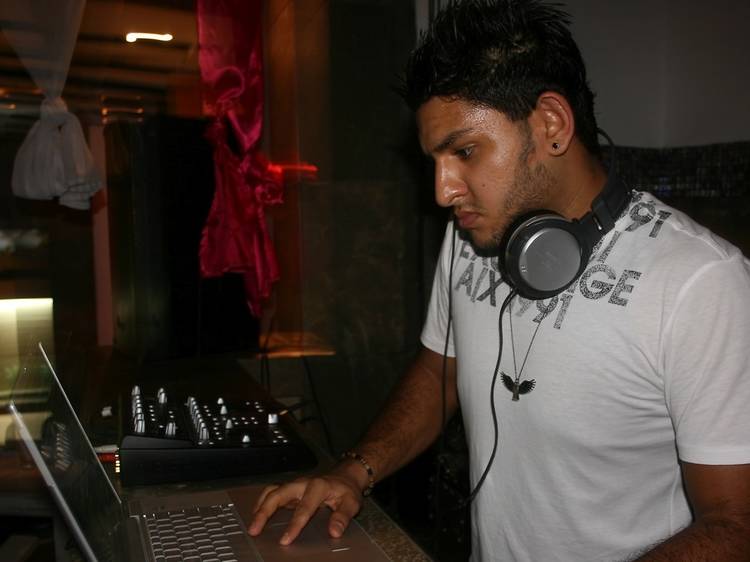 Bella Roma
Fresh and bold Mediterranean flavours reign at this friendly Italian eatery. It's recently been expanded, and diners have a choice between an indoor restaurant area, outdoor patio, or lounging on the banquettes in the bar area. Patrons devour Italian staples packed with triumphant combinations of smoky black olives, rich cheese, tender artichokes, full-bodied passatas and cured meats. Mains include tagliata with parmesan and rucola (GH¢45), but most people opt for the pizzas (GH¢28 on average), which are superb – giant bubbling disks liberally topped. For a loaded treat, the Quattro Stagioni has mushrooms and artichokes aplenty, and the piquant Diavolo is a simple pleasure of salami drizzled with chili oil. Those heroic enough to vanquish a whole pizza can revive with a espresso in stylish white cups.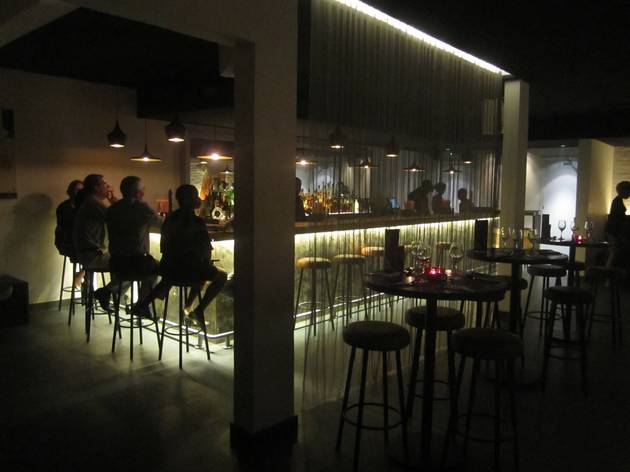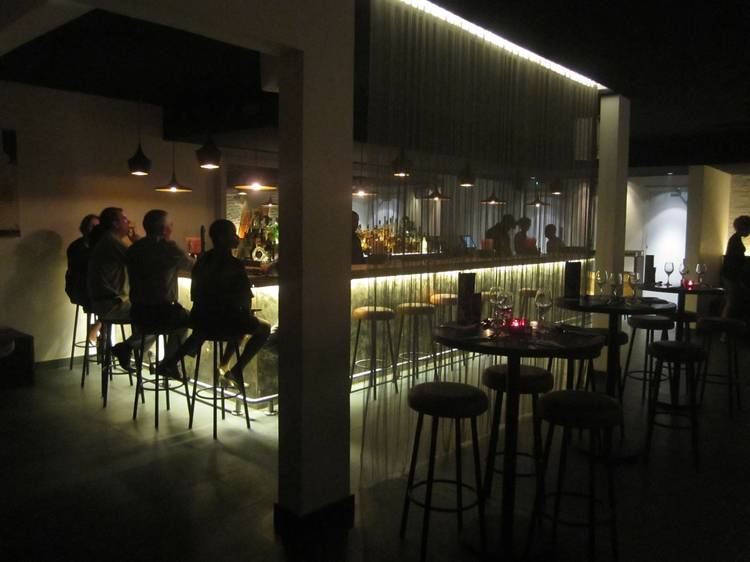 Firefly Lounge Bar
Firefly is a confident nightspot – the industrial chic of its whitewashed brickwork, dim lighting and edgy beats attracts a preened international clientele. A back-lit bar glows with premium blends, and cocktail aficionados, spirit lovers and wine drinkers alike pull up stools to confer with chatty staff sporting black shirts, braces and the odd jauntily angled hat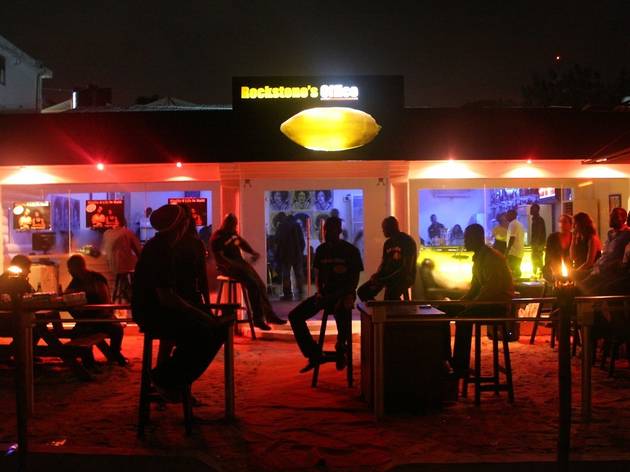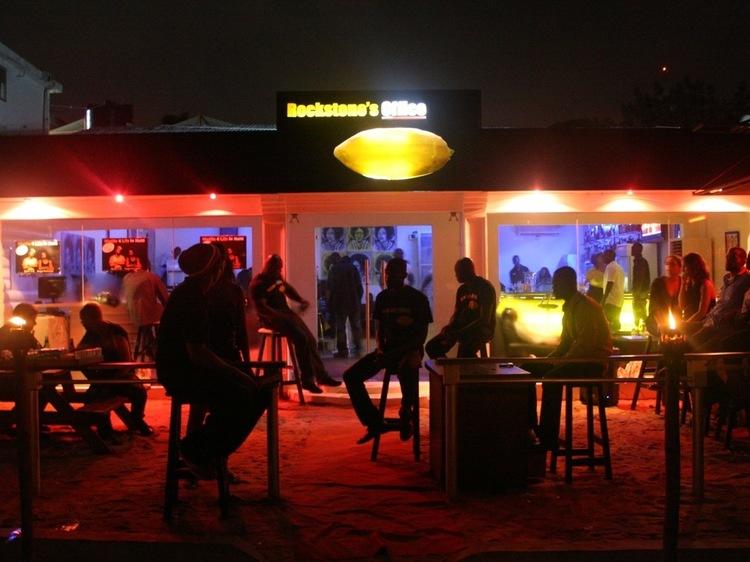 Rockstone's Office
This bar is owned by 'Godfather of Hiplife' Reggie Rockstone. Reggie has succeeded in creating a kind of hip hop casual environment, so alongside the white leather sofas and bum-grinding beautiful people there's a relaxed outside terrace and an easy-come dress code. There's often live music on Wednesdays and it occasionally hosts the Bless the Mic collective (Facebook page). But it's at weekends when things really get going, with booming hiplife carrying the crowd through to 6am. His GrandPapazz is next door – a VIP only area. But most people will end up on the terrace at some point.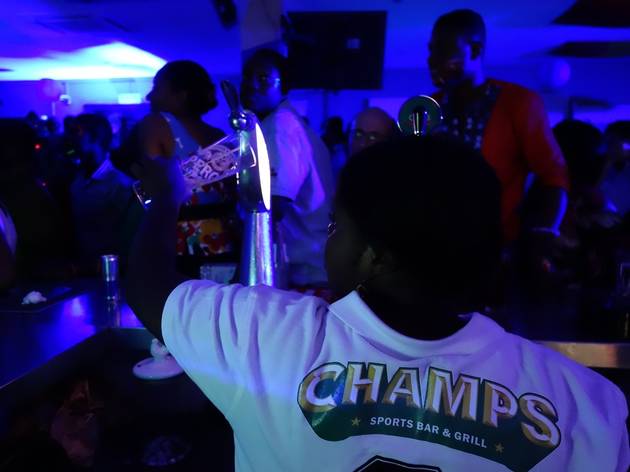 Champs Sports Bar & Grill
Champs is back! After a brief flirt with being called The Lexington, the bar has become Champs again. It now offers an international menu, wide coverage of all major sporting events on eight large screens TV and four project screens and a wide selection of regular events organised entertainment events, a quiz night every Thursday, regular live music,  Thursday Quiz Night, Accra DJs such as DJ Black, DJ KillerFingers, DJ Big L and DJ Vision and a Friday karaoke competition. The Stellar Group that runs it hopes to return the bar to the good old days of Champs.  Champs. Champs Sports Bar & Grill can also be found in Takoradi at Stellar Lodge and will soon open in Lagos on Victoria Island.There's also a Champs Sports Bar & Grill in Takoradi at Stellar Lodge and there will be a new Champs opening in Lagos this month. A full review will be uploaded in mid-May.The Accra Champs is located in the Paloma Hotel Complex on the Ring Road.  FB: Champs Sports Bar & GrillTwitter:@ChampsGHAccra
The best nightlife in Accra