Best outdoor bars in Chicago
Get in gear for summer and alfresco season with our guide to the best outdoor bars and patios in Chicago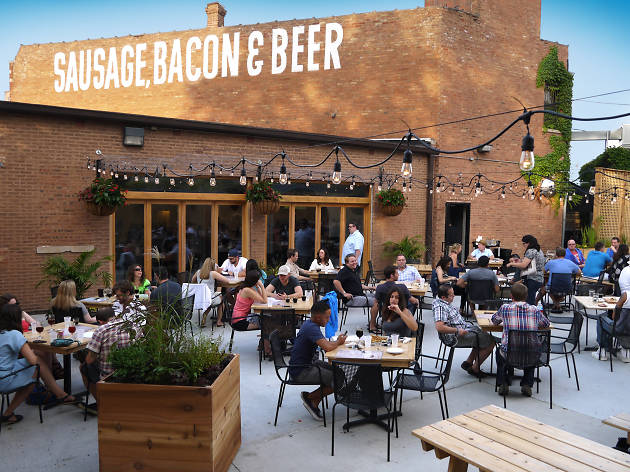 Best outdoor bars in Chicago
Sportsman's backyard has a fire pit, large tables and a canopy of twinkly lights. An in-house herb garden provides the bartenders with fresh ingredients. When it's time to come inside, animal heads on the walls and cozy booths with built-in chess boards make being indoors just as charming.
Read more
On a warm night, instead of bellying up to the bar to study the endless list of Belgian brews, we'd hang out on the patio, covered by a large umbrella perfect for educating oneself with beer. But don't neglect the food menu either—especially the CB&J sandwich with cashew butter, fig jam and raclette cheese. Our perfect night involves sampling the drafts while slurping down the famous ale-steamed mussels, which gets even better during the spring and summer on the patio.
Read more
Few people are aware of the charming little patio tucked off the back of this North Center bar. Just order a craft beer from the ever-changing list and a burger from Beard & Belly and keep quiet so the neighbors don't hear.
Read more
A gurgling pond, picnic tables galore and a lush lawn is the scene at this West Town dive. But when it rains (or at 11pm, when the garden closes), pack up the ciggies and head back inside, where the smell of whiskey and cheap beer hangs in the air, drunks angle for a turn on the ping-pong tables, and the jukebox coughs out the Cars and Madonna.
Read more
This laid-back Bucktown messenger magnet feeds famished cyclists with internationally inspired veg food. Warm weather demands grabbing a seat at one of the shaded, metal patio tables and ordering from the well-curated selection of microbrews—or, better yet, come for brunch and order a Bloody Hammer that's topped with a crunchy, juicy fried pickle.
Read more
This beer-centric classy neighborhood joint resides in a sleepy residential block, with a gorgeous arched and mirrored wooden bar, gold-painted tin ceilings, lava lamps and an alt-rock–heavy jukebox. Snacks like hand-dipped cheese curds and burgers round out the menu along with rotating pies from Bang Bang. The back patio supplies an assortment of wrought iron tables, perfect for whiling away an evening with a perfect pint of beer.
Read more
If Ron Swanson opened a restaurant, it would be the Kaiser Tiger. The specialty is the Bacon Bomb, a five-pound, bacon-covered meatloaf made with beef, pork and more bacon. Kaiser Tiger also features beer and sausage on its menu, plus a wide variety of craft beers. But the real beauty of this spot is the patio, with a bocce ball court in the back with long tables great for exhausting an afternoon.
Book now
Read more
This patio has two things going for it—a massive list of craft beers, plus a prime location at the Tribune Tower, which means you're perfectly situated for an afternoon of people-watching.
Book now
Read more
The reasons to come to this nearly 60-year-old Edgewater institution are many—towering trees shade most of the enormous two-level garden and straightforward half-pound burgers are a notch above average and taste like something your dad grilled when you were a kid.
Read more
Just like this chain's locations in New York City, Napa and Nashville, the West Loop's City Winery serves up plenty of food, beverages and live music. The patio area is large with plenty of tables and open doors to listen to the music inside. If you're looking for a music venue with a wine list that goes deeper than "red or white," stop by City Winery for a glass or two.
Book now
Read more
Federales is the new West Loop hotspot to down a few margaritas with barbecue-style tacos. Hogsalt and Four Corners Tavern Group have teamed up to create this large open-air space seating 176 people, with a big part of that seating outside. There are TVs and a bit of indoor seating surrounding the large bar, but it's clear that the intention here is to drink. Throw a few back and expect a fun night.
Read more
Three Aces has the look and feel of a punky college bar. But the crab gnocchi, short rib pizzetta and duck fat chips make it hard not to pay attention to the food. The only thing that can steal your attention away is the 140-seat patio.
Read more