You've got a slew of options for celebrating Valentine's Day in Chicago this year, whether you prefer to make a reservation at one of the city's most romantic restaurants or light some candles for an intimate takeaway meal at home. As the day of love draws nearer and nearer, think about the kind of dining experience you're craving this Valentine's Day: Do you want something low-key and affordable? How about a nine-course meal from a Michelin-starred restaurant? Or maybe a dinner that comes with rosé and flowers delivered straight to your table? You'll find all of that and more on our list. Scroll through some of this year's most promising menus below and don't forget to check back in over the next few weeks—we'll update with new additions as they're announced.
Dine-in
You and your date can settle in for a la carte dishes designed for two at Logan Square favorite Andros Taverna, where chef Doug Psaltis is serving oysters and caviar topped with shallot-dill ladolemono, seafood orzotto and a duck slow roasted in Xinomavro red wine. Feb 12–14, prices vary; reservations available via Resy.
Make a grand gesture for your valentine with Summer House Santa Monica's Roses & Rosé package, which sends a Flowers for Dreams bouquet and a bottle of Summer House rosé to your table. That's sure to pair nicely with the restaurant's a la carte Valentine's Day specials, like a prime beef honeymoon roast for two. Feb 11–14, $69.95 per person for Roses & Rosé; reservations available via OpenTable.
Ready to ball out this Valentine's Day? Grab tickets to Boka's three-hour, nine-course dining experience. An optional $165 beverage pairing features wines from across the world, including a very Valentine's Day-appropriate Champagne. Feb 14, $205; reservations available via Tock.
Another splurge-worthy option: Esmé, the new-ish fine dining restaurant in Lincoln Park, is rolling out a lavish six-course tasting menu that incorporates some of chef Jenner Tomaska's favorite luxury ingredients (think caviar, wagyu and truffles). For a slightly pared-down option, opt for Bar Esmé's three-course spread of pasta, fish or meat and a dessert ($150 for two). Feb 11–13, $295; reservations available via Resy.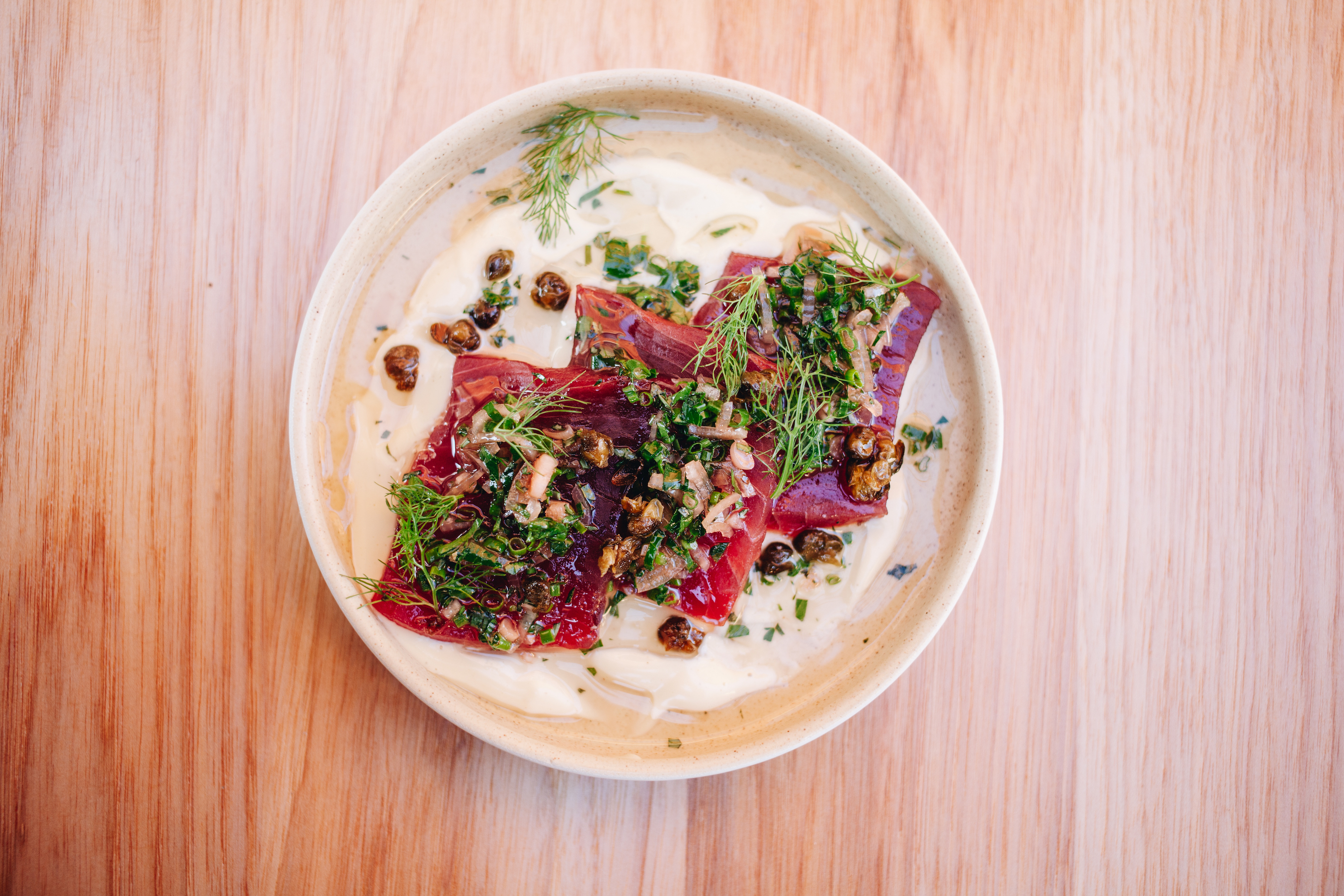 Like everything else at Rose Mary, the restaurant's four-course Valentine's Day menu is Adriatic-inspired: Look for seafood-heavy dishes like tuna crudo with crispy capers, shallot and beef fat vinaigrette and veal aioli. Dinner finishes up with an apple crostata topped with salted caramel gelato. Feb 12–14, $75; reservations available via OpenTable.
Keep things classic this Valentine's Day with a three-course meal from BLVD Steakhouse, which features options like an onion soup fondue with veal stock and gruyere cheese or an 8oz filet mignon from Creekstone Farms in Kansas. Want to add a little sparkle to your dinner? Premium bottles of Champagne will also be on hand. Feb 12–14, $80; reservations available via OpenTable.
Get in the holiday spirit with heart-shaped beet ravioli, seafood towers, hibiscus panna cotta and more romantic dishes available on The Press Room's prix-fixe Valentine's Day dinner. For extra romance, tack on a wine pairing for an additional $50. Feb 14, $75; reservations available via Tock.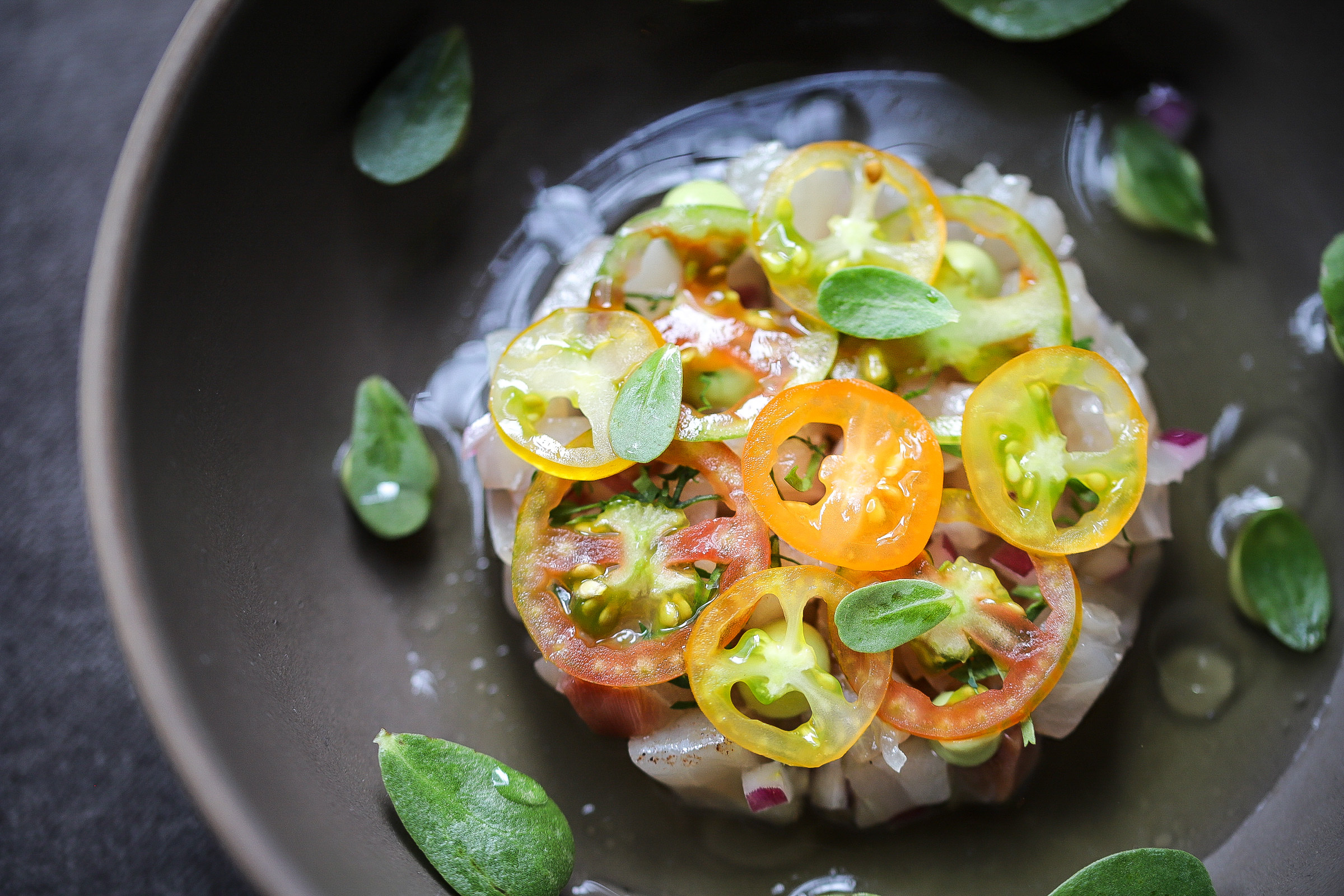 Andrew Zimmerman's Michelin-starred restaurant offers a roving selection of dishes in its four-course Valentine's Day dinner, from a pickled huckleberry-topped foie gras eclair to kanpachi crudo crudo with winter citrus and baby turnip. Dinner ends sweetly with creme fraiche ice cream drizzled in huckleberry and white chocolate for dessert. Feb 12–14, $115; reservations available via Sepia's website.
This iconic Lincoln Park fondue spot goes all out for Valentine's Day, offering a holiday package that starts with decadent Swiss gruyere cheese fondue and concludes with a pot of Belgian chocolate fondue flamed tableside. Bonus for all you married lovebirds: On February 7, married couples get 1 percent off their food bill for every year they've been wed (just bring proof)! Feb 6–19, $130; reservations available via OpenTable.
A Valentine's Day menu pairs dishes like cured salmon carpaccio and winter black truffle risotto with pours of Veuve Clicquot Champagne, a combination only enhanced by RPM Seafood's sweeping views of the river. Feb 12 and Feb 14, $225; reservations available via Tock.
Takeout
Flat & Point
You can opt for a dine-in tasting menu at this Logan Square restaurant, but we like the flexibility of its takeout options for Valentine's Day weekend: The hearty menu of beet, ricotta and endive Alpine salad, gnocchi and beef short rib is available either pre-heated and ready to eat, or cold for heating up at a later time. Cold kit pickup Feb 11–13, hot pickup Feb 11–12; $80; order via Tock.
You might not have a wood-fired oven in your kitchen, but you can still dine on a flame-kissed meal at home this Valentine's Day thanks to Leña Brava's holiday takeout options—choose from dishes like a fire-roasted King salmon bathed in chipotle peanut sauce or slow-cooked pork carnitas. Pickup Feb 12, prices vary; order by Feb 9 via Tock.
If you're not dining in for Virtue's special Valentine's Day meal (cleverly dubbed "Love is a Virtue"), recreate the experience at home with a customizable, three-course spread of roasted oysters, filet mignon dressed in rosemary red wine sauce, mascarpone cheesecake and other hearty dishes, plus a bottle of McBride Sisters sparkling rosé. Pickup Feb 14, $184 for two; order via Virtue's website
Take home an affordable, three-course feast of Lebanese eats from this Lincoln Park spot, which will offer a Valentine's Day takeaway meal that includes a mezze board, butcher's blend ragu with creamy polenta and a selection of Lebanese pastries. Pickup Feb 14, $28; order via Evette's website.
You'll also find Mediterranean flavors on Aba's takeaway Valentine's meal, a reheatable feast of red beet spread, dolmas stuffed with coconut rice and pomegranate, beef tenderloin kebab with lemon dill basmati rice and more. Pickup Feb 12–14, $124.95; order by Feb 9 via Tock.
Show some love for your sweetheart (or yourself) with a heart-shaped, deep dish cheese pizza for one from Beatrix Market, which will be available for pre-order and walk-in orders in the week before Valentine's Day. Feb 9–11 and Feb 14, prices vary; order via Beatrix Market's website.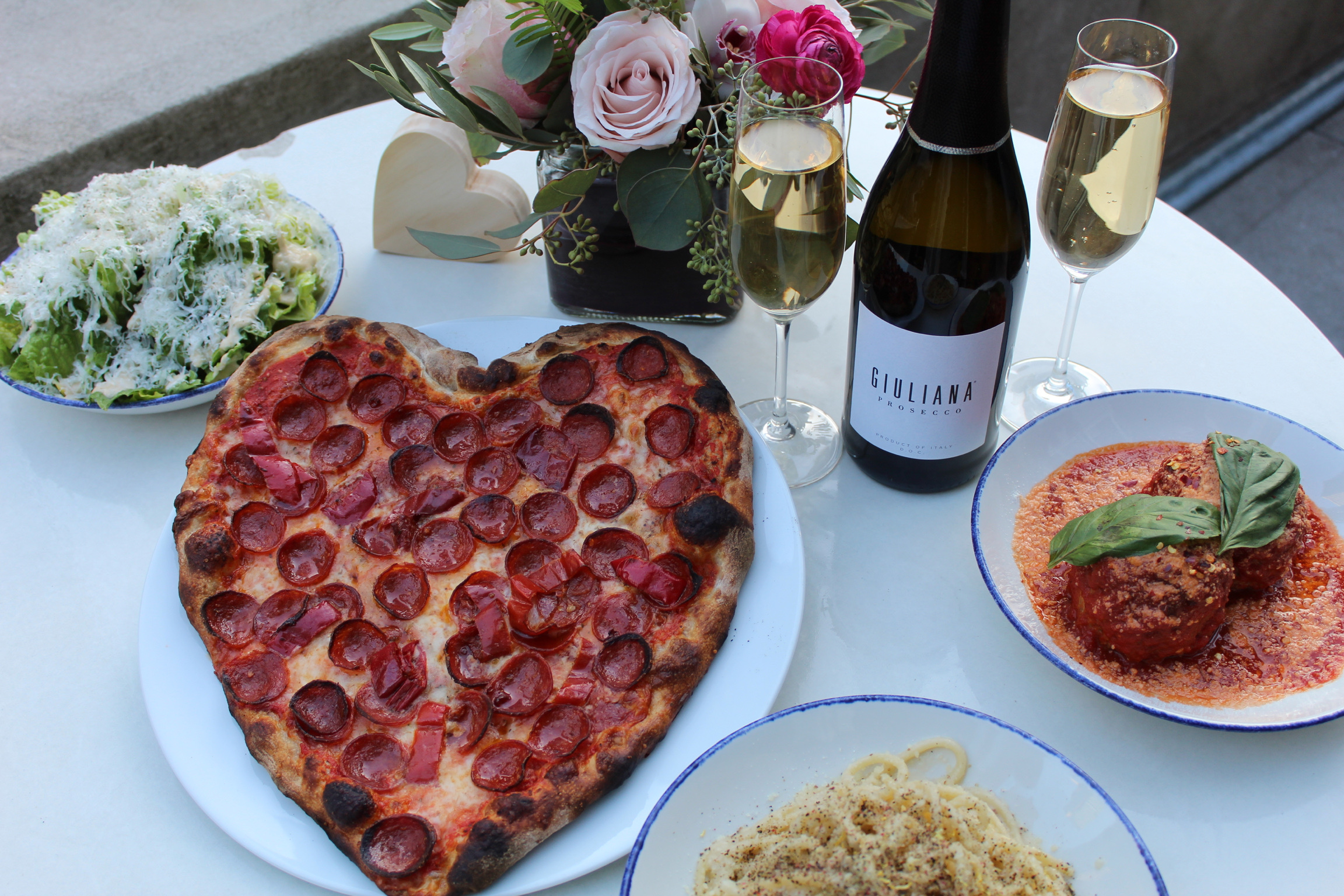 Hungry for more heart-shaped pizza? Opt for Pizzeria Portofino's Valentine's Day special, which consists of rigatoni vodka, Caesar salad, tiramisu, a bottle of Prosecco and a floral centerpiece in addition to a heart-shaped pepperoni pizza. Feb 11–14, $115; order minimum two days in advance via Pizzeria Portofino's website.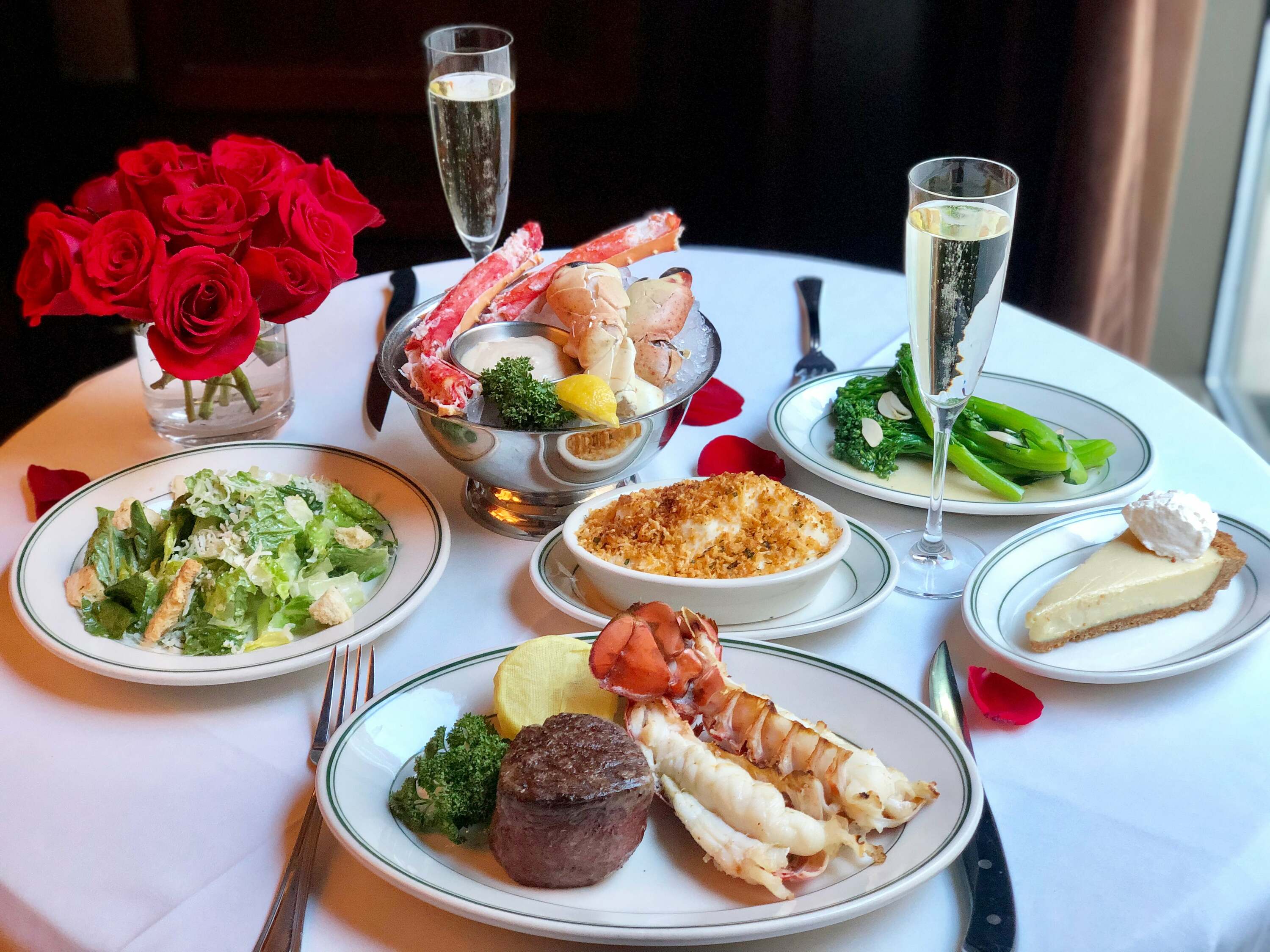 You and your date can dine on shrimp cocktail, lobster tails, steak, mashed potatoes, key lime pie and more decadent treats as part of Joe's Seafood, Prime Steak & Stone Crab's Valentine's Day takeaway meal, which also comes with a bottle of Prosecco. Pickup Feb 12–14, $249.95; order by Feb 9 via Tock.
Host a tea party at home with Moni Ami Gabi's Sweetheart High Tea Package, a delicate spread that features tea sandwiches, a trio of Kilogram teas and pastries like lemon profiteroles and raspberry macarons. Pickup Feb 12, $60; order minimum two days in advance via Tock.
Bhoomi Modern Indian Grill
Biryani takes center stage in this prix-fixe menu offered by Bhoomi Modern Indian Grill (which debuted last year inside of Urbanspace), and the options here are decadent—choose from dishes like morel mushroom biryani, red chili flourless Belgian chocolate cake and other treats. Pickup Feb 12 and 14, $100 for goat biryani or $125 for morel biryani; order minimum two days in advance via orders@eatbhoomi.com