Get your red meat fix at the best steakhouses in Chicago
This is a serious steak town, and these Chicago steakhouses are best for their red meat, wedge salads and strong martinis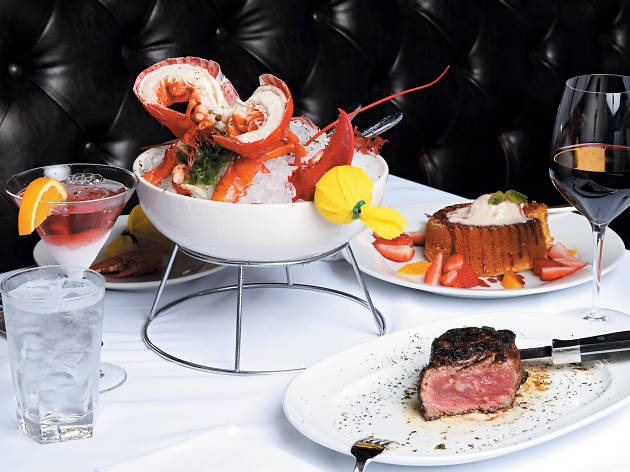 Chicago may have outgrown its reputation as a meat-and-potatoes town, but there's no denying it: This is a city that loves its steak. Whether you're looking for an old-school favorite that's been around forever (Gene & Georgetti) or the newer kid on the block with a cheeky name (Maple & Ash), there's plenty of different ways to enjoy classic cuts of steak—from filet mignon to rib eye to porterhouse. The best Chicago steakhouses are located all over the city and offer more than just meat; they've got generous sides, pristine seafood, knowledgeable sommeliers and splurge-worthy desserts. Though you'll find a beloved steakhouse in just about every Chicago neighborhood, these are our all-time favorites.
RECOMMENDED: Best Chicago restaurants
Best steakhouses in Chicago
1
The collaboration between Boka Group (Momotaro, etc.) and B. Hospitality (Formento's, etc.) delivers a spin on a steakhouse. Expect a hot platter, with oysters in bonito butter; surf and turf with a cap steak and citrus-poached lobster; and a perfect grapefruit sorbet for dessert—it's the kind of forward-thinking steakhouse we want these days.
2
Boeufhaus opened quietly in April 2015 and has been attracting attention ever since for its quality beef dishes (the steaks are excellent, while the cheesesteak served at lunch is a satisfying sandwich, with shaved ribeye, melty American cheese and charred onions), as well as its thoughtful vegetarian options, like the fresh crudités served on ice alongside a creamy Green Goddess dressing. But perhaps the best thing about the place is its lack of pretension and comfortable dining environment.
3
This Boka Restaurant Group property from chef-partner Giuseppe Tentori takes the cake for sexiest steakhouse around. The cavernous interior is decked out in fur-lined chairs, modern chandeliers and dark, moody jewel tones. You'll spot all the usual suspects on the dinner menu (a seafood tower, bone marrow, Brussels sprouts), but when it comes to meat, GT Prime is shaking things up. The kitchen offers small, sliced portions of its finest cuts so that guests can dabble in beef strip loin, beef tenderloin and A5 Miyazaki Wagyu without filling up on a gigantic slab of meat. If you're dining with other curious meat eaters, opt for the $110 Carnivore platter, with four four-ounce slices of the menu's best cuts.
4
Brendan Sodikoff's vaguely French steakhouse is a departure—or perhaps an evolution—for the restaurateur. While his other spots (Gilt Bar, Au Cheval) have their charms, the appeal of this spot—decked out with jazz-era decor and music—is practically universal. Diners need not be huge steak fans to get a good meal; in fact, as good as the steak frites is, both the fried and roasted chicken are even better. Elegant cocktails begin meals here; fabulous pies (lemon meringue, chocolate cream) end them.
6
If it gets any more old-school than this circa-1941 steakhouse, we haven't seen it. Filling every inch of the wood-lined dining room are Naugahyde bar stools, chairs and banquettes as blood-red as the steaks (both well-aged, we might add). Servers range from formal to gruff, but they mean well and they deliver the goods: textbook veal Vesuvio, a "garbage" salad fit for four, calf's liver sauteed with onions and bacon, perfectly seared chops and garlicky shrimp DeJonghe that the veteran staff swears the joint invented. Believe 'em—these are the Chicago old-boys you don't want to piss off.
7
The $60 porterhouse here is impeccably seasoned and boasts warm layers of sumptuous fat running through the full-flavored meat. The only problem is that for $60, the thing is kind of small. But this price-size discrepancy is rare at Gibsons: sweet-lobster cocktail easily satiates two, the juicy prime rib comes in a hefty portion typically reserved for the Flintstones, and desserts are so enormous that servers cut them in two, wrapping half in a takeaway bag, no questions asked.
8
The Gold Coast steakhouse feels wonderfully tongue-in-cheek—a chef's choice option is called "I Don't Give a Fuck"—while still serving up classics like surf and turf, creamed spinach and martinis. The latter get a whole section in the drink list, which features both classic martinis and updated versions. Expect well-selected wines and knowledgeable service—requesting a pairing for a steak resulted in sampling three different wines, all of which would have been perfect.
9
You should feel like a king when you're paying through the nose for a steakhouse experience, and you will here. Start with the sweet, cool stone crabs, oysters Rockerfeller and a delicious chopped salad that could easily feed two. Go straight to the top with the bone-in New York strip, perfect when ordered charred medium-rare, or the Alaskan king crab legs served chilled. Key lime pie is puckeringly sweet for those who like a hit-you-over-the-head finish, and Joe's fried chicken is the best secret in town.
10
French onion soup: $12. Lobster roll: $29. Sixteen-ounce New York Strip: $55. Before you shake your head and huff off to Portillo's, hear us out on one thing: If you've got these kind of funds at your disposal—and in the elbows-to-Balenciaga-draped-elbows bar on weekends, it's easy to leave with the distinct impression that many, many people do—Mastro's is the place to blow them. The martini is shaken with dry ice so that it bubbles like a cauldron when poured tableside. Steaks come out perfectly medium-rare on the hottest plates you've ever accidentally touched, and the signature side of lobster mashed potatoes—listed for "market price"—is comically indulgent. Just remember: If you have to ask, you can't afford it.
11
This century-old brownstone is a quintessential Chicago steakhouse in every sense of the word. Businessmen with fat expense wallets head upstairs for white-tablecloth service, pricey wines and 48- or 64-ounce porterhouses fit for a king. We prefer the subterranean piano bar, where every inch of wall is covered with vintage photos of Capone and crew and the high wooden tables are packed with storytellers and uncompromising carnivores.
12
The way food is touted here—by wheeling over a cart of uncooked meats, including a live lobster—can be a little off-putting (not everybody wants to witness their dinner being wheeled off to its death). But there are reasons Morton's is so famous: the classic Chicago steakhouse interior, tailor-made for sealing the deal (business or pleasure); crab cakes with hardly any filler; generous lobster cocktails; and barely seasoned steaks that stand out for their flavor (rib eye), their tenderness (filet mignon) or both (porterhouse).