12 best things to see at Art Basel 2019
From giant metallic zeppelins to a golden Takashi Murakami sculpture, here's our pick of the top things to check out this year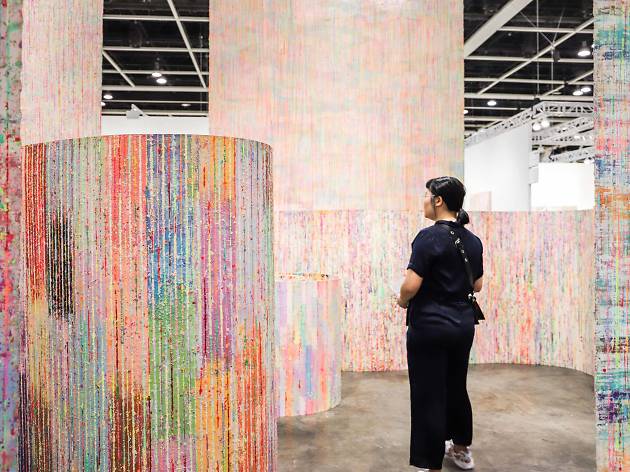 Hong Kong is flush with exciting new exhibitions and art events as Hong Kong Arts Month reaches its climax. Art Central is back once again. Kaws is taking over the city with a giant inflatable installation (which has already come and gone) and a solo exhibition at PMQ. Yet the headline event of the month will always be Art Basel.
This year, the art fair features 242 leading galleries from around the world, including 26 local galleries. Expect a dizzying variety of artwork ranging from modern masterpieces to contemporary works across all mediums. It can get overwhelming in there, so here are 12 works and installations that you can't miss at this year's Art Basel.

RECOMMENDED: Bitten by the art bug? Here's a round-up of all the best art exhibitions in town this month.
Best things to see at Art Basel 2019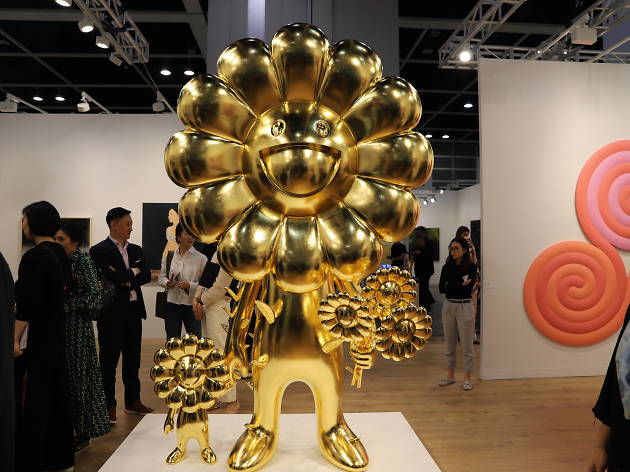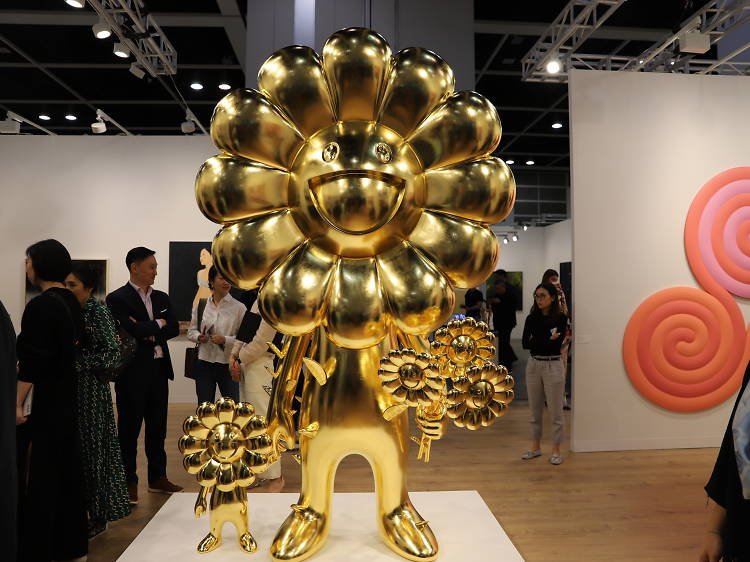 Takashi Murakami, Untitled, 2018
It's difficult to ignore the allure of any Takashi Murakami works, especially when it's a sculpture standing at eight feet tall and covered entirely in gold. If you missed out on his solo exhibition back in September last year, here's another chance for you to admire some of the eccentric Japanese artist's creations and his recognisable flower motifs. Perrotin, Booth 1D23.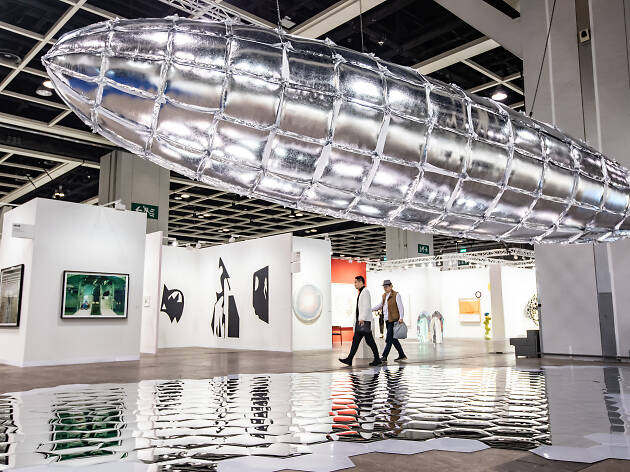 Jessica Hromas
Lee Bul, Willing To Be Vulnerable, 2019
One of the centrepieces on the first-floor showcases, Korean artist Lee Bul's large-scale futuristic zeppelin dangles high from the ceiling, hovering over passing visitors. A comment on utopian aspirations and failures, this metallic airship is a callback to the failure of the Hindenburg disaster while questioning man's perpetual unrealistic pursuits. The reflective floorings also add to the spectacle. Encounters, EN1.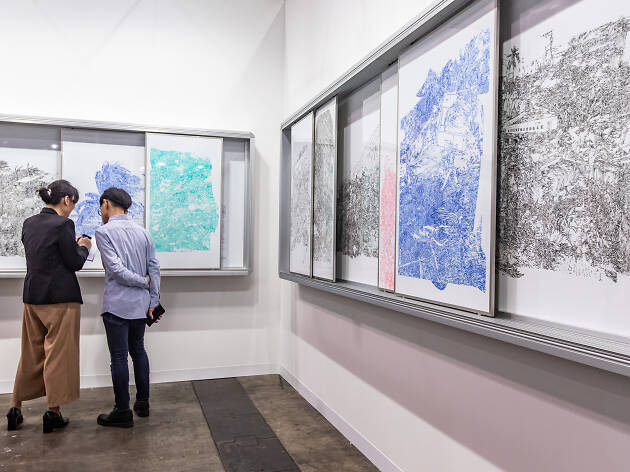 Jessica Hromas
Peng Yihsuan, Impermanent Marks, 2019
Beautiful things don't last forever, as demonstrated by Taiwanese artist Peng Yihsuan in his series Impermanent Marks. Transposing news footage imageries from the catastrophic events that Taiwan has suffered over the years onto multiple sliding whiteboards using only a marker, the medium demonstrates how images can be diluted by the constant flow of information and how public memories can be altered. The artistry of using a whiteboard marker alone is impressive to see. Discoveries, Booth 1C50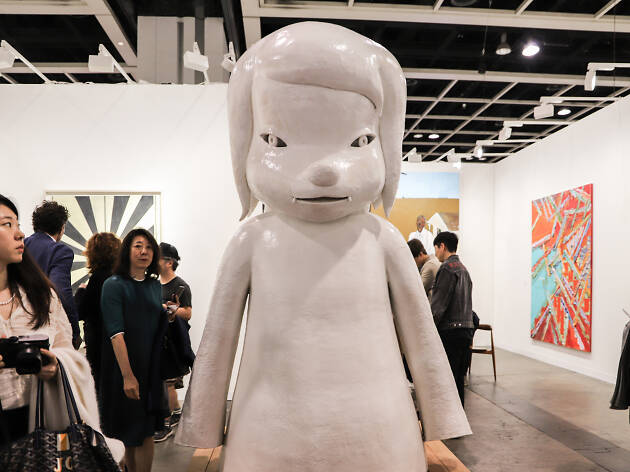 Yoshitomo Nara, White Riot, 2010
Another monumental sculpture not to miss is this white ceramic creation by Japanese artist Yoshitomo Nara. Best known for his designs of children and animals that appear simultaneously sweet and sinister, this eerie and adorable sculpture is the perfect example of Nara's repertoire of works. Pop along to the Blum & Poe booth to discover what makes Nara a notable figure in the Japanese pop art movement. Blum & Poe, Booth 1B19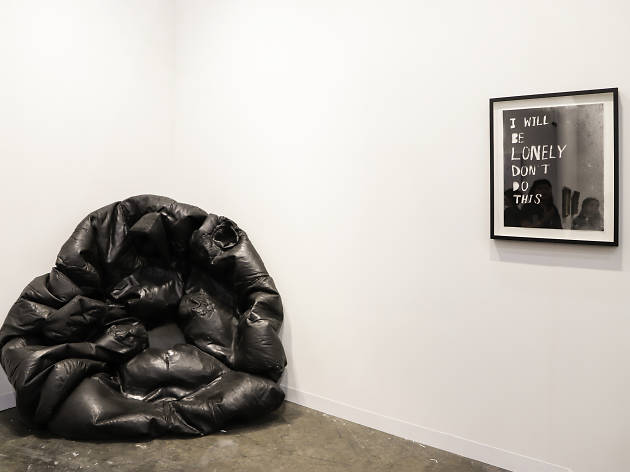 Kaari Upson, Trashole, 2014
With an artwork title like Trashole, it's clear that American contemporary artist Kaari Upson is not afraid to dive and probe into deeply intimate and psychological issues. Primarily working in a multidisciplinary practice that includes sculpture, drawing and video, this particular installation evokes a sense of sadness and wills audiences to give pause and reflect their own emotions. Sprüth Magers, Booth 1D24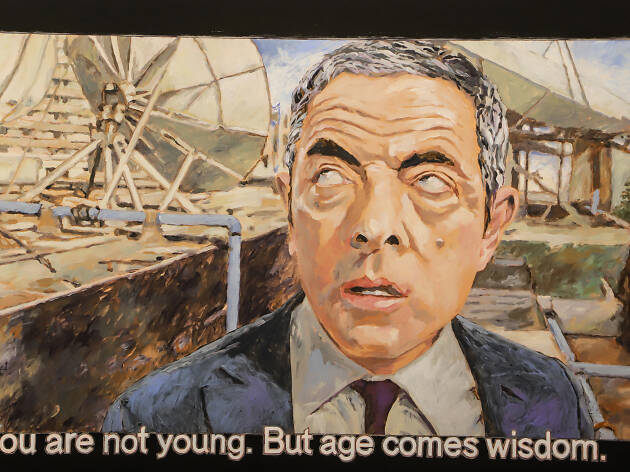 Johnny English "Age Comes Wisdom", 2019
You might recognise this particular scene from the popular film Johnny English starring Rowan Atkinson. From Hong Kong artist Chow Chun-fai's ongoing series Painting on Movies, this canvas might seem to be a simple repainted film still. But each frame that Chow creates is in fact a reflection of Hong Kong's uncertain place in the world. Feel free to form your own social and political context or simply amuse yourself seeing Mr Bean's face on a painting. Gallery Exit, Booth 1B28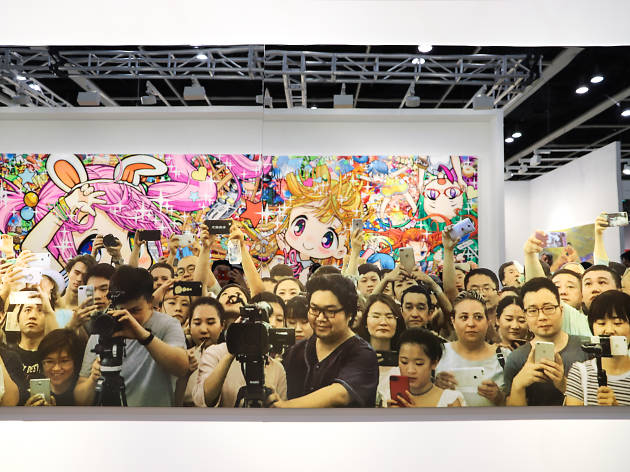 Michelangelo Pistoletto, I Testimoni, 2018
Get acquainted with Italian painter and object artist Michelangelo Pistoletto, who famously deals with reflection, with this mirror painting. Pistoletto often prints photographic images onto the mirror - and, in this case, a group of tourists - to produce an interactive dialogue between the viewer and the image in front of them. Perhaps the question here is, what it's like to be the centre of attention and a tourist attraction? Galleria Continua, Booth 1D22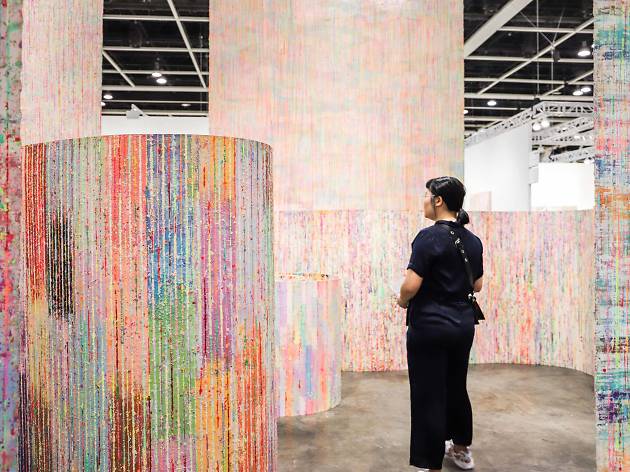 Mit Jai Inn, Planes (Electric), 2019
The best way to view this installation is to walk amongst its many pillars and dividers. Inspired by the Hong Kong cityscape, Thai artist Mit Jai Inn has created rainbow coloured, thickly layered and textured paintings to represent our metropolis' ever-changing light and energy. Make sure to view the work up close to truly appreciate the different layers of the paint. Encounters, EN10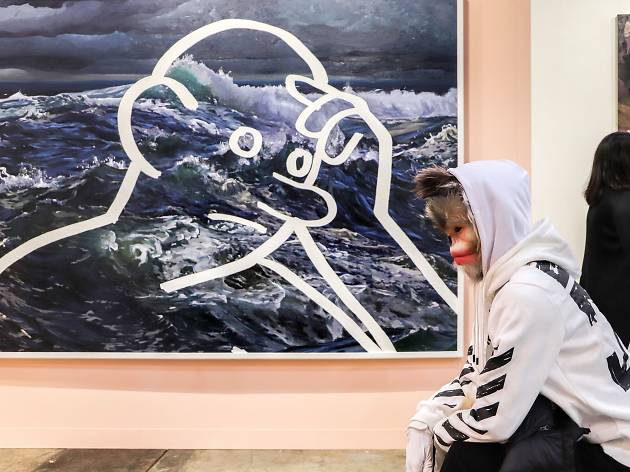 Abdul Abdullah, The Waiting Room, 2019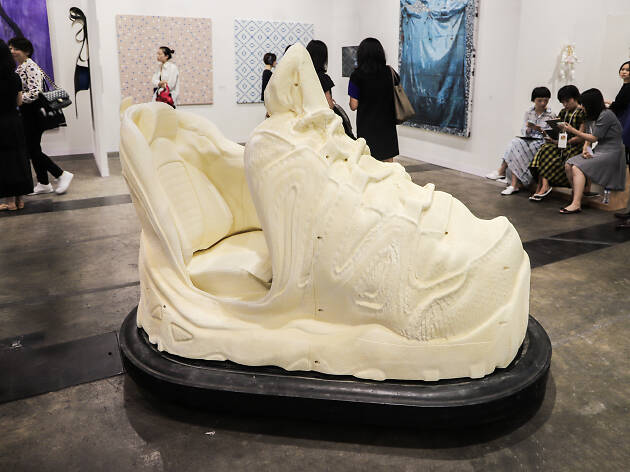 Samson Young, Music While You Work, 2018
Hong Kong-based Edouard Malingue Gallery showcases an eclectic range of conceptual works including this massive sneaker installation by acclaimed multidisciplinary local artist Samson Young. The shoe itself was originally a bumper car, over which Young has created a cast. It also features customised audio tracks created by Young. This truly takes sneaker culture to the next level. Edouard Malingue Gallery, Booth 3C07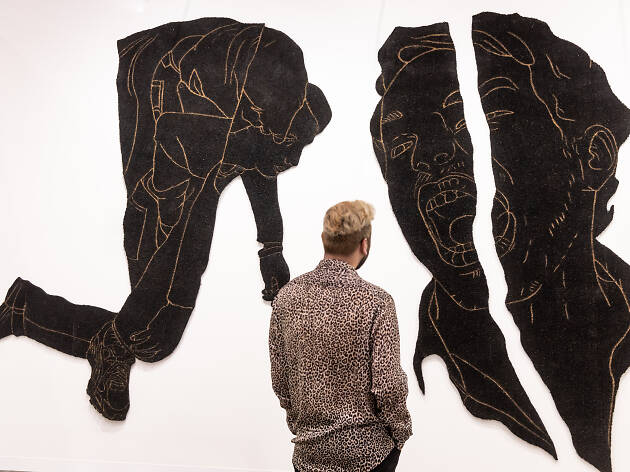 Jessica Hromas
Praneet Soi, Piggyback/Untitled, 2016
The Kolkatta-based art gallery presents a group exhibition for this year's Art Basel, which includes the works of prominent Indian-born artist Praneet Soi. Utilising coconut fibre to create striking portraits and silhouette textile pieces, the result is an artwork that looks akin to a carved up carpet displayed on a wall. Experimenter, Booth 1B31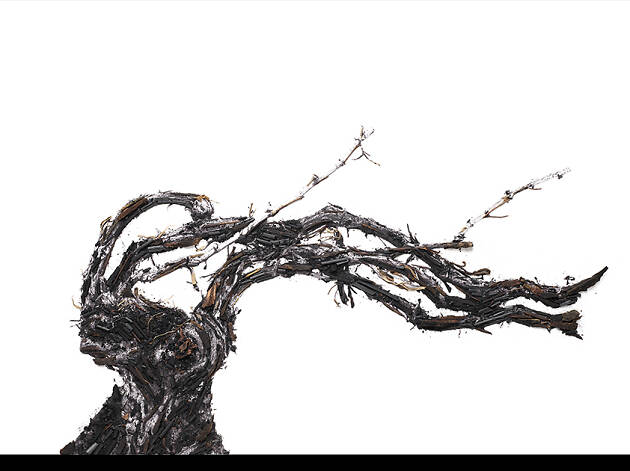 There's more art to be found beyond the halls of Hong Kong Convention Centre, including this incredible creation by celebrated international Brazilian artist Vik Muniz. Renowned for employing a diverse range of unconventional materials to create original compositions, as well as his creative renditions of iconic images from art history, Muniz has constructed six new works as part of his collaboration with Ruinart. Check out his masterpieces, including one made up of vine stocks with pieces of blackened wood and charcoal mixed with other natural elements found in the Sillery Vineyard. Ruinart Lounge (near entrance 1C)
Don't stop at Art Basel