One of the most distinctive things about Hong Kong is the abundance of colourful neon signs – often written in traditional Chinese calligraphy – that hang on the side of our city's buildings. While there are local preservation groups in the city who work hard to keep this remarkable cultural aspect alive, not many know or understand the work that goes behind the makings of these glowing signs that light up our streets. So, we paid a visit to Au Yeung Cheong, acclaimed calligraphy and authentic Chinese typeface signage master, who has been keeping the tradition alive for more than 40 years. By Andrea Wong
Brilliant Tailor Shop, one of the two last remaining tenants inside State Theatre
Once a landmark and the glory of North Point, the 68-year-old State Theatre Building is the kind of place that would give you goosebumps the moment you step into the building. Clouded in an eerie atmosphere throughout the premises – most likely due to the vast empty spaces, vacant shops, and sounds of reverberating water leakage – the dimly lit building is a jarring contrast to the bustling streets of the North Point neighbourhood. If you walk further into the building, you'll spot the two remaining tenants tucked in the back, one being a traditional tailor shop, and the other surrounded by lit-up signboards and plastic signs, which is where Au Yeung Cheong and his shop King Wah Signboards (京華招牌) resides.
Having learned calligraphy through books like Tung Shing (traditional lunar calendars) and Buddhist scriptures given by his father during his younger days, Au Yeung Cheong is a good example of 'practice makes perfect'. Au Yeung did not have the best tools available to master his craft, yet, he made do with what he had with no complaints and persevered to become an apprentice at numerous signage stores, before opening King Wah in the 80s. With decades of practised precision, every stroke is as sharp as a knife, or in his words, "as sharp as the knife you'd use to cut up a winter melon."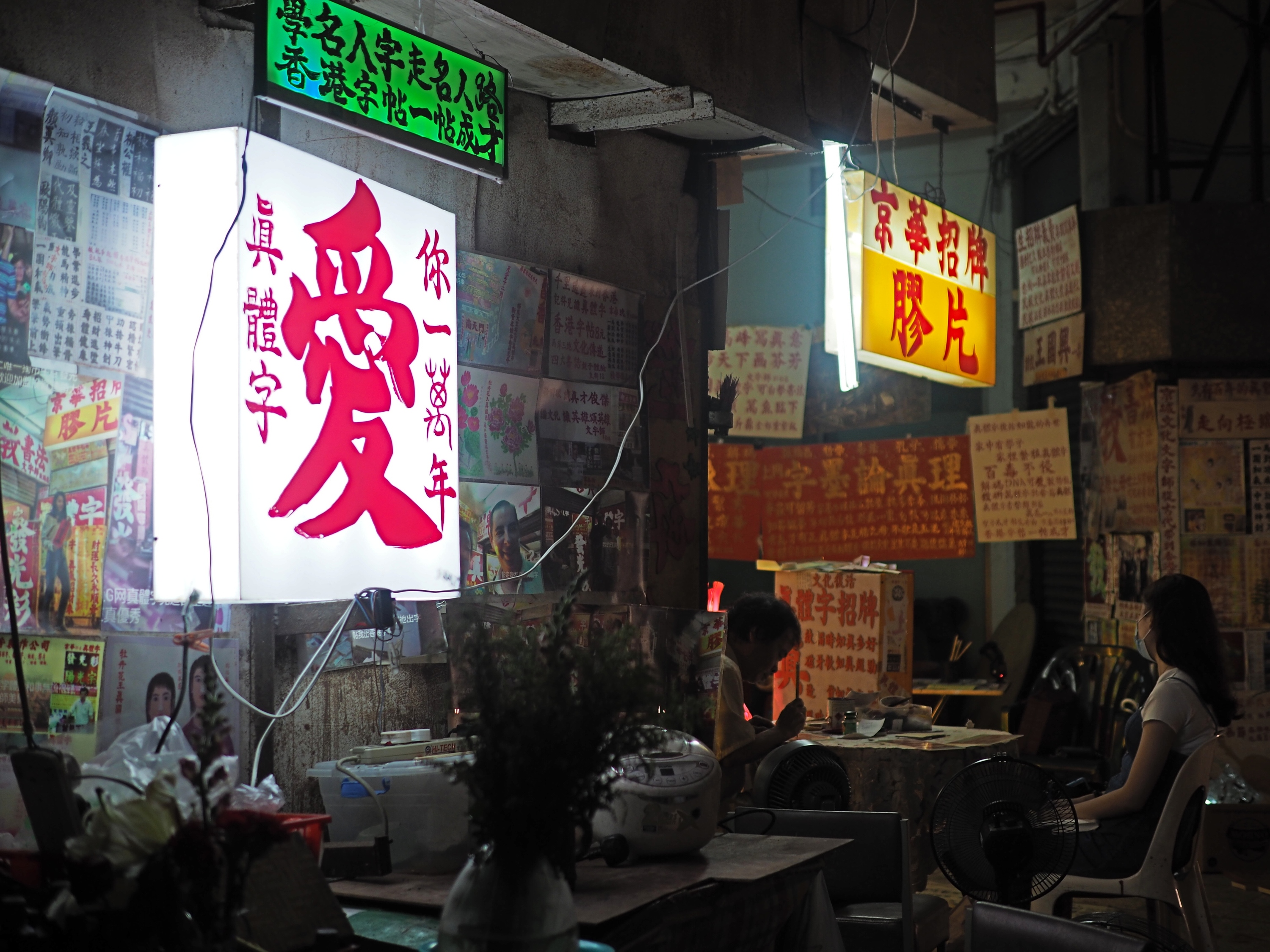 His workshop is raggedy, messy, with materials and tools scattered all over the place (some of his works littered the staircase that leads to the basement of the building) – the setting may seem chaotic, but that wasn't always the case. During the prime of his career, he had four shops within the State Theatre Building, around 20 staff members, and was living quite the luxurious lifestyle without worrying about running out of money. "Back then, I never worried about whether I was making enough. If I ever ran out of cash, I know I always have money in the bank. I also had a maid, and I would always go play mahjong after work at around 2pm." Sadly, the merciless fire that occurred in the State Theatre in 1995 burned all of his work and effort into ashes, leaving him with no choice but to lay off all his employees, sell his house, and continue on his journey as a one-man-band to provide for his three children. Now, what remains of his shop is also his 'home' – where he has his meals, paint during his free time, all while doing what he does best, making traditional signboards.
Au Yeung takes immense pride in his craft, and he doesn't shy away from complimenting his own skills. "These computers can't do what I do," he explains. "Machine-made typefaces are not as clean-cut and cannot top my authentic calligraphy. Most of them are simply a common replica of the real deal that lacks character, they're just there for the 'cockroaches'," he adds. While some may call him cocky and arrogant, quite frankly, his success and legacy give him full bragging rights. When asked what his most notable works are, he simply says, "if you look above you on the streets, most of the signs are probably written by me. Even the ones opposite this building are done by me."
With his shop becoming a hot Instagrammable spot, Au Yeung seems utterly unfazed by those who only want to snap a pic for a few 'likes' on social media. The setup of the shop feels like it's intended for people to freely photograph his work, with stools and tables set up, signboards scattered in a disorderly fashion, and lit up signs that created a warm and vibrant nook against the backdrop of the dark and empty spaces of the State Theatre. During our interview, there was a photographer having a photoshoot with a model, and a whole film crew shooting a music video with piano and erhu playing just steps away from his store, but he was never bothered or annoyed. "Why would I be annoyed? If everyone can see my craft on the internet, then they will know how great my craft is." Throughout our visit, he made sure that we had noted down every answer and anecdote properly and even suggested for us to film the tour that he gave around the shop – 10 out of 10 points for the hospitality!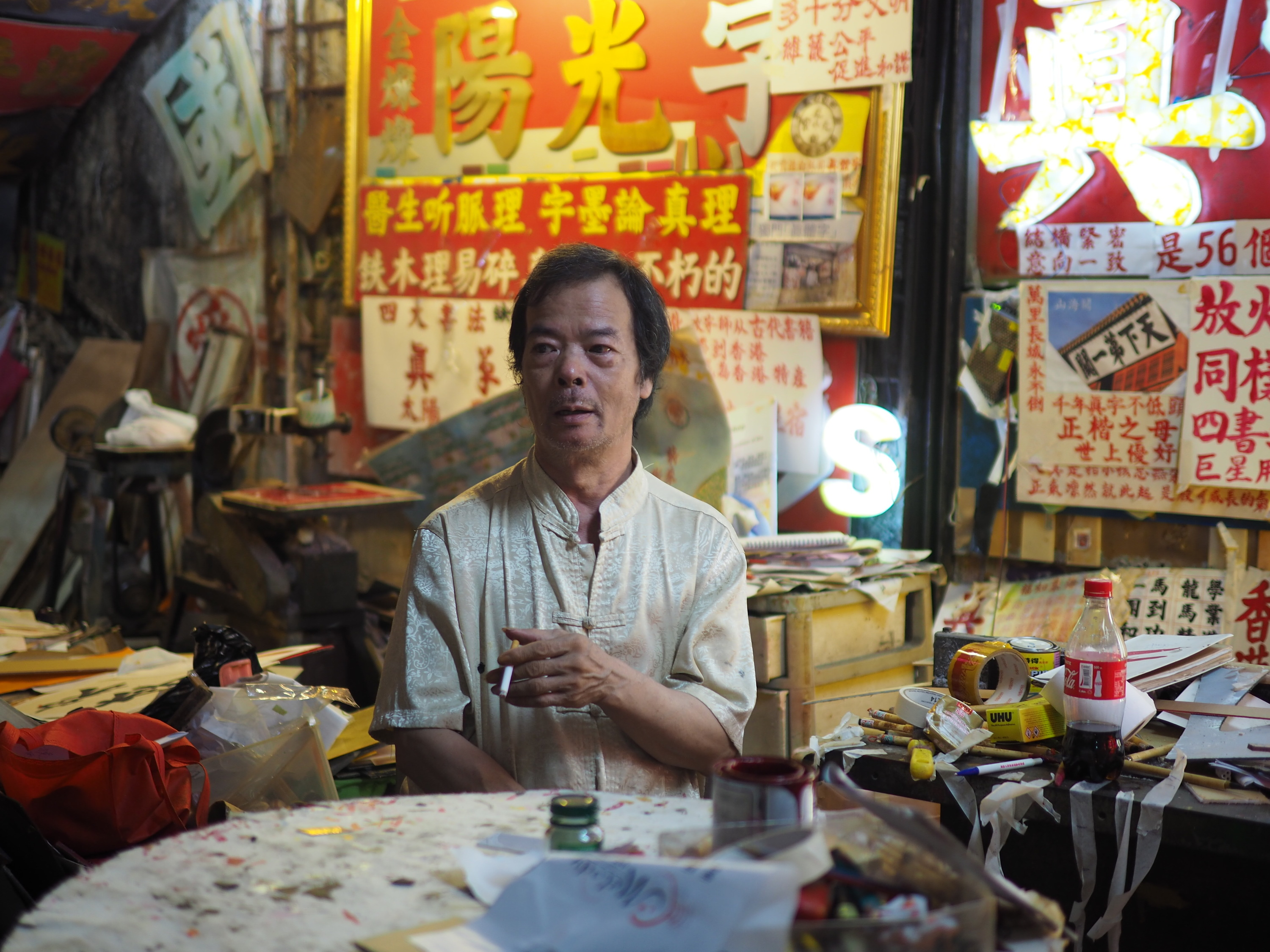 Business was slow during our visit. Au Yeung was writing three signs for only one customer, with words and phrases of her choice, charging $400 altogether. In between intricate strokes made with red ink and no hesitation, he tried to keep the conversation going between us and his customer, even sharing snippets of his work, paintings he did during his free time, and photographs he took with his customers (he often asks his customer to take a photo with him as a keepsake).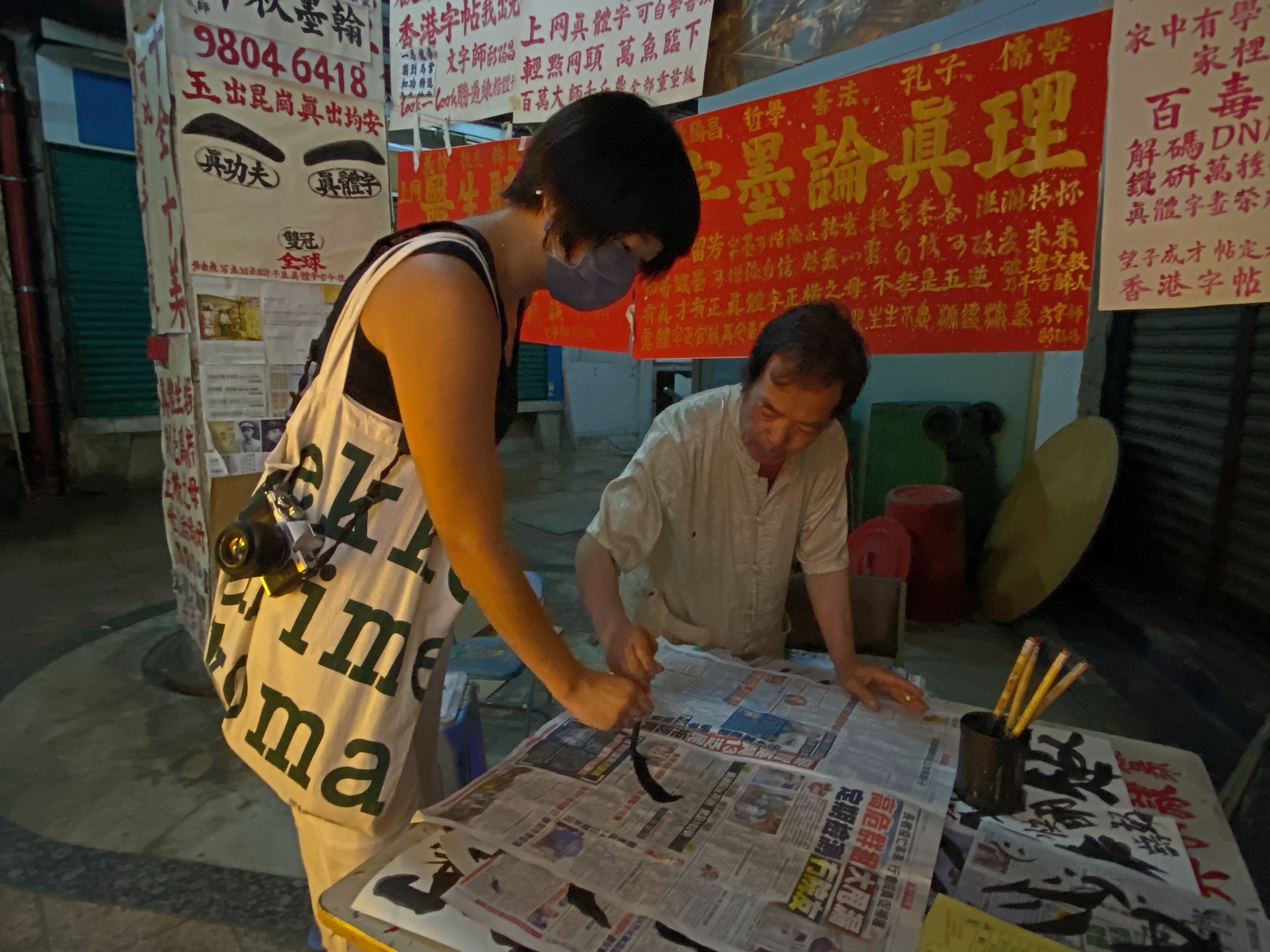 Au Yeung worries that no one will take over his business and carry on his legacy. Yet, he remains hopeful and continues to provide mini 'lessons' for any visitors who are interested to learn the craft. One of Au Yeung's wishes is to have authentic Chinese typefaces and signboards spread across the world. "As long as there's a place with these authentic Chinese typefaces, it'll withstand the test of time and survive forever," he enthuses. With no successor to inherit his vocation, it's a pity to eventually have to bid farewell to this authentic craft when Au Yeung decides to retire.
Since our interview with Au Yeung, he has moved his shop to 40 Kam Ping Street, just behind Metropole in North Point. So, for anyone interested, pay Au Yeung a visit at his new shop, have a chat with the man himself to learn more about his life story, and support his passion for one of Hong Kong's oldest crafts.