10 unmissable things to see at Art Central 2019
Art Central's signature white tents are back and flush with exciting new artwork. Here's our pick of the top things to check out this year...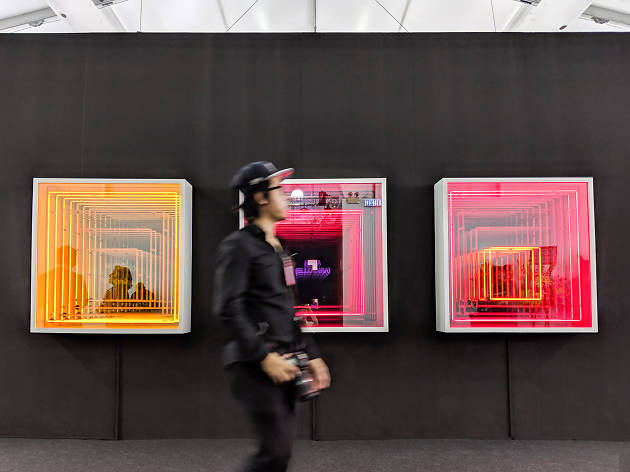 Forget the stuffy confines of Art Basel and let your hair down during Hong Kong Art Week as Art Central returns to Central Harbourfront for another edition, which is on now until March 31. Under its signature white tents by the harbourfront, more than 100 Hong Kong and international galleries are showcasing exceptional pieces created by rising stars from around the globe as well as works by more established names. The year's fair should impress with its collections of ink art, textile art, multimedia works and street art. From Instagrammable installations to introspective and humourous illustrations, these are some of the best things to see art Art Central 2019.
RECOMMENDED: There are a ton more art to check out all around the city this week. Here's a guide to the best art exhibitions in town right now to get started.
10 unmissable things to see at this year's Art Central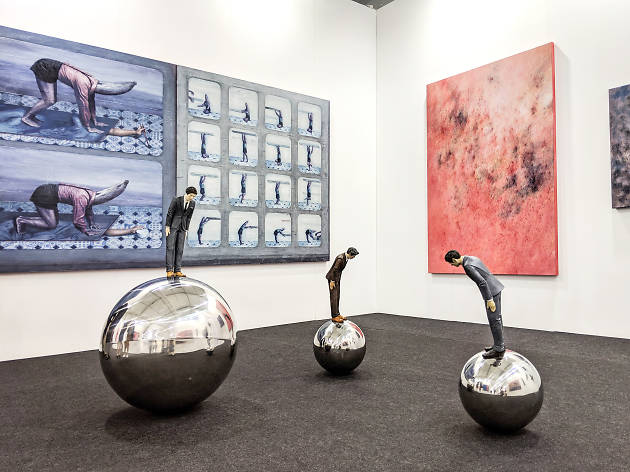 Keng Chiehsheng, Fit In Series II
Taiwanese artists Keng Chiehsheng makes viewers confront their own relationship with the workplace and what means to fit in society with his signature spherical sculptures. From Keng's Fit In Series 2.0 Harmony are roly-poly-like sculptures where different figures, slightly bowed, stand atop silver globes of different sizes. The resulting effect is the sculptures rolling back and forth with the distance with each other constantly changing. Note how the figure on the smallest sphere bows most frequently too – we'll let you decide what the means. Da Xiang Art Space, Booth B07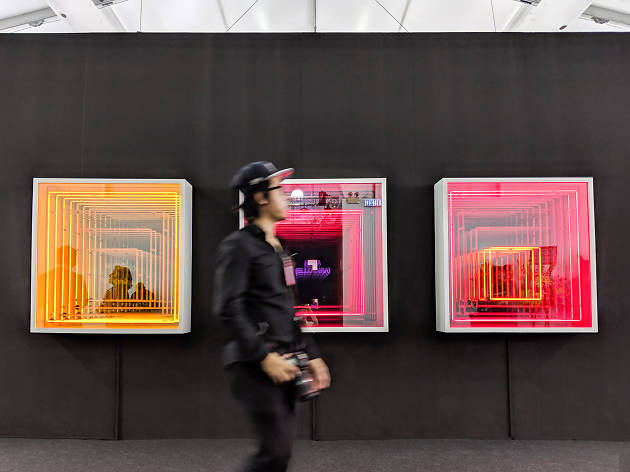 Iván Navarro, Murio La Verdad/No Se Peude Mirar/Nada (Ello Dira), 2013
Renowned for his fascination with using light, mirrors and neon to construct socially and politically relevant sculptures and installations, Chilean artist Iván Navarro shares with Hong Kong a collection of some of his most eye-catching pieces. It features a fluorescent light installation inside a massive bass drum, and a trio of neon squares that change colours. Situated right at the front of the entrance, we expect this to be one of the most Instagrammed artworks at the fair. Gallery Hyundai, Fair entrance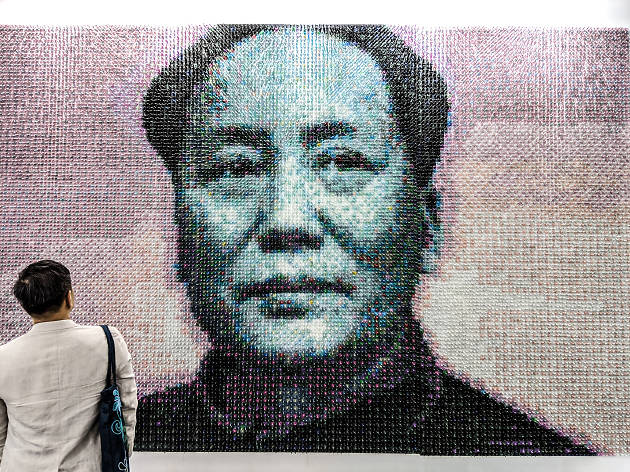 Joe Black, The Great Wall
It's hard to miss the massive installation featuring the portrait of Mao Zedong, stretching across six metres. But look a little closer, the imagery is in fact cleverly comprised of hundreds of old-school toy soldiers. The artist behind the piece, Joe Black, is known for using recognisable everyday objects to create abstract works, for them to be viewed both from a distance and up close. It can be found in Hong Kong's very own Opera Gallery booth, where viewers can also check out Manolo Valdés monumental sculptures and a couple of Fernando Botero's works. Opera Gallery, Booth E07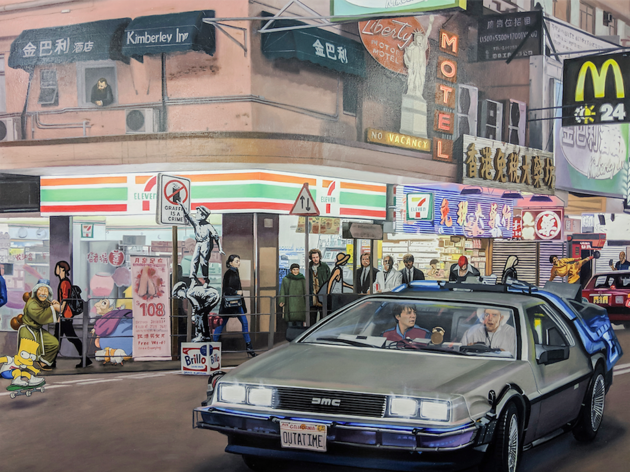 Kwon Neung, Art Fair, 2018
This Korean artist has cleverly injected various pop culture icons, legendary artists and famous characters from movies into unassuming Hong Kong scenes, including this snapshot of Art Basel Hong Kong. With a mix of dadaism and surrealism and a generous dash of black humour, Kwon's wide canvas paintings can easily be viewed for hours on end. See if you can spot the likes of Stephen Chow, Bart Simpson and even the burglars from the Home Alone films in this particular painting. Art Projects Gallery, Booth F05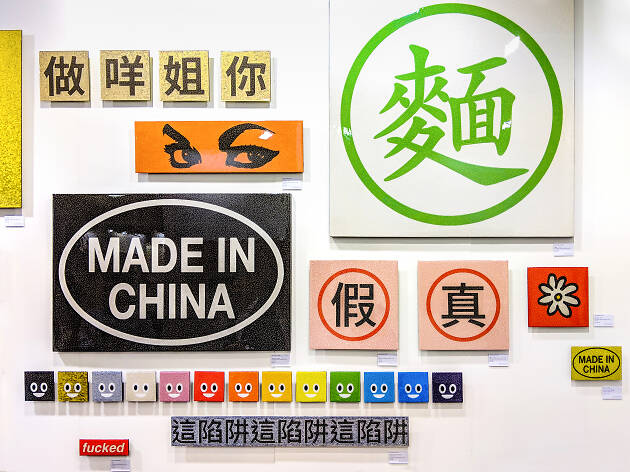 Damon Tong Wai-kit, various
Representing Hong Kong at this international art stage is Damon Tong Wai-kit, a local artist whose oeuvre features the unconventional medium of custom-made stickers – mainly made in China. Tong's collection of Hong Kong neon signage, billboards, pamphlets, flyers are reflective of Hong Kong's hectic pace and information overload. Yet in between all the signs, are humorous and ironic prints of common phrases used in the city. The juxtaposition aims to highlight the complexity of the city's identity, culture and values. Either way, it's fun for any Hongkongers to check out. Art Projects Gallery, Booth E20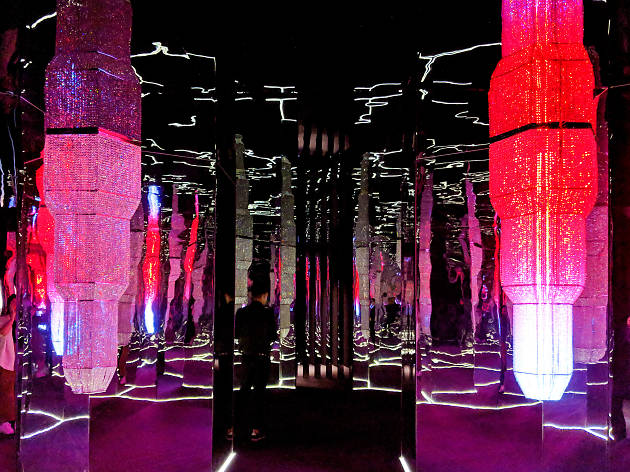 Steve Leung, Shades in Ascent
Swarovski has once again partnered up with Art Central, and this year they're upping the game to stage a black-box installation with the interiors covered in floor-to-ceiling mirrors and 52,800 Swarovski crystal beads. Bask in the ethereal ambience as you stroll along the short walkway. All the mirrors should give you ample opportunity to take all the artistic selfies you need. Atelier Swarovski, Booth E0 (next to main entrance)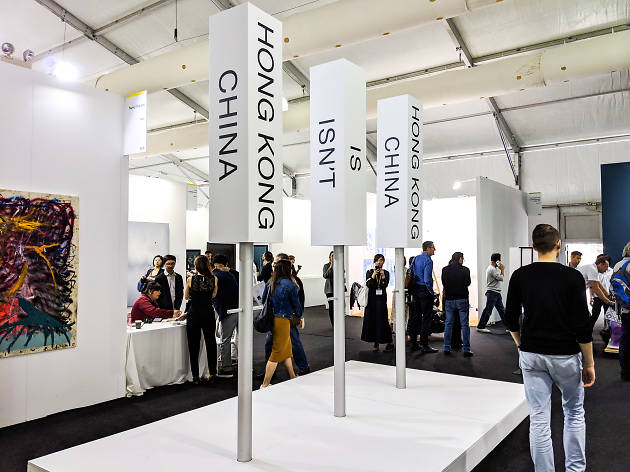 Ko Siu-lan, New Territories Old Territories
What's an art fair without some politically charged works? For Art Central, Canadian-based Hong Kong artist Ko Siu-lan has created this text-based and interactive installation that asks audiences to form their own sentences. Drawing inspiration from cylindrical prayer wheels found in temples, the installation features the words Hong Kong, Is, Isn't, and China, allowing anyone to turn to the spindle as a way to examine nationhood and their own relationship with Hong Kong's political positioning. P06.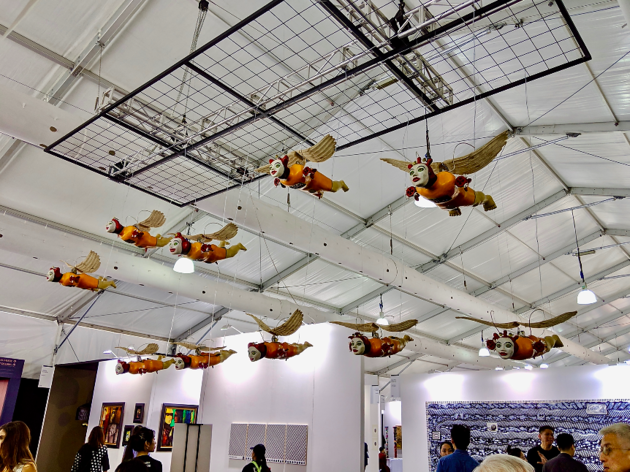 Heri Dono, Smiling Angels from the Sky
Under Art Central's Projects presentation is this eerie-looking installation dangled from the ceiling by renowned Indonesian artist Heri Dono, who's known to merge traditional folk art with contemporary imagery. Ten clown-faced angels hover above visitors. If you look up, you can spot a small, red phallic feature on each of the figures. There's also an interactive element to it – visitors can step on the pedal to activate the angel wings. P02.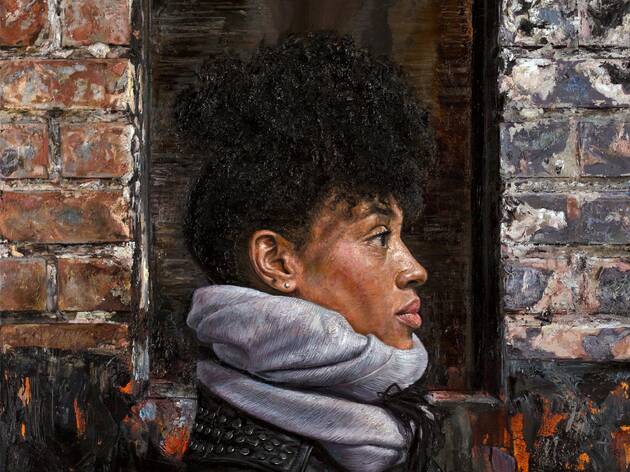 One of 28 international galleries participating Art Central is Meijler Art, a contemporary art gallery from Kfar Truman. The team brings with them a range of edgy and street artworks, including Canadian painter Tim Okamura's powerful, urban portraits that marry elements of graffiti and realism. You'll also find one giant sculpture (and a couple of smaller ones) by the enigmatic WhIsBe in the shape of a gummy bear holding up a jail sign. Meijler Art, Booth F02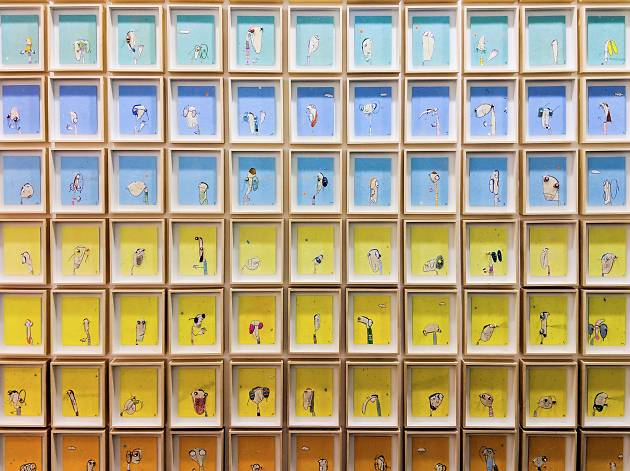 Rafa Macarrón, Personajes (126 characters), 2019
Taking up an entire wall are dozens of illustrations featuring Rafa Macarrón's long-legged, alienesque cartoon creatures, each individually framed and depicting a different scene. If you pay attention and look closely at a single frame, each character can be viewed in its own dream-like universe, but you can also link neighbouring pictures together to form a different story. It's a joy to admire each artwork as well as to connect the dots. Galeria Casa Cuadrada, Booth A16
Satisfy your inner culture vulture