What to see at this year's Art Central
Art Central's signature white tents are back and flush with exciting new artwork. Here's our pick of the top things to check out this year...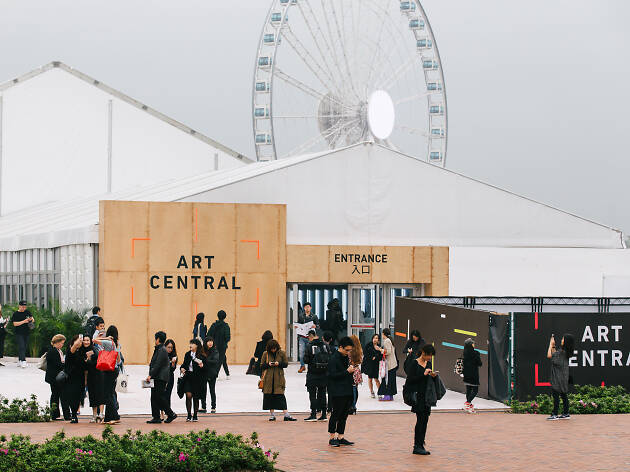 Forget the stuffy confines of Art Basel and let your hair down during art week as Art Central returns to Central Harbourfront for another edition on March 21. More than 100 international galleries are at this year's event showcasing exceptional pieces created by rising stars from around the globe as well as works by more established names. The year's fair should impress with its collections of ink art, textile art, multimedia works and street art.
This Kuala Lumpur gallery is presenting the works of Hasanul Isyraf Idris, an up-and-coming Malaysian artist. The multimedia artist has created colourful, intrinsic artworks featuring his signature abstract characters as a reflection of his personal struggles. Also on display, fellow Malaysian artist Haffendi Anuar presents installations that recycle found images and objects taken from digital and local sources.
Best known for pushing the representation of international urban art, Sheung Wan gallery Over the Influence is hosting a thematic street art presentation featuring notable artists from around the world including street artists Invader and Jerkface, Cleon Peterson, whose designs are reminiscent of Greco-Roman vases, and Hikari Shimoda, whose works features characters that are at once both sweet and haunting.
Making their debut at Art Central, the Taiwanese gallery is bringing their best and brightest artworks. Showcasing never-before-seen works by contemporary realist artist Lien Chien-hsing and Jun T Lai, who's best known for her light and colourful public artworks, including her installation in Tsing Yi MTR Station.
Booth F4.
Contemporary artist Mehwish Iqbal has been grabbing the attention of art critics and the public alike for her mixed media pieces and complex detailed textile works. Iqbal's creations are heavily influenced by her personal experiences with the social, cultural and political landscapes of Pakistan, the country of her birth, as well as her current home in Australia.
Highlighting the extraordinary in the ordinary, Simon Pericich is showcasing his new site-specific installation !!!All Together Now!!! made of melted plastic rubbish bags coated in glitter. The large installation is an ominous presence, set to loom over visitors at the entrance to the fair, juxtaposing concepts surrounding the inexpensive material, apocalyptic ideas and a critique on the commercial art landscape.
Upping the creativity 100 percent, Sin Sin is hosting a double exhibition featuring the works of renowned Cuban artist Carlos Gacia de la Nuez and Indonesian artist Eddi Prabandono alongside a solo exhibition of Indonesian artist Hanafi. Titled Boundless Voyage, the exhibit provides an insight into extinct and existing cultures, and the exploration of a universal identity.
Yu Youhan, Lost Circles, 2017
Renowned Chinese artist Yu Youhan is unveiling a new installation, Lost Circles, as part of the Projects sector for Art Central curated by up-and-comer Jims Lam Chi-hang. Widely considered a pioneer of abstract painting and political pop in China, the new artwork is a culmination of Yu's exploration of old materials and new techniques. Through a new medium, this iconic artist reflects on the neglect of the arts as a result of capitalist development and considers the role of artist on culture.
One of Art Central's official partners, Swarovski is collaborating with Japanese sound artist Yuri Suzuki to present an acoustic interactive installation, Sharevari. The installation consists of a mechanical crystallophone built by Swarovski's engineers exploring how crystal works as an instrument. Be amazed by the sounds the pieces produce as brass hammers strike the crystals.
More to explore