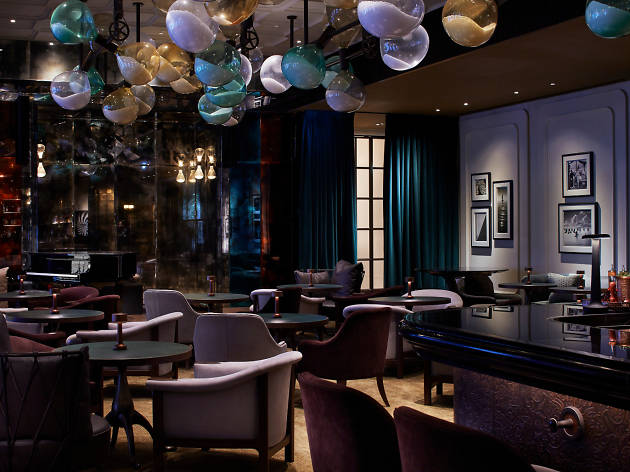 Experience Jazz Age luxury with a Hong Kong twist at DarkSide
Step into the shadows at DarkSide, the Rosewood's intimate Jazz Age-inspired bar
Here in Hong Kong, we're spoiled for choice when it comes to bars and restaurants – which makes it all the more impressive when a new opening manages to catch our attention. DarkSide, a sophisticated jazz bar at the Rosewood Hong Kong, has only been open since March, but it's already established itself as the jewel in the hotel's crown. With its dark, plush interiors, expertly curated drinks menu, and live jazz trio, DarkSide pays homage to Old World hospitality. Every choice – from the extraction of a cask-aged Pierre Ferrand cognac down to the bespoke fabric wallpaper in the bathroom – has been carefully thought out, giving the bar a sense of refinement and polish that belies its short history.
Read on to find out why you should ditch the cheap and cheerful happy hour spots and spend an evening luxuriating at DarkSide instead.
Experience Jazz Age luxury with a Hong Kong twist at DarkSide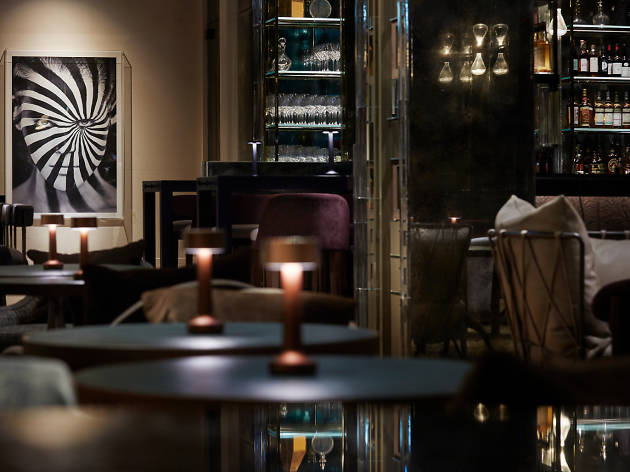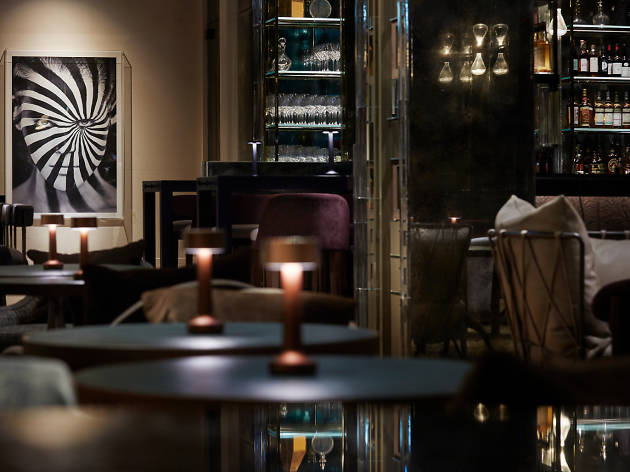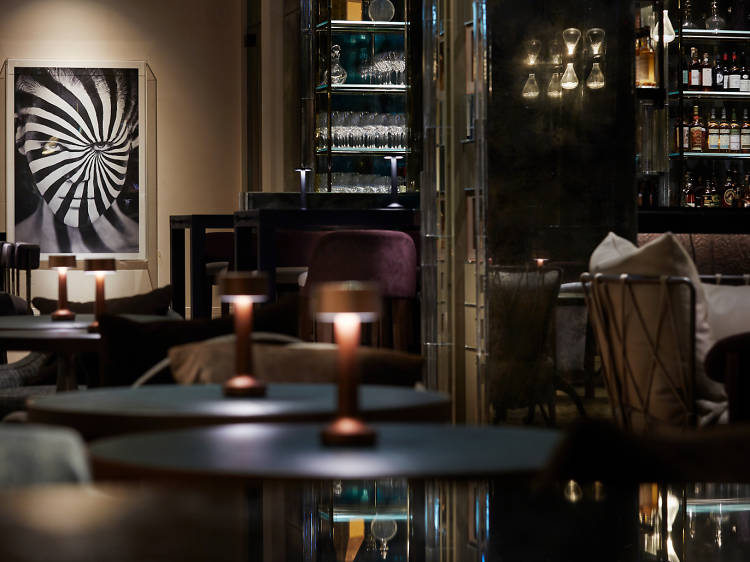 While the name DarkSide is a tongue-in-cheek reference to a colonial nickname for Kowloon, the bar's moody, atmospheric design is more reminiscent of Jazz Age New York, with its velvet drapes, jewel-toned antique mirrored walls, and baby grand piano. The cushy upholstery and subdued lighting create an inviting and intimate environment, over which a mesmerising hourglass installation crafted in Murano languidly and perpetually rotates. For a breath of fresh air (or a vintage cigar), take to the outdoor terrace – after all, Kowloon has the best views of the Hong Kong skyline.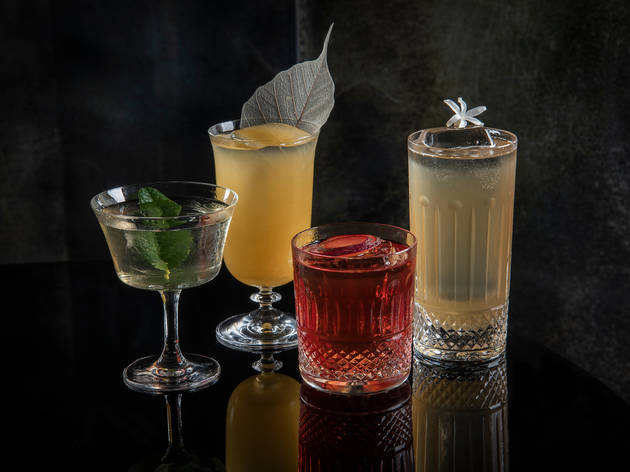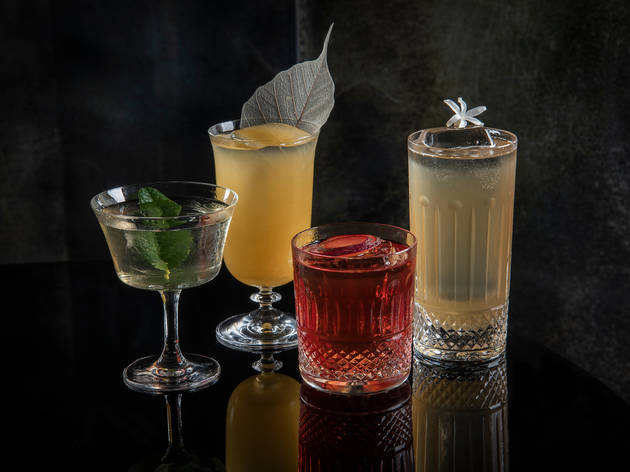 Callaghan Walsh
Though some harbourside establishments have a tendency to rest on their laurels, DarkSide has bucked the trend with a drinks menu that's anything but generic. Rare vintage whisky, cognac, rum, and calvados make up a spirits selection that's as international as the hotel's clientele, while the cocktail menu puts a spin on classics using craft spirits and innovative modern techniques.
The cocktail menu features eight classic drinks and six signature creations, the latter of which hark back to the Hong Kong of yesteryear with names inspired by the Kowloon Walled City. The Yamen, which is named after the only remaining building from the walled city, is a heady concoction of cognac, wax, honey, bee pollen, osmanthus, and frankincense, while the Untouchables is a humble combination of vodka, hay, Buddha hand leaves, hinoki, and seltzer.
The Old World-focused wine menu consists of fine favourites from Italy and France, while vintage port (opened using red-hot tongs) and vintage champagne round out the selection. If, after all that, you've got a hankering for something more hoppy, there's also Rosewood-branded pilsner and IPA.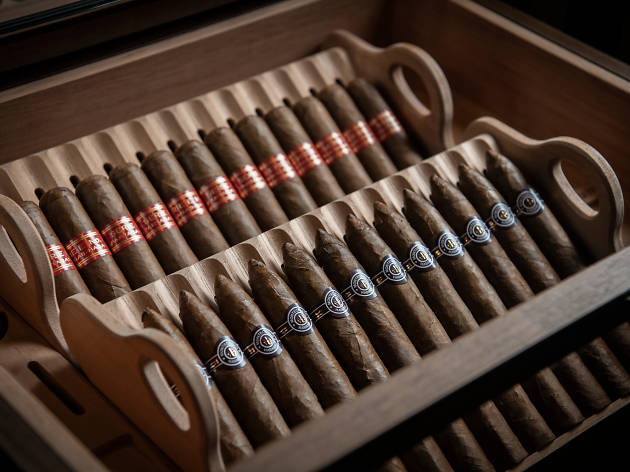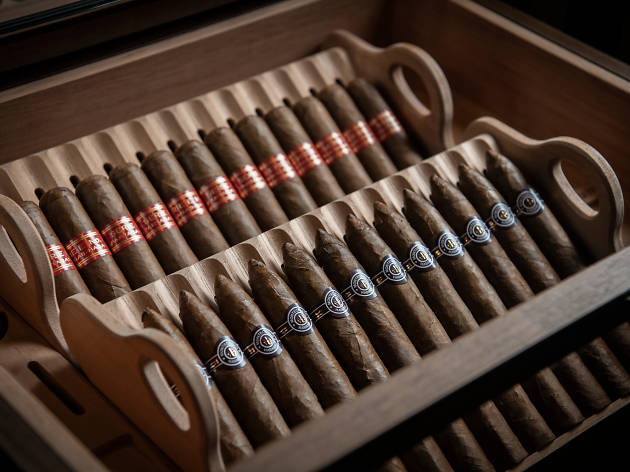 Callaghan Walsh
To accompany your drinks, there's a concise, but well-rounded menu of bar snacks, including elevated classics like bikini sandwiches and truffle fries, as well as Hong Kong-influenced bites such as egg tarts and sesame balls. Alternatively, if you enjoy your drinks Don Draper style (a.k.a. engulfed in a cloud of smoke), there's a hidden humidor containing coveted vintage cigars from around the globe, each like a smokable piece of history.
As befitting a jazz bar, the entertainment at DarkSide is stellar. A live band performs from 8pm every night, serenading patrons with smooth jazz standards, though the music's never so loud as to drown out your conversation.
Still thirsty?