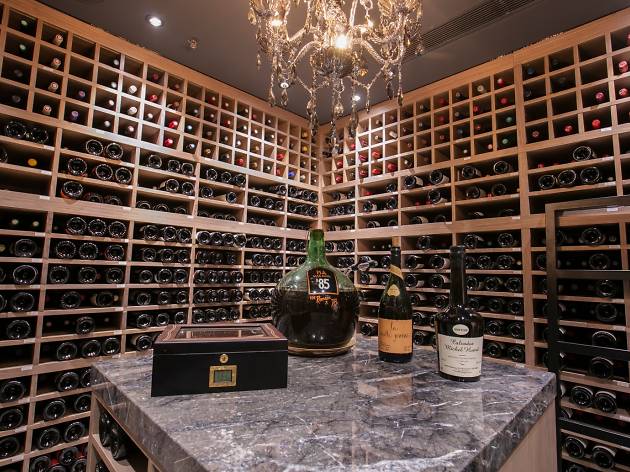 Time Out says
Soho wine bar that offers an unpretentious, inviting taste of wines from around the world with excellent, if at times a little pricey, food pairings
Opening its doors this autumn in LL Tower just off Hollywood Road, Think Wine is the labour of love of renowned French sommeliers Romain Loriot and Jean-Benoît 'JB' Issele. The two are no strangers to Hong Kong's food and beverage scene, previously holding head sommelier positions at Le Comptoir (the group behind popular restaurants Ecriture and Bibo) and Michelin-starred Belon, respectively. This new venture sees these two forces of the wine world come together in an intensely personal venture that reflects the pair's extensive knowledge, impressive attention to detail, and passion for vino.
The bar boasts almost 600 wines from across the globe, with particular emphasis – at least 250 varieties – from the Burgundy and Languedoc-Roussilon regions of France. All well and good for the amateur oenologists amongst us, however such a varied menu is potentially grape-ly bewildering for the average customer. To ease the picking process there are friendly and knowledgeable staff on hand to educate in an un-patronising way about the tipples, and guide the appropriate drink to the lips of even the most winey of philistines.
In terms of volume, wines are offered here by the bottle and by glass, with prices ranging from as low as $60 per glass to as high as $15,000 per bottle. A good place to begin is at the cheap end of the spectrum, but for those looking to really explore Romain and JB's collection, a cool glass of the Italian Maso Cantanghel ($120) proves a nice white to start on, with light, tropical and fruity notes to kick off the palatal party. Following this, one might be in the mood for something a bit more full-bodied, say, the Domaine M. Chapoutier ($170 per glass), which constitutes a sumptuous red full of depth and a pronounced fruitiness. There's also Mas Amiel sweet wine on offer for $150 a glass, which, bottled many years ago, bears a flavour as distinct as the bar-top bottle that contains it.
The Think Wine experience isn't complete without sampling some of the epicurean offerings that, true to the form of the two wine masters, have been thoughtfully selected for their interplay with wines on the menu. The 100% Iberico Ham ($240) and smoked salmon with caviar ($340) are surfy turfy standouts, but with a varied selection of offerings from the sea, the land and the farm – including some delectable cheeses – there's something here for every wine and every palate, although it's advised to pay attention when exploring the food menu if on a tight budget.
As for ambience, Romain and JB have clearly spent time thinking about this aspect of their establishment, with splashes of warm colour against funky patterned furnishings to create a space that is simultaneously homely and traditional, and modern. All in all, Think Wine proves a pleasant place to enjoy and explore the nuanced world of wine in a central Hong Kong setting.
Details
Best selling Time Out Offers