The best clubs in Lan Kwai Fong
It's known as Hong Kong's party hub for a reason. Here are some of the best clubs in the area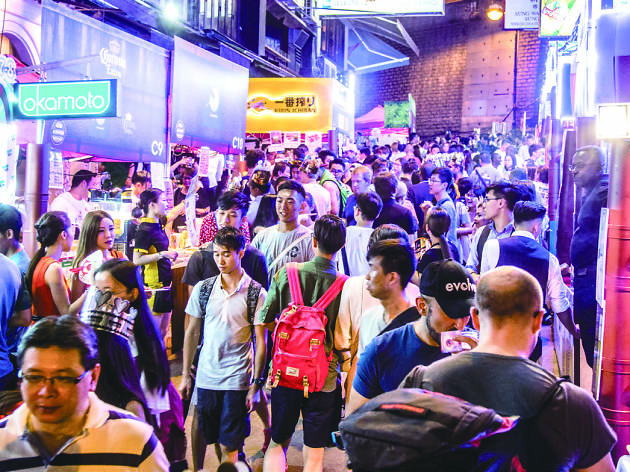 Oh Lan Kwai Fong – harbinger of revellry and regret, how we love you. While Hong Kong's night out offerings goes far beyond LKF with amazing specialist bars, karaoke and darts bars all readily available, LKF will always be ground zero for having a big night out in the city. And no loose evening is complete without hitting the dance floor and there's plenty of choice if it's a nightclub you're looking for. So without further ado, here are the best clubs in Lan Kwai Fong.
The best clubs in Lan Kwai Fong
This giant venue hosts some of the biggest parties in town with the mammoth 8,000 square foot dance floor catalysing the euphoria (no, we're not overdoing it). They could probably get away with just pumping any old tunes through the system and still get people dancing but Play often invites top-drawer international DJs meaning they're serious about what they do – fair Play.
Read more
As you can probably tell from the picture, things can get delightfully rowdy at this intimate (by comparison) LKF mainstay. What we especially like about Fly is that they're not dependent on what they deem to be 'big ticket' international acts – they have a better understanding of home grown and talent based in Hong Kong with some of the best local spinners getting behind the decks nightly. Also, it's not as much of an exercise in wallet/purse pillaging if you enjoy a beverage.
Read more
Love it or loathe it, dragon-i has continued to uphold its reputation as the club to be seen in. We know it's technically not in LKF but it's intrinsically become associated with nights out there. It's a playground for the rich and beautiful (not that it's overly exclusive, even we've got in a couple of times). And there's no doubt, they host some epic parties and manage to attract some big names to the club. Make sure you're scrubbed up if you want to cross the threshold, mind. They won't let you in if you're dressed like a dogs dinner.
Read more
Since opening its doors in 2004, Volar's cracking sound system, two rooms covering a wide spectrum of music genres (hip-hop, R&B, mash-up, dubstep, electronic and everything in between) has kept it as a go-to for many ready to take their night to the next level. It's definitely one of the most popular spots on the list, so get in there 'early' (as in, not quite the middle of the night) if you don't want to queue for ages.
Read more
This club isn't called Levels for nothing — in fact, it's quite literal. It's large. With one of the biggest dancefloors in Central, Levels is one of the best places to turn up in LKF if you don't want to be crammed when you're pulling the robot out to dazzled onlookers. The dancefloor is made up of two mood rooms conceptualised as Liquid and Solid – how do they come up with these.
Read more
The Singaporean nightlife behemoth has made Hong Kong a comfortable second home with this stunning iteration. Offering club nights with a view, the dazzling panoramic views of the Hong Kong skyline afforced by Ce La Vi's rooftop is pretty special. You can easily do your whole night here by starting off with a cocktail on the roof, heading downstairs for dinner then finishing back on the roof for heavy partying into the wee hours.
Read more
One of the best-known clubs in Asia, Drop opened in 2000 and has since become a favorite among partygoers. With a reputation for playing great dance music and having a fun, eclectic crowd, it's safe to say you'll have an amazing night here. From funky to deep, jackin' to tech – quality tunes and a crowd that defies expectation by being decidedly unpretentious and eclectic, despite the pedigree of the surrounds.
Read more
Want to get behind the decks yourself?
It seems that everyone these days with a laptop is going around giving it the big 'un saying they're a DJ. Nonsense. Without adhering to our completely accurate/helpful/essential guide below (click for the full-sized version) you can't really say you're anything but a fraud.
Read more