The best darts bars in Hong Kong
From casual after-work spots to serious training centres, Hong Kong is darts mad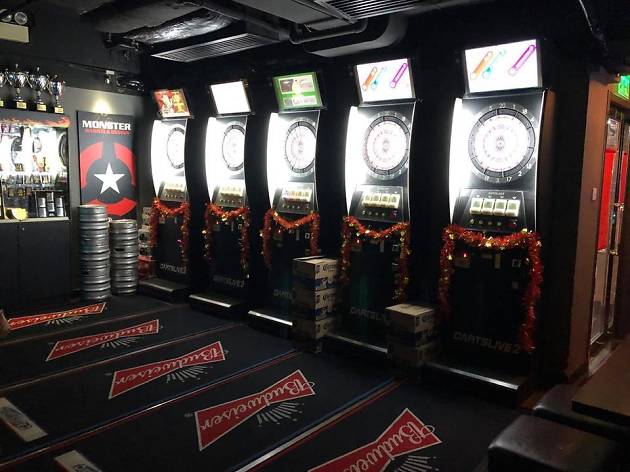 Darts – its reputation in Hong Kong is a far cry from the stereotypical image of beer-bellied louts that it's unfairly garnered abroad. Here, it's a lifestyle with bars all over the city catering to any level of involvement whether you enjoy clumsily throwing some casual arrows after a few too many or you're striving to turn it into a career.
If none of these spots take your fancy and you'd rather have a quality cocktail, see our list of the best bars in Hong Kong. Or if you'd rather try another indoor sport in Hong Kong, check out this list.
The best darts bars in Hong Kong
A Sheung Wan favourite enjoyed by locals and expats alike. Generous happy hours, friendly staff and a clientele devoid of the air of elitism that you might find in more hardcore darts bars. A great place to come and meet some friendly faces who are always willing to show you the ropes.
Read more
Joe's pretty serious about darts. Out of the three locations for this popular sports bar, we suggest the Knutsford Terrace location as it has a slightly more laid-back, party vibe. Another good option if you're travelling in numbers.
Read more
Serious business this one, with hefty involvement in the local tournament scene. Darts Arcade is something of a mecca for hardcore players with many teams calling the pub home. There's also loads of in-house tournaments so, if you think you can keep up with some of the best in the city, be sure to check it out.
Read more
This giant, two-storey Causeway Bay spot is another all-encompassing pub game haven. One thing that sets this place apart though, is the always enthusiastic crowd that whip themselves into something of a frenzy during the many tournaments held here. A great atmosphere and somewhere that doesn't take itself too seriously.
Read more
Another bar that's heavily involved in the official iDarts league (as might guess from the name). This is ground zero for the those looking to make a name for themselves in Hong Kong's thriving darts community. That's not to say it's not welcoming for beginners – even if you're absolutely hopeless, there'll be plenty of people around to give you some pointers.
Read more
Looking for more sport savvy bars?
With the Fifa World Cup on the horizon this summer, it's time you got to know the Hong Kong's best sports bars better.
Read more