Famous filmmaker and comedic genius Stephen Chow once said (in the God of Cookery movie) that "anyone can become the God of Cookery," but how often does a master chef come out of the legendary Chinese Culinary Training School (the venue in the movie)? Although this school is fictional (and not to be confused with Chinese Culinary Institute, which actually does exist in Pok Fu Lam), a plaque for it hangs above the semi-open kitchen in Sing Ye Noodle, a cha chaan teng that recently opened in Sham Shui Po. The eatery is not owned by Stephen Chow, but the owner is a huge fan of the actor and producer, which is why he set up this noodle shop as a tribute to Chow, his witty humour, and the sense of locality he represents.
Specialising in Cantonese cart noodles (which is also featured in the movie), Sing Ye Noodle offers a signature God of Cookery 'lah jaa' noodles ($60), containing the same ingredients that are depicted in the film – curry fish balls, pig blood curd, pork rind, turnip, and marinated pigs' intestines. But, unlike the dirty 'lah jaa' noodles in the movie, Sing Ye Noodle promises a hearty bowl of noodles in soup, with soft turnips and chewy pork rind that go well with the shop's homemade chilli sauce. The chef's recommendation of cart noodles ($62) is also a popular dish, with spicy squid, fresh bean curd sheets, pork knuckles, fish maw, and marinated beef tendon.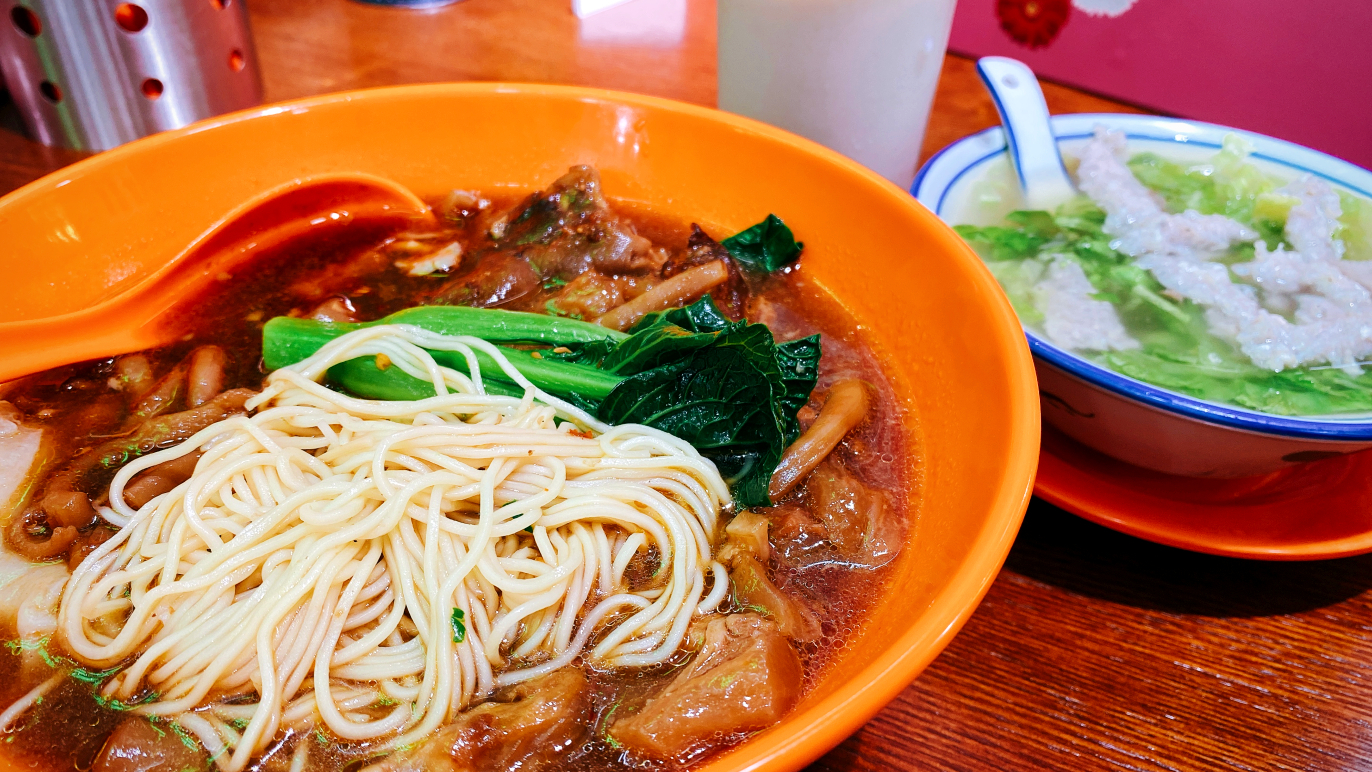 For those that are not big fans of offal, fret not! Sing Ye Noodle provides nearly 50 other toppings to mix and match, including various kinds of meatballs, dumplings, cut meat, and vegetables.
The restaurant supports local businesses by using products from traditional brands in the neighbourhood, including handmade noodles from Good Luck Noodle Company, and soybean products from Shu Kee Ming Lee. The noodle broth is made fresh every morning with chicken bones, pork bones, and yellow Corvina boiled for a total of six hours. Apart from noodles, diners can also enjoy local bites like Three Stuffed Treasures ($12), which is a dish of lettuce with minced fish ($12) and other inexpensive side dishes.
Don't forget to test your knowledge of Stephen Chow movies by checking out how many references you can identify in the store, starting from the neon signs on the walls which quote some of his most famous lines. Elaine Wong
Want to hear about the latest openings, pop-ups, and learn about the most happening dining and drinking spots in the city? Subscribe to our newsletter and be the first to get the news!