Duddell's cocktail programme is getting an overhaul as the bar introduces their new head mixologist and salon manager, Mario Calderone (formerly of Honi Honi Tiki Cocktail Lounge). Mario has been in the bar industry for ten years helming bars from various parts of the world including Zuma (London), Novikov Restaurant and Bar (London), and Bar Lafayette (Australia), before moving to Hong Kong in 2015 where he headed the bar of Fishsteria Seafood Place first, and managed popular tiki bar Honi Honi after.
"I'm excited to bring fun and good vibes in Duddell's Salon Bar and bring forth my knowledge of classic old-style cocktails," Mario shares. Starting the second week of October, Duddell's will be introducing his new cocktail programme and taking out the old menu created by JIA Group's beverage specialist James Barke and Duddell's former manager Masumi Tomioka. "The inspiration behind Duddell's new beverage program is focused on 'simplicity' and being 'guest-friendly'," explains Mario. The new menu is a far cry from Duddell's themed menu launched in 2018, poetically inspired by Eastern wisdom and utilising Japanese names and ingredients. Duddell's new menu will include reimagined classics in Mario's signature pre-Prohibition style recipes designed to complement Duddell's dim sum.
Duddell's Sour; salon manager Mario Calderone
"We try to please every palate with our drink selection," Mario explains. "Drinks on the menu are easy to recognise and easy to choose – all your favourite classics with a twist," he adds. Unlike the old menu that learned or adventurous palates might enjoy, Mario's cocktail programme is catered to a broader audience. The new menu will include a twist on Champagne Cobbler ($160) made with Veuve Clicquot Champagne mixed with fresh orange, lemon and pineapple, and a drop of maraschino liqueur; and Pearfectioned ($140), a pear-infused Hennessy VSOP mixed with Capovilla pear distillate, served with a side of caramelised pear. To pair with Duddell's dishes, Mario recommends Duddell's Sour ($140) made with citron vodka, Aperol, passion fruit, citrus juice, and egg white. "It is a great palate cleanser; perfect for refreshing your taste buds between dishes," he says. If you like Duddell's richer dishes like the honey glazed char siu, he suggests to pair their house version of the flaming blue blazer, Oolong Blazer ($140) that uses oolong tea and plum bitters to cut through the heavier flavours of pork.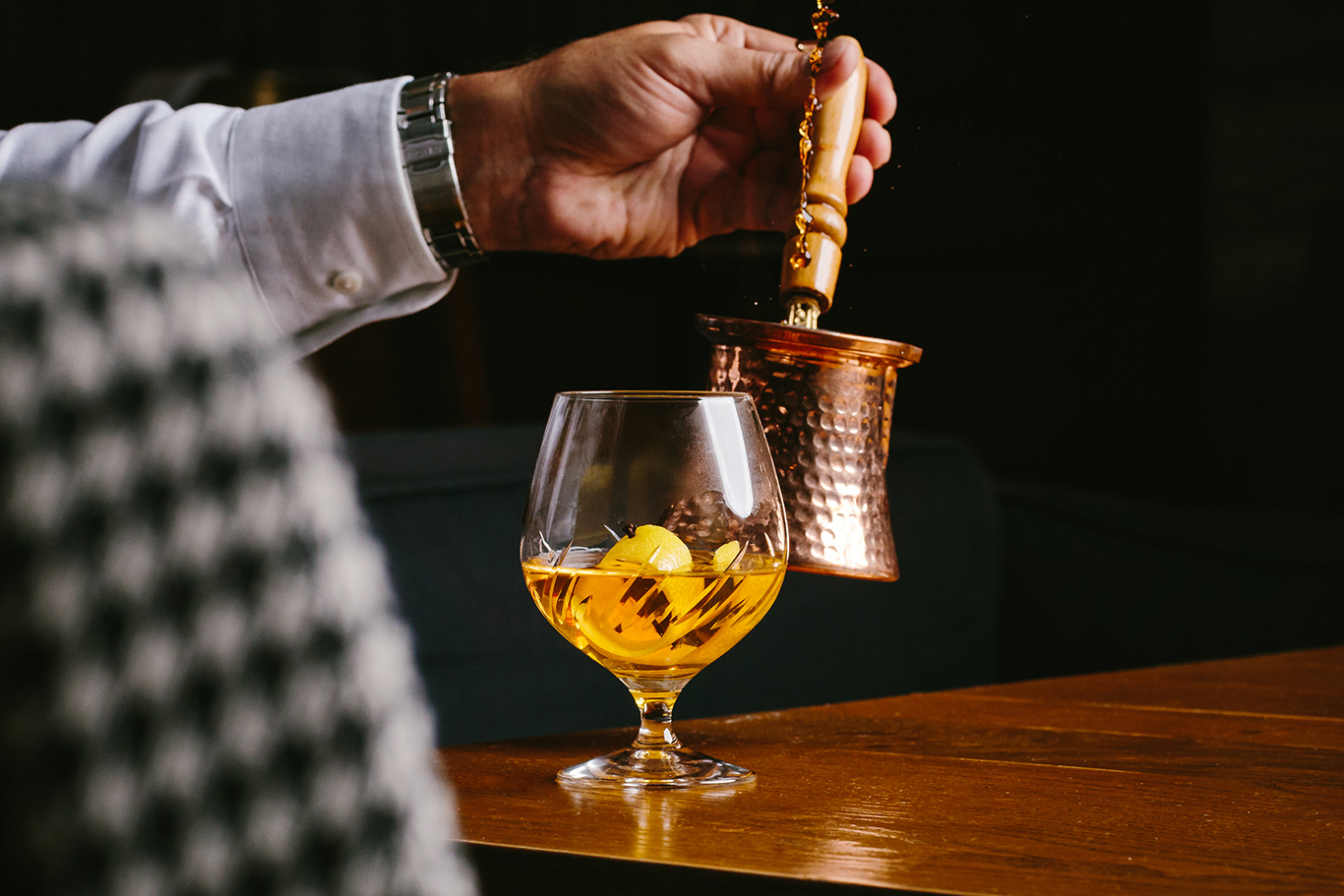 Duddell's Oolong Blazer
An interesting addition to Duddell's salon bar is the Absinthe Fountain. Guests can order the green fairy with choices of St George Absinthe ($130), La Fee Absinthe ($110), and Pernod Absinthe ($120). If you're craving for your favourite classic libation, you can also request the bar staff to whip up your request.
"I hope the cocktails I created can make people relax and forget about all the hardships we endured, and truly enjoy the good time with friends," explains Mario. "We do understand hygiene is the top priority, and we make sure our bar is constantly wiped and cleaned so that our guests can drink without worrying about their welfare," he adds.
Mario intends to update the menu every six months, keep the guests' favourites and add cocktails according to the season.