Cocktail enthusiasts in Hong Kong – who are no stranger to bar veterans and founders of The Old Man Agung Prabowo and Roman Ghale – will already know about the duo's newest brainchild Penicillin opening in Central. So for those who have eagerly been waiting, and those that have yet to hear the good news, you'll be glad to know that the bar has officially opened its doors and in their soft-opening phase.
Established in collaboration with their partners Laura Prabowo and Katy Ghale, along with Betty Ng from the design studio Collective, Penicillin prides itself on being the first eco-conscious bar in Hong Kong. By using sustainable methods and a closed-loop model of production, Penicillin aims to shake up the somewhat wasteful cocktail-making industry, the same way that the antibiotic revolutionised the world of medicine back in the 1940s.
The cocktail menu, titled 'You Gotta Sustain it', is divided into three sections and focuses on locally sourced or up-cycled ingredients and stays as true as possible to the flavours of Hong Kong. First up is The Penicillins, a series of drinks inspired by the original Penicillin cocktail, which was created by New York bartender Sam Ross 15 years ago. For a sweet interpretation of this classic cocktail, order the Something Clear ($90) which is infused with goat's milk whiskey, clarified citrus, ginger honey wine, and a smoky flame. For more herbaceous notes and flavours, opt for the Foraged and Found ($90) cocktail, made with locally foraged ingredients such as wild oregano and gooseberry.
Next, the On-and-Off section which rotates cocktails according to whatever local farm produce and ingredients are in season. The drinks are all made with the intention to reuse, recycle, and up-cycle ingredients to their full potential. Signatures include the Pick Me Up ($90) with ecoSpirits tequila, chef's pickles, adjusted lime juice, cassava milk, and Chiu Chow-style chilli oil, and the Modernist Science ($90), which consists of bread-infused vodka, fermented koji-pineapple, and cheddar cheese liqueur. While these combinations may sound pretty wacky, all Penicillin recipes were created after much research and experimentation done by the team at The Penicillin Lab and The Fermentation Chamber by Collective, so it's definitely worth a try. Go on, be a little adventurous!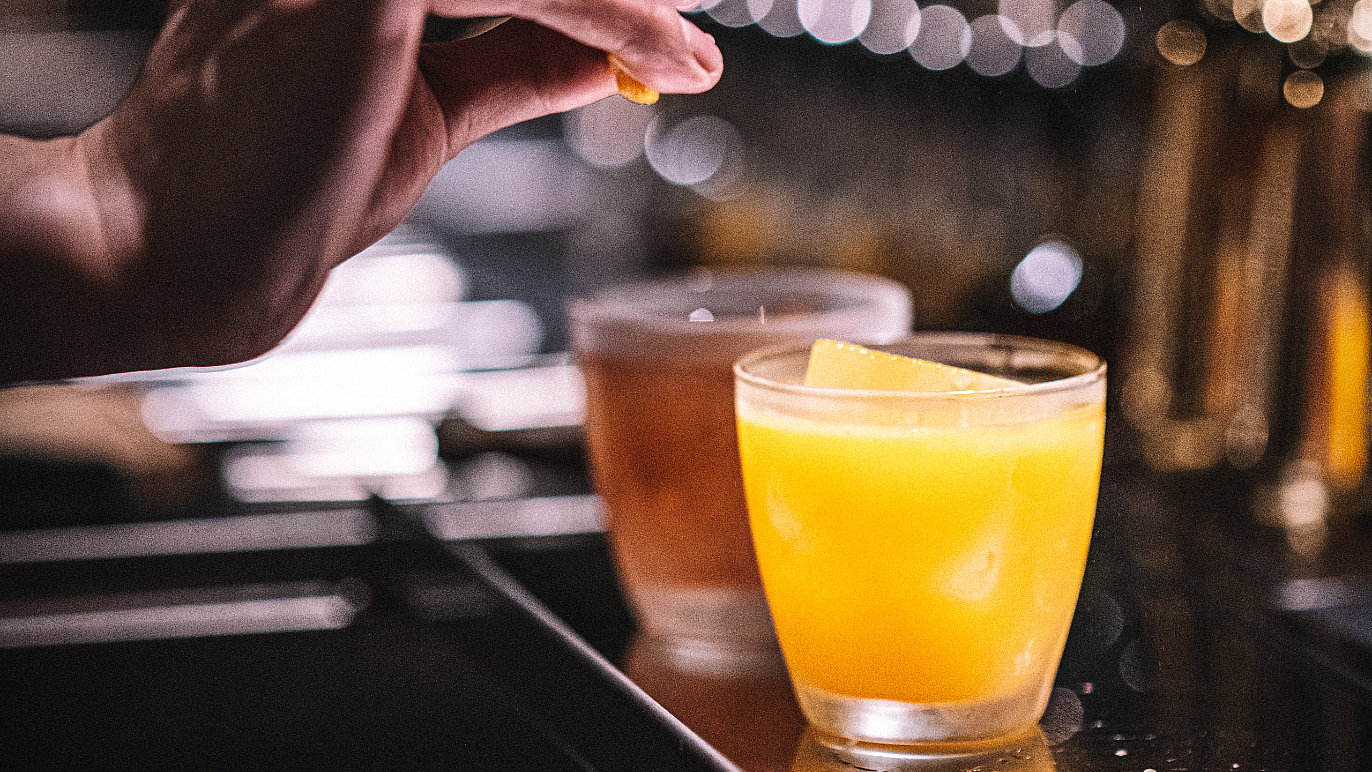 The final section on the drinks menu is the non-alcoholic Organic Ferments, which highlights Penicillin's selection of fermented ingredients. Containing plenty of gut-healthy live bacteria, try their Red Cabbage & Passionfruit ($90), a concoction of red cabbage, passionfruit vinegar, and apple fermented for a week.
A unique menu item not belonging to any of the sections is their star cocktail One Penicillin, One Tree ($110). With every order of this cocktail, one tree is planted in the endangered Kalimantan rainforest in Borneo, Indonesia. Conducted in partnership with Green Steps Group and ecoSpirits, this reforestation project strives to reduce single-use glass bottles and minimise carbon impact, so you can go green even while enjoying a tipple or two.
Not forgetting the bar food, Penicillin's Lab Food menu uses ingredients that are mostly locally sourced, or reused and recycled from the cocktails. The KFC, short for Koji Fried Chicken ($108), is a definite upgrade from your average fast food item, with shio koji-fermented juicy chicken, local mushrooms, and yuzu-kosho mayo. Another highlighted dish is the Ultrasonic Fries ($78) which is made in an ultrasonic chamber, dusted with shichimi togarashi spice, and dipped in lemongrass mayo. If you're visiting the bar as a group, share The Lucky Pig ($238 for two to three diners) with your companions to enjoy a slow-roasted pork shoulder with bur marigold wraps, seasonal pickles, spiced nuts, and harusame salad. Elaine Wong
Penicillin is located at L/G, Amber Lodge, 23 Hollywood Rd, Central.
Want to hear about the latest bars, openings, pop-ups, and learn about the most happening drinking spots in the city? Subscribe to our newsletter and be the first to get the news!