As the city welcomes a new hotel opening in between Causeway Bay and Wan Chai, albeit in the middle of a global outbreak where strict social distancing measures are in place, we've decided to take a look inside to find out what The Hari Hong Kong has to offer for more staycation inspiration.
The Hari, a hotel originally from London's Belgravia, will offer a total of 210 guestrooms, including three rooftop suites and two dining venues. Bringing a touch of elegance with a distinct London attitude to Hong Kong, The Hari will feature a modern design where bright petrol blue and amber meet muted grey marble and neutral textures in an ocean palette grounded by earthy tones.
Inside, the guestrooms are designed to maximise space with bathrooms and wardrobes opened up with antique-brass Crittall door partitions that can be closed off only when necessary. Meanwhile, the standard king and twin rooms are open plan and decked out with a plush sofa, marble bathroom, and brass elements throughout.
The largest of the room categories are the corner rooms, which on top of the aforementioned elements, also has a dressing room to get ready in and offers views overlooking Causeway Bay. Premium corner rooms, on the other hand, have a unique vantage point over Wan Chai and Admiralty. The top category of rooftop suites, including The Hari Suite, have been designed with a luxurious five-piece bathroom, a lounge, and its own private terrace.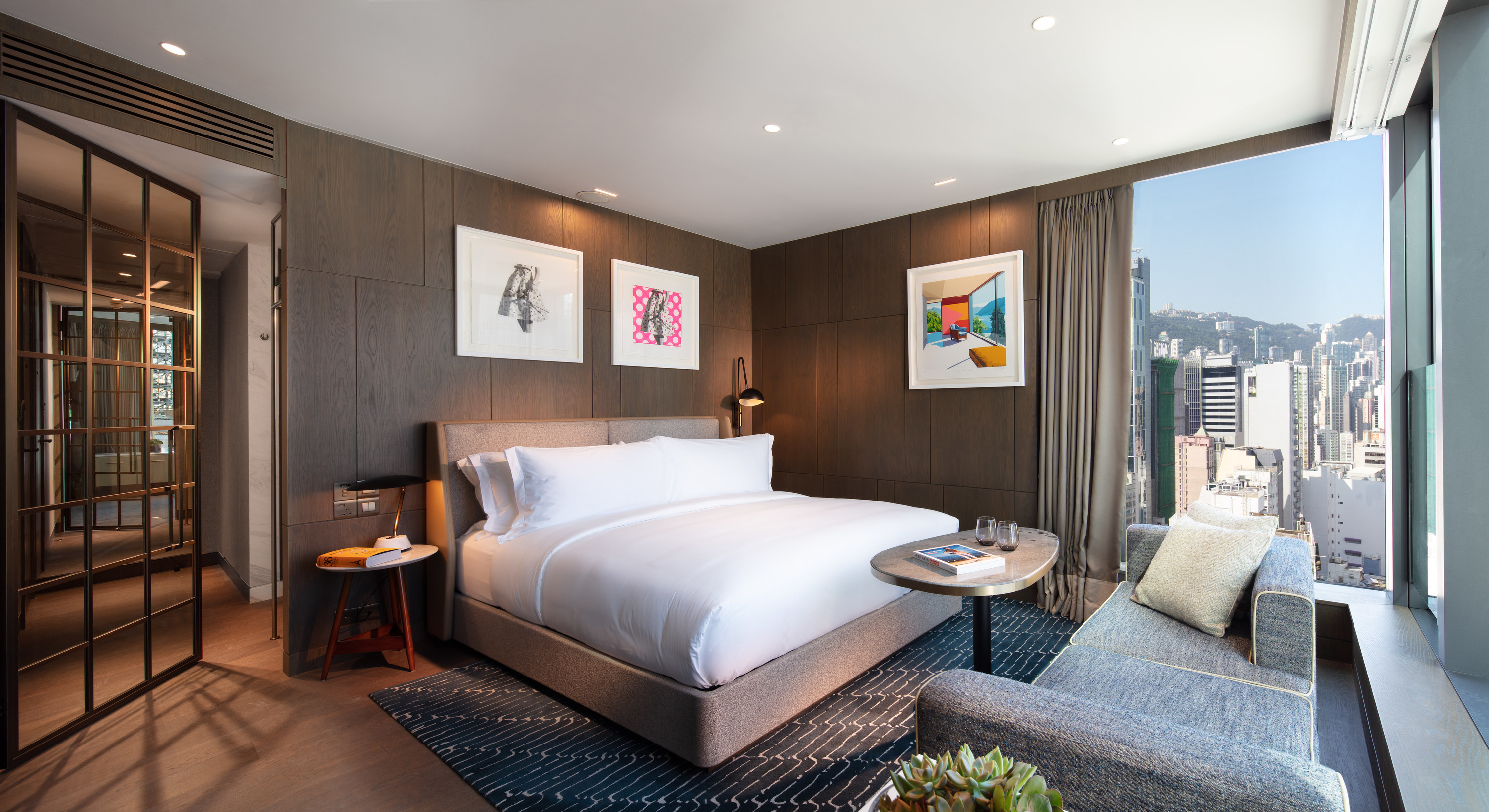 Restaurant wise, guests will have the choice of Italian cuisine at Lucciola Restaurant & Bar, or Japanese at Zoku Restaurant & Terrace. Lucciola will offer simple and classic Italian dishes accented with modernity in a menu spanning classic antipasti, fresh seafood, pasta, seasonal dishes, and desserts created by Piedmont native and chef de cuisine Francesco Gava. Over at Zoku, helmed by chef Phillip Pak (whom you may remember from the now-closed Ce La Vi Hong Kong), the restaurant offers a refreshing take on Japanese cuisine in a lounge-style dining area, with a terrace bar attached. Think sushi rolls and sashimi, grilled and skewered meats, tempura and hot main dishes, followed by Japanese dessert.
The Hari Hong Kong is offering a welcome package with rates starting from $1,450/night, including a $700 F&B credit per stay with late check-out until 3pm. The offer is valid until March 31 2021. For more info or rates visit the hotel's website here.
The Hari Hong Kong, 330 Lockhart Rd, Wan Chai
Want to hear about the latest openings and learn about the most happening staycation spots in the city? Subscribe to our newsletter and be the first to get the news!