The best xiao long bao in Hong Kong
Originating from Shanghai, these are the crème de la crème (or dumpling de la dumpling) of the dumpling world, filled to the brim with juicy minced pork and the addictive trademark soup – and we've found the best xiao long bao in Hong Kong.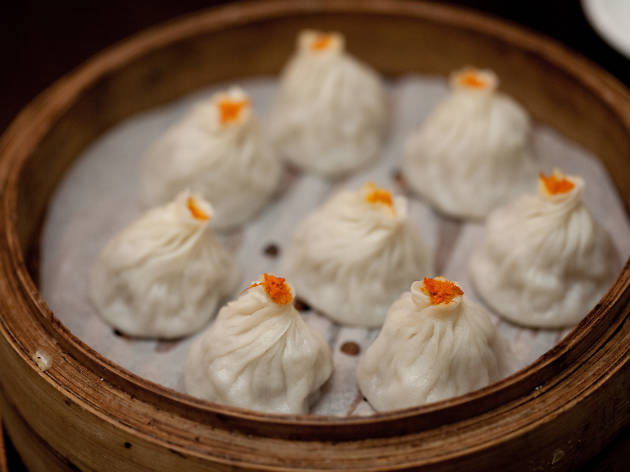 Din Tai Fung
It might be a bit of a cop out to feature a famous franchise like Din Tai Fung, who have branches all over the world, but when the xiao long bao they serve up are this good, we simply can't leave them off the list. Din Tai Fung's dumplings have a distinct elasticity to their thin skins, and while you can have them with a classic minced pork filling, you should definitely try the black truffle and pork dumpling, which takes the xiao long bao concept to a whole new level. $50. Various locations inc Shop 130, 3/F, Silvercord, 30 Canton Rd, Tsim Sha Tsui, 2730 6928; dintaifung.com.hk.
Osama Tony
Don't let the bizarre name of the restaurant fool you, the xiao long bao at Osama Tony are some of the best you'll find in Kowloon. Tucked away down a side alley off Temple Street, this diner serves a wide range of Shanghainese dishes, but the star of the show are its pork dumplings. Their xiao long bao come filled with a delicious sweet juice and their skin is just the right texture. Even better still, they're incredibly cheap at just $12 a basket. Bonus! $12. 122 Woosung St, Jordan, 2755 5090.
Liu Yuan Pavilion
A local favourite for Shanghainese food, Liu Yuan Pavilion has its xiao long bao down to a science. The broth inside each dumpling is rich and flavourful, with fatty goodness filling your mouth on the first bite. Liu Yuan Pavilion also offers special hairy crab xiao long bao when it's in season, with the pork inside laced with mouth-watering crab and cream. The crab roe used to garnish the dumplings provides an extra twist to its tried and true formula. $28. 3/F, The Broadway, 54-62 Lockhart Rd, Wan Chai, 2804 2000.
Man Mo Café
Specialising in fusion dim sum, Man Mo Café serves up foie gras inside their xiao long bao instead of the usual pork. The dumpling skin is exquisitely thin, and made so well that they deservingly stand alongside all the experts on the market. In line with their creativity, they advise you to sprinkle sea salt over the top of the dumpling instead of the usual vinegar and ginger. If you're looking for xiao long bao as you've never had it before, this is your number one destination. $88. 40 Upper Lascar Row (Cat St), Sheung Wan, 2644 5644; fb.com/manmocafe.
Paradise Dynasty
If variety is the spice of life, Paradise Dynasty is the spiciest entry on our list, offering no less than eight different variations on their signature xiao long bao. This Causeway Bay eatery serves up original pork, cheesy, Szechuan, garlic, ginseng, crab roe, black truffle and foie gras fillings in its xiao long bao, with the skin coloured a different shade on each. While the multi-hued exteriors up the novelty, the flavours are where they really stand out, with the broth being light and tasty, and the skin being paper thin. We recommend the black truffle, foie gras and the cheesy for the adventurous types. $88. 6/F, Lee Theatre, 99 Percival St, Causeway Bay; 2177 0903, paradisegroup.com.sg.
Yè Shanghai
If you want a slightly more refined setting to enjoy your xiao long bao in, the one-Michelin-starred Yè Shanghai is for you. Slotted in the lower levels of the Marco Polo Hotel, the Shanghainese fare here is top-notch and the dumplings even more so. Delicately wrapped in a thin skin, these bad boys are seriously addictive, and the generous serving of broth will be dribbling down your chin in no time as you order a second and third helping. $52. Various locations inc 6/F, Marco Polo Hong Kong Hotel, Harbour City, 3 Canton Rd, Tsim Sha Tsui, 2376 3322; elite-concepts.com.