The best Hong Kong milk tea
Hong Kong's most iconic beverage is available all over town but who makes the best of this much-loved caramel-brown beverage? Time Out tracks down some of the top 'lai cha' in the city.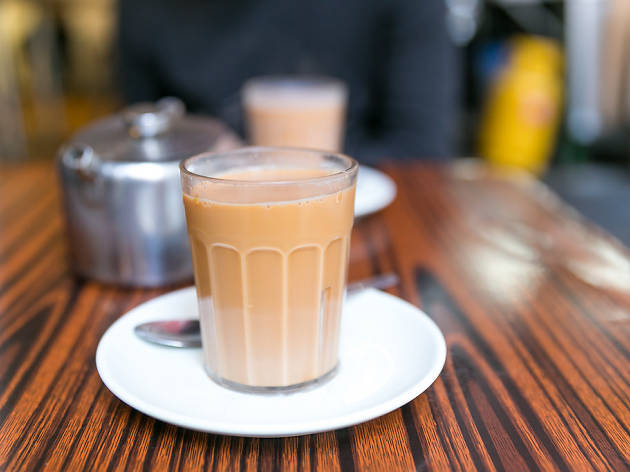 Cheung Hing Coffee Shop
Being frequented by famous celebrities yearning for some classic local comfort food (fame and fortune does not change your taste), this place is also patronised by the star-struck crowd looking for a glimpse of their favourite idol and a taste of the food they love. The milk tea is a seamless marriage of rich brewed flavours and the thick classic evaporated milk that makes it moderately sweet enough to go with anything on the menu. A great hotspot for breakfast and lunch, stars or not. $15. G/F, 9 Yik Yam St, Happy Valley, 2572 5097.
Hoi On Cafe
Step back in time to the 1950s at this quaint neighbourhood café. The simplistic layout, rustic furnishings and the loyal crowd perfectly personify the Hong Kong of yesteryear. A cup of their smooth, slippery and gloriously creamy milk tea is guaranteed to hit you with a wave of nostalgia as well. Their enticing HK-style French toast is the perfect accompaniment to the milky cha, with the thick slabs of toast coming with generous portions of maple syrup and a huge slab of fragrant butter. One of the very few authentic old-school HK diners keeping it real in this fast-moving cosmopolitan city. $14. G/F, 17, Connaught Rd, Sheung Wan, 2540 6340.
Lan Fong Yuen
Street stall setting aside, this old-school HK diner has been making waves (and probably serving amounts that would equal the size of a wave) for over half a century, seducing both locals and tourists alike. Often described as one of the most authentic places for a cup of HK-style 'silk stocking' milk tea, the unrivalled liquid here is smooth, velvety and bursts with flavour. Actually, the pioneering straining device is a stained-brown micro fine sack cloth. Well, we don't mind. $16. 2 Gage St, Central, 2544 3895.
Lok Yuen
If you're a thrill seeker or one of those who can't stick to boring routines, this one's for you – the milky cha here is combined with red beans. The milk tea has a strong taste but it is percolated with just the right proportion of evaporated milk. The addition of red bean paste at the base adds a tasty chunk at every sip. $13. Shop 6, 3/F, Kowloon City Municipal Services Bldg, Nga Tsin Wai Rd, Kowloon City, 2382 3367.
Sing Kee 醒記
Known as the Olympics for HK-style milk tea, the annual International Kam Cha competition attracts master chefs from all around the world, competing and brewing up the best with hopes of winning the 'Kam Cha' trophy. Chef and owner of Sing Kee, Mok Pui-ling, was hailed the 'queen of milk tea' after taking the trophy home last year. Their 'kam cha' is Hong Kong's pride and joy brew – not one to miss if you're in the area! $10. Kam Shek New Village, Tai Po.
Tai Hing
One of the more successful chain restaurants in the city, Tai Hing is notably famous for their delicious roast meats. In fact, their quality roasted offerings are so well-loved that the efforts they put into their glass of HK-style iced milk tea are often overlooked. They place their milk tea on ice in a bowl, so as not to dilute the rich robust flavour – you will never have to worry about your iced milk tea becoming bland and watered down ever again. $18. Various locations inc Shop 75, G/F, NMP, 14 Science Museum Rd, Tsim Tsa Tsui, 2513 1110.