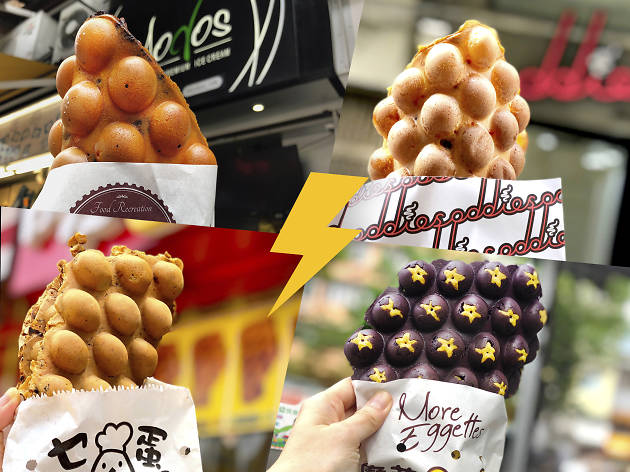 Hong Kong's best egg waffles
We eat our way across the city to discover where has the best gai daan zai
Much like French toast and lai cha, egg waffles/eggettes – or gai daan zai – are a street food staple in Hong Kong. While you can never go wrong with the classic style, local food stalls have continuously rolled out new and unconventional combos to keep things fresh and original. From one based on the current craze for salted egg to an Instagrammable star patterned variety, we pit the most popular egg waffles against one another in order to crown the best in Hong Kong.
Hong Kong's best eggettes
Despite the massive amount of competition in the local snack market in Sham Shui Po, Goodest Snack has been attracting long lines of customers eager for a taste of its eggettes. Aside from the original flavour, Goodest's menu offers a wide variety of other flavours such as cheese, dark chocolate, banana, meat floss and crabstick. The latest craze has been for the salted egg and luncheon meat combo where the sweetness of the eggette is balanced out by the other two ingredients. Made to order, we can attest that the texture of the eggettes is extra fluffy like a sponge cake. And best of all, it's not too oily.
Time Out rateing: 4/5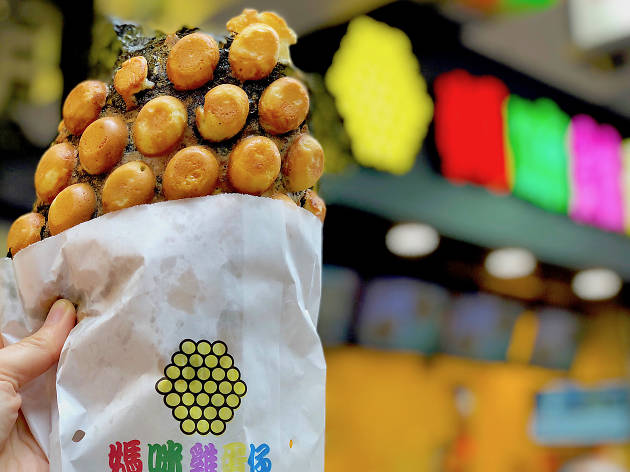 Mammy Pancake has more than 10 branches spread out across the city. Thanks to an interview with a Japanese TV programme, the store has been attracting a good number of Japanese tourists. Variety is the name of the game here with more than 15 flavours to pick from, as well as special seasonal flavours. Mammy has recently rolled out salted seaweed and corn, numb and spicy meat floss, and organic chestnut flavours. We had a go at the seaweed flavour ($30), which immediately felt oily when we grabbed it – it was the seaweed. While it did have a crunchy exterior and the corn adds an interesting texture, the eggette sadly lacks a distinctive egg aroma.

Time Out rates: 2/5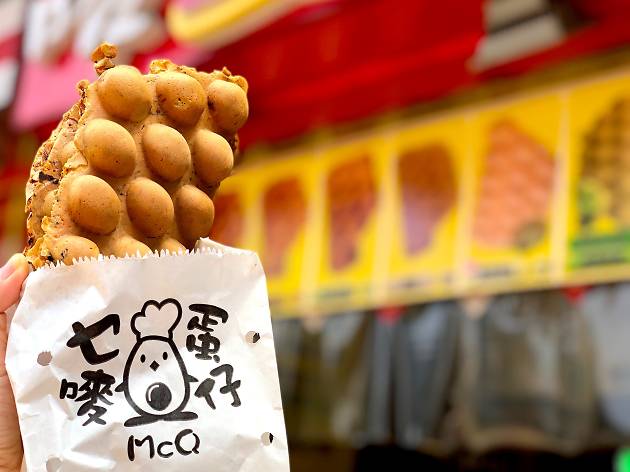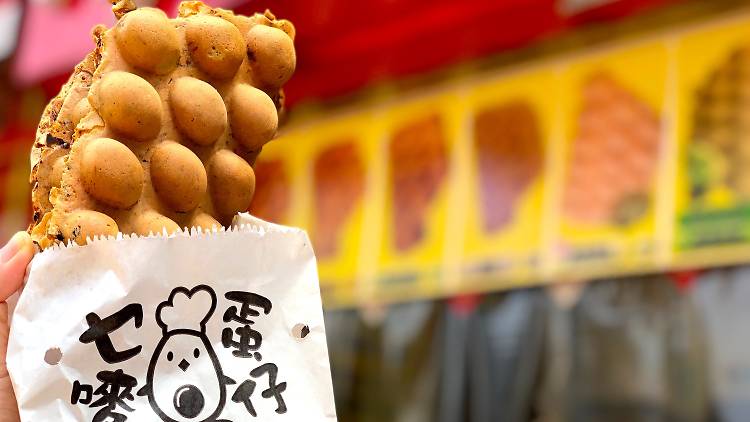 A family run business, McQ serves up a whole host of street food like siu mai and fish balls on top of their signature gai daan zai. The eggettes here are creative, like the crowd favourite matcha red bean, molten cheese, and coffee and chocolate varities. The molten cheese ($25) has a cheese cube placed in each and every "bubble" of the eggette. The cheese bursts delightfully in your mouth once you bite into the crunchy shell, striking the perfect balance between salty and sweet. We grab one of the coffee and chocolate variety ($23) too while we're here. The coffee flavour is nice and rich, and pairs brilliantly with the molten chocolate.

Time Out rating: 4/5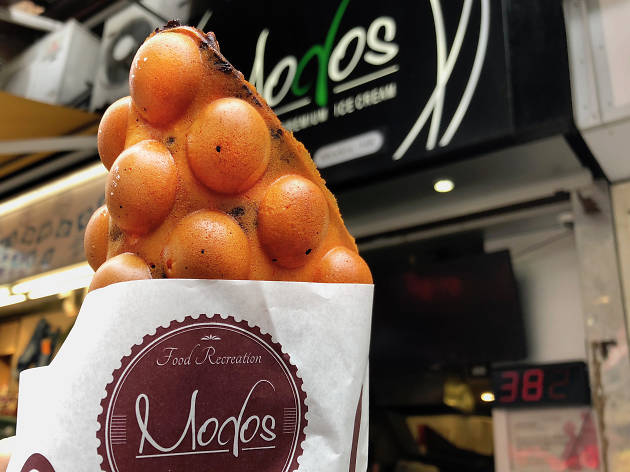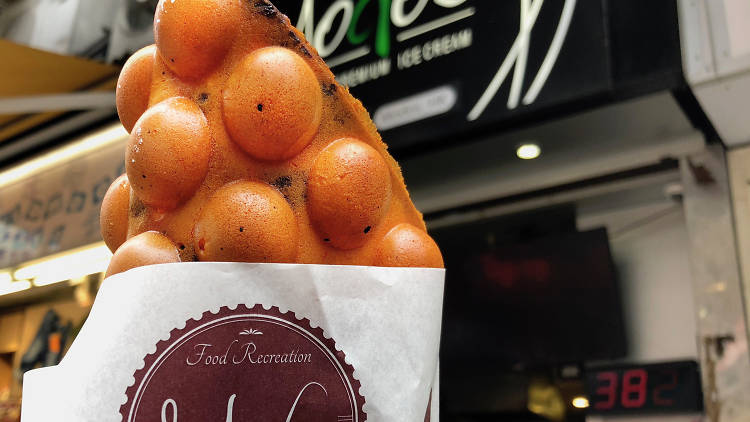 There seem to be perpetual long queues at this Mong Kok food stall. Modos attracts hundreds of foodies daily thanks to its huge variety of eggettes including some unconventional flavours such as pandan, Jacob's chocolate orange, spicy meat floss and even Russian borscht. We went for the pandan gai daan zai, which was nice and light. We also tried the chocolate orange, where the chocolate chunks are delightfully gooey. All the eggettes were freshly made, resulting in that ideal crunchy-on-the-outside and soft-on-the-inside effect. The only complaint we have is that the gai daan zai was quick to soften.

Time Out rating: 3/5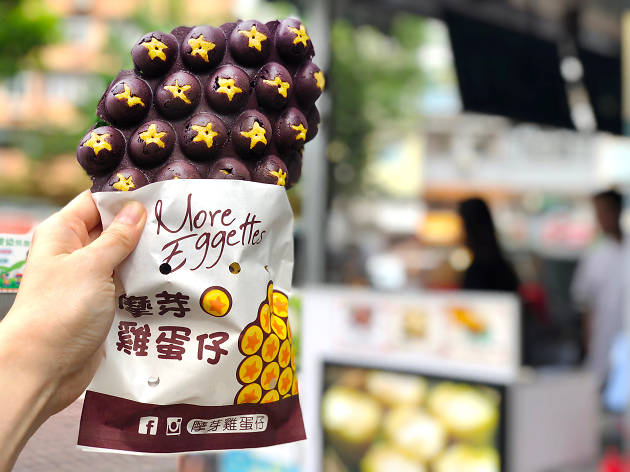 Best known for its star-patterned eggettes, More Eggettes offers much more than just a gimmicky snack. Beyond its signature starry eggette, the variety is very impressive. There's honey fondant, curry meat floss, candied pineapple and orange chocolate. They also regularly roll out one or two new flavours every month. We decided to go for the purple sweet potato ($30). The contrast between the stars on each bubble and the purple eggette guarantees a great IG photo, but more importantly, it tastes amazing. The extra rice crispies added to the already crunchy shell give a whole new dimension to the texture, while the purple filling is incredibly smooth and aromatic without being overly sweet. The only downside is that it takes a while to make your order: up to 20 minutes even during off-peak hours.

Time Out rates: 5/5
Oddies were the pioneers who gave us the ultimate gai daan zai soft serve ice cream combo. Diners can have their pick of low-fat gelato, homemade matcha and sea salt ice cream, and can throw in toppings like cinnamon crunch and orange jelly. There are eggette flavours aplenty here, ranging from apple pie and vanilla pudding to meat floss with Chinese cruller and even Chinese sausage. The latter ($30) is stuffed with small, diced bits of sausage within its sweet and fluffy insides. The sausage isn't spread particularly evenly and is quite oily, so we give up trying to finish it halfway through.

Time Out rating: 3/5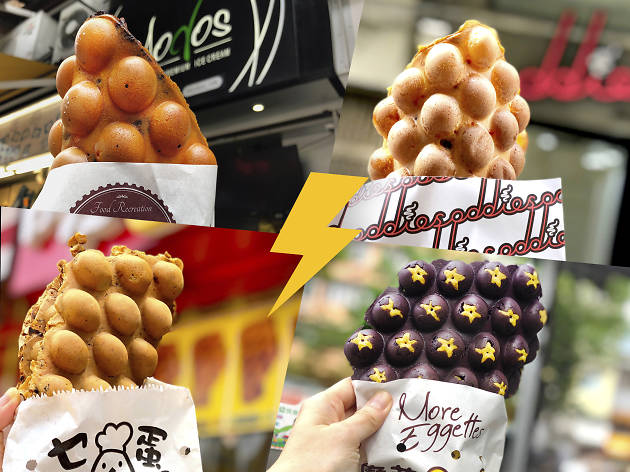 More Eggettes' starry gai daan zai wins both on looks and on taste. Despite taking more than 20 minutes to make, it's well worth hanging around for to get a bite of that perfect eggette.
Craving for more egg dishes?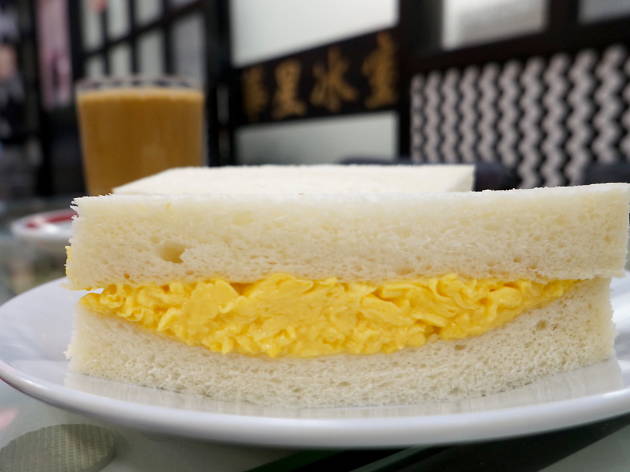 We decided to go undercover and pit four of the fluffiest, creamiest egg sammies in town against one another in the hope of crowning one bing sutt to rule them all.