Hong Kong street food essentials
The essential guide to Hong Kong street food, from traditional favourites like fishballs and egg tarts, to the weird and wonderful stinky tofu.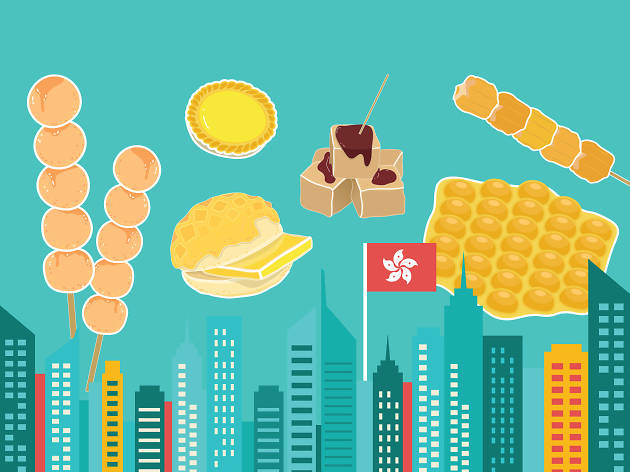 Hong Kong's street food scene is known the world over. We may be home to some of the world's best restaurants, wallet friendly cheap eats and the best dim sum, but no Hong Kong experience is complete without sampling these street food favourites.
Hong Kong street food essentials
1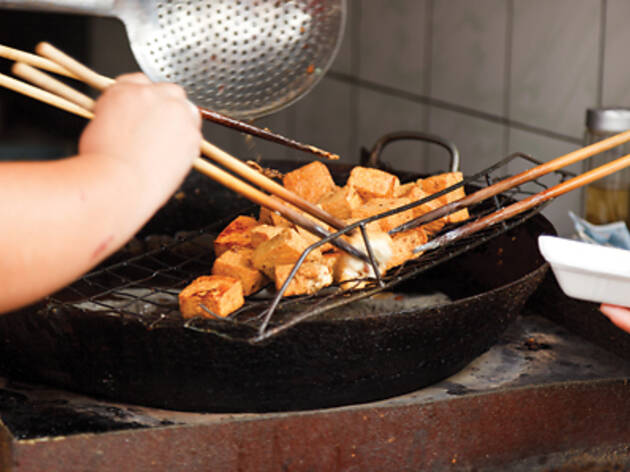 Notorious for its strong and distinct smell, stinky tofu is the king of street foods. The tofu has been soaked in a brine of milk, vegetables, meat variations and the like for anywhere between a few hours to a few months – it's what gives stinky tofu that particular smell. It's then deep fried and usually served with a spicy sauce. The outter layer of crispy skin gives way to a soft, creamy centre. If you can get past the smell, stinky tofu is actually delicious, honest.
2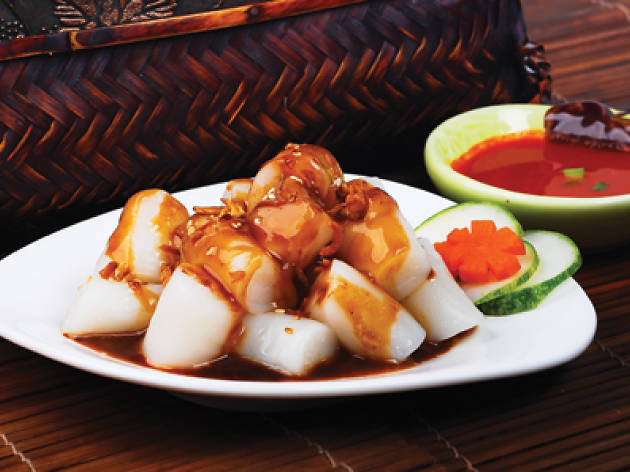 Served in a Styrofoam cup lined with paper sheets and eaten with wooden sticks, it's one of Hong Kong's most convenient snacks to eat on the street. Cheung fun is made from steamed sheets of rice noodles and sports a satisfyingly chewy and gooey texture. As it's relatively bland on its own, cheung fun is doused in sweet sauce, peanut sauce and sesame seeds. And if you want that extra zing, a dab of spicy sauce hits the spot.
3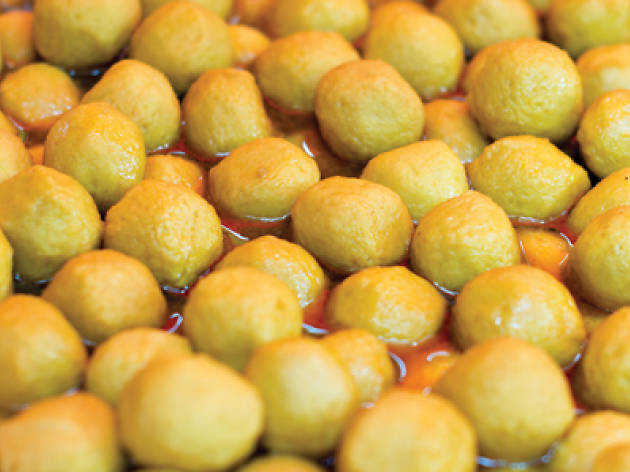 Served since the 1950s, curry fish balls are perhaps Hong Kong's most traditional street snack. Smooth and springy in texture, these fish balls come in a group of five on a bamboo stick and are soaked in a strong curry sauce. The original flavour is also a firm favourite. Though they're rarely 100 percent made of fish these days, they're still a great option.
4
Squid or octopus tentacles
With their tentacles still intact and stacked on top of each other, these aren't the most visually stimulating of Hong Kong's street food. However, it's an intriguing sight. Found at many night stalls, the squid or octopus is cooked in boiling water, and then either roasted or deep fried. Served on a wooden stick and commonly enjoyed with a condiment, it's a popular snack among Hongkongers.
5
Roasted sweet potato and chestnuts
Typically sold together on the street from mobile carts, roasted sweet potato and chestnuts have become two of the most popular winter treats. The mobile cart, which is made of wood and steel, cooks the potatoes and chestnuts and can be pushed around street corners in Hong Kong. Simply roasted and served without any extra sauces, it's one of the healthiest snacks you can get. Just the sweet smell alone will warm you up.
6
The sweet, heavenly smell of egg waffles is undeniable. Sold by street-side vendors, these are made by pouring egg batter on to a griddle pan and can be made with chocolate, sesame or the ever-so-popular green tea flavour, among other crazier incarnations. These breakable bite-sized waffles are soft and gooey on the inside and light and crispy on the outside. Perfect for an afternoon snack to satiate your sweet tooth.
7
A hangover from Hong Kong's colonial days, these circles of golden creamy goodness are a staple in the street food arena. The two main parts of the egg tart – the golden crispy pastry and soft silky egg filling – are equally as good as each other. Made mainly from egg, milk and sugar, they smell and taste best when served fresh and still warm.
Bringing a new meaning to fast food, this snack gives you noodles on the go. Choose your preferred toppings and a special sauce is mixed into a bag of pre-packaged noodles, for it's all about efficiency. There are many toppings you can choose from like corn, fish balls and fried chilli squid. Noodles in a bag are hugely popular on the streets of Mong Kok, especially during the summer.
9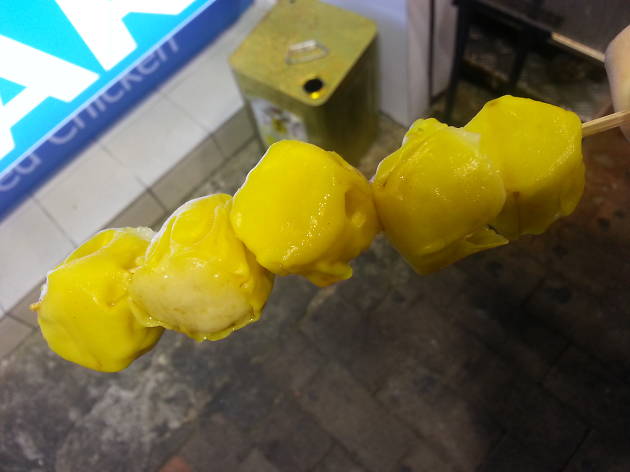 This traditional dim sum dish is as popular on the streets of Hong Kong as it is in restaurants. Although not crafted and served up as delicately as it is in restaurants, this steamed classic is still one of the most eaten street foods around. Eaten on a stick, with either pork or fish filling and a thin yellow pastry wrapped around it, it can be dipped in sweet soy sauce or a curry sauce for extra flavour.
10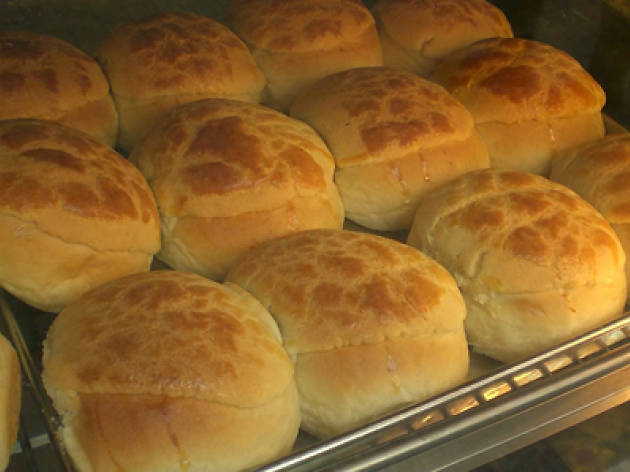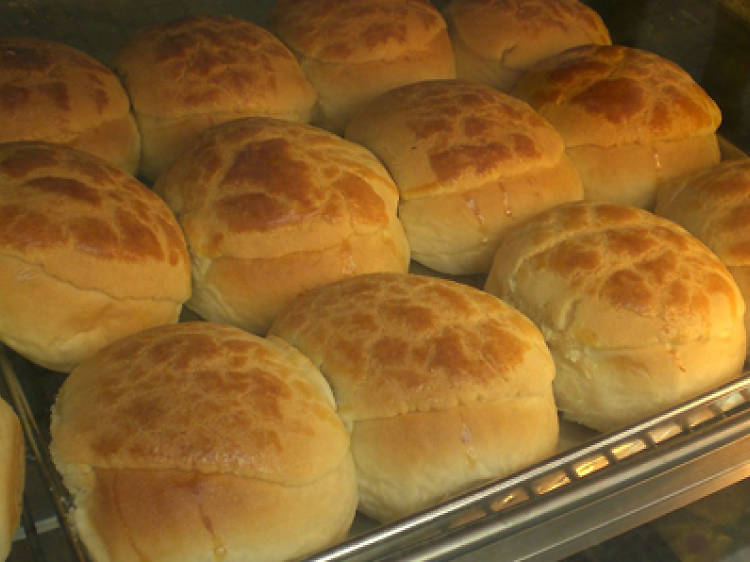 Pineapple bun (bor lor bao)
Pineapple buns look simple but taste incredible. With a sugary flaky layer on top of a sweet white bun, it's a classic melt-in-your-mouth pastry. At cafés, it's usually served with a slice of butter wedged in between the bun. However, there aren't actually any pineapples in this bun – it just bears a resemblance to the fruit, thanks to the crumbly layer on the top.
Looking for more wallet friendly bites?
After you've munched your way through the essential Hong Kong street foods, you'll still have change in your pocket for more tasty treats. Check out our list of the best cheap eats in Hong Kong and chow down to your heart's content.