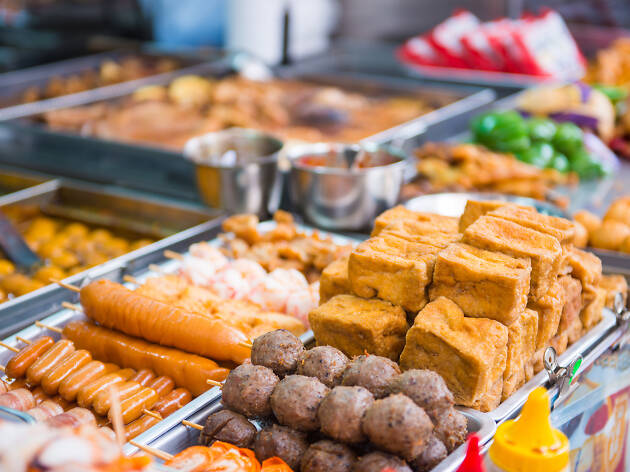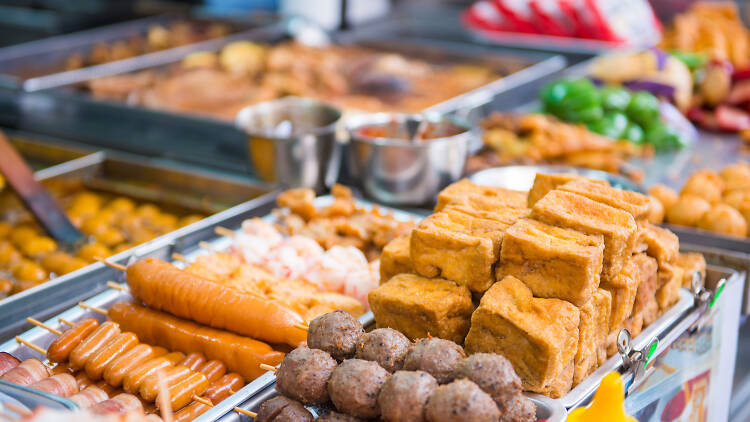 Hong Kong's best street food essentials
The low-down on Hong Kong street food, from fishballs to stinky tofu
Hong Kong's street food scene is known the world over. Whether you're in Causeway Bay or Mong Kok, Tsuen Wan or Sham Shui Po, you're bound to find some delicious streetside snacks, be it curry fishballs on a stick or fluffy eggettes in various flavours. Best of all, these tasty tidbits are usually wallet-friendly and can easily fill up your belly for just a few bucks. While our city also boasts some of the world's best restaurants, Michelin-starred dining and other delicious eats, no Hong Kong experience is complete without sampling some – or all – of these street food favourites.

RECOMMENDED: If you're hungry and you know it, grab a slice of pizza or check out the best dim sum spots in town.
The best street food in Hong Kong
1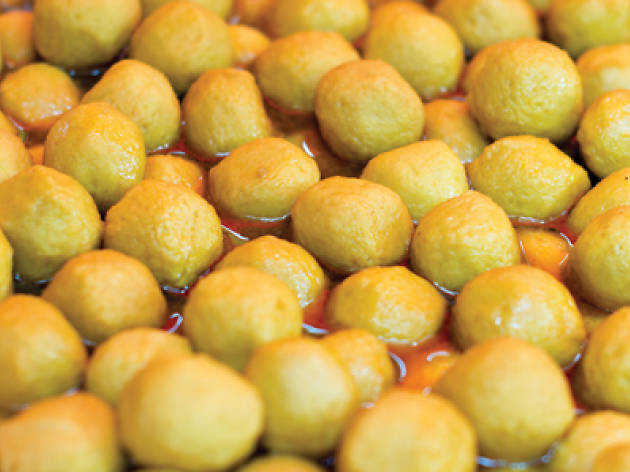 Curry fishballs are probably Hong Kong's most iconic street snack – nearly every savoury street stall sells these. Though they're mostly made from flour these days and contain almost no fish meat, this has had little effect on the snack's popularity. Springy in texture, the bite-sized spheres bob about in a strong curry sauce before they're skewered on a bamboo stick or ladled into a takeaway bowl for on-the-pavement enjoyment.
2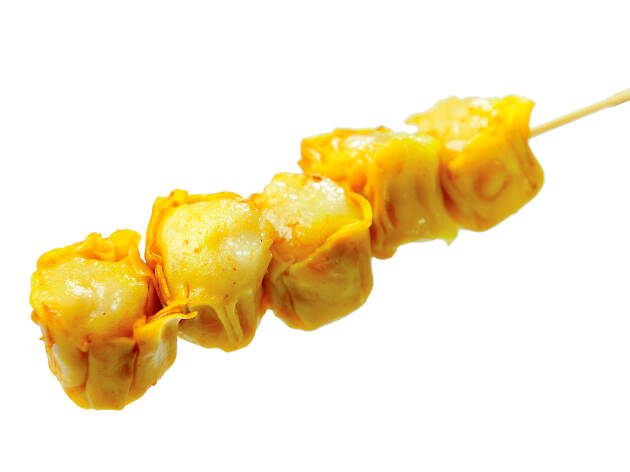 Calvin Sit
Immediately recognisable by its bright yellow wrapper, this ubiquitous streetside snack differs from its pork-filled counterpart served in dim sum parlours in that it's made with flour kneaded with a bit of fish meat (although most stalls forego the latter ingredient completely nowadays to cut costs). These are then steamed and doused in soy sauce. Those who crave a kick of heat can also pile on the chilli sauce. Like fishballs, you'll find steamed siu mai at most savoury snack stalls.
3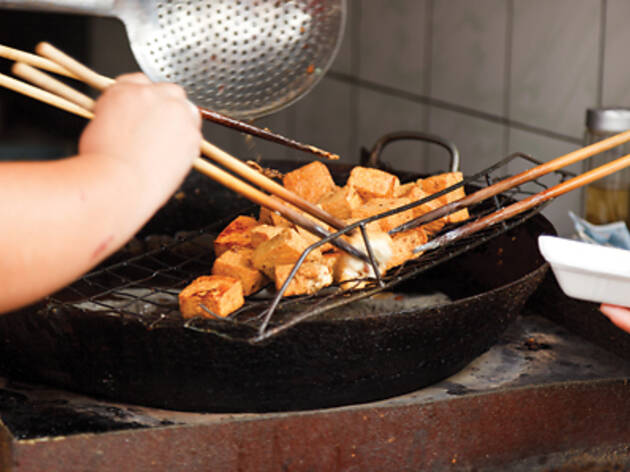 Despite its pungent odour, stinky tofu is one of the most delicious snacks you can find on our streets. The beancurd gets its distinct funk from a lengthy process of fermentation, usually in a brine of milk, vegetables or even meat. It's then deep-fried and usually served with chilli sauce. The outer layer is crisp and golden and gives way to a soft and creamy centre. If you can get past the smell, this stinky snack is sure to please. Want to give it a go? Chuen Cheong Foods in Wan Chai is your best bet.
4
Loved for its smooth texture and distinct al dente chew, cheung fun is made by rolling steamed rice noodle sheets into bundles, then chopping them into two-bite pieces. Unlike the type served at dim sum restaurants, the streetside variety usually comes without fillings. It's relatively bland on its own, which is why it's eaten with a healthy dousing of sauces (sweet, peanut, chilli and soy) and sesame seeds. Head to Hop Yik Tai for some of the tastiest and smoothest cheung fun in the city.
5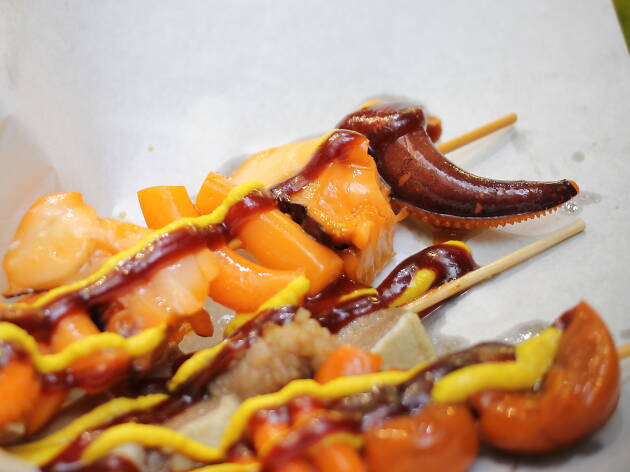 NN LIEBE
Soy-braised cuttlefish or octopus
Bright orange and with tentacles and suction cups still intact, these might not be the most visually appealing of Hong Kong's street foods, but they sure are delicious. The cuttlefish and octopus are usually boiled quickly until just tender and then dipped in a soy-based marinade for flavour. Eat them on a bamboo stick with a lick of mustard, as is de rigueur at the much-loved Fei Jie street stall in Mong Kok.
6
Roasted sweet potato and chestnuts
Sold side-by-side at mobile street carts (usually found close to popular MTR exits), roasted sweet potatoes and charcoal-cooked chestnuts are popular treats that start to emerge come wintertime. There are only a few street vendors left in Hong Kong that still peddle these delicious wares and they're identifiable by the distinct aroma they give off and the cloud of smoke that surrounds them. Most of these vendors also sell salt-baked quail eggs. Be sure to grab a bag if you see it.
7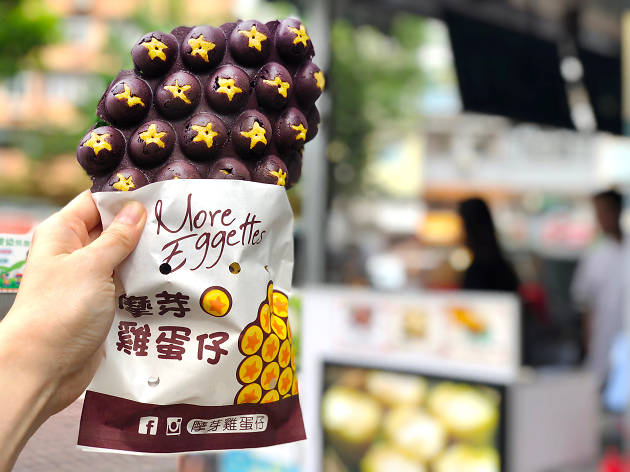 It's hard to resist the sweet, heavenly smell of eggettes, known as gai daan zai in Cantonese. These are made by pouring egg batter onto a griddle pan and cooking until it's crisp on the outside and soft and fluffy on the inside. Most vendors will offer a no-frills, original egg flavour and some places might do chocolate, sesame and green tea, among other crazier incarnations. Try out the many different tastes and styles at these top eggette shops.
8
These bright orange rounds are made by wrapping various layers of pig intestines into a sausage-like bundle. Trust us: it's really much more appealing than it sounds, especially when it's deep-fried in oil until the outer casing becomes crisp while the centres remain moist with an ever-so-slight chewiness. Enjoy these skewered things with a squeeze of sweet sauce. Aside from imitation shark's fin, Delicious Food also does a mean deep-fried intestine.
9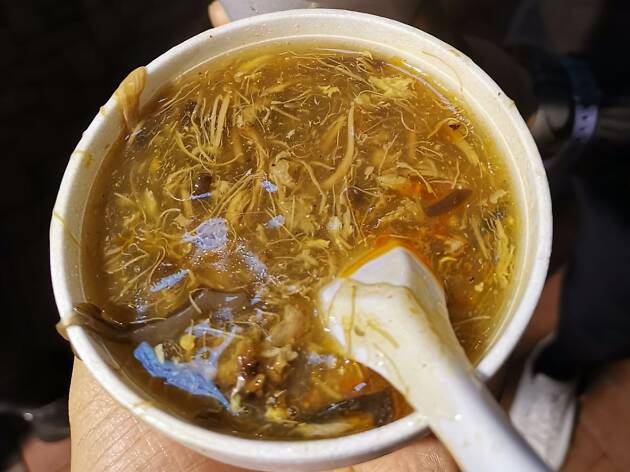 Three reasons to try this popular street snack: 1) it's much more ethical than real shark's fin; 2) it's also much, much cheaper than the real deal; and 3) it's absolutely delicious. The thick, umami broth usually brims with glass noodles and shredded black fungus, as well as shredded chicken, fish or duck. Add a splash of vinegar or pepper for some extra punch. If you're looking to give this a sip, you can order a bowl at Delicious Food.
10
The common bowl pudding usually comes in white or brown versions (depending on the sugar it's made from). Both types are studded with red beans. The result is a sticky, glutinous mess that carries just a faint hint of sugary sweetness. It may be simple, but that's enough to keep it a street snack favourite. Head to Kwan Kee in Sham Shui Po and you'll see what we mean.
11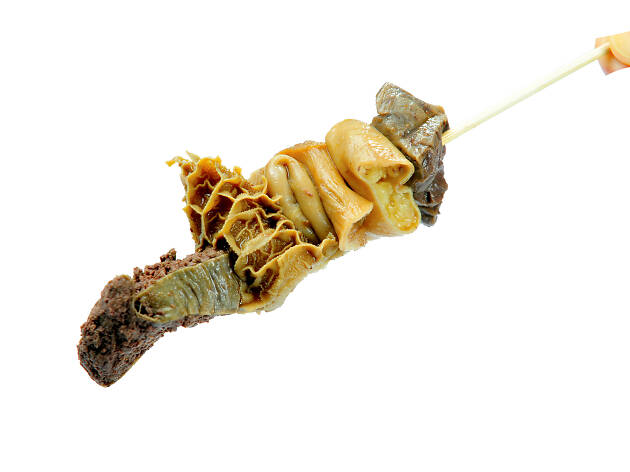 Calvin Sit
Hongkongers were snacking on cow offal long before nose-to-tail became a dining trend. From lung to liver, tripe to intestine, no cuts are off limits and they're braised 'til tender in a soy-based marinade with various spices. For your offal fix, pay a visit to Yut Wong. Trust us – the cuts there are delicious.
12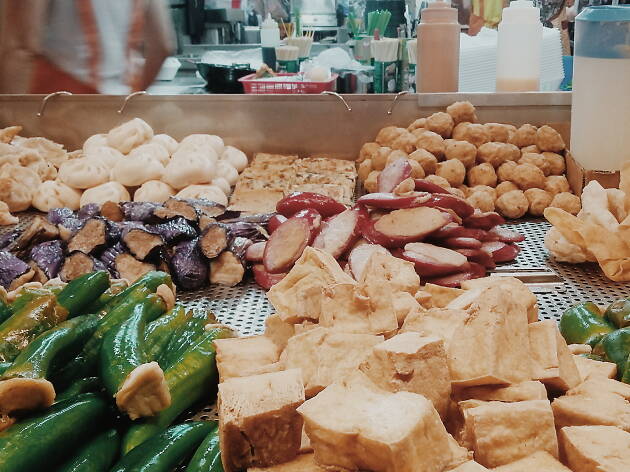 CC Image courtesy of Lance Catedral on Flickr
The 'three treasures' can refer to any number of things but the most popular trio is green bell pepper, aubergine and sliced red sausage (tofu is a much-loved option too). These are filled or smeared with carp paste and then fried until greasy and delicious. This snack may be dripping in oil but hey, there are vegetables in the mix, so it must be healthy, right? Visit JarGor 1996 for your three-a-day.
Still hungry? Try these other recommended eats