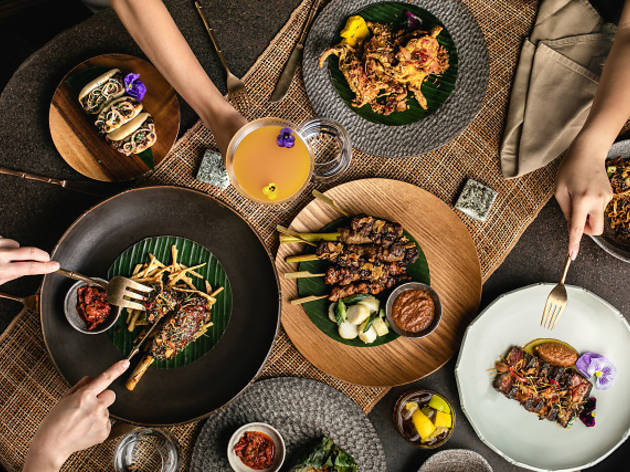 Time Out says
New restaurant in LKF Tower serving up creative, Balinese offerings.
The latest offering from the group behind Ecriture and Bibo partially fills the enviable space previously occupied by Lily & Bloom as a restaurant offering "sustainable cuisine inspired by the island of Bali". Far from the first Indonesian restaurant to grace our city, Poem carves out its niche by offering a mid-high-end island experience, which is generally well done but somehow lacks that X factor to make it really stand out in this bustling part of town.
To start on a positive note, the interior is beautifully done, with a wall of lush vegetation gently leading the eyes towards a maelstrom of exotic shapes etched within the fixtures and furniture – done in wood, bamboo, rattan and stone. The venue clearly focuses on escapism, and it works as these elements bring the rainforest to the city in a tropical-cum-urban-chic environment that primes diners for the Poem experience before they so much as sit down. The menu is extensive with a good selection of dishes for different budgets and palates. This is a good thing as it affords diners the freedom to mix it up, with offerings like the Home-Style Fried Rice ($118), the Skipjack with Egg Noodles ($128) and Vegetable curry providing relatively inexpensive ways for diners to fill their stomachs here.
The Soft shell crab ($98) is as good a place as any to start, with a promising accompaniment of smoked eggplant caviar, coconut sambal, balado sambal and sea asparagus. This dish isn't bad, with a nice earthy flavor, but it is let down by the meat's lack of succulence. The Vegetable Curry ($88) is similarly a dish that would approach perfection if altered a little, however its flavourful veggies – including coconut-braised tempeh, chayote, tofu, pickled cabbage and burnt baby corn – deserve more curry sauce to swim in.
Moving onto the menu's more expensive offerings, the Crispy Suckling Pig ($358) in the "Fresh From The Grill" section is a mouth-watering prospect for those wanting to push the boat – or jukung – out. Delectable as the crisp-complimented meat is however, there simply isn't enough of it to warrant the price. All in all, there's a lot of promise here, with the kitchen obviously taking pride in their dishes and using fresh, high-quality ingredients, and amicable and attentive service matching this standard. For this reason then, it seems as though it will only take mere tweaks to elevate Poem to new heights.
Details
Best selling Time Out Offers