Heads up! We're working hard to be accurate – but these are unusual times, so please always check before heading out.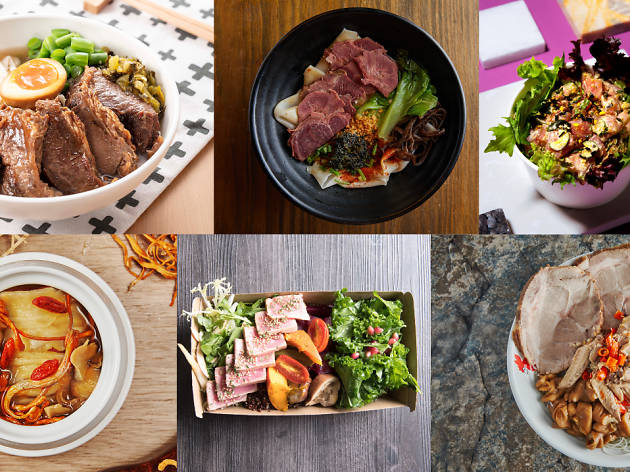 The most ordered food deliveries in Hong Kong in 2019
...according to Deliveroo
Oh, food delivery services. How we love you so when you bring us food right to our doorsteps with just a few taps on our phones, and how we appreciate you so when you deliver whatever we're craving but are too lazy to leave the house for. Sure, sometimes you're late and sometimes you drive us crazy when you get the orders wrong but hey, we forgive you because at the end of the day, who has time to cook anyway? With that in mind, let's take a look at Hong Kong's top 10 most ordered food deliveries of 2019 (according to Deliveroo) shall we?
RECOMMENDED: For foodies who love gallivanting around town for the best eats, check out the best street food Kowloon has to offer for under $50!
10 most ordered food deliveries in Hong Kong (2019)
A crispy-bottomed, soup-filled bun – what's not to like? Cheung Hing Kee's signature buns are freshly prepared in-store and are filled with a rich pork broth. Just $35 will get you four of these bad boys, making it perfect for a cheeky afternoon snack.
There's a ton of food choices in Cheung Sha Wan, but Taiwan Bowl stands a cut above the rest with its affordability and its simple yet nonetheless delicious menu. It's no surprise that the popular braised beef rice/noodle set ($54) came in at number nine on the list.
If you've never had biang biang noodles before, this fine creation from China's Shaanxi province is a long and thick type of noodle (often described as "belt-like") that's usually served with various meats – and in this case, donkey meat. It's not every day that you hear about restaurants serving donkey meat here in Hong Kong, perhaps that's why the biang biang noodles with five-spice donkey meat ($75) is a crowd favourite for all those curious eaters out there.
Having been around for more than 50 years, you can't go wrong with Wing Nin Noodle. The restaurant is most known for its big bowl noodle combo that comes with a total of 10 different toppings. But if that's too big a feat for you, Wing Nin also gives you the option to choose noodle combos with just three to four toppings. Alternatively, you can just skip out the noodles and enjoy its tasty soup and toppings on its own! According to Deliveroo, pig intestines is the most popular topping.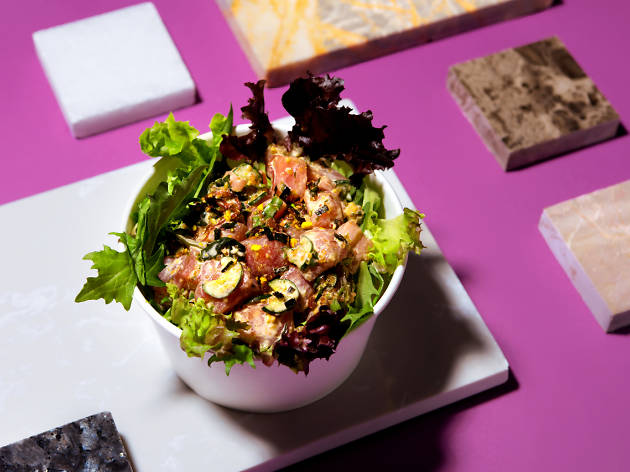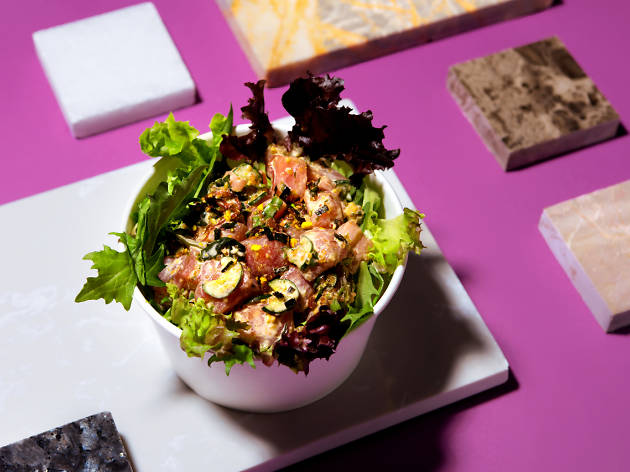 Photo: Kai, Deliveroo editions
You've got rice, salad (or both), a selection of raw fish and dressing, along with the option to pile on some additional toppings like avocados, nuts and seeds, tamago – poké checks all the boxes for us. The wasa-bae poké ($108) at Kai is slightly on the pricy side, but it earned the eatery a spot on the top 10 list with its special wasabi soy and mayo sauce that is able to elevate your bowl with a subtle kick, or poke, if you will.
Much like its fellow poké joint above, Pokéworld has everything you need for a healthy, delicious meal. What sets Pokéworld apart is its large selection of proteins, dressings and additional toppings. Offering up options such as cooked prawns, smoked chicken and chickpeas to replace your usual raw fish, as well as dressings like spicy mayo and Yuzu ponzu all at a lower price ($89), Pokéworld no doubt takes the win for this one.
Perhaps one of the most famous cart noodle restaurants in town, Yummy Cart Noodles is best known for its dirt cheap prices and unique cart noodle toppings. A plain bowl of noodles starts at just $10, with varieties that you won't often find at other cart noodle joints such as Korean glass noodles and udon. Other toppings range from anything between $9 to $34, which include rarities like abalone and fish maw, as well as Japanese soft-boiled eggs and spicy chicken wing tips. If you have yet to give this place a try, we suggest ordering the three-topping cart noodles.
Any Chinese meal would not be complete without a hearty bowl of soup, but if you're living alone or simply have a busy schedule all year round, enjoying any soup other than ones out of a can is most likely out of question. That's probably why the third most ordered food delivery item of the year is Soup Day's double-boiled cordyceps flowers and fish maw soup ($88). It's one of those "miracle" soups that your mum claims to be good for every tiny health problem you have.
Hmm, what can we say about kale salad that won't make us sound utterly pretentious? Deliveroo didn't tell us much with this one, but apparently the second most ordered item of the year is the self-proclaimed "fast-super-food" joint Kale's...well, kale salad. Like any salad bar, you can customise your own salad with various toppings, and at Kale, you can mix and match your greens with hot sides like truffle quinoa risotto or Cajun chicken. The items here are quite pricy compared to others on the list, but hey, we're all for it if that means it's going to help you finally stick to your New Year's resolution of getting healthy in 2020.
And the number one most ordered food delivery of the year is...*drumroll* the ever-trusty Tamjai Yunnan Noodles! We know, Tamjai isn't exactly anything to get too excited about but to our surprise, Tamjai actually came in seventh place on Deliveroo's list of the most ordered food deliveries around the world. What can we say? Us Hongkongers really do love our noodles.
All this reading got you feeling hungry?