The 67 best restaurants in Hong Kong you have to try
From seasoned stalwarts to the hottest newcomers, these restaurants our are favourite places to eat in Hong Kong right now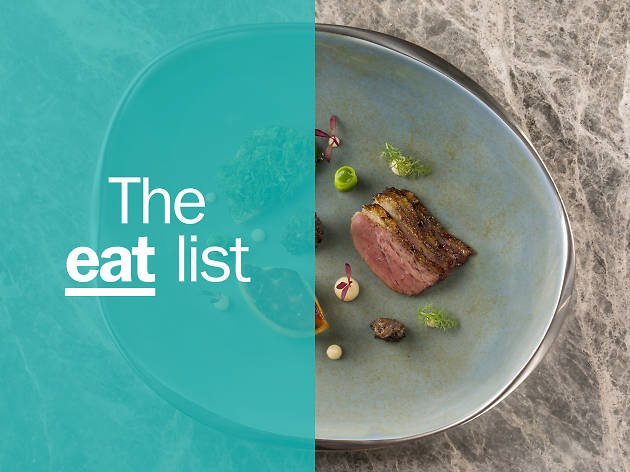 Hong Kong is a dining paradise with one of the highest ratios of restaurants per head in the world. With establishments striving to outdo each other on a daily basis in our city's fiercely competitive F&B industry, it can be hard to keep track of who's top dog at any one time. That's why we're bringing you the Time Out EAT List — an ever-changing selection of Hong Kong's hottest tables, updated on a monthly basis.
From long time favourites to super newbies, we've sorted everything from restaurants in some of Hong Kong's best hotels to the city's most delectable streetside cheap eats. In short, this is whatever serves the best food in Hong Kong right now.
If you've eaten something that you love on this list, share it under the hashtag #TimeOutEatList.
You can also find out more about how we review restaurants and make recommendations.
Best restaurants in Hong Kong
Amber holds many an accolade and deservedly so. Culinary director Richard Ekkebus dishes up incredible creations that are beautifully plated and that use only the finest ingredients. The food served is classic French fine dining with modern touches and Asian twists. It's unforgettable, as is the service.
People come from all corners of Hong Kong for a helping of the Islamic 'beef burgers'. They also come here for the lamb curry and beef brisket noodles. Cheap as chips and tasty as hell if you're willing to wait for a table.
Home to a fusion of traditional and new world Chinese cuisine, the food at Bo Innovation is intelligent, humorous and thoroughly thought out. Culinary excellence abounds and the service is beyond anything one ordinarily expects in Hong Kong.
Lauded as one of the best restaurants in Asia, The Chairman has been popular ever since it opened nearly 10 years ago. Why? Suppliers who offer the best seasonal produce – and it's mostly organic at that – and no MSG. If there's one thing you must try it's the pigeon with "loongjing" tea and chrysanthemum, a classic dish that's never left the menu.
Even after nearly seven years in the business, Yardbird attracts diners by the hordes, thanks to being the kind of super hip izakaya/yakitori venue that not even Tokyo denizens would roll their eyes at. The chicken here is treated no differently than the finest piece of toro, that is, with love and care. And it returns the favour by donating literally every part of its body including the thigh, wing, neck, liver, tail or skin.
Dubbed the 'king of truffles', chef Umberto Bombana whips up rustic, truffle laden Italian dishes while embodying the essence of Italian hospitality through his venues' exceptional service. Expect things like homemade Cavatelli shellfish ragout and sea urchin, Tajima short rib and beef tenderloin with a red wine, plum sauce and whipped potato.
Chef Guillaume Galliot whisks guests into the world of French gastronomy using the finest ingredients to create the most sensuous flavours. On the menu are dishes like Alaskan king crab with oysters, prawn jelly and caviar. The restaurant has a fantastic French artisanal cheese collection and, naturally, an extensive wine list focusing mostly on Bordeaux and Burgundy.
Yes, Tim Ho Wan may be a cliché go-to for tourists but it has become famous for good reason. One of the cheapest Michelin-starred restaurants in the world, the service is perfunctorily but the dim sum is gold-standard. We recommend visiting the Sham Shui Po outpost and ordering just about everything. No trip is complete without tucking into second – and perhaps third – helpings of the restaurant's renowned baked cha siu bao.
Restaurants, Scandinavian
Chef Björn Frantzén holds the accolade of owning one of only two restaurants in Stockholm that can boast two Michelin stars. His eponymous eatery, Frantzén, is the height of fine dining in Sweden's capital city. Helmed by Jim Löfdahl, Frantzén's Kitchen is the chef's first venue outside of his home country, serving up fantastic Scando cuisine that's pricey given the portion size, but still worth every cent.
Show more