The best restaurants in Hong Kong
From seasoned stalwarts to the hottest newcomers, these restaurants our are favourite places to eat in Hong Kong right now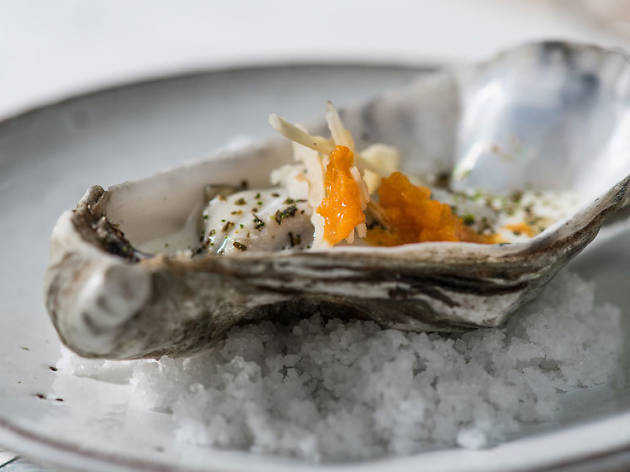 With one of the highest ratios of restaurants per head anywhere in the world, Hong Kong is a dining paradise. With establishments striving to outdo each other on a daily basis in our city's fiercely competitive F&B industry, it can be hard to keep track of who's top dog at any one time. That's why this list is an ever-changing one that depends on editors' personal tastes du jour and the varying performance of restaurants. From long time favourites to super newbies, we've sorted everything from restaurants in some of Hong Kong's best hotels to the city's most delectable street side cheap eats. In short, whatever serves the best food in Hong Kong at this moment.

Think we missed somewhere that demands to be included? Let us know in the comments.

Photo: Frantzén's Kitchen
Best restaurants in Hong Kong
Dubbed the 'king of truffles', chef Umberto Bombana whips up rustic, truffle laden Italian dishes while embodying the essence of Italian hospitality through his venues' exceptional service. Expect things like homemade Cavatelli shellfish ragout and sea urchin, Tajima short rib and beef tenderloin with a red wine, plum sauce and whipped potato.
With a chic interior and top-notch service, Above & Beyond sits elegantly on the 28th floor of Hotel Icon, with stunning views across the harbour. Order the dim sum platter for treats like steamed pork dumplings with porcini, deep-fried shrimp spring rolls with avocado and baked whole abalone tart with diced chicken.
Amber holds many an accolade and deservedly so. Culinary director Richard Ekkebus dishes up incredible creations that are beautifully plated and that use only the finest ingredients. The food served is classic French fine dining with modern touches and Asian twists. It's unforgettable, as is the service.
Recently ranked one of Asia's 50 best restaurants, the sleek yet minimal interior of Belon is intentional, allowing the dishes to really do the talking. Helmed by British chef Daniel Calvert, the menu includes a wonderfully fresh oyster tartare, chickpea falafel with hummus, pigeon pie, whole roasted chicken and more.
Home to a fusion of traditional and new world Chinese cuisine, the food at Bo Innovation is intelligent, humorous and thoroughly thought out. Culinary excellence abounds and the service is beyond anything one ordinarily expects in Hong Kong.
Its clean and creamy décor, crisp white linens, lively open kitchen and modern French cuisine have catapulted Brasserie on the Eighth to the top of many gourmands' wish lists. Dinner here starts on the right foot with an attentive sommelier and carefully plated dishes that are just short of edible art. Expect excellent French fare and attentive service from start to finish.
A good pho can be hard to find. In general, most versions of Vietnam's national dish here come laden with either salt, MSG or both. Brass Spoon slow-cooks its soup base for 12 hours and the flavours of the pho are devoid of any artificial additives. Its noodles are supposedly uniquely available to Brass Spoon and their texture is wonderfully thick and soft to the bite. It all makes for one of the most authentic phos in town.
Chef Gray Kunz is one of the most progressive technicians in the food world today. His recipes are obsessive and the results nearly always stellar. Each dish, such as the leek-tied sea bass with watercress, coriander and ginger bouillon, is beautiful and thoughtfully rendered, packed with bold flavours. Special mention should also go to the incredible wine cellar.
Chef Guillaume Galliot whisks guests into the world of French gastronomy using the finest ingredients to create the most sensuous flavours. On the menu are dishes like Alaskan king crab with oysters, prawn jelly and caviar. The restaurant has a fantastic French artisanal cheese collection and, naturally, an extensive wine list focusing mostly on Bordeaux and Burgundy.
Show more
Still feeling peckish?
We pick out some of our Hong Kong's must-try food and tell you where best to try it.