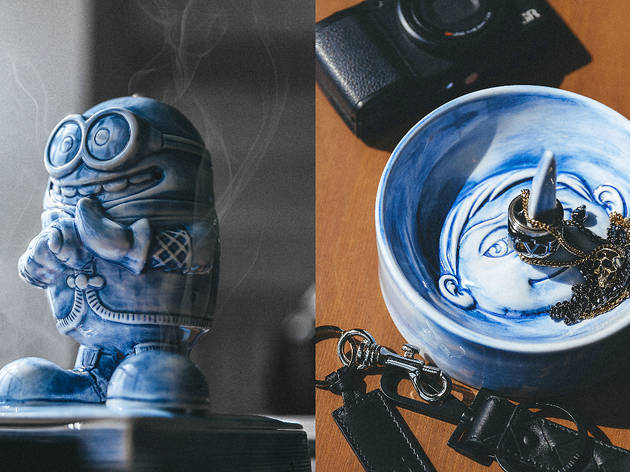 Best art and design gifts this Christmas
Paint this festive season in heartwarming hues
It can be tough shopping for artsy friends and culture vultures, as they often have their own unique tastes and quirks. But, with this gift guide in hand, you won't need to rack your brains this Christmas. Check out our recommendations below, which range from customised products to designer goods and rare collectibles. By Elaine Wong
RECOMMENDED: Need more shopping inspirations? Our extensive gift guides for wellness, kids, food, and drinks have got you covered.
Photograph: Courtesy Casetify
Design-your-own Casetify phone case
Founded in 2011, Casetify is one of our go-tos for all sorts of trendy tech accessories. Although Casetify is known for its many collaborations with internationally famous artists and brands, you can also become the designer for your own customised phone case. Head to Casetify's custom studio online, where you can choose from a range of materials and styles, such as leather, glitter, neon, or even the super-strong carbon fibre. For the eco-conscious among you, check out the custom compostable cases made with biopolymers, starch, and bamboo.
Price: From US$45/customised iPhone Pro 12 case
Where to buy: Order at casetify.com.
Photograph: Courtesy Lomography
Lomography simple-use reloadable film camera
If the recent exhibitions by Derry Ainsworth and Tommy Fung have piqued your interest in photography, take this chance to pick up a Lomography simple-use camera and capture your memorable moments this Christmas. Preloaded with funky films and equipped with a flash, the camera is compact, reusable, and easy to use even by beginners in analogue photography. If you'd like to go beyond the preset films and colours, you can mix and match the yellow, magenta, and cyan flash filters included in the pack to generate other tints. Oh, and feel free to tag us on Instagram (@timeouthk) as we'd love to see your masterpieces!
Price: From $128
Where to buy: Order at lomography.com.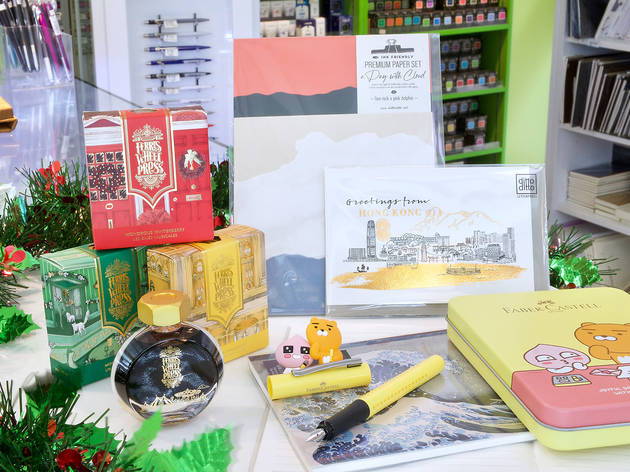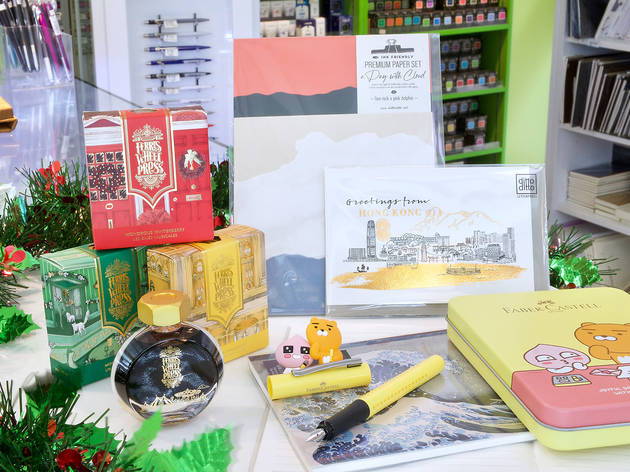 Photograph: Courtesy of Muze Pens
Fountain pens, ink, premium paper and cards from Muze Pens
Add to your fountain pen, fountain ink, and premium paper collection with a visit to Muze Pens. Our holiday gift guide for stylophiles include the Faber-Castell x Kakao Friends Fountain Pen Set ($240), the Winter 2020 Shimmering Ink Collection from Canada's Ferris Wheel Press ($140) and Taccia's Ukiyo-e Prime A5 Fountain-Pen-Ink-Friendly Notebooks ($50 each or $200 for a set of four). Top off your gifts with Hong Kong's own letterpress holiday cards from ditto ditto, like the 'Greetings from Hong Kong' card with a silhouette of Lion Rock in the background ($40).
Price: Prices vary depending on the items
Where to buy: Visit their physical store on Tai Nan Street, Sham Shui Po
Time Out Hong Kong in partnership with Muze Pens
Photograph: Courtesy Yeenjoy Studio, Universal Brand Development, and Illumination
Yeenjoy Studio x Minions capsule collection
Calling all Minion fans! Your favourite, most despicable cartoon is in the spotlight as Yeenjoy Studio's newest homeware design. Paving for the release of Minions: The Rise of Gru in July 2021, the blue porcelain incense chamber and tray from Yeenjoy's special-edition capsule collection are modelled after the franchise's iconic characters, Bob the Minion and Young Gru. This unlikely fusion of traditional Chinese handicraft with contemporary film and street culture makes these goods all the more striking and distinctive, perfect for those with a penchant for artefacts that are like no other.
Price: Gru tray US$120 (around HK$942), Bob incense chamber US$320 (around HK$2,512)
Where to buy: Order online at hbx.com.
Photograph: Courtesy MoMa Design Store
Contemporary art from MoMA Design Store Hong Kong
From Piet Mondrian and Andy Warhol to Yayoi Kusama and Takashi Murakami, MoMA Design Store Hong Kong has them all. Highlights include the latest figurines designed by Yoshitomo Nara ($800/figurine), Murakami flower plush ($1,208), Kaws puzzles ($528/set), classic skateboard triptychs (from $2,848/set), and homeware inspired by the works of various art maestros. With so many things on offer, you'd be sure to find something your artsy friends would fancy.
Price: From over $100 and above, prices vary depending on the items
Where to buy: Order online or visit their physical store.
Photograph: Courtesy Sticky Monster Lab
Sticky Monster Lab blind box mini figures
Try your luck by collecting all ten of the blind box mini figures by Sticky Monster Lab (SML) this Christmas. A set of 10 figurines are available in this new Walking series, out of which you can get either one of their basic mascots or the super rare Fathermon who only appears once every 30 sets. Carrying individual personalities, unique outfits and back-stories, these cute and cool figurines are certainly worth collecting for toy and design enthusiasts. The figures have already been sold out online, but you might still be able to grab the last ones at toy merchant store Superman Toys – just make sure you act quickly!
Price: $79/figure, $790/set of 10 figures
Where to buy: Order from Superman Toys
Photograph: Courtesy Chasing Threads
Stitch-your-design laptop sleeve
This one is for those who like to get hands-on with some DIY arts and crafts. Known for their crafted travel accessories, Chasing Threads offers an array of products that can be personalised by sewing on your favourite designs. With travel being very much restricted this year, their collection of laptop sleeves would be the ideal gift as they are both stylish and functional. These sleeves are available in brown, navy, mint, or pink, and each comes with a set of needles and threads in matching colours, as well as a 3D font template to help you cross-stitch your initials easily. The inside of these envelope pouches is made of soft faux suede so that your laptop can be protected and stored safely.
Price: $400 each
Where to buy: Order at qraftie.com.
Photograph: Courtesy Van Gogh Senses
Van Gogh Senses whole cakes
Inspired by Monet's Water Lilies, Van Gogh's Sunflowers, and other prestigious paintings, Van Gogh Senses' range of cakes makes baking a true work of art. One of our favourites is the dreamy Monet's Garden, a coconut and berry-flavoured cake decorated with dappled lilac and blues. For those who prefer richer flavours, Water Lilies would be a fine choice for its malt and chocolate notes, with a hint of bittersweetness to balance.
Price: From $390 to $490/1lb cake
Where to buy: Order here at vangoghsenses.com.
Photograph: Courtesy Karen Aruba
Personalised Christmas mahjong tiles
Supporting small businesses might be the best present you can give the economy this Christmas, and it turns out you can do so while impressing your mahjong-loving aunties and uncles too. Using laser-engraved, hand-carved, and hand-painted designs, local artist Karen Aruba and her father, mahjong artisan Ricky Cheung (not to be confused with Cheung Shun-king from Biu Kee Mahjong), have created a charming set of mahjong tiles to celebrate Christmas. The set consists of six intricate tiles, with four pieces showing the numbers one, two, two, and five to represent Christmas Day, along with two other pieces for you to choose between saying 'Merry Xmas' and 'Cheers', or 'A Joyful Xmas' to go with 'Special thanks'. Each set also comes with a card and a gift box illustrated by Karen. Stay tuned to this father-daughter duo for more stunning products that pay tribute to mahjong craftsmanship.
Price: From $294.40/set
Where to buy: Order at etsy.com.
Photograph: Courtesy Maeli Studios and Masklab
Maeli Studios x Masklab respirators
Face masks and respirators have definitely become part of the new normal for Hongkongers, so why not add a creative twist to yours? Hong Kong-based Maeli Studios and Masklab have launched their crossover collection this season, which comprises three reliable and trendy respirators: Carpe Diem, Joy, and Feather. Lift your spirits by spotting different details hidden among the colourful patterns, like the little fish swimming between the scaly lines of Carpe Diem, or the cheeky cockatoo on Joy's pink, tropical print.
Price: $78/pack of 10
Where to buy: Order online or visit Masklab's physical stores.
More gifting ideas!
These cosmetic goodies will get rid of any resting grinch face.
For the gift that gives it all in one!