The best Hong Kong junk boat packages
No summer is complete without a junk trip or three. We round up Hong Kong's best junk deals and catering packages to help you sail the seas in the most suitable style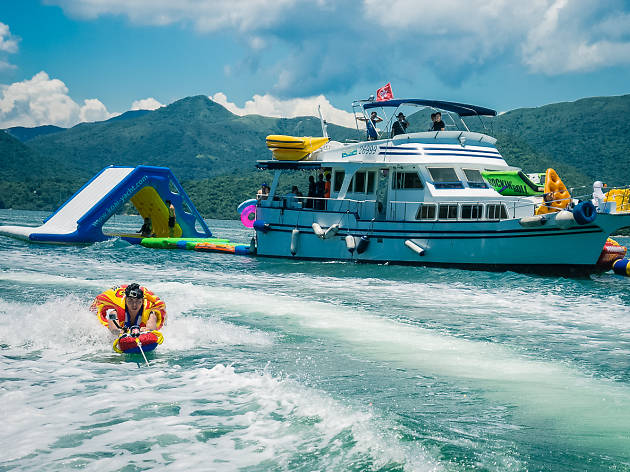 Summer is the best time in Hong Kong. From major music and food festivals to pool parties, there's plenty of summer events in Hong Kong to fill up your calendar. Whether you're planning to top up your tan at one of the many gorgeous beaches in town or grill up a storm at one of these barbeque spots, it's not truly summer in Hong Kong without hitting the seas and going on a junk trip. There're a few things to consider before you get three sheets to the wind, however. Here's our roundup of some of the city's most unique junk packages and caterings to help out and get you having the best possible time.
Best Hong Kong junk packages
Best for affordability – Vikings Charter
Vikings Charter offers the most straightforward and affordable deals on this list, perfect for those who are bad at deciding. All you need is to pick between a traditional Chinese teak junk, a pleasure cruiser or a pleasure craft (nothing as dodgy as the name suggests). Board from your choice of Aberdeen, Central, Causeway Bay or Tsim Sha Tsui, and anchor for the whole day at either Repulse Bay or South Bay. Two hours of wakeboarding and banana boating are included as well. Add on another $100-$135 per person for a lunch buffet. No fuss, no muss. From $5,500, 2814 9899; vikingscharters.com.hk.
Best for catering – Jaspa's Junks
The popular restaurant chain operates six junks with a fully equipped kitchen, offering all-inclusive packages featuring freshly-made quality food and free-flow drinks. We're talking nachos, satays, salmon fillet, beef tenderloin, and chocolate mud cake for dessert. For drinks, you can chug soft drinks, Carlsberg and, if you're feeling fancy, Sauvignon Blanc. Choose to board the junk from Pak Sha Wan pier and stay in Sai Kung for the day or get on board in Causeway Bay. $750 per person, minimum charter charge $10,500. 2792 6001; casteloconcepts.com.
Best for large parties – Hong Kong Yachting
Looking to throw the biggest party of the summer? Hong Kong Yachting has you covered. Their special Jungle Jane and Tarzan yachts can be moored together with a custom-built adjoining fence to hold a party for 100 people. Complete with an inflatable slide, inflatable trampoline, bean bags, sun bed, custom made bar and a badass sound system, this deluxe package starts from $850 per person. For a more traditional junk trip, Hong Kong Yachting offers inclusive packages with Thai food and drinks. From $680 per person, $3,800 extra for wakeboarding and banana boating, 2526 0151; hongkongyachting.com.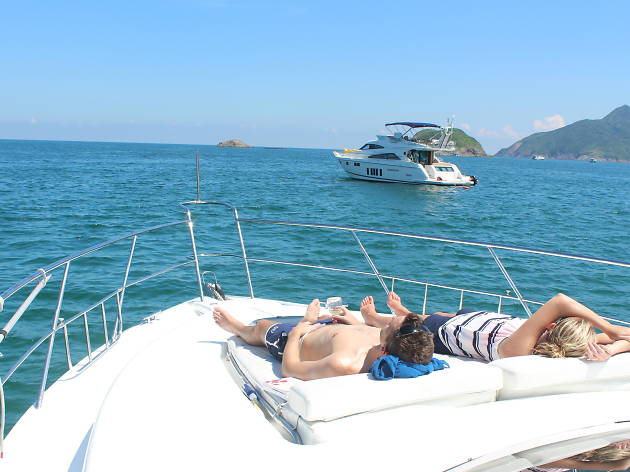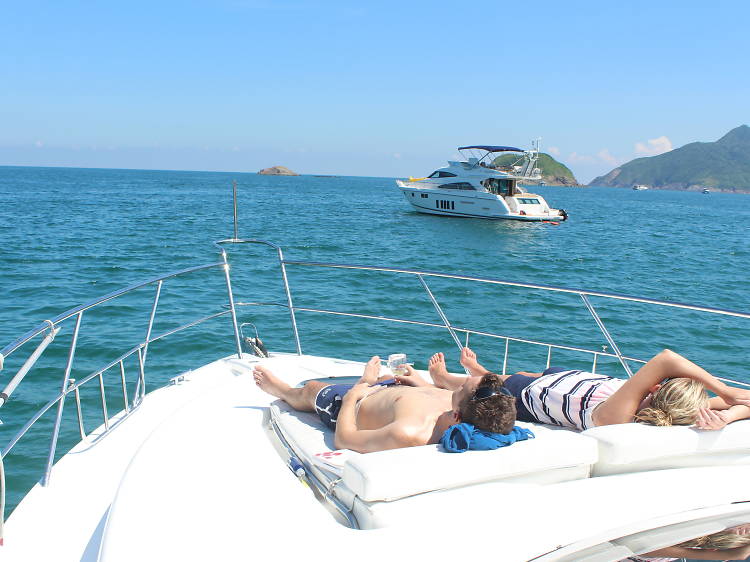 Best for intimate getaways – Breakaway
Kick off your junk trip with a cup of freshly brewed coffee and a scrumptious breakfast courtesy of this luxury operator. Breakaway is a more intimate alternative to your usual junk parties where you usually aim to cram as many people on a junk as it'll take. Breakaway recommends 22 people max, with free-flow beer and wine (or soft drinks for the kids) available throughout the day as you sail to the Outer Islands. Lunch, an inflatable suntanning platform, inflatable pool and plenty of pool noodles are all thrown in as part of the package. Wakeboarding is also available for an extra $1,200 per hour. Perfect for a weekend getaway. $15,900 (15 people), 6180 5059; breakawayhk.com.
Best for pretend pirates – Saffron Cruises
Get all Pirates of the Caribbean on Hong Kong's only tall ship, The Bounty. With a maximum capacity of 60 passengers, gather your salty seadogs and hop aboard. Saffron Cruises have a number of catering options available and there're drink packages too – with plenty of rum, naturally. Remember, drinking Captain Morgan before 10am makes you a pirate, not an alcoholic. Pack your peg leg and parrot for this one. Avast, matey! $42,000 for the day, 2857 1311; saffron-cruises.com.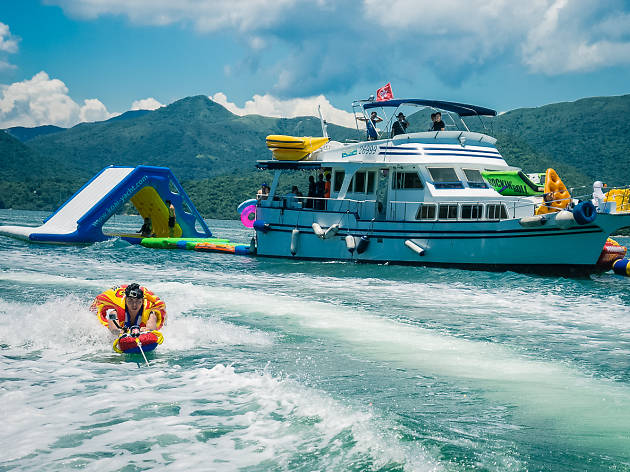 Best for accessories – Yacht Holimood
Inflatables are the trendiest accessory this summer and Yacht Holimood has got it all covered. With up to 14 different junk packages on offer, you're simply spoilt for choice. Pick and choose any destination including Repulse Bay, Sai Kung, Tai Po and even the outlying islands and their party packages include a filling lunch, inflatable slides, water trampolines, banana boats, wakeboarding, kayaks and mahjong tables. Looking to throw a legendary party? You can even hire a DJ. This summer, Holimood are offering $1 add-on deals for novelty pool floaties. All you have to do is pick them up from their Kwun Tong office. Starts from $5,500, 3568 0824; en.yacht.holimood.com.
Best for keeping it old school – Island Junks
Go old-school and hop on a Chinese teak junk for your next junk trip or party in style with one of Island Junks speedy Ibiza boats, complete with a kitchen, showers, smartphone-compatible sound systems and comfy bean bags. Pay another $200 to enjoy either a Western-style or Thai-style lunch. These guys also provide paddleboat rentals for the entire day for $350 or splash $3,500 to get some extreme water sports (wakeboard and banana boat) included. $350-$400 per person, 2877 5222; islandjunks.com.hk.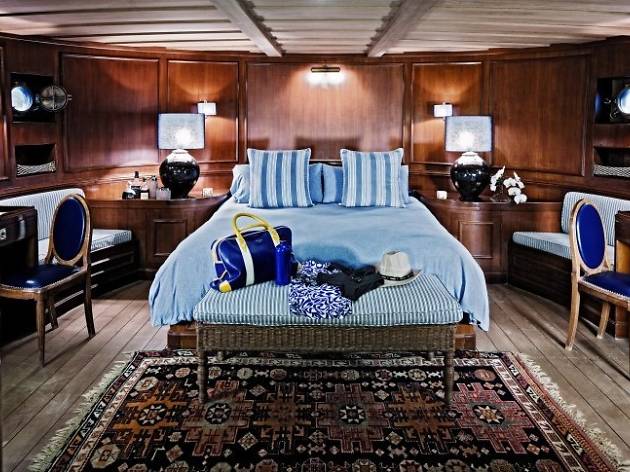 Best for luxury – Michelangelo
Sail in style on Michelangelo, a restored 80-foot classic motor yacht of mahogany, teak, brass and copper. The 4,000sq ft boat can accommodate up to 59 people, so rally the troops for this one. Sprawl effortlessly on lounge mattresses or hammocks, relax in the grand living room or pass out in the master and guest cabins. Catering packages include chefs and waiters for cocktails and canapes or even a sit-down dinner. Perfect for some retro glamour at sea. From $24,000 for the day, 6621 1691; luxuryjunk.com.hk.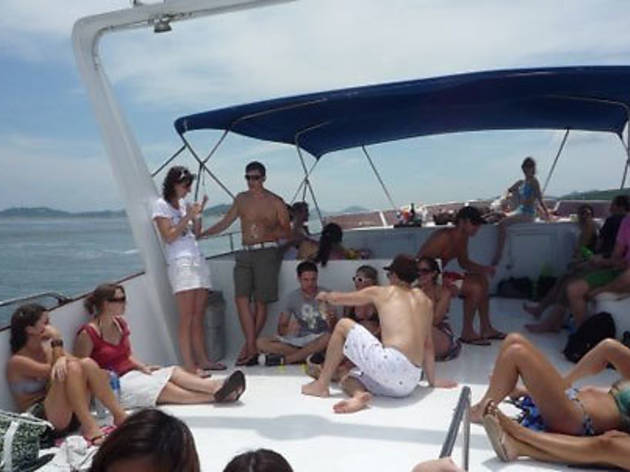 Best for water sports – Delicious HK
Delicious HK are a tasty bunch serving seafarers the normal diet of jolly junk fun but with the ability to throw in some awesome extras. When boat hire, food and drink are simply not enough, select from fun extras, such as a banana boat or a speedboat, to add a range of watersports like wakeboarding and waterskiing to your fun for $3,600 for a three-hour rental. Time to get practicing, then. $6,000 (weekday), $8,500-$8,700 (weekend), 2559 0144; delicious-hk.com.
Best for a bit of everything – Hong Kong Junks
Hong Kong Junks are the go-to company if you're looking for good ol' fashioned junk fun. Their boats have room for up to 40 people and the food and drink options are solid crowd-pleasers. You've even the choice to hire a DJ – perfect for evading friends' terrible playlists. They also have face and body painting services because, why not? With boats named Wet Dreams and Wreckless, you know Hong Kong Junks mean serious party business. From $250 per person, 2840 1588; hongkongjunks.com.hk.
Show more
Best food catering options
Our favourite Wan Chai sandwich shop has designed a new junk catering package featuring their classic ciabatta and buttery brioche that comes with juicy char siu pulled pork and their popular beef brisket. A smoked eggplant vegetarian option is also on the menu. Don't forget the sides – all packages come with ice-cold pineapple pops, kola wings and B&B's signature guacamole! $135-$280 per person, minimum 10 orders. 9120 6869; breadandbeasthk.com.
Read more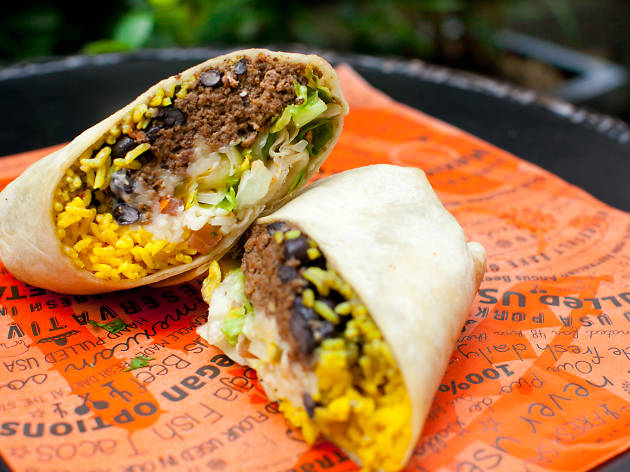 Cali-Mex
Epic junk trips call for some epic junk food. Get your fill of burritos and tacos with Cali-Mex's catering packs that serve up to 10 people. The Mexican joint provides a range of four packages depending on the ratio of burrito, taco, quesadilla and churros you prefer. Feel free to request add-ons and extra portions of guac. Starts from $98 per person. 2904 7698; cali-mex.com.
Fat Leg BBQ
Dig into a scrumptious Thai feast after a dip in the sea thanks to Fat Leg BBQ's mouth-watering Thai street food classics, including grilled chicken thighs and papaya salad and fried rice. Got big eaters at the party? Fat Leg also does premium menus with tender ribs and whole chickens. Add on appetisers and Australian beer to keep you satisfied throughout the junk. $220 (standard) or $350 (premium). 6316 4502; fatlegsbbq.com.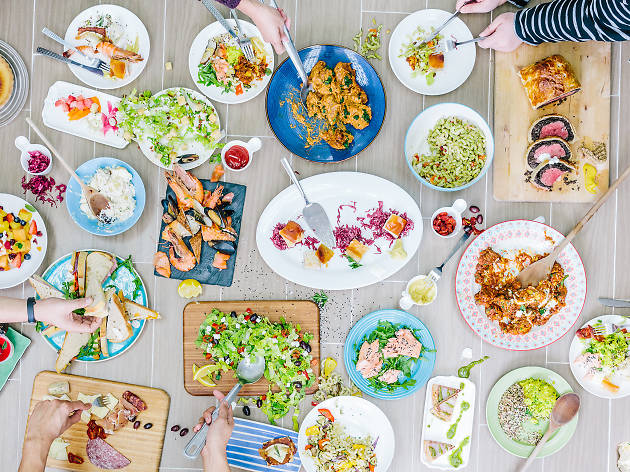 Invisible Kitchen
Invisible Kitchen's new gourmet buffet catering menu is perfect for junks that don't offer a catering package, or if you're looking for grub that's a little different to the usual offerings. The mouthwatering range of goodies goes from beef Wellington to roasted Norwegian salmon. Opt for suckling pig or Moroccan lamb tagine for Mediterranean vibes or stuffed avocado with mushrooms if you need a veggie option. If you've still room, cram in some apple tarte tatin or Eton mess trifle. You might not have the ideal bikini bod afterward, but your taste buds are gonna thank you. $200-$350 per head, min 15 people. 2711 5788; invisiblekitchen.com.
Knead
In 'knead' for some fresh sandwiches? Go for Knead's special junk catering packages, offering their up freshly-made sandwiches and salads. You can create your sandwich just the way you like it with fillings like roast chicken, smoked salmon, and bacon & avocado on the bread of your choice. Avoiding the carbs? You can throw all that on a salad instead. And it only costs another $60 for delivery straight to the ferry. $60 (per sandwich), $320 (salad trays). 2851 7778; kneadhk.com.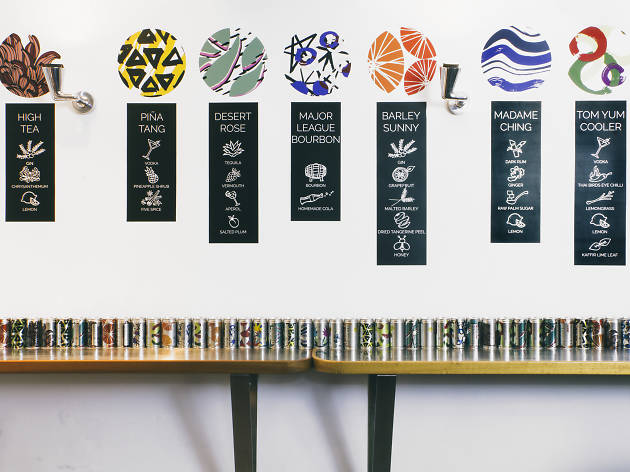 Kwoon by The Woods
Why settle for cheap beer when you can enjoy artisanal canned cocktails when you're out on the water? Created by the team behind The Woods, you can pick up six different grab-and-go cocktails flavours including Piña Tang (a pineapple vodka mix) and Tom Yum Cooler. Kwoon offers deals for eight pack, 20 pack, 40 pack and 60 pack, and can deliver to Central, Aberdeen and Sai Kung piers for a small extra charge. Chic and shatter-free, Kwoon are a must-have for the junk season. From $500. 9862 8031; kwoonbythewoods.com.
Maison Libanaise
Change up the usual Western or Thai fare for some delicious Lebanese cuisine on your next junk. Maison Libanaise has just launched a junk catering packaging and is serving up its signature za'atar fried chicken, falafel and roasted cauliflower. There's also plenty of hummus and baba ganoush to go round. Menus can be made vegetarian and deliver to Central pier. $318 per person, minimum 10 orders. 2111 2284; maisonlibanaise.com.hk.
Monsieur Chatte
Say cheese! Add a French twist for your lunch and indulge in homemade French dishes with one of three packages that Monsieur Chatte offers. A standard package gives you a selection of tuna rice salad, quiche Lorraine, roasted chicken, brie cheese and a healthy serving of pound cake. Feeling a bit fancy? Upgrade to the chef's menu and enjoy a cold cut platter along with delicious meat fillets and fruit tarts. Delivery is included in the package, so less hassle for you. $150-$350. 3105 8077; monsieurchatte.com.
TaKorea
Spice up your taste buds after a day out at sea and order up delicious Korean-style burritos from TaKorea. Each package comes with seven burritos (choose either chicken, spicy pork or kalbi beef), one tray of their K-pop chicken and salad. Serving around eight to 10 people, feel free to ask for extra servings of chicken, japchae, mini kimbap rolls and soju for just a small extra charge. Early morning delivery is available for Central Pier, Sai Kung Pier and Aberdeen. From $700. 2488 8024; fb.com/TaKoreaHK/.
Make a splash
Beat the scorching heat and hit the water this summer with some adrenaline-inducing extreme water sports. Here's the lowdown on all the best water sports classes and deals in town.
Read more