The best outdoor water sports in Hong Kong
From a relaxing paddle to extreme wakeboarding, make a splash with these outdoor water sports in Hong Kong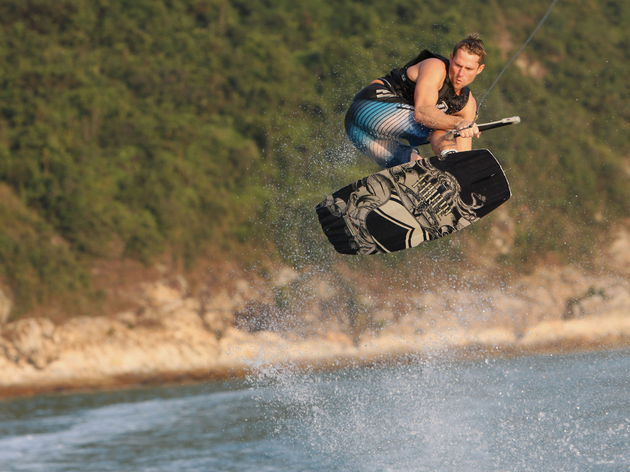 Beat the scorching heat and hit the water this summer with some adrenaline-inducing extreme water sports. Our subtropical summers are the perfect excuse for hitting Hong Kong's beautiful beaches, soaking up some rays and partying it up on a junk boat. But it's not truly summer without heading out to sea on a paddle board or getting adventurous on a wakeboard. Here's the lowdown on all the best water sports classes and deals in town.

Alternatively, if – like many a proud Hongkonger – you'd rather avoid getting baked in the sun, our city offers a wealth of indoor sports activities with plenty of AC.
Best Hong Kong water sports
Taking standup paddleboarding (or SUP) to a whole new level, Blue Sky Sports Club is the only place in Hong Kong you can try monster standup paddleboarding where up to 10 people get on the same board. Sounds hard? You betcha! Monster SUP is a great teambuilding exercise and challenges your core strength, but it promises plenty of laughs and falling over too. Renting starts from $2,800 for three hours or $4,200 for the whole day. Blue Sky also offers a different kayaking experience with their transparent kayaks, where you can see down into the waters as you go. These cost $300 for two hours.
Read more
Tai Po's Lake Egret Nature Park is now home to Core Aqua Park, Hong Kong's biggest inflatable water park. Get ready to slip, slide, bounce and jump around on 43 inflatable obstacles that come in all shapes and sizes, including a giant six-metre slide, hurdles, trampolines, bridges and towers that you can swing from like Tarzan. You can buy tickets in advance online to get an hour's session for $108, or simply roll up and pay $138-per-hour at the door. Not adventurous enough? Core also offers cable wakeboarding sessions for $300 per two-hour session.
Read more
The Stanley Main Beach Water Sports Centre offers some of the cheapest deals for water sports in all Hong Kong, with fantastic views to boot. The area's relatively gentle waves during summer makes Stanley the perfect destination for windsurfing beginners and the friendly atmosphere is a favourite with families renting kayaks for a spot of family-bonding. You can rent windsurfing boards and kayaks for no more than $16-per-hour on a weekday and $24-per-hour during weekends.
Read more
There aren't many places in Hong Kong where you can go night kayaking but A-Team Edventures is one of the few companies bringing the excitement. Known for providing guided tours through the best scenic routes via kayak, experience Cheung Chau island in a whole new light and paddle away under the night sky as you make your way along the coast. Depending on the season, you might even see bioluminescence algae that makes the waters glow blue. The guided tour ($700 per person, minimal a group of 4) also takes you on to land and into Cheung Chau village to stroll through the night market. A-Team offers plenty of standard kayaking tours around Tap Mun and Double Haven, as well as classes for surfing, standup paddleboarding and even slacklining.
Read more
Hit the waters and get jumping and flipping with a wakeboarding session. Learn how to master the fundamentals of riding the waves on a wakeboard, or simply show off sick spinning moves and get your adrenaline pumping. Hong Kong Wakeboard offers sessions for $850-per-hour on a weekday and $900-per-hour during weekends. You can also try out wake-skating and wake-surfing. Not forgetting flyboarding – blast off with powerful waterjet boots strapped to your feet. It's a bit pricier at $1,500 for an hour but it's well worth it for the fun!
Read more
Kiteboarding
Rolling wakeboarding, snowboarding, windsurfing and paragliding into one extreme water sport, kiteboarding is perfect for adrenaline junkies. Hong Kong Kiteboarding School offers a range of kiteboarding courses including 'discovery classes' for any first-timers ($299), which cover all the basics from theory and setting up gears to undertaking a practice run on water. Refresher courses and two-day courses are also available that will guarantee you kiteboard independently with total confidence. Held either at Pui O Beach or Shui Hau Wan depending on the season, the school also doubles as a kiteboard retailer and repair shop. Get ready to flip and soar!
Hoi Ha Wan is one of four protected marine parks in Hong Kong, renowned for its 60 types of hard coral and 120 species of coral fish. Venture out to the marine park via minibus 7 from Sai Kung Pier and rent kayaks and snorkeling gear from a shop in the tiny village of Hoi Ha on your way there. It takes around 20 minutes of kayaking to reach the main coral colonies. Snorkel underwater and witness the beautiful marine and coral life. Too much of a fuss? You can simply join Countryside Adventure Tours for one of their regular snorkeling trips for $390 (taxi fare and rental gears all included).
Read more
Why travel all the way to Thailand or Indonesia for diving trips when you can discover a whole new side of Hong Kong underwater. Splash Hong Kong organises Splash Days every weekend for two dives either in the Clearwater Bay area ($500) or Sai Kung ($620). You can come with your own gear or rent it for $250. Splash will also provide fantastic food and iced bevvies. Of course, diving is the only water sport on this list that requires a license. Don't have one? You can easily get one by completing a five-lesson course with Splash for $4,800.
Read more
Inspiration Lake remains one of the best kept secrets in Hong Kong Disneyland. Located just a short 15-minute walk from the main park, Inspiration Lake is a beautiful 12-hectare man-made body of water with stunning mountain views of Lantau Island. You can rent a pedal boat (two-seaters or four-seaters available) and tour the artificial lake from $70-per-half-hour or grab a surrey bike and cycle lakeside for $100-per-hour. Relax afterwards with a picnic on the grassy knolls and enjoy the scenic view of Lantau.
Read more
Beat the heat at the beach
Hong Kong's concrete jungle gets way too much attention. Don't forget that amongst all the awesome hiking trails and cycling routes there are some stunning beaches too.
Read more