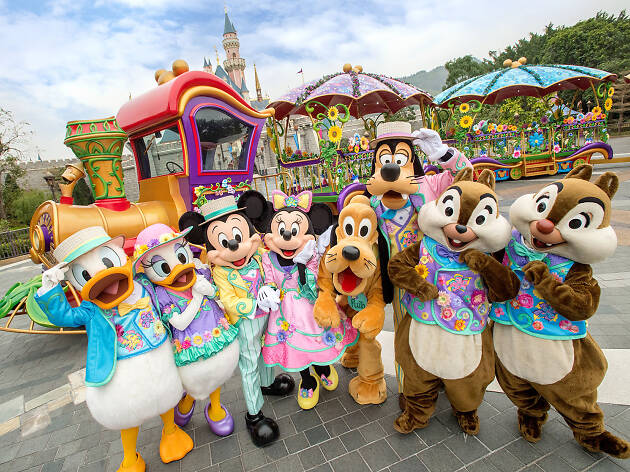 Hong Kong Disneyland: Ultimate Guide
Everything you need to know about the happiest place on Earth, or at least, Hong Kong
Hong Kong is one of six cities in the world to have a Disneyland to call its own. While it's currently the smallest of all the parks, there's still a lot of fun things to do and see, not to mention constant new additions thanks to a multiyear expansion plan that's already in motion.
The park spans across seven themed lands, including Fantasyland, Tomorrowland and Mystic Point. Whether you're looking to book one of the lavish rooms at Hong Kong Disneyland Hotel and spend a Mickey-approved holiday here with the whole family, or you're just itching for an afternoon seeking thrills on Hyperspace Mountain and other Disneyland rides, this park is a fun and magical escape from the hustle and bustle of the rest of Hong Kong.
So, if you're looking to pay the park a visit, here's everything you need to know, from how to get the cheapest Hong Kong Disneyland tickets to information on opening hours, must-see attractions and seasonal events.
RECOMMENDED: Looking for more fun? Don't miss our definitive guide to the best things to do in Hong Kong, as well as our recommendations for weird and quirky activities.
Your guide to Hong Kong Disneyland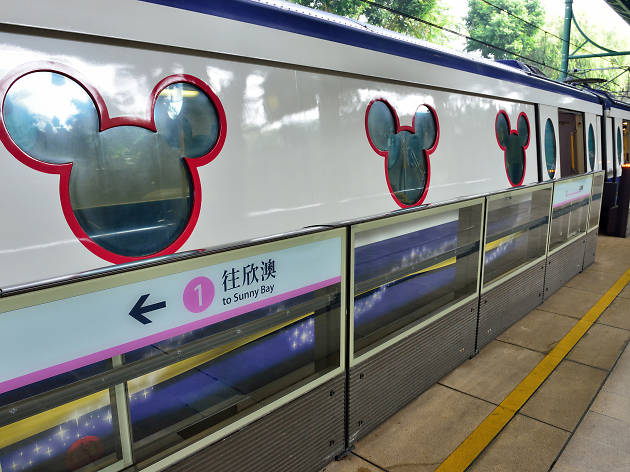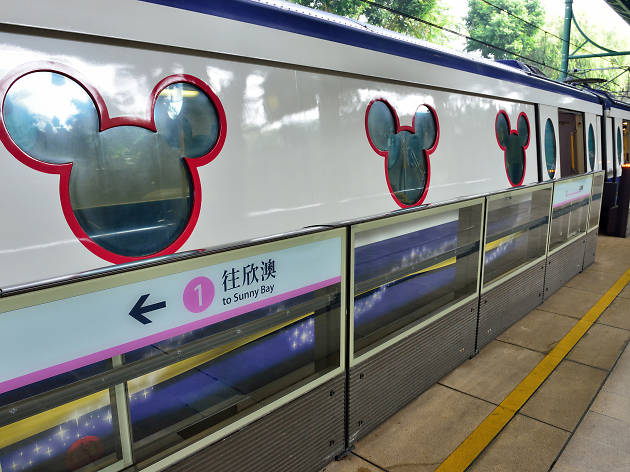 Hong Kong Disneyland is located on the north-eastern part of Lantau Island and is easily accessible by public transportation. On the MTR, transfer from Sunny Bay on the Tung Chung Line and take one stop to Disneyland Resort. The journey should take around 30 minutes from the Central or Kowloon stations. There are also a lot of buses – including the A11, which passes through Central, Wan Chai and Causeway Bay – that take you to the Lantau Link Toll Plaza. From there, take buses R33 or R42 to the Disneyland Bus Terminus. If you're feeling really lazy, you can always get a taxi, which takes around half an hour and will cost about $250 from Central. The Star Ferry also offers a leisurely, two-hour scenic tour that takes you from Tsim Sha Tsui to Hong Kong Disneyland Pier. There's only one Disney-bound ride a day, departing at 11am. Tickets are $110 and include a coupon for refreshments.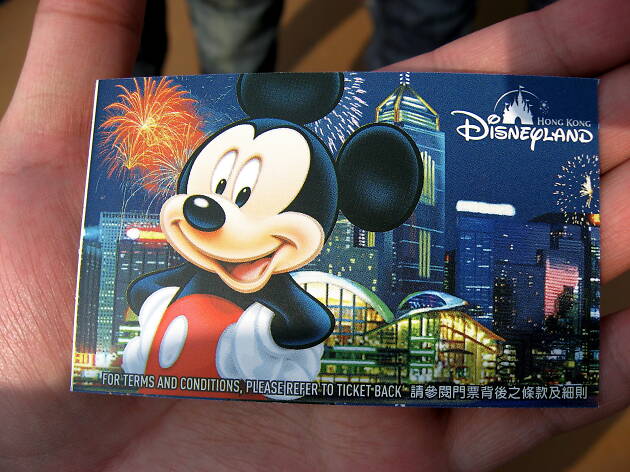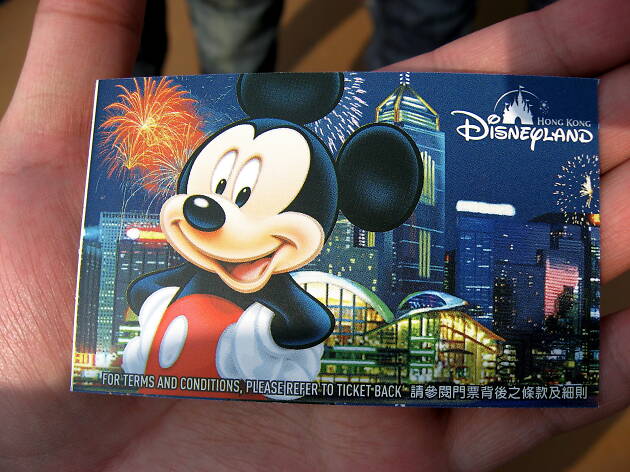 CC Image courtesy of Yuxuan Wang on Flickr
How to find cheap tickets
Tickets can be purchased online, at the park entrance or at any of the three Disney hotels. The standard one-day general admission is $619 ($458 for children ages 3-11; $100 for seniors over the age of 65). The park is small enough to finish in one day but if you like to take your time, you can get the two-day pass for $799 ($589 for children ages 3-11; $170 for seniors over the age of 65), which is much better value.
For the cheapest Hong Kong Disneyland tickets, though, your best bet is to go through one of the authorised travel agents such as China Travel Service or Klook, where tickets can sometimes be close to $100 less than when buying directly from Disney. On that note, wherever you get your tickets, children under the age of three are admitted for free.
Save even more with Magic Access
Annual passes or, in Disney lingo, Magic Access, are the best value-for-money way to enjoy Hong Kong Disneyland. There are three tiers – Silver ($1,238 for adults), Gold ($1,999 for adults) and Platinum ($3,491 for adults) – each offering various perks, from discounts on tickets and restaurants to additional Fastpasses to attractions. It might sound like a lot of dough to drop in one go, but given the year-round shopping, dining, hospitality and admissions privileges, you'll definitely get your money's worth.
Start with the high-thrills attractions first
The Hong Kong park boasts more than 30 attractions. Like other parks across the world, you'll start at Mainstreet, USA, where there's plenty of great photo-ops inspired by turn-of-the-century America. Walk past the castle (closed for now to make way for a bigger one this year) and you'll reach Fantasyland, home to an array of low-intensity rides, including Dumbo the Flying Elephant and It's a Small World. Families can also hop on the Jungle River Cruise – a Disney park favourite since 1955 – which brings you in close proximity to realistic, animatronic wild animals. Since these attractions are usually teeming with kids early in the day, we recommend heading to the high-thrill rides first, such as RC Racer at Toy Story Land or the Iron Man Experience and Hyperspace Mountain rollercoaster at Tomorrowland. Also be sure to look out for the new Ant-man and The Wasp: Nano Battle ride, which makes its world debut on March 31.
CC Image courtesy of Loren Javier on Flickr
And don't forget the shows
Festival of the Lion King is one of the most popular shows at the park and for good reason too. Performed at Theater in the Wild, this Broadway-like production lets you sing along to The Circle of Life and Hakuna Matata as you watch the story of Simba unfold. Speaking of Disney music, Mickey and the Wondrous Book at Fantasyland's Storybook Theater features scenes and songs from beloved movies, including The Little Mermaid, Aladdin, Tangled and Frozen. Finally, if you're young one is more of a fighter, not a singer, head to the Jedi Training: Trials of the Temple at Tomorrowland. This interactive performance teaches kids between the ages of four and 12 how to use the Force to defeat Darth Vader. Register at the Space Traders store to secure a spot.
Head to Mainstreet, USA, early to watch the parades
There are three spectacular parades at Hong Kong Disneyland every day, all proceeding down Mainstreet, USA. First up is the Flight of Fantasy parade at 4pm, followed by the glittering We Love Mickey! projection show at 7pm. Perhaps the most impressive though, is the Disney Paint the Night parade at 8pm, featuring acrobatic dancers and neon-lit floats of your favourite Disney and Pixar characters. Remember to nab a spot early for the best vantage point.
Meet your favourite characters
If you've ever wanted to take a selfie with Cinderella, or tell Mickey and Minnie what a big fan you are, here's your chance. Hong Kong Disneyland has plenty of designated areas where you can meet your favourite characters, from Disney princesses along Mainstreet, USA, to Buzz and Woody at Toy Story Land. And for all the Marvel geeks, you can snap a shot with the armour-clad Tony Stark at the Iron Man Tech Showcase. If you want to know when and where your favourite character will pop up, the Hong Kong Disneyland website and app have the full schedule.
Shop for themed souvenirs
The happiest place on Earth is also the best place for merch, as you'll discover at the many stores at Hong Kong Disneyland. The shops along Mainstreet, USA, have the greatest selection of items – think apparel and accessories to homeware and snacks – but each themed land offers its own selection of unique souvenirs too that are well worth browsing through. For example, you'll find Marvel memorabilia at the Expo Shop, mystical trinkets at The Archive Shop, and all sorts of accessories adorned with the Little Green Men at Andy's Toy Box. Don't forget the shops at the hotels either, especially The Trading Post at Disney Explorers Lodge, which stocks plush dolls of your favourite characters dressed in safari garb.
Check for seasonal events
There are plenty of seasonal events and attractions that are worth keeping an eye out for. Come Halloween, for example, the park gets taken over by some of Disney's best-known (and affectionately loved) villains like Ursula, Jafar and Hades. There's also the famed, snow-flecked A Disney Christmas celebration, which happens every year from November to December, featuring nightly Christmas carols and a tree lighting ceremony.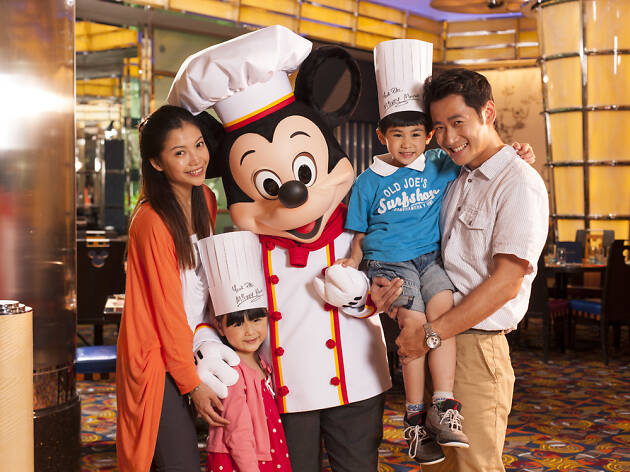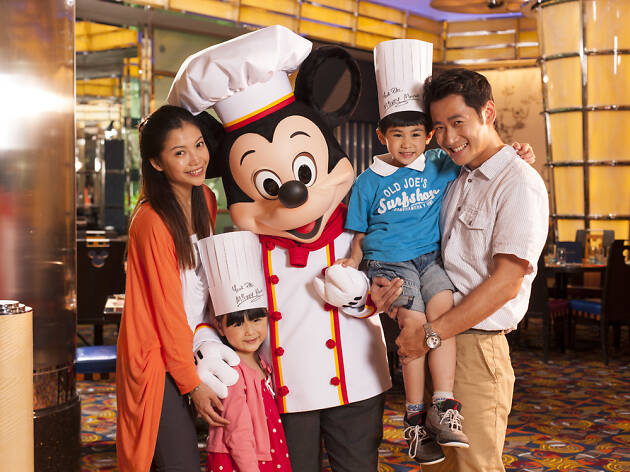 Alan P K Soo Photography
The park is dotted with eateries ranging from quick-service kiosks offering popcorn, ice cream and turkey drumsticks to sit-down restaurants such as the Plaza Inn on Mainstreet, USA. Eating at the park can be bit stressful though as you'll have to battle the crowds for a table and, as at most theme parks, you'll find the food overpriced for the quality you get. Instead, we recommend fuelling up at one of the many restaurants within the hotels. Not only do they provide more leisurely experiences, the food is also much better. We recommend Crystal Lotus – a sophisticated Chinese restaurant that offers Disney-themed dim sum during weekends – but if you want to dine with your favourite Disney characters, book yourself a buffet meal at the Enchanted Garden Restaurant or Chef Mickey.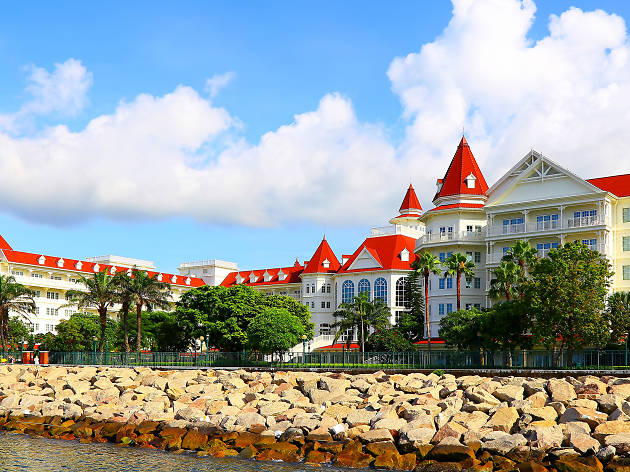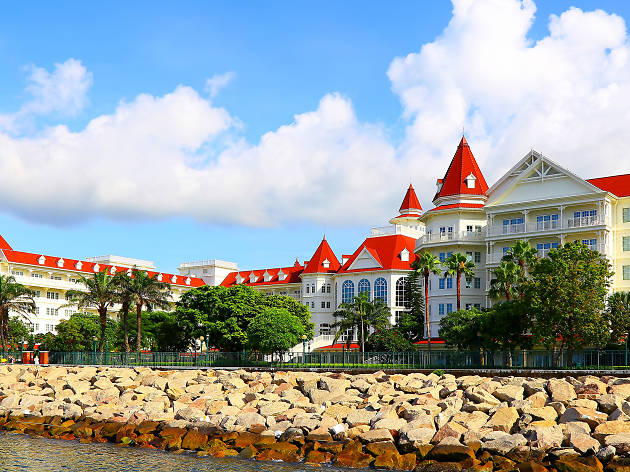 Whether you're visiting from out of town or just want to treat yourself to a magical staycation, Hong Kong Disneyland offers three hotels for you to check into. The most expensive – but also the grandest – is the namesake Hong Kong Disneyland Hotel, an elegant, Victorian-style mansion that feels like a fairy tale come true. Aside from the Mickey-shaped maze and the Bibbidi Bobbidi Boutique for princesses, this hotel is also home to a Frozen-themed suite, complete with Olaf wallpaper. For something a little less pricey but no less cutesy, try the adventure-filled Disney Explorers Lodge or Disney's Hollywood Hotel. If you don't want to stay on the premises, there are also several hotels nearby, including the Regal Airport Hotel and the Hong Kong SkyCity Marriott Hotel.
Other tips and information
• The park is open every day from 10.30am-8pm.
• Nip over to Inspiration Lake if you want to escape the crowds at the park. While you have to pay to rent pedal boats or surrey bikes, you don't have to fork over a cent to enter for a stroll or even a picnic.
• Cut short your queuing time by grabbing a Fastpass. With this free feature, you can return to certain rides at a designated time and join a fast-track line.
• Want to know what the wait time is for Mystic Manor? Or maybe you want to track down Mickey, or check the time of the schedule for Festival of the Lion King? Download the Hong Kong Disneyland mobile app for all this information at the tap of a screen.
• Cantonese, English and Mandarin are spoken throughout the park and signs are also written in both English and Chinese.
• Hong Kong Disneyland offers free WiFi, so go ahead and upload all those selfies on IG.
• On that note, selfie sticks are NOT permitted at Hong Kong Disneyland.
More great things to do in Hong Kong