The best things to do in Hong Kong
Discover the best things to do in Hong Kong with Time Out's ultimate guide to the finest restaurants, bars, attractions, museums and more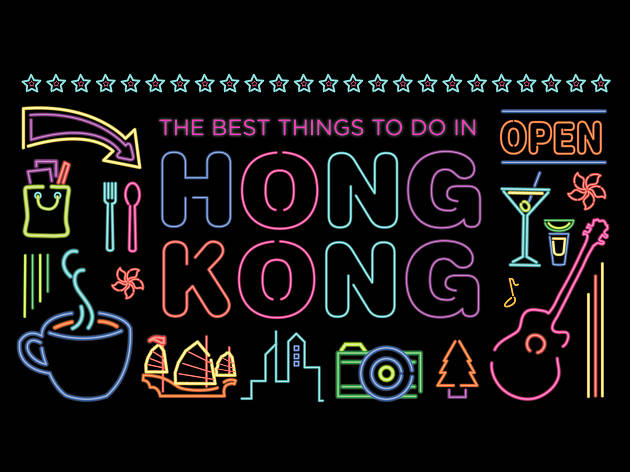 Whether you're a first-time traveller looking for the best Hong Kong hotels or a seasoned vet of Lamma Island and LKF, these are the essential things to see, do, eat and drink while you're in town. From the most picturesque hiking trails in Hong Kong to the city's best museums, here's a roundup of the very best experiences in our city.
The best things to do in Hong Kong: outdoor
Get the best views of the iconic Hong Kong skyline along Victoria Habour (we're talking about that same shot of Hong Kong you see in every Hollywood movie featuring the city) by getting onboard the Star Ferry at the Tsim Sha Tsui terminal and setting sail to Central. This is one of the cheapest ($2.50 on weekdays, $3.40 on weekends) and most pleasant modes of transport in the city. There are 12 boats in the Star Ferry fleet and the crossing only takes seven minutes, so have your camera at the ready.
Read more
The historic Peak Tram runs continuously from 7am until midnight and gives passengers plenty of time to gape at the views of the city that fall away below as the trolley heaves itself up the steep incline of Hong Kong's famous mountain. Get on board from the Garden Road terminus in Central and it's only $45 for a return ticket.
Read more
Two adorable giant panda bears are housed in Hong Kong's popular aquatic theme park. See them in their natural habitat and grab a selfie as they munch on bamboo. Aside from the two national treasures, meet and interact with adorable penguins, seals and dolphins up close. Dine on sustainably sourced seafood next to 5,000 fishes in the Grand Aquarium and take the cable car over dramatic cliff faces before girding yourself for the many adrenaline-inducing amusement rides.
Read more
Not only a provider of stunning views of Lantau Island's natural beauty, the Ngong Ping 360 Skyrail cable car takes you all the way to the gigantic bronze Tian Tan Buddha – the largest outdoor seated Buddha in the world. There's a choice between a standard cabin ($130) and a crystal cabin ($180), which comes equipped with a glass bottom, allowing visitors a unique bird's eye view. Not great if you have a fear of heights, though...
Read more
The hottest ticket in town on a Wednesday night is at Happy Valley Racecourse. If it's just socialising you're after, you'll enjoy hanging out in the beer garden. If you fancy a flutter, there're ample opportunities at this Hong Kong institution – every Wednesday evening is host to eight races.The hottest ticket in town on a Wednesday night is the Happy Valley Racecourse (link). If it's just socialising you're after, you'll enjoy hanging out in the beer garden, but if you fancy a flutter, there's ample opportunity at this famous Hong Kong institution – each Wednesday evening hosts eight races.
Read more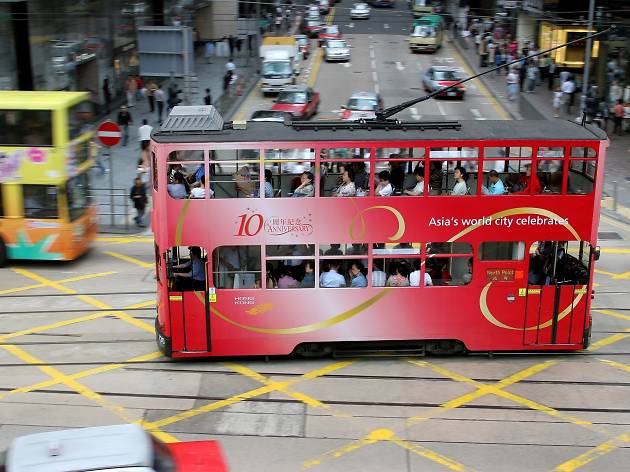 Ride the ding-ding
Affectionately known as the ding-ding (because rather than have a car horn they have bells that ring), Hong Kong's trams are a city icon and the method of public transport that best retains an old-school feel. Get on at the back and pay by the driver as you exit at the front. Look out for the new air-conditioned fleet, too!
One of Hong Kong's biggest and busiest temples, Wong Tai Sin Temple is dedicated to a shepherd boy said to have special healing powers who came to be revered as a demi-god after his death. It's also a popular place for fortune telling, so swing by and see what the future holds.
Read more
Tranquility in the middle of the urban jungle. Play bowls, tennis, go for a swim, or just sit by the lake and relax. If you're an early riser, you can catch the old folks doing tai chi in shady corners.
Read more
There's no shortage of hiking trails in Hong Kong and The Peak offers one of the best panoramas of the Hong Kong skyline. The Peak Circle Walk makes for a leisurely stroll and you can grab a bite at the historic Peak Outlook or take it up a notch and hike down towards Pok Fu Lam Reservoir. Travellers looking for slightly more challenging hikes should try scaling the popular Dragon's Back, which overlooks Shek O and Big Wave Bay, or Lantau Island's Sunset Peak for jaw-dropping views come sundown.
Read more
There are 431 steps leading up to 10,000 Buddhas Monastery and the climb is lined with life-sized, gold-painted Buddha statues, each entertainingly unique. Once you reach the complex itself, known as Man Fat Sze, you'll be dazzled by 12,000 more gilded statues, as well as gorgeous pavilions and a crimson pagoda. Not to mention an Instagram-worthy panorama of Sha Tin and its mountainous surrounds.
Read more
Show more
See more things to do in Hong Kong
The best things to do in Hong Kong: indoor
The best things to do in Hong Kong: eat
The best things to do in Hong Kong: shop
The best things to do in Hong Kong: nightlife
More of the best things to do in Hong Kong
The best Hong Kong museums to take in art, history and culture, including the Heritage Museum, Museum of History and more.
Read more
Plan a stay in Hong Kong
In a city as big and as busy as Hong Kong, it can be a daunting task to find the right place to stay to suit both your needs and your budget. We've made it easier with our ultimate guide to Hong Kong's best hotels, from luxury affairs to boutique spaces and hostels.
Read more