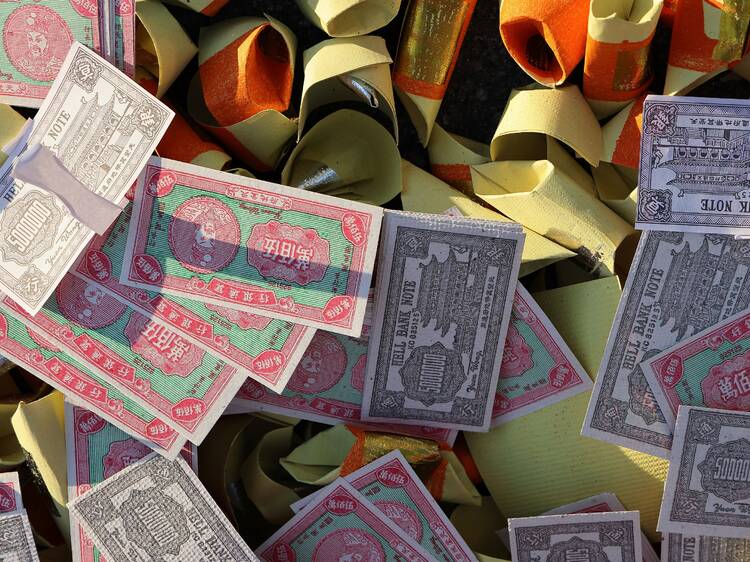 Photograph: Shutterstock
Dead people buying takeout
This 1989 incident is (in)famous for being the only case that the Hong Kong authorities have tacitly agreed to be supernatural. In December that year, the Chiu Yong Kee cha chaan teng in Tai Po Tin took a phone order for four people's worth of food, to be delivered to a unit in Hei Sau Gardens located in western Tai Po Tin. Money was handed to the delivery person through an opened crack in the door and the food was asked to be placed outside. When the owner of the cha chaan teng cashed out the till, he found a stack of 'hell money' – joss paper burned by Chinese people for deceased loved ones to use as money in the afterlife.
Convinced that the whole affair was an awful prank after the same thing happened the very next day, the owner decided to make any following deliveries himself. Sure enough, on the third day, an order came through again and money was handed over through a small gap in the open door – this time, the owner checked that the notes were legal tender and deliberately kept them in a separate compartment from the rest of the restaurant's money. When there was hell money in the till again the next morning, the terrified boss called the cops.
The police eventually forced their way into the silent apartment, and discovered four corpses that had evidently been dead for about a week. The creepy thing is that neighbours noted being disturbed by the sounds of mahjong coming from the apartment; the hell money showed fingerprints of the cha chaan teng owner and two of the dead bodies; and the coroner reported that there was food in the corpses that had only been digested for a day or so. This case thoroughly baffled the authorities – what do you make of it?