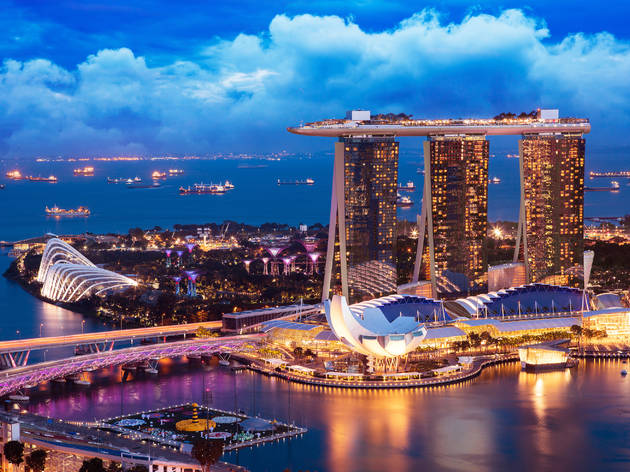 Everything you need to know about the Hong Kong-Singapore travel bubble
All your pressing questions about the travel bubble answered right here
April 26 update: With the stabilisation of cases in both regions, the governments have announced that designated flights will begin on May 26, resuming cross-border air travel in a gradual and orderly manner.
Our on-off travel bubble relationship has been going on for some time now. But the Hong Kong-Singapore travel bubble is back on! The bilateral agreement will allow air travel, without quarantine upon arrival, between both cities. However, travellers must first test negative in up to four Covid-19 PCR (polymerase chain reaction) tests at various stages of the journey, and can only fly on designated flights. Here's everything you need to know, including what you can and cannot do when we can finally take off.
RECOMMENDED: Don't forget to check out the local's guide to the best places to eat, drink, and shop in Singapore!
According to a statement by the Hong Kong government, this is due to similar successes in containing the pandemic, and relatively low case numbers in both cities.
However, the travel bubble will be suspended (for two weeks) after two days if the daily average number of untraceable cases in one week reaches more than five in either city.
If the figure drops on the last day of the suspension period, or any subsequent day, the bubble can resume once more. There must have also been three consecutive days with less than three untraceable cases in both Hong Kong and Singapore, and the daily average number of untraceable cases in one week must not be more than five in both places.
Who is eligible to travel?
Anyone who has stayed in Hong Kong or Singapore in the last 14 days is eligible to travel. But the respective compulsory quarantine in Hong Kong or Singapore from the traveller's last visit outside these regions does not count towards that 14-day period.
The traveller must also provide a negative PCR nucleic acid test result from a recognised clinic or testing centre 72 hours prior to departure. The specimen must be collected within 72 hours before the scheduled flight departure.
All Hong Kong residents need to be fully vaccinated in order to go and must have completed both shots of the vaccine at least 14 days prior to departure. This vaccination requirement is not applicable to those aged below 16; with medical grounds; with less than 90 days' stay in Hong Kong before departure; or using non-Hong Kong issued travel documents for departure. You will need to show proof of the full vaccination at check-in, or make a declaration of exemption.
Travellers must book a designated bubble flight (marked with a travel bubble label) to fly.
What do I need to do before I go?
All travellers (who are not Singaporean residents or long term pass holders) must apply for an Air Travel Pass at least seven to 30 days before departure. Or they must have a valid entry permit from the relevant Singapore authorities (applicable to Singapore long-term pass holders only).
They will also need the right to enter both Hong Kong and Singapore, with the necessary visas or permits; to fill in and submit an SG Arrival Card within three days before arriving in Singapore; to make an appointment and settle the fee for a post-arrival Covid-19 PCR nucleic acid test; to have a mobile phone and download/register on the Singaporean TraceTogether app before landing.
What about when I come back?
If you fulfil all eligibility requirements once more and have your designated flights booked along with any necessary visa (if required), you can fly back to Hong Kong. You will, however, need to take another pre-departure PCR nucleic acid test, submit your health declaration, book your post-arrival PCR nucleic acid test, and install the LeaveHomeSafe app.
How many flights to Singapore will there be?
Cathay Pacific and Singapore Airlines will be operating alternating flights between the two cities. The Hong Kong government has confirmed that there will be one flight a day limited to 200 passengers. This will increase to two flights a day, from June 10, depending on how it all goes after implementation.
How will Covid-19 tests be carried out?
When flying from Hong Kong to Singapore, travellers must take a test 72 hours before departure at a recognised clinic or testing centre. When they arrive in Singapore, they must take another test at the airport, before going to the declared place of accommodation (citizens, permanent residents or long-term pass holders may self-isolate in their own residence) by private transportation or taxis, and stay there until receipt of a negative test result.
From Singapore to Hong Kong, another pre-departure test must be taken within 72 hours before an extra test is required upon arriving at Hong Kong airport. Passengers are then required to wait for their results in a designated area at the airport. Tests upon arrival at Hong Kong International Airport need to be booked and paid for ahead of time.
How much are Covid-19 tests?
Travellers (over the age of six) will need to be tested a total of four times, two of which need to be taken within 72 hours before their scheduled departure time, while the other two are taken upon arrival in Singapore and Hong Kong. The four tests can cost almost $3,000 altogether across the two regions.
Singapore does not require those under six to be tested before and after flying which means they will only need to take two tests.
Is it possible to use the travel bubble to travel to another destination?
No. This travel bubble is only applicable to flights between Hong Kong and Singapore. That being said, if you are travelling from another country to Singapore or Hong Kong and stay for a minimum of 14 days, fulfilling every element of the aforementioned eligibility criteria, then you are free to travel within the travel bubble.
For more information on the travel bubble, visit tourism.gov.hk for details.
Here's what you can and can't do in Hong Kong right now
What you need to know about Hong Kong's own restrictions.