Heads up! We're working hard to be accurate – but these are unusual times, so please always check before heading out.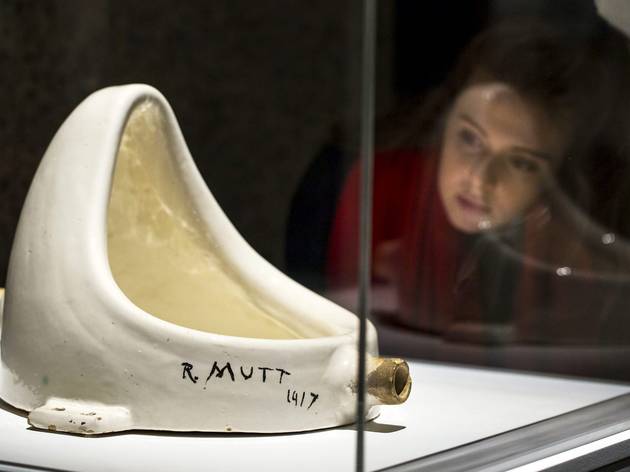 1/4
One of the most influential, infuriating works in the entire history of art, this porcelain pissoir was bought from an ironmongers, JL Mott, on Fifth Avenue, turned upside-down and then signed 'R Mutt', before being rejected for exhibition a few weeks later. 'He CHOSE it', said a written explanation at the time. 'He took an ordinary article of life and created a new thought for that object.'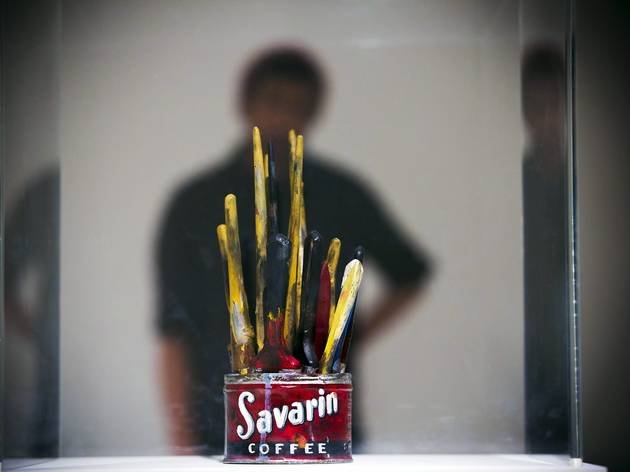 2/4
 Forty years after Duchamp's invention of the 'readymade', Johns became renowned foe his hand-made versions of manufactured objects, such as flags, targets, beer cans and here, some paint brushes in a tin. However, he laboriously painted over his bronze casts, both reinforcing and negating them as objects. Johns praised 'Duchamp's wit and high common sense, his brilliantly inventive questioning of visual, mental and verbal focus and order.'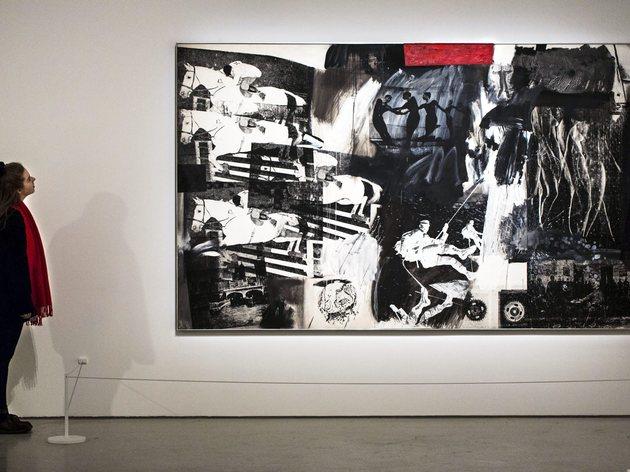 3/4
Duchamp's mysterious masterpiece, 'The Bride Stripped Bare by Her Bachelors, Even' (1915-23), was also known as 'The Large Glass' because its imagery was sandwiched in between two panes of glass in a transparent, window-like frame. Rauschenberg's use of layered silk-screens also allowed his materials to float around the picture, here combining images of war, dance and a photographic homage to Duchamp's 'Nude Descending a Staircase'.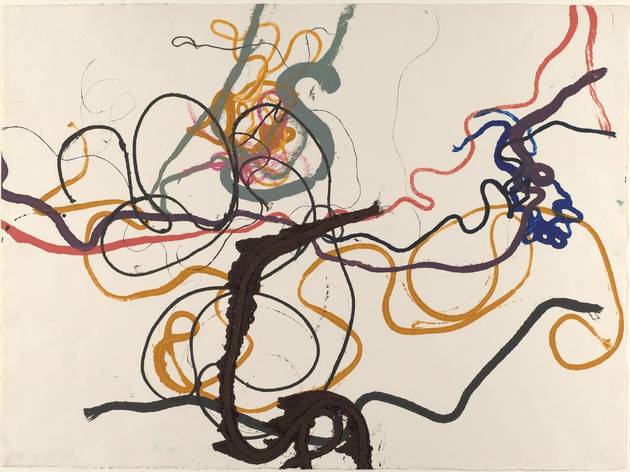 4/4
Just as Cage's music was atonal and often randomly generated, so too were his few visual works of art, such as these prints, which he made by dropping portions of rope or string dipped in coloured inks. Duchamp's earlier piece '3 Standard Stoppages' (1914) was a canvas with three pieces of metre-long string that had been dropped and then glued in the position of its chance landing.
The Bride and the Bachelors: Duchamp with Cage, Cunningham, Rauschenberg and Johns
A season of art, music and dance explores the influence of the great Duchamp on some of the most important artists of the 20th century.
Metaphorically at least, we've spent a whole century dancing around Marcel Duchamp (1887-1968), either hailing his legacy as liberator of art from historical restraints, or else bemoaning his decision to display shop-bought objects as art works in their own right, opening the floodgates for art as any-old-nonsense. Indeed his 'Bottlerack', 'Bicycle Wheel' (replicas of 1913-14 originals) and 'Fountain' (the upside-down urinal of 1917) are all trotted out again in this exhibition, like trophies or emblems of some victory for concept over content, whereas they represented severe defeats and career setbacks in Duchamp's day.
It took a good 50 years for artists to start coming around to his unfettered way of thinking, which is why the Barbican transports us to mid-century New York, where a small circle of Duchamp admirers began rediscovering this exiled Frenchman, who'd spent much of the past few decades in America, playing chess and refusing to make any more art. The show's title, 'The Bride and the Bachelors' refers not just to Duchamp's famously complex glass piece of the same name, but to his position as the cross-dressing object of affection (his female alter-ego was called Rrose Sélavy) to four young suitors: John Cage, Merce Cunningham, Robert Rauschenberg and Jasper Johns.
The first pair, Cage and Cunningham, were actually life partners to one another and exponents of the most modern forms of music and dance imaginable, certainly influenced by the kind of chance encounters Duchamp had proposed in his 1913 'Erratum Musical', which he scored by pulling notes from a hat. This and other sounds play intermittently in the galleries, the most incongruous of which is a disturbing version of Cage's famous four minutes of silence, "4'33", which is piped in from the incredibly noisy, traffic-filled tunnel running beneath the Barbican itself.
The two painters in this devout bunch, Rauschenberg and Johns, were captivated by Duchamp's mechanistic figures in the 'Large Glass' and 'Nude Descending a Staircase' (1912) on a trip to the Philadelphia Museum (where many of these pieces and this show originated), after which they received a state visit from the reclusive artist himself at their studios on Front Street.
Like true acolytes, this quartet paid homage to their grandmaster through assemblages of Duchampian found objects or 'readymades', randomly systematised musical compositions or choreography and wilfully perverse acts of painting (such as the terrific and dark 'No' by Johns of 1961). Incredibly, even New York's finest couldn't beat the old chess-player at his own game, failing ever to get to grips with the complex plumbing and symbolism behind his 'Bride' or checkmate his kingly, but seemingly unmappable mental moves. But no matter, it's worth watching them try in Cage's feverish notations, Rauschenberg's magnificent, layered stage sets or Cunningham's stilted dance routines, many of which are being performed live in the exhibition.
None of this undoubtedly fab four was quite as theatrical, obtuse or witty as the big D (who they simply referred to as Marcel). 'I can't get along without Duchamp,' said Cage once. 'I literally believe Duchamp made it possible for us to live as we do'. They clearly couldn't live without him and his ideas, but artistically, then as now, no one has ever been able to live with him, either.