The Shard: your ultimate guide
However impressive The Shard is from the outside, there's nothing like the view from the inside. Get the most out of your visit with our ultimate guide to The Shard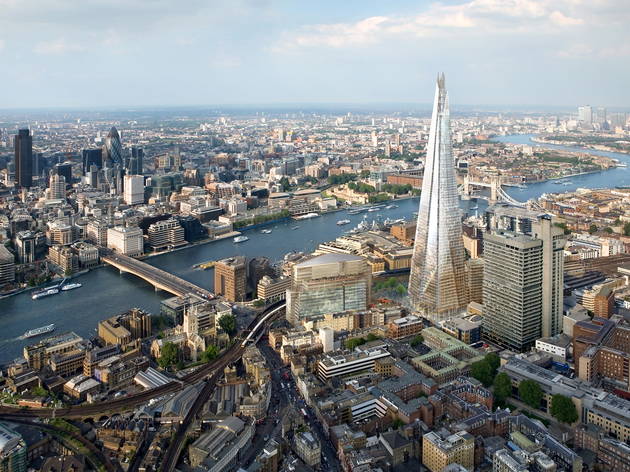 The Shard, London's tallest building, was not universally well-received when it was completed in 2012. For every fan of architect Renzo Piano's crystalline, church steeple-inspired skyscraper – rescued from the jaws of recession by Qatari investors in 2008 – there's at least one detractor, angry that the 1,016-foot-tall hulk was ever allowed to bully its way into sightline omnipresence.
But if views of The Shard are controversial, the views from it are not. At 800 feet, the building's ticketed viewing platform The View from The Shard is nearly double the height of its closest competitor, the London Eye. From that high up London is Lego, the Thames a blue shoelace. Even the peaks of the City, immediately north, appear suddenly quaint. So, featuring where to eat to what to see a nearby, here's our sky-high guide to a trip up The Shard.
What's all this about The View from the Shard?
Chances are your trip up western Europe's tallest building is for The View from The Shard, a ticketed viewing platform with 360-degree views across the capital and beyond (up to 40 miles on a clear day). The attraction spans three levels of decks (the bottom two enclosed, the third open to the elements above) on floors 68 to 72 of the skyscraper, reached by two super-smooth, high-speed lifts taking just 30 seconds each. Up top, Digital 'Tell:scopes' update the coin-in-the-slot binoculars at traditional viewpoints: touchscreens locate and provide information about important landmarks, zoom in, and toggle between views from different times of the day.
How about opening times and tickets info?
The View from The Shard is open daily from 10am to 10pm. Winter hours, starting in October, are Sunday to Wednesday, 10am to 7pm; and Thursday to Saturday, 10am-10pm. Please note that last viewings start one hour before closing. Tickets cost £25.95 in advance for adults (£30.95 on the day) and £19.95 for children aged 4-15 (£24.95 on the day).
Hang on, where actually is The Shard?
Up. More specifically, The Shard is in Southwark, just two minutes from London Bridge Station (accessible by rail and the Northern and Jubilee lines tube lines). If you've got 10 minutes to spare, alight at Monument tube station (on the Circle and District lines) and behold The Shard's towering majesty as you cross London Bridge. The site can also be reached by more than a dozen buses that stop outside the entrance to London Bridge Station, including the 43, 48, 141, 149 and 521.
Eating and drinking at The Shard
Things to do near The Shard
Where to eat near The Shard