Islington bars
Find the best drinking venues in Islington and Angel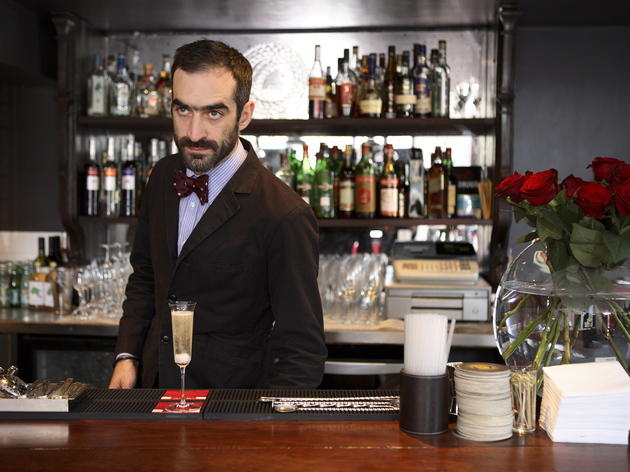 Finding a good drink (or three) is not a hard task in N1. If you're looking for a classy, crowded bar with expert cocktail-making staff, go to 69 Colebrooke Row. If a homely haunt blasting tunes is more your thing, try Old Queen's Head. No matter what you're in the mood for, Islington has it all. Check out our favourites in our guide to great bars in Islington.

Think we've missed a great bar in Islington? Let us know in the comment box below.
Best bars in Islington and Angel
'The bar with no name', it styles itself – try telling that to a taxi driver. In reality, everyone knows this place by its address, hidden away from the Upper Street hordes on an Islington backstreet. It's the tiny flagship of bar supremo Tony Conigliaro, noted worldwide for his dedication to the art of the mixed drink: as such, it's not easy to get a seat here without booking. Punters come for the cocktails, all of which are outstanding.
Book now
Read more
Ladybird is a cocktail bar and music venue on busy Upper Street in the heart of Islington. Serving up a variety of music acts and contemporary cocktails, it's a popular venue for after-work drinks and get-togethers, and for its themed parties.
Read more
This big bar rocks an urban bordello and burlesque look with its ruby-red ceiling, tassel lampshades and candelabras, with a solid Wild West saloon-style bar top on which to lean, and the separate 'Satan's Circus' mini-club with dancefloor. But the whole thing kind of works. Sort of. The cocktail list is classic and concise, with mai tais, margaritas and martinis all at £7, while wines are confined to half a dozen reds and whites.
Read more
Who are Hoxley & Porter? You won't find them pulling pints, but a squint at the website suggests a back story about one of them being a Victorian explorer. For this is another theme bar on Upper Street. Not mock Mexican, cod Cuban or faux-Oirish this time, but one that hangs on to the petticoats of the 19th-century colonial explorer look. So there are potted palms, uniformed staff, patterned wallpaper, vintage lighting.
Book now
Read more
Venue says: "The first (and some say best) of the Barrio familia Barrio Angel has built a reputation for all things tequila and rum, agave and cane."
The North London branch of Barrio offers live music and cocktails.
Read more
See our pick of Islington pubs
Sponsored listing
Madison Terrace Bar & Lounge
Did Sir Christopher Wren adroitly combine the traditional gothic style of church-building with the grace and ambition of Renaissance design, or was his cathedral too decorative for a seat of English ecclesiastical power and a dangerous transgression towards the old faith? There's no better place to consider the points of debate circling around St Paul's than this new rooftop terrace bar in Jean Nouvel's One New Change shopping complex. The name of the bar is meaningless – a vague attempt at Manhattan glamour. The looks are unimportant, as the whole mall is in thrall to its neighbour. Madison seems to exist largely as a viewing platform. But what a view it is. A glass lift takes gawpers from the ground floor, sweeping up parallel with St Pauls' east elevation. Once in the bar or its generous outdoor space, an unrivalled close-up is offered of the drum, peristyle, upper balustrade, upper drum, dome and lantern of the cathedral – all the godliest bits – with the ball and cross silhouetted perfectly against the sky. You can of course drink in more than the views: cocktails range from standards (mojitos and whatnot) to concoctions with names ripe for being cackled at by hen parties (Pornstar Martini, Hot Bitch Martini). There's a good range of spirits, and Heineken is offered by the 'schooner' (a two-thirds of a pint measure). There are snacks, some of which may cause puzzlement if piled on small plates in Spain, but called tapas here nonetheless: the likes of Welsh rarebit fr