Celebrate making it through your first week back at work by treating yourself to a slap-up meal at one of London's newest restaurants, kick back at the cinema with Tarantino's latest flick or sing along to 'Guys and Dolls' at the Savoy Theatre. Here are the best ways to while away the weekend.
Things to do
Earl Okin, 606 Club, Sun £10. Showcase night for the droll musician, master of bossa nova, comic ditties and world-class mouth-trumpet. He doesn't often present solo showcases so catch him while you can.
TS Eliot Prize Readings, Royal Festival Hall, Sun, £15, £12 concs. The T S Eliot Prize Readings return in 2016, showcasing the work of poets shortlisted in the 2015 edition of the competition. Ian McMillan comperes the evening, with Pascale Petit chairing the panel along with poets Kei Miller and Ahren Warner.
German Gymnasium Bootcamp, German Gymnasium, Sun, £15. Wave goodbye to those festive treats sitting pretty on your hips with these new year exercise classes led by MW5 Fitness. The outdoor sessions feature a mix of Victorian Gymnastics (a nod to the venue's history), boxing and Indian club swinging and should help banish any extra calories consumed over the Christmas period.
London Boat Show, ExCeL London, all weekend, £10-£20, free under-15s. Every size of vessel is represented among the hundreds of show boats; everything from kayaks to superyachts will be brought by specialist independent builders, multinational companies and everything in between. Boat ownership = 2016 life goal.
The Fabric of India, V&A, all weekend, £14, free for V&A members. 'The Fabric of India' brings together 200 handmade textiles that reflect the country's cultural heritage. Highlights include an eighteenth-century sultan's tent, sumptuous historic costumes, and contemporary fashion by Manish Arora.
…or check out more events happening in London this weekend.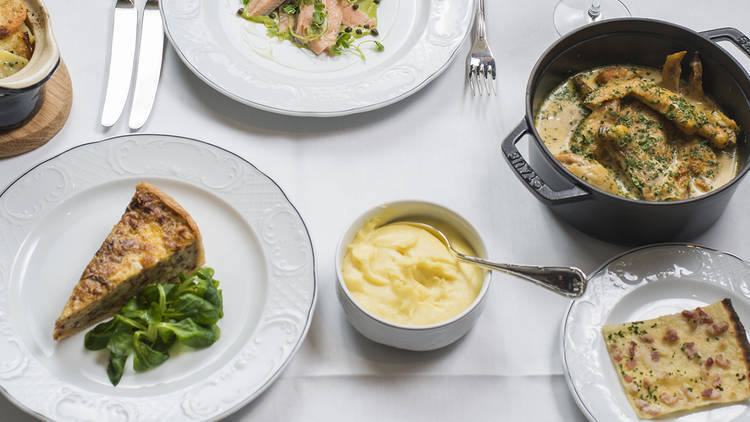 © Jamie Lau
Eating and drinking
Bellanger, Islington. A new café and brasserie from Corbin and King, the team behind The Wolseley, The Delaunay and Brasserie Zedel.
Coin Laundry, Clerkenwell. Fans of ironically retro food and drink should heart this Seventies-style addition to restaurant-packed Exmouth Market.
Noble Rot, Bloomsbury. A restaurant and wine bar from the people behind Noble Rot magazine.
Chick 'n' Sours, Dalston. Permanent fried chicken and cocktail restaurant from serial pop-up enthusiast Carl Clarke.
…or check out the latest restaurant reviews.
© Scarlett Stephenson-Connolly
Comedy
Billy Connolly: High Horse Tour, Eventim Apollo Hammersmith, Fri-Sat, £33.75-£50.25. Connolly's one of the all time greats of stand-up. Without him, modern comedy would look very different indeed. Even at the age of 72, the legendary Scot has a wild, manic energy, and is still as sharp as ever.
Comedy Virgins Max Turner Prize 2016, The Cavendish Arms, Fri-Sat, free. This annual new act competition from the Comedy Virgins gang takes place all week, with heats from Sunday to Friday, and the best acts going through to Saturday's grand final. It's a fun comp, with an impressive list of previous winners.
Bill Bailey: Limboland, Vaudeville Theatre, all weekend, £25-£49.50. In limbo over whether to see Bill Bailey? Make the right decision.
…or check out all the critics' choice comedy shows.
Live music and nightlife
Future, O2 Academy Brixton, TONIGHT, £41-£61. Dapper rapper Future is from Atlanta, and has worked with Pharrell (who hasn't?), Kanye and loads more big hip hop and R&B names. At this big London show he'll be dropping tracks from his latest solo album 'Honest'.
Mica Paris, Hideaway, Fri-Sat, £22.50. Successful and highly regarded Brit-soul vocalist and broadcaster, still pursuing the classic soul, jazz-rap and house sounds with which she made her name, but also latterly working in the jazz field with the likes of Julian Joseph, Courtney Pine and Ivie Anderson.
Tief, Dance Tunnel, Sat, adv £5. Rinsing deliciously deep house sounds (via post-dubstep, techno and acid tinges) with a sticky warehouse-style edge, Tief is a truly special house night. Get those heads down.
The XOYO Residency Series: Scuba presents 12 Weeks of Techno, XOYO, Sat, £13.50. Scuba spins all night long in Room One to launch his XOYO Residency, with Trevino doign the same in Room Two.
The Cave Club, Moth Club, Sat, £6. A fantastic monthly freak-out for fans of psychedelic pop and tripped-out rock 'n' roll, supplied by guest DJs and live bands.
…or see all the parties planned this weekend.
Film
The Hateful Eight ★★★★☆ Quentin Tarantino's 168-minute whodunnit western mixes Agatha Christie with John Carpenter.
Le Mépris ★★★★★ Jean-Luc Godard's bruising tale of marriage and the movies retains its freshness.
A War ★★★★☆ Echoes of 'Paths of Glory' in this tale of a Danish military commander suffering a crisis of conscience in Afghanistan.
…or see all of the latest releases.
© Paul Coltas
Theatre
Guys and Dolls, Savoy Theatre, Fri-Sat, £25-£101.50. Three fabulous lead performances propel the high-rollin' musical classic back to town.
African Gothic, Park Theatre, Fri-Sat, £14.50-£18, £16.50 concs. Gruesome but curiously toothless revival of Reza de Wet's 1985 drama.
Dinosaur Park, St James Theatre, all weekend, £15-£30. This is essentially a sketch show inspired by Spielberg's 1993 blockbuster with some stand-up sets, dance routines and karaoke skits thrown in for good measure. It won't change your life – but it will make you chuckle your human-hide off.
…or see our theatre critics' choices.
This week's best new art
Christine Sun Kim: Rustle Tustle, Carroll/Fletcher, Fri-Sat, free. Californian artist Christine Sun Kim was born deaf. She experiences the world differently to the hearing majority. She uses her art to explore being deaf in a hearing world, but also to reclaim the power taken away from her by her difference.
Rose English: A Premonition of the Act, Camden Arts Centre, all weekend, free. Performance art is hot right now – which makes you wonder what Rose English must make of it all. Working since the 1970s, the British artist is known for highly theatrical ensemble performances involving everything from naked bodies to elaborate costumes to live animals.
Tightrope Walk: Painted Images after Abstra, White Cube Bermondsey, all weekend, free. Featuring almost 50 artists, this is a show of big names (not just Bacon, but Picasso, Matisse, Lucian Freud, Francis Picabia and Marcel Duchamp) as well as intriguing new ones.
…or see all London art reviews.
And finally
Win... a London experience with the National Maritime Museum or tickets to Tate Modern's 'The World Goes Pop', including dinner and a hotel
Grab... £25 for three courses and a glass of bubbly at Sea Containers
Book… these gigs while you still can
Best of the blog
The ten brightest art exhibitions of 2016
Get ready for this year's No Trousers Tube Ride
Exclusive: inside Clapham South's secret wartime tunnels
Video: base jumper does his terrifying thing in Canary Wharf