Have a ballin' week with a game of boules on a rooftop in Hackney, catch Four Tet play his new album at the ICA, or get revved up for the bank holiday weekend with a pre-carnival night in Brixton. Here's everything you need to know about this week.
Things to do
Tranquil Tuesday, St Christopher's Place, Tue, free. In an effort to help us all calm down a bit, St Christopher's Place are offering a range of helpful sessions and samples every Tuesday evening. A mindfulness session will take place from 6pm-7pm, followed by a chance to try moga – yoga to live music (7pm-8pm).
Borough Talks, Borough Market, Tue, £15. As the market's 1000th birthday celebrations draw to an end this series of four debates will look at the modern world's relationship with food.
Amy's Kitchen Presents: A Handcrafted Summer, E5 Bakehouse, Tue, £10 + booking fee. Learn a new craft and enjoy a healthy dinner courtesy of Amy's Kitchen at this series of supper events held in east London. Tonight, Grace and Thorn will show attendees how to make a wildflower arrangement perfect for a table centrepiece.
BoxedIn, Boxpark, Tue, free. This free monthly event invites anyone with a flair for spoken word to take to the stage and perform their work. Sign up on the night to nab a slot on the bill, then sit back and watch while other poets and MCs do their thing.
The Create Day, Dalston Eastern Curve Garden, Wed, free. This afternoon of creative fun for all ages is designed to boost mental wellbeing. Try a dance, art therapy or poetry workshop, decorate a plant pot, get your face painted or make a smoothie using a bicycle.
An Evening with Professor Brian Cox, ArcelorMittal Orbit, Wed, £49 (incl access to the Orbit and two drinks). For this fundraiser, geek-totty Brian Cox – the physicist presenter of the BBC series Wonders of the Solar System and Royal Society Professor of Public Engagement – will talk about space exploration, recent scientific discoveries across the Solar System and his own work at the Large Hadron Collider.
Paddle Boarding, Litter Picking & BBQ on the Canal, Paddington Basin, Thu, free. Hop onto a paddle board and help clear the canal of rubbish between Paddington Basin and Little Venice. Active360 will be on hand to dish out tips to beginners and a free BBQ will be waiting at the end for all litter pickers.
Boulers, Roof East, Thu, £20 per 30 minutes. Ball games aren't generally suitable for rooftops, but a très Français pastime will be rolling into Hackney this week, and luckily its balls are weighty enough to withstand any weather - or player-related hijinks.
Bullshit London, St Paul's Cathedral, Thu, £10, £7 concs. Comedians and jokers lead Londoners astray on this tour of the South Bank. Expect improvised comedy and a distinctly lackadaisical approach to the truth in a somewhat skewed look at the history of our fair city.
…or check out more events happening in London this week.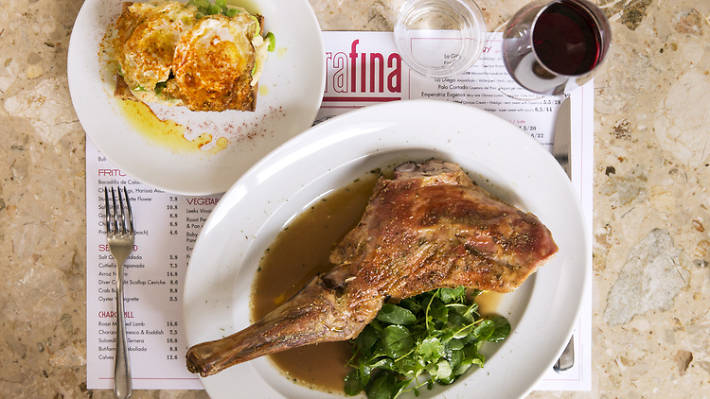 Eating and drinking
Barrafina Drury Lane, Covent Garden. The third restaurant from the excellent Spanish tapas specialists, and it is a winner in every way.
Pidgin, Hackney. Pidgin is a modern British restaurant in Hackney, serving a weekly-changing, no-choice four-course menu.
Apollo, Stoke Newington. Authentically Neapolitan pizzas, DIY decor and craft beers on Stoke Newington High Street.
…or check out the latest restaurant reviews.
Comedy
Comedians' Cinema Club, Camden Head, Tue, £6. This gig created by Eric Lampaert (who appears alongside regulars Will Seaward and Matthew Highton) features a cast of comics recreating famous movies.
Camden Fringe: Sam Fletcher – Tinkerspace, Aces & Eights, Wed-Thu, £7. Wonderfully nerdy Foster's Best Newcomer nominee Sam Fletcher mixes terrible 'dad' jokes, sloppy magic tricks and flipchart drawings in his solo shows. Always a delight.
Iliza Shlesinger – Freezing Hot, Soho Theatre, all week, £15, £12.50 concs. The caustic Texan offers up strong opinions on dating, pop culture and the state of her nation with an unapologetic, come-get-some attitude.
…or check out all the critics' choice comedy shows.
Live music
Four Tet, ICA, Tue, £16.50. Producing records for other artists as well as delivering marathon DJ sets and working on his own awesomely funky solo electronica, one-man digital groove machine Kieran Hebden is pretty much the busiest man on the London music scene.
François And The Atlas Mountains, Queen Elizabeth Hall, Tue £12.50-£15. François Marry came to Bristol from France in 2003, put an ad in a window for musicians and started collecting as many second-hand instruments as he could afford. Since then he's released four proper albums with the Atlas Mountains.
Deerhoof, The Dome, Tue, £12. Fronted by the eccentric voice of Satomi Matsuzaki, San Francisco's sweetly chaotic avant-pop band sound like a wonky, sugar-coated Sonic Youth.
American Football, Brooklyn Bowl London, Thu, £27.50. The cult US indie band from Illinois play a show in a bowling alley.
…or take a look at all the live music events in London this week.
Nightlife
CTRLSound Pre-Carnival Special, Prince of Wales, Tue, £12.50. Party hard on a Tuesday night via the stellar selector skills of a superb cast: Plastician plays a special 'back to the '80s' funk and disco set and Hatcha goes deep into the history of garage on the rooftop, while Goldie rips up the club area with D&B.
Gaz's Rockin' Blues, St Moritz, Thu, £9, £7 before 10pm. A hugely popular long-running weekly night – filled with rock 'n' roll history – that explores the best ska, blues, reggae and jive every Thursday.
Summer Tales, Red Market, Thu, £5, £4 before 9pm. A pop-up party from the Night Tales crew, featuring cocktails, street food, DJs and a jungle theme.
…or see all the parties planned this week.
Film

Disaster Film Club: 'The House of the Devil', Hackney Picturehouse, Tue, £5. A new film club arises, and makes a strong opening statement with this recent horror classic.
'It is Fine. Everything is Fine' + Q&A, ICA, Tue, £18, £16 concs. 'Back to the Future' star turned deeply idiosyncratic director-producer-musician-novelist-lecturer Crispin Glover brings his never-ending tour back to the UK.
'All That Jazz' + 'One From the Heart', Regent Street Cinema, Wed, £11, £10 concs. A fascinating double bill of modern musicals presented by the Badlands Collective.
Or at the cinema...
The Wolfpack ★★★★☆ This extraordinary documentary follows six brothers who spent their lives confined by their father to a New York apartment.
…or see all of the latest releases.
Theatre
The Heresy of Love, Shakespeare's Globe, Thu, £16-£43. A smart revival for Dominic Dromgoole's final summer season.
The Playboy of the Western World, Southwark Playhouse, all week, £18, £16 concs. Sleepy fringe production of this all-time Irish classic.
Carmen, Soho Theatre, all week, £15-£45. OperaUpClose re-imagine Bizet's opera with in-yer-face results.
…or see our theatre critics' choices.
This week's best new art
Alaric Hammond: Caustic Windows, Saatchi Gallery, Tue-Thu, free. In the Prints & Originals gallery, the British artist presents his zinc assemblages, which are inspired by the beauty of derelict buildings and fairgrounds.
IK Prize 2015: Tate Sensorium, Tate Britain, Wed-Thu, free. Tate Britain's immersive art display will stimulate your sense of taste, touch, smell and hearing.
Dineo Seshee Bopape: slow -co- ruption, Hayward Gallery, Wed-Thu, free. As part of Southbank Centre's 'Africa Utopia' festival, the emerging South African artist presents experimental videos alongside site-specific sculptures for her first London solo.
Michael Samuels: Parlour, Rokeby, Wed-Thu, free. Combining materials that reference the domestic, Samuels will create a contemplative environment for his latest sculptures made from found objects and reconfigured industrial materials.
…or see all London art reviews.
And finally
Win... a private helicopter flight for you and five friends or a nine-night holiday in Brazil for you and a friend
Grab... a £50 deal for a half-kilo rib steak to share, with chips, salad and a carafe of wine for two at Hix Soho
Book... these gigs while you still can
Best of the blog
Those posh Nine Elms flats are getting a 'sky pool', so the rich can look down on you while they swim
London is the ninth most adulterous city in the world
A short commute makes Londoners happier than sex