Head to a birthday bash club night in Elephant and Castle, kick back with a Todd Haynes triple bill at Picturehouse Central, or start your Christmas shopping at a sparkling Scandinavian market in Rotherhithe. Here are our top tips for a five-star weekend.
Things to do
Amnesty Blackheath and Greenwich Big Book Sale, Church of the Ascension, Sat, free. Human rights charity Amnesty's Blackheath and Greenwich branch holds its annual book sale once again, with thousands of top books to be found.
401 1/2 Open Studios Weekend, Clapham, Sat-Sun, free. Studio 401 1/2 throw open their doors once again in 2015, giving the public a sneak peek at their latest work.
Philosophy Now Festival, Conway Hall, Sat, free. The Philosophy Now Festival returns for a third year with a programme of talks, workshops, debates and philosophical games designed for the whole family to enjoy.
Knit Aid, Drink Shop & Do, Sun, £40. If you want to learn to knit, get better or simply enjoy a good woolly challenge then you should get involved with this refugee aid project.
Midcentury Modern, Dulwich College, Sun, £10, £9 adv. Vintage furniture dealers come out in force for this excellent mid-century fair, featuring classics of British, American and Scandinavian 20th-century design from Eames to Ercol.
The Scandinavian Christmas Market, Albion Street, all weekend, free. Rotherhithe's Finnish and Norwegian Churches provide the backdrop for this traditional array of stalls selling Scandinavian treats, decorations and gifts.
…or check out more events happening in London this weekend.
Eating and drinking
Autumnal Yoga Supper, Clapton Round Chapel, TONIGHT, £40. Swap a Friday night down the boozer for a Friday night perfecting your downward facing dog at this health conscious happening in east London. Katarina Rayburn will kick off proceedings with a 75-minute session of rocket yoga, with Wild Thyme Food ready and waiting to serve up a three course vegetarian feast following the class.
The Story of Home, Sutton House, TONIGHT, £35. Roaming restaurant Mazi Mas serve up global home cooking at interesting dining events dotted around London. Their latest venture takes place in east London's oldest dwelling, Sutton House and features a four course menu inspired by the idea of home.
South Pole Saloon, Valentia Place, Fri-Sat, £3. Even the South Pole must have a pub – where else would the elves go after work? This purpose-built immersive drinking hole is offering Brixton a very alternative place to celebrate Christmas.
Disappearing Dining Club, Glebe House, Sat, £56. Sit down to dinner with a difference in this converted Georgian Coach House owned by Alix Bateman. The four courses designed by the Disappearing Dining Club will be served in the living room, formally used as a passageway for horses and carriages to travel through to the stable yard.
…or check out the latest restaurant reviews.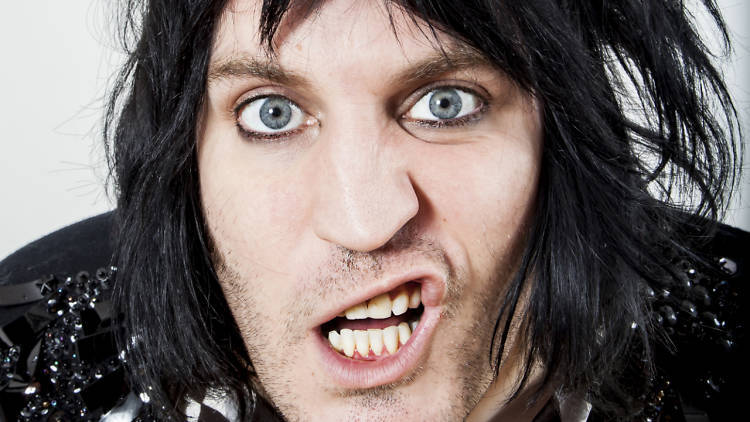 © Rob Greig
Comedy
An Evening with Noel Fielding, Fairfield Halls, TONIGHT, £25. Boosh fans, it's time to dig out those lightning bolt t-shirts you bought on the 2006 tour. Noel Fielding – the Hoxton-haired half of the Mighty Boosh; you know, the one with the pointy features – is back on tour with extra dates of his 'An Evening with Noel Fielding' show.
Jen Kirkman, Soho Theatre, Sat-Sun, £15, £12.50 concs. Massachusetts-born stand-up Jen Kirkman is back in London, after a great run in 2013.She's an ace stand-up, meandering her way through sharp stories and updates on her life (often talking about being divorced and childless) with plenty of dry wit.
Loyiso Gola: Tall Tales, Soho Theatre, Fri-Sat, £15, £12.50 concs. Although South African stand-up Loyiso Gola has performed runs at the Edinburgh Fringe (twice!), this is his first time he's brought a solo show to London. Gola's a big name in SA, with his own satirical TV show 'Late Nite News', and a legion of fans.
Hal Cruttenden – Straight Outta Cruttenden, Leicester Square Theatre, Sun, £18. Struggling everyman, middle class worrier and 'Live at the Apollo' star Hal Cruttenden lands at the Leicester Square Theatre with a brand new show, 'Straight Outta Cruttenden'.
…or check out all the critics' choice comedy shows.
Live music
Everything Everything, O2 Academy Brixton, TONIGHT, £21. The Mercury-nominated Manchester band are back for more quirky art-pop, pushing a new record 'Get to Heaven' (partly recorded at Manchester Central Library).
Tiga, Koko, Sat, £16.50. Get a big dose of the charismatic and infinitely entertaining sexy techno maestro from Canada, as he steps up for a late-night live set in Camden to celebrate the imminent release of his first album in seven years.
Ghostpoet, O2 Shepherd's Bush Empire, Sat, £15. Born and raised in London but heavily influenced by 10 years he spent living in Coventry, singer and MC Obaro Ejimiwe earned a Mercury nomination for his debut 'Peanut Butter Blues and Melancholy Jam'.
Paloma Faith, The Forum, Sun, £40. Hackney's sassy, retro soul chanteuse, who's an out-and-proud fan of insane outfits, theatrics and doo-wop harmonies, plays cuts from her latest LP 'A Perfect Contradiction' in aid of Help Refugees.
The Vaccines, O2 Academy Brixton, Sun, £28.50. The denim-loving indie superstars return for two more huge London gigs, continuing with their winning formula of slamming The Strokes into The Beach Boys with some Libertines-style chaos around the edges.
…or take a look at all the live music events in London this weekend.
Nightlife
Percolate Third Birthday, Corsica Studios, TONIGHT, £10-£15. Percolate celebrates its third birthday in style with a faultless line-up spinning house, disco, techno, funk, garage and more over three rooms of ace south London club Corsica Studios and neighbouring bar/cafe/venue The Colombian.
No Scrubs, Old Queen's Head, TONIGHT, £5, free with Facebook RSVP. Classic R&B and hip hop jams, supplied to a fun-loving crowd in a friendly north London party pub.
Burning Down The House, VFD, TONIGHT, £5, £3 before 10pm. Bored of nodding your head to tastefully dull house music? This new east London night aims to give Dalston's nightlife scene a kick up the arse with the best songs of the '80s, plus a side-portion of disco, funk and glam.
Garage Nation, The Coronet, Sat, £14.95. School. Garage. Old. Rearrange those three words into a well-known urban musical genre and you've got the key ingredient for this popular night of classic 2-step vibes, tonight celebrating its eighteenth birthday at the Coronet.
…or see all the parties planned this weekend.
The Lady in the Van
Film
Irish Film Festival: 'Room', Rio, TONIGHT, £11, £9 concs. It's set in the US, but this Oscar-worthy kidnap drama qualifies for the Irish Film Festival thanks to its director, the stupendously talented Lenny Abrahamson ('What Richard Did', 'Frank'). 'Room' is a fitting title for this potent, sensitive film about two characters who spend years of their lives trapped in one.
Todd Haynes Triple Bill, Picturehouse Central, Sun, £20. Before his wondrous new film 'Carol' arrives in cinemas on November 27, check out three earlier films from the master of gorgeously mounted emotional restraint, Todd Haynes.
Noel Coward Film Festival: 'This Happy Breed', Regent Street Cinema, Sun, £11, £10 concs. A weekend of films adapted from, scripted by or starring the ultimate louche Englishman, from wartime classic 'In Which We Serve' to goofy heist movie 'The Italian Job'.
Or at the cinema...
The Lady in the Van ★★★★☆ Maggie Smith is excellent in this cosy comic tale carved from writer Alan Bennett's own life.
Tangerine ★★★★★ This ultra-low-budget LA drama was shot on iphones but buzzes with ideas, energy and wit.
…or see all of the latest releases.
Theatre
Derren Brown: Miracle, Palace Theatre, Fri-Sat, £16.25-£56.25. Derren Brown turns faith healer for this remarkable new show.
Henry V, Barbican Centre, Fri-Sat, £10-£55. A mischievous take on Shakespeare's patriotic war play from the RSC.
Sparks, Old Red Lion, all weekend, £17, £13 concs. Two sisters reunite after 12 years and their past comes back to haunt them. Sounds a bit old hat, doesn't it? But 'Sparks' isn't what you think it is.
…or see our theatre critics' choices.
© Bedwyr Williams
This week's best new art
Jarman Award, Whitechapel Gallery, Sat-Sun, £5. Derek Jarman was one of the most forward-thinking, influential video artists of his generation. The provocative filmmaker is the inspiration behind the annual Film London Jarman Award that supports artists working with moving image and who challenge convention, just like the award's namesake.
Stephen Dwoskin, Vilma Gold, Sat-Sun, free. Rarely seen photographic work by the pioneering avant-garde American filmmaker.
DIY Art Market, Stoke Newington, Sun, free. The Christmas edition of the bi-monthly market supporting independent creatives.
…or see all London art reviews.
And finally
Win... a mini break for two in Belfast or a ride with Formula One driver Jenson Button
Grab... a £16 deal for four cocktails with prawn crackers at Dstrkt Restaurant & Bar
Book… these gigs while you still can
Best of the blog
London animal of the week: The badass cat in Brockley Sainsbury's
Bloggers' picks: 22 things to do in London this winter
Top five excuses for being late
'It would kill us': the Bussey Building tell us why they're suddenly under threat