As London starts to warm up, there are plenty of events to put the spring back in your step. Construct your own bread-based structure, learn to dance like David Bowie, drink free beer, make chocolate truffles or go speed dating. Weeknights were not made for staying in! Go go go!
House of Toast
Things to do
Find Your London Festival, various venues, Mon onwards, free. Discover London's outdoor spaces with this 11 day festival.
Pongathon, Queen of Hoxton, Tue, free. Non-stop ping pong mixes with games such as beer pong, the 'Pongathon' and 'sofa pong' to win prizes such as a £60 bar tab.
Play With Clay: Jessica Rabbit, Drink, Shop & Do, King's Cross, Thu, free with a drink. It's the turn of that sultry female rabbit to be immortalised in clay.
Sea Life After Dark, SEA LIFE London Aquarium, South Bank, Thu, £27. Improve on a boring day at work with an exciting evening filled with turtles, sharks, rays and crocodiles roaming all around you.
Quizy Quizy Dancey Dancey, Wenlock & Essex, Islington, Thu, £5. A quiz combining kazoos, Plasticine, doodles and dancing 'til late whilst raising funds for AIDS charity 'Tackle Africa'.
The Theology and Ethics of Star Wars, Conway Hall, Holborn, Thu, £5-£10. This vital debate will question the ethics in the Star Wars universe.
Fairytales for Grownups, The Forge, Camden, Wed, £10, £8 concs. Magical and mysterious storytelling from the masters at the Crick Crack Club.
Cycle Speed Dating: Men Only, Look Mum No Hands! Old Street, TONIGHT, £16.50. Find that special person who rings your (bicycle) bell as this event for men who love men and wheels.
Let's Dance: A Homage To David Bowie, WeWork: Primrose Street, Moorgate, Tue, £10. How better to honour Ziggy Stardust than a David Bowie-themed dance class?
Queer Purim Extravaganza, Jewish Museum, Camden, Thu, £10. Dress/drag/butch up and take on your most fabulous identity for an evening viewing of the most recent exhibition - Through The Queer Lens: Portraits of LGBTQ Jews.
House of Toast, Hoxton Grill, Shoreditch, Wed, £10. This night takes reworking edibles to the next level, challenging participants to create the ultimate architectural structure made entirely from toast.
Concrete Concept: Brutalist Buildings From Around The World, Book Club, Shoreditch, TONIGHT, £6. Is there a more divisive style of architecture than Brutalism? Author Christopher Beanland will discuss various concrete beasts from around the world.
…or check out more events happening in London this week.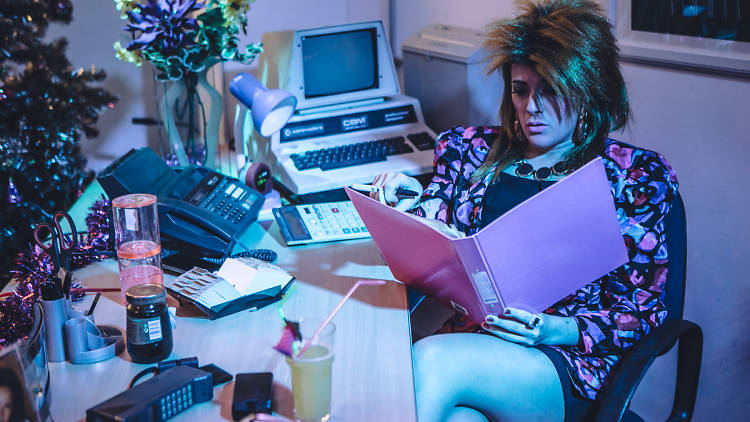 The '80s Office Party Pop-Up
Eating and Drinking
A Night In Jaeger's World, Palm 2, Lea Bridge, Thu, £42. An evening of cocktails, electro music and popcorn.
Come Stretch with Me: An Evening of Nibbling and Cheese-making, Wilde's Cheese, Tottenham, Wed, £35. Spend an evening being truly productive with this cheese-making course in Tottenham's only micro-dairy.
Artisan Pasta-making Workshops, Casereccio, Acton, Tue, £35. Silvana Lanzetta from Napoli is ready to pass on her Grandmother's pasta-making secrets to Londoners in this two-hour long workshop.
The '80s Office Party Pop-Up, Rose Lipman Building, Dalston, Wed onwards, £55. Retro supper club featuring fun, games and a power-hungry host.
If Carlsberg Did Chocolate Bars, Old Truman Brewery, Brick Lane, Wed, free. Carlsberg is planning a big Easter surprise, so gather round the brand's chocolate bar for the unveiling (and free beer).
Easter Themed Chocolate Workshop, Boxpark, Shoreditch, Wed, £27. Dip, mix and mould your own mini egg truffles at this interactive workshop.
Homerton International Festival of Beer and Bar Snacks, The Adam and Eve, Homerton, Thu onwards. That often overlooked culinary delight - the bar snack - is finally getting its own five-day festival.
BBQ Curry Cook Off, Hot Box, Spitalfields, TONIGHT, £35. Smoked meats and spices collide with an epic cook-off between Neil Rankin (Bad Egg) and Basit Nasim (Hot Box).
…or check out the latest restaurant reviews.
Drunken Nights
Comedy
Drunken Nights, George Tavern, Shadwell, Thu, free. A good old-fashioned sing-song, theatre and off-beat comedy at one of the oldest pubs in London.
Sketch Off! 2016, Leicester Square Theatre, Tue, £7.50. The semi-final of this comedy competition, which is looking for the best rising sketch star.
Grand Theft Impro, The Wheatsheaf, Fitzrovia, Thu, £5.50. Improv veterans Phil Whelans, Dylan Emery and Charlotte Gittins perform.
…or check out all the critics' choice comedy shows.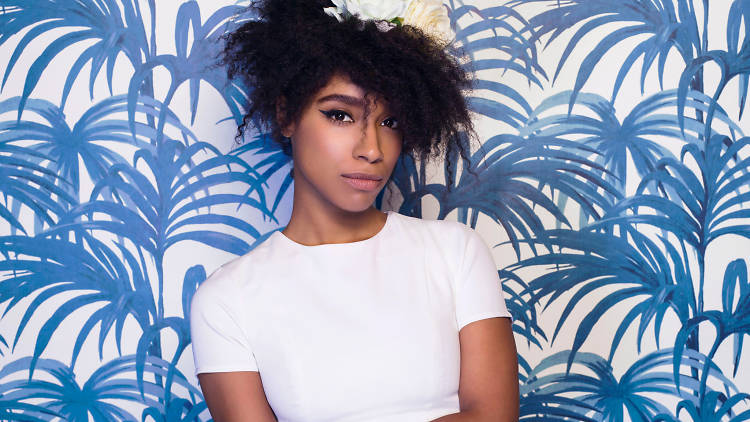 Lianne La Havas
Live Music
Dennis Morris: PiL, ICA, St James', Tue onwards, free with £1 day membership. The opening night of this show will see Skinny Girl Diet play live as well as DJs Craig Richards and Andrew Weatherall from 8pm.
Alessia Cara, Electric Brixton, Wed, £12. This new Canadian R'n'B star has a superb voice and attitude to burn.
Soak, KoKo, Camden, Tue, £15. Nominated for this year's Mercury Prize, this enviably talented 17 year old performs her bold, insightful, finger-picked folk-pop.
Ellie Goulding, The O2, Thu, from £15. Ellie does her electro-pop thing at the O2, that spans big EDM drops to tender ballads, as well the usual chart toppers.
Lianne La Havas, Under The Bridge, Fulham, Wed, £10. Still just 25 but tipped by Prince and with a top five album under her belt, this South London singer-songwriter charms with her velvety vocals and mellifluous folk-soul sound.
The Lock Tavern Festival, Lock Tavern, Camden, Thu onwards, free. Four days of music and street food at Camden's best boozer.
…or take a look at all the live music events in London this week.
Idris Elba
Nightlife
Andy C All Night, Alexandra Palace, Thu, £20. Get ready for your ears to be given a right old drum and bass battering as one of the best D'n'B selectors in the game, Andy C, plays a marathon six-hour set.
Dedicated to Kanye West: Yeezy, Notting Hill Arts Club, TONIGHT, £5-£8 adv. NHAC's annual bash to celebrate everyone's favourite megalomaniac rap superstar returns.
Cirque Du Soul: Easter Special, Club 338, Greenwich, Thu, £10-£20. The respected, nomadic clubbing brand goes in for an Easter Special, with Mike Skinner at the helm.
Regression Sessions, Fire, Vauxhall, Thu, £5 early bird. A superbly silly monthly party featuring retro games and activities plus DJs playing party bangers.
Deadly Rhythm, Bussey Building, Peckham, Thu, £5-£10. A Easter party from underground aces Deadly Rhythm, teeming with top beats at this multifloored, South London venue.
Idris Elba, Egg London, Holloway, Thu, £15-£18. This acclaimed DJ turned actor returns to the decks for an exclusive set at Egg London.
…or see all the parties planned this week.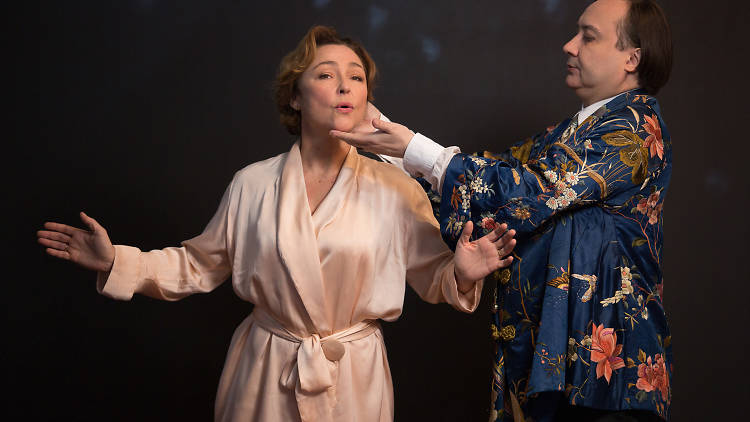 Marguerite
Film Events
1000 Londoners: Selling Out, Lexi Cinema, Kilburn, TONIGHT, £7. This showcase compiles a number of films about sales people - from shop workers in vintage boutiques, to market sellers and high street staff.
Or at the cinema...
High-Rise ★★★☆☆ Ben Wheatley's delicious retro, beautifully crafted adaptation of J G Ballard's novel, starring Tom Hiddleston.
Marguerite ★★★★☆ The story of a deluded songstress in post-war France whose lack of talent is made up for in enthusiasm.
The Pearl Button ★★★★☆ Chilean documentary master Patricio Guzman delivers another cosmic, philosophical work.
…or see all of the latest releases.
Theatre
The Painkiller, Garrick Theatre, Covent Garden, all week, £15-£95. Kenneth Branagh and Rob Brydon reprise their roles in this old fashioned but fun play.
Run, New Diorama Theatre, Euston, Tue onwards, £14.50, £12.50 concs. Smart new play about City internships, inspired by the death of Moritz Erhardt.
If You Kiss Me, Kiss Me, Young Vic, Waterloo, all week, £10-£35. Jane Horrocks sings some of her favourite New-Wave songs in this peculiar hour of entertainment.
Boris Godunov, Royal Opera House, Mon & Thu, £76-£240. Bryn Terfel is staggering as the guilt-stricken, murderous Tsar in this Russian masterpiece.
…or see our theatre critics' choices.
Jac Leirner: Junkie
Art
1001 Pictures, Oxo Tower Wharf, Southbank, Thu onwards, free. 1001 black and white photographs will cover the walls of the Oxo Tower Gallery in a vast non-chronological display of Londoners loving life.
Russia and the Arts: The Age of Tolstoy and Tchaicovsky, National Portrait Gallery, Leicester Square, all week, £5, £4 concs. This show tells the fascinating story of a country in turmoil and the artists, authors and musicians who tried to kick back against it.
Paul Strand: Photography and Film for the 20th Century, V&A, all week, £9. This show, the first in the UK since Strand's death, includes photographs and films ranging from his shots of Manhattan, his extensive travels through Egypt, Morocco and Ghana and a visit to the Scottish Hebrides.
Jac Leirner: Junkie, White Cube Mason's Yard, St James', Tue onwards, free. A series of photographs depicting throwaway objects and everyday detritus surrounding a drug addiction that dates to almost 30 years ago.
…or see all London art reviews.
And finally...
Win... one of ten Toni & Guy gift cards worth £100 or a relaxing weekend break in a forest cabin for four people
Grab... £15 tickets to Spirited Sermon at Reverend JW Simpson, including three cocktails
Book… these gigs while you still can
Best of the blog
15 reasons to go to Stoke Newington High Street
A London theatre is fighting texters with lasers
This tube map shows you all of the clubs you will be able to get to once the Night Tube launches