London's best record shops
Vintage records and second-hand CDs – expand your music collection here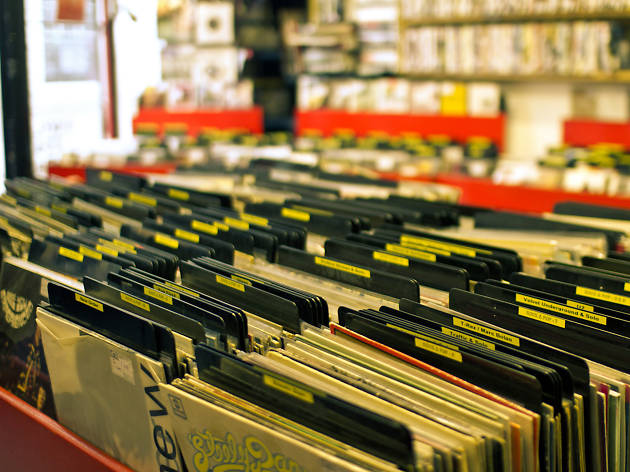 Whether you're looking for jungle twelve-inches, classical music on CD, rock LPs or jazz seventy-eights, London has the record shops to scratch your music-buying itch. The vinyl revival doesn't show any signs of slowing down, and events like Record Store Day have helped bricks-and-mortar record stores not only recover but flourish over the last few years. Here are some of the best to be found in London, from new openings to old stalwarts and survivors. If we've missed your favourite, let us know in the comment box at the bottom of the page.
London's best record stores
As one of the best known punk and hardcore record stores in London, All Ages attracts a very specific kind of customer. But they've got a fairly wide range of things dark and heavy, from the '70s to the present day, so unless you hate guitars you'll probably find something you're into.
Read more
This little record shop punches well above its weight. As well as selling new releases on CDs and vinyl, Banquet (an offshoot from the old Beggars Banquet franchise) is at the centre of the Kingston music scene: their packed acoustic in-store shows and regular gig nights bring big artists to this corner of the London suburbs.
Read more
The awning reads: 'Music. Coffee. Bagels.' That lays out the essentials succinctly. Brill began life as a music shop, and music is still 'an integral part of what we do'. There's always something good playing, and CDs and a few vinyl oddments, with the emphasis on jazz, blues, folk and rock, are for sale inside the small interior.
Read more
After 20 years of trading through a stall at Greenwich Market, Casbah Records upgraded its breezy surroundings to the more permanent confines of quirky retro shop The Beehive on Greenwich Church Street. Here the emphasis is placed on edgy girl groups, garage, psych and '60s soul, but the store also stocks a variety of classic rock, indie and electronica, along with books, DVDs, prints and vintage comics.
Read more
Container is an event space and record store in Pop Brixton, specialising in new and used electronic music. Situated in a former shipping container, this independent shop is the brainchild of London promoters keen to provide punters with a friendly, knowledgable and accessible space to explore independent music.


Read more
Flashback's mostly second-hand stock is treated with utmost respect. There are usually a few boxes of bargain basement 12-inches going for pennies outside the front door, but inside stock is scrupulously organised.
Read more
Taken over by the Flashback Records team in 2006, this little record shop is a local favourite with a good selection of new and used vinyl and a friendly atmosphere.
Read more
At the top of Brick Lane, the newest branch of Flashback (after Flashback Islington and Flashback Crouch End) stocks two floors of new and second-hand vinyl, CDs and DVDs – some of it rare, most of it at a pretty decent price. There are listening points to give potential purchases a spin.
Read more
Harold Moores is not your stereotypical classical music store: young, open-minded staff (including Tim Winter of Resonance FM) and an expansive stock of new and second-hand music bolster its credentials.
Read more
Show more
Sponsored listing
The Blues Kitchen Brixton
This Brixton branch - on Acre Lane - is one of three Blues Kitchens in London. The others are in Camden and Shoreditch. Each follows the same theme - food of a southern American bent served to a soundtrack of live music.  And while the music of the moniker does play more than a small part on the music programme, it's not all about the blues. Expect, too, swing, soul, bluegrass, Motown and themed nights - including a popular Halloween gig. There's usually something on every night of the week. The food menu takes in classic Deep South dishes, with New Orleans gumbo, catfish jambalaya, Texan brisket, St Louis pork rib and a creole bean burger. Canadian lobster, burger specials and jerk chicken salads also feature. 
Venue says: "Quench your midweek thirst with our new two-for-one offer on cocktails every Wednesday!"