Battle of the brands: Club Monaco v J Crew
As the two American labels open their first stores in London, we pitch them against each other in a sartorial head-to-head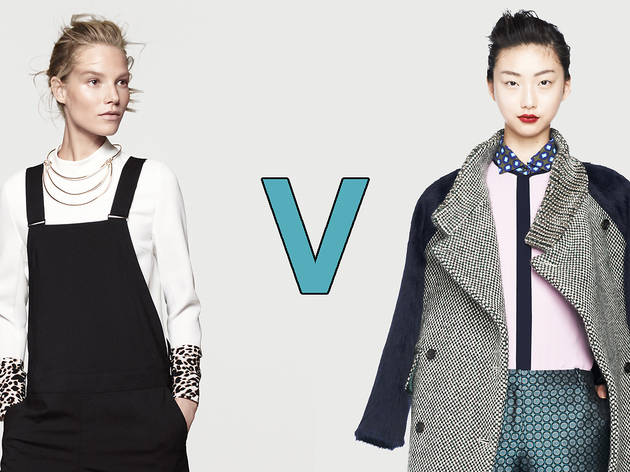 The NY-Lon bond grows ever stronger as two big American labels, J Crew and Club Monaco, finally decide to make their presence felt in the capital. Each has their own take on affordable luxury for men and women, but is this town big enough for the both of them?

Club Monaco
Club Monaco was founded in Toronto in 1985 and bought by Polo Ralph Lauren in 1999, subsequently moving its HQ to NYC. The company now has over 140 outlets worldwide.

J Crew
Established shortly before its rival in 1983 as a mail order catalogue, in 2003 J Crew scored Jenna Lyon as creative director. She turned the brand into a fashion phenomenon boasting 249 stores and counting.

Club Monaco
If you want a good white shirt, camel trenchcoat or LBD, look no further. No expense is spared on their campaigns, either – Club Monaco has worked with the legends that are photographers Patrick Demarchelier, Peter Lindbergh, Mario Testino, Walter Chin and Richard Avedon.

J Crew
Impressively, the brand now shows its premium line at New York Fashion Week, and excels at colourful knitwear, lacquered jewellery and dapper accessories for gents.

Club Monaco
The brand is beloved of girls about town Atlanta de Cadenet, Clara Paget, Harley Viera Newton, Jade Parfitt and Poppy Delevingne.

J Crew
J Crew possesses a trump card in the form of Michelle Obama, who wore a cardie on 'The Jay Leno Show' in 2008 and then dressed her daughters in J Crew's kids' line for her hubby's 2009 inauguration. Since then, everyone who is anyone has followed suit, including Beyoncé, Jennifer Aniston, Ryan Gosling, Brad Pitt and Sam Cam. You win some...

Club Monaco
CM is just expensive enough to feel like you're treating yourself but not so expensive that you collapse in a heap on the shop floor. Club Monaco's priciest looks include a camo-print wool coat for £420, but you can pick up a sleek cheetah-print turtleneck for around £90.

J Crew
Hovering temptingly between high street prices and designer ones, J Crew offers staples such as cashmere jumpers at £180 and silk shirts for £128.

Club Monaco
A clean white space filled with works by London artists in the leafy enclave of Portobello, at 223 Westbourne Grove, W11 2SE. All fittings are sourced locally, such as its antique lighting and mirrors, and an imposing vintage shoe display unit.

J Crew
Set designer Shona Heath has covered the magnificent flagship (165 Regent Street, W1B 4AD) in fantasy taxis decorated with lions, eagles and unicorns. There's also a neat men's shop now open at 38 Lamb's Conduit Street, WC1N 3LJ.

London's best...
Where do London's best-dressed fashionistas get hold of high-end gear on the cheap? At sample sales, of course. We've hunted down the essential dates for your designer diary, so set your alarm, sharpen your elbows and get ready to do battle over bargains.
Read more
Show more