Heads up! We're working hard to be accurate – but these are unusual times, so please always check before heading out.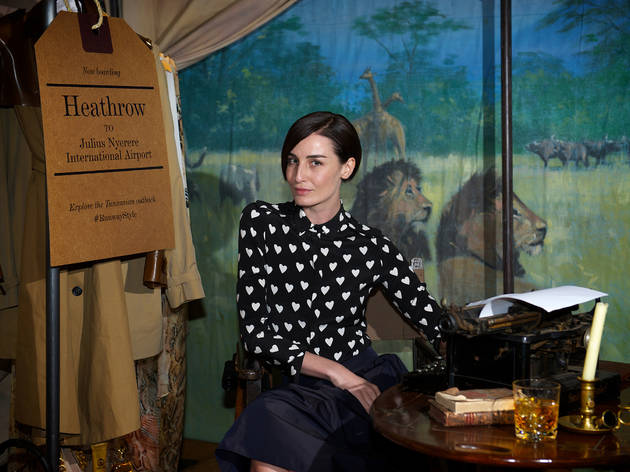 Erin O'Connor interview: 'It's like we grew up and then shaved our legs'
We talk shop with the self-professed 'wildcard' of British modelling
How does London compare to the New York shopping experience?
'New York is on a grid system so it's slightly less challenging logistically but Londoners are more relaxed in their selling approach. With that intense shopping service in New York it's easy to get carried away and make a wrong purchase. Here there's a different flow. You are left to explore and individuality is key.'
Who are your favourite London designers right now?
'Oooh, I don't like to name anyone because then it becomes political but Simone Rocha, how incredible is she? She does punk Audrey Hepburn. For me that is the perfect combination – it's somewhat anarchic but I like the idea that she is respectful of tradition and ladylike. How unusual and how great that she has found her way through her father (designer John Rocha) and had the confidence to go her own way. It's SO London. She is what a London girl would like to emulate. Christopher Kane is really great too. In terms of performance and theatre I love Giles Deacon – he is never afraid to put on a show. He does it in a modern and current way. He's a bit wonderful isn't he? And such a nice man. I always find that the best and most talented designers are the kind of people who might just do your ironing if you asked them to.'
Do you think British designers rules the world?
'I think it's great that all of our Brit designers have flown the nest and done really well and shown everyone else their wares. We are on the map as one of the greatest and now it's like we have qualified – we have that slick business approach now but without compromising creativity. It's like we grew up bit and then shaved our legs.'
Any favourite high street stores?
'Hmmm, well
Topshop
is a funny one for me. I loved it so much when I was growing up and I didn't get the (modelling) job! In the end I got given the job at
Topman
instead – that was a wonderful passage into adulthood, going through the testosterone-filled changing rooms! That was an amazing experience. The high street brand I think is fantastic is
COS
, you can layer and layer and inject your own personality into it. They do these great basic template shapes.
Whistles
is really good too. And I have to give a big shout out for Hobbs all of a sudden – I have these amazing pair of shoes that have an essence of Westwood about them and they are doing some really nice tailored coats this winter.'
Favourite secret shopping spots?
'I lived in south-east London so I love Dulwich fairs and I always like seeing what's happening at Clerkenwell vintage fair.'
What's your favourite London department store?
'I'm definitely more of a
Liberty
girl. I just love the experience of wandering around that beautiful old building. It's an institution – it's very representative of that quirky British style. It's got that spirit as soon as you step into that main entrance – I defy anybody not to want to do a full lap. The stock is really considered and quite sensitively selected. You get this sense that whatever you are investing in could have come straight off the runway.'
If you had a tenner what would you spend it on?
'I would find the best greasy spoon that I could and sit down and work out everything I would like to see while I'm in town. I'm like a tourist when I'm in London.'
Best shop in the whole world?
'There is a great store in Paris called
Merci
. They are eco-friendly and fairtrade and they have what you really want: beautiful objects, beauty products and beautiful clothes. It's all airy and spread out and really interesting. It has the spirit of Colette without the price tag.'
Erin O'Connor stars in the new Sky model show, The Face, and is ambassador of the new Heathrow Terminal 5 styling and shopping suite Heathrow Boutique.